Newbie
Join Date: May 2009
Posts: 8
Mentioned: 0 Post(s)
Tagged: 0 Thread(s)
Quoted: 0 Post(s)
Liked: 10
I want to transfer video from my DVR to my PC? Is this possible or is Tivo the only one who can do this?

I have a Motorola DCH 3416 DVR

If not, can I buy some sort of HD TV card for my PC and record shows directly to my PC with HD quality?
AVS Forum Special Member
Join Date: Aug 2004
Location: N.W. Washington
Posts: 1,384
Mentioned: 0 Post(s)
Tagged: 0 Thread(s)
Quoted: 0 Post(s)
Liked: 12
No and sort of... Tivo is the only one that allows network transfers of recorded programs.
TV tuner cards are limited to clear QAM channels since they have no cablecard support. Most cable companies have or are in the process of limiting clear QAM channels to only channels that are in their "limited basic" tier.
There are a few very expensive PC TV tuner devices that have cablecard support. But by the time you add up the cost of the tuner and a PC powerful enough to record full HD, you would be spending more money than buying a Tivo-HD with a lifetime subscription.
---
A 'phile and his money are soon parted...
Senior Member
Join Date: Aug 2002
Location: Boston, MA
Posts: 260
Mentioned: 0 Post(s)
Tagged: 0 Thread(s)
Quoted: 0 Post(s)
Liked: 10
Are you sure? I have a Motorola DCT-6412 cable box and download videos off of the box onto my PC all the time using the firewire port. It can be cumbersome since the transfer is done at 1x speed (it take two hours to download a two hour movie off of the DVR), but I'm getting full HD resolution transport stream files onto my PC. I'd be surprised if there wasn't a similar work-around for most cable boxes.
AVS Forum Addicted Member
Join Date: Nov 2002
Posts: 13,990
Mentioned: 0 Post(s)
Tagged: 0 Thread(s)
Quoted: 0 Post(s)
Liked: 12
With the Motorola DVR and Firewire, you are copying shows as they are played. You aren't "downloading" shows. Furthermore, this only works on unencrypted channels (i.e. local HD channels); the Motorola DVR encrypts Firewire output for encrypted channels, as well as unencrypted channels marked with the broadcast flag.
TiVo is the only cable DVR that actually allows you to actually
download
the shows. You can queue up multiple shows for download, and you can set your favorite series to automatically download whenever your computer is on. A few screenshots:
Download shows using a standard web browser.
Download shows using the free TiVo Desktop software.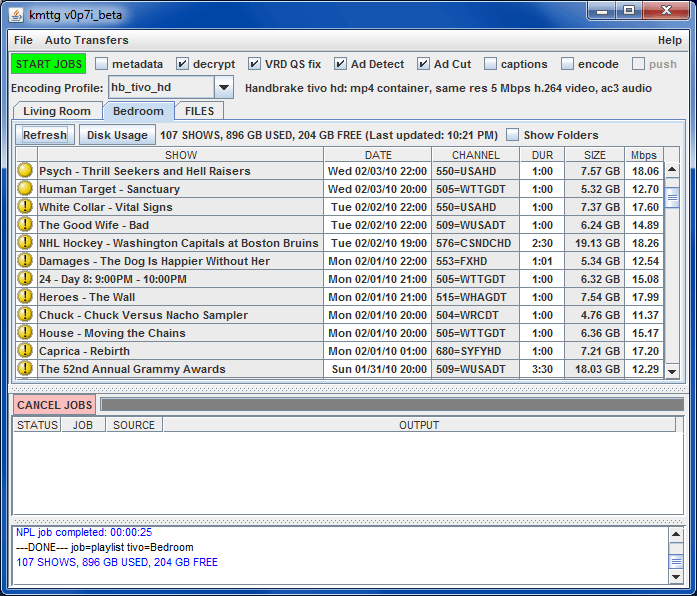 Download shows, automatically remove commercials, and re-encode for an iPod/iPhone using the free, Java-based kmttg program.
Note some providers, most notably Brighthouse and Time Warner, severely restrict what you can download.
Posting Rules

You may not post new threads

You may not post replies

You may not post attachments

You may not edit your posts

---

HTML code is Off

---