Member
Join Date: Jan 2008
Posts: 76
Mentioned: 0 Post(s)
Tagged: 0 Thread(s)
Quoted: 1 Post(s)
Liked: 12
This review is long overdue. I've both of these screens for a while now and in an effort to move the DIY screen community forward I've decided to stop being so lazy and post up the damn photos. First up is the Light Fusion. After speaking with MississippiMan about what screen I should get for my home and work we arranged his flight to San Diego and we were off to work. I went to a local plastic supply company to get the Sintra that we would be using as a means to attach the mirror to my wall. I also picked up the rope lighting for some ambient light behind the screen.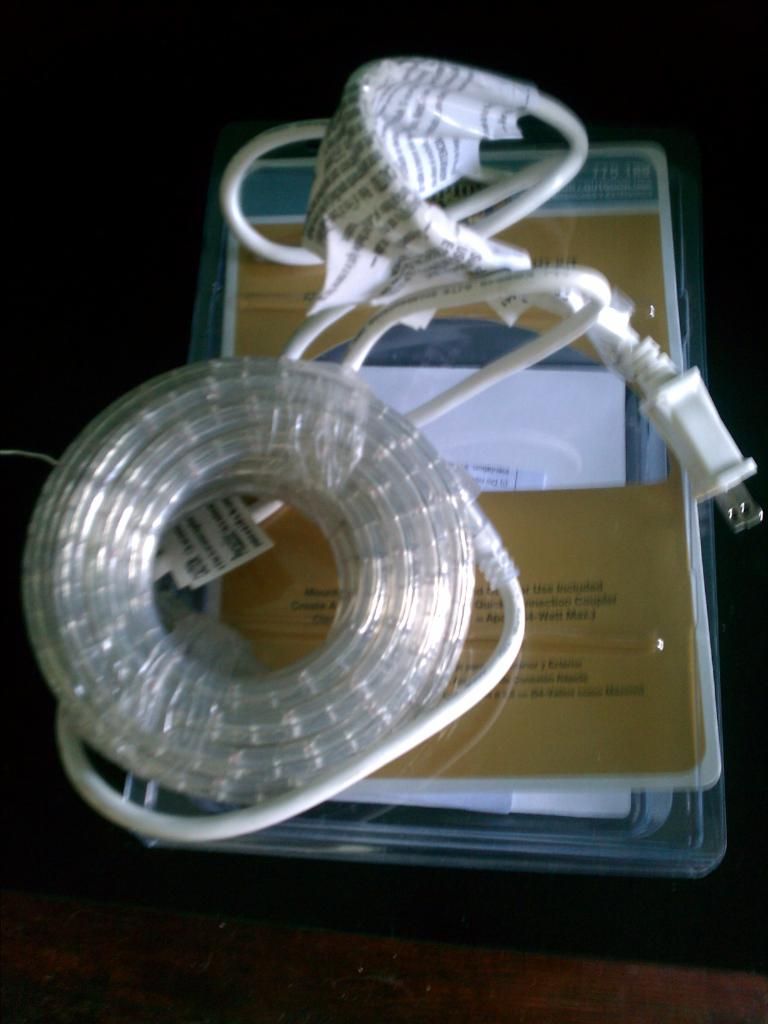 Once we had all the pieces in order we attached the acrylic mirror to the Sintra board leaving some space for the trim.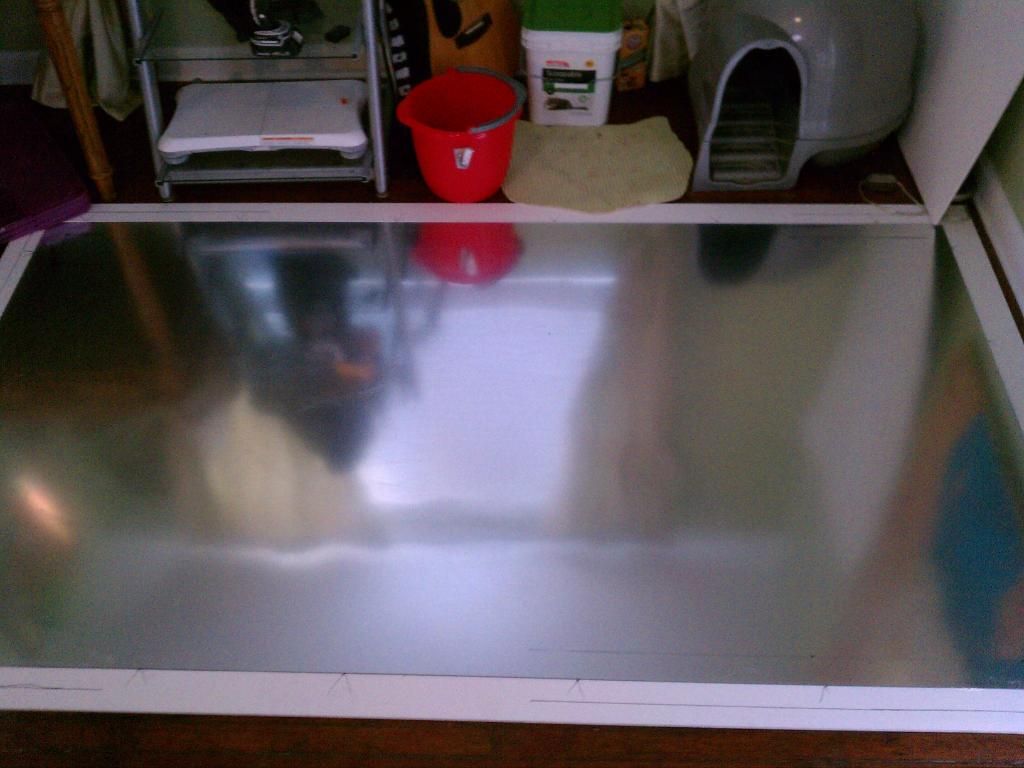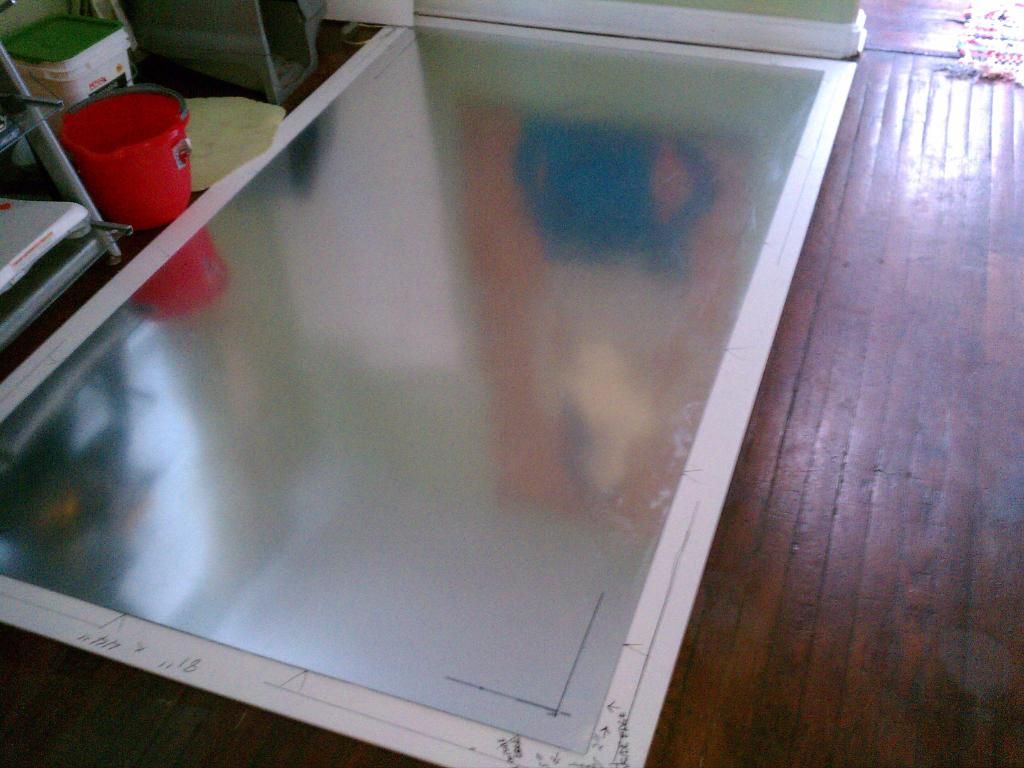 We then attached the assembly to the wall in order to paint the screen.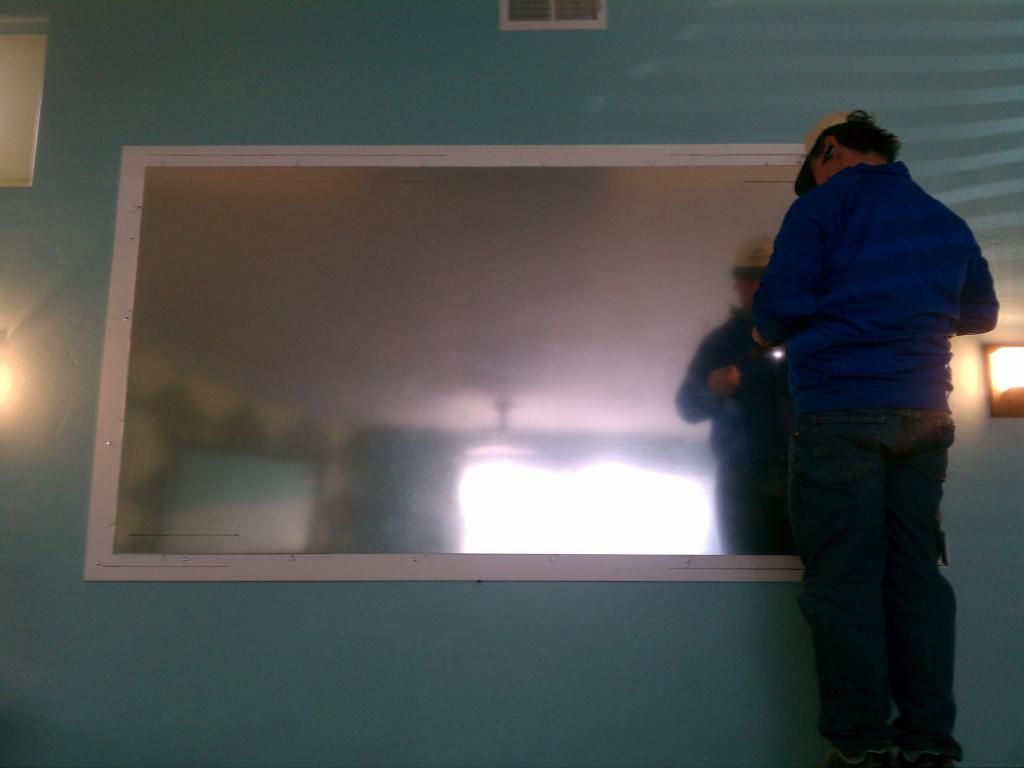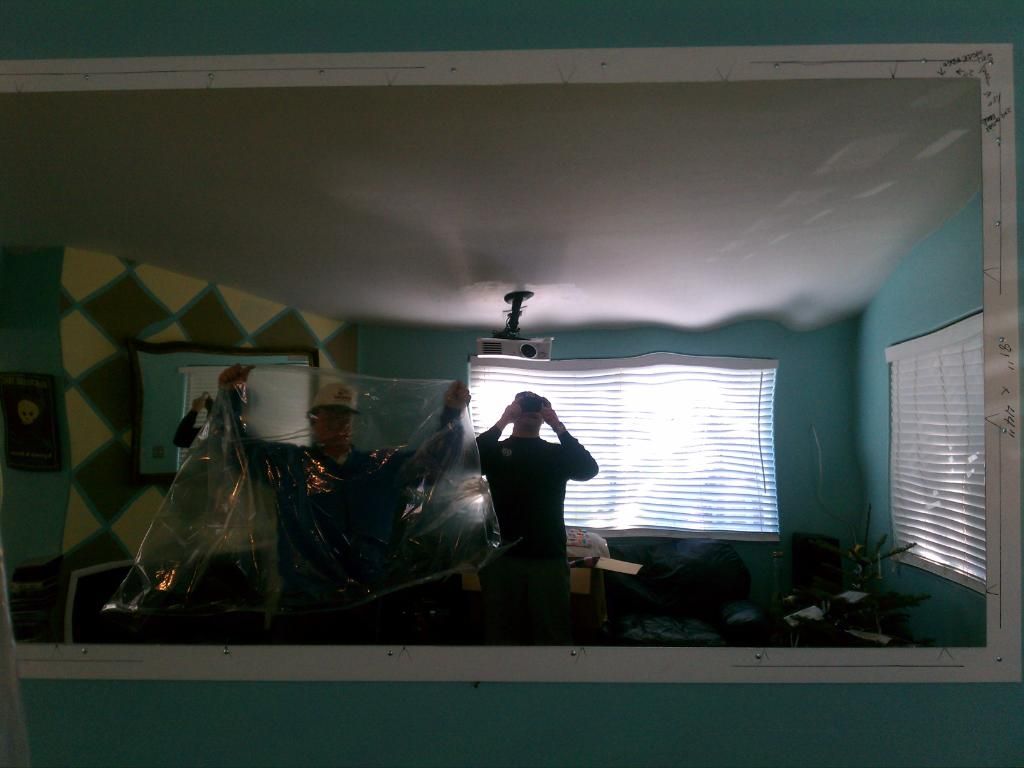 We then masked off the house.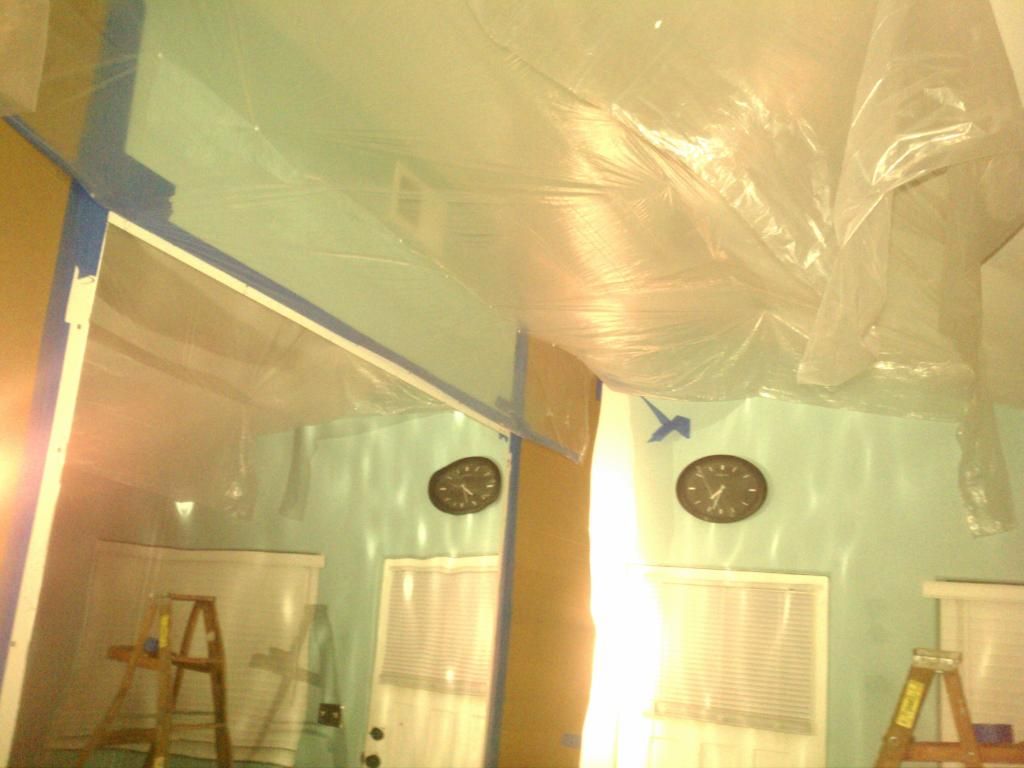 I didn't get any pictures of the painting process unfortunately. As you can see in the photo below, the performance is awesome even with 2 wall sconces shining directly on the screen! Keep in mind this is with my PT-AX200U with an ailing original bulb (over 5k hours).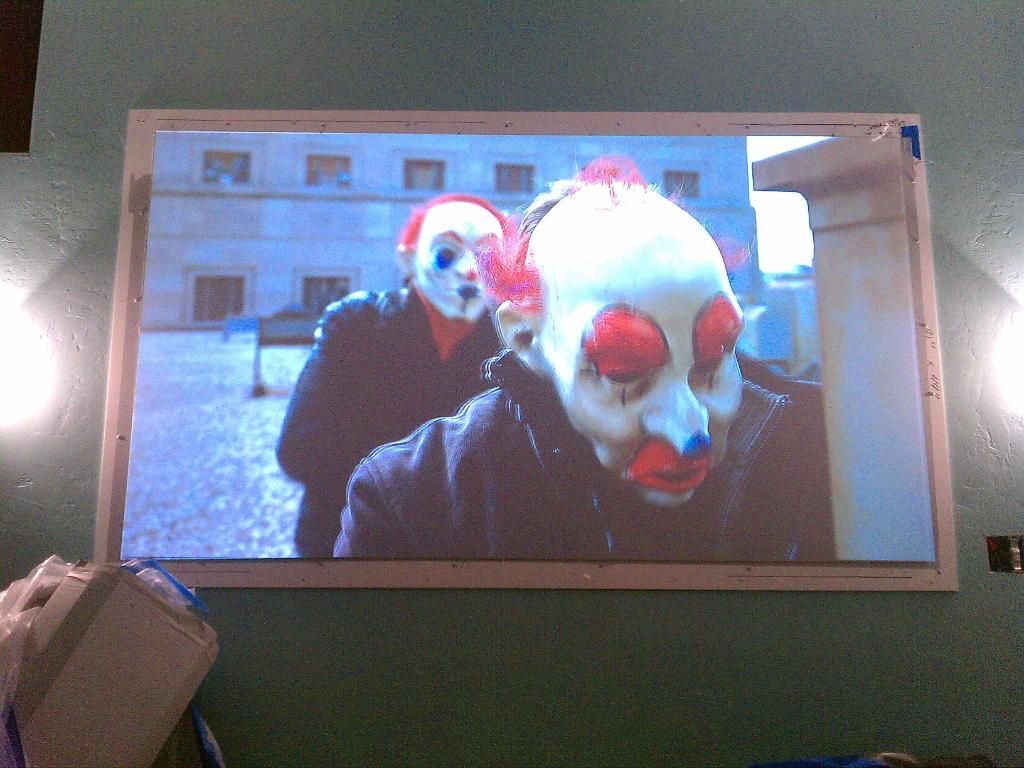 We then removed the screen from the wall to hang the 2x4's. The 2x4's act as a mount for the screen the rope lighting. We also put the velvet wrapped trim on the edge of the screen. Due to some mis-measuring we ended up with trim that was a little larger that what we originally aimed for. I'm pleased with the outcome regardless.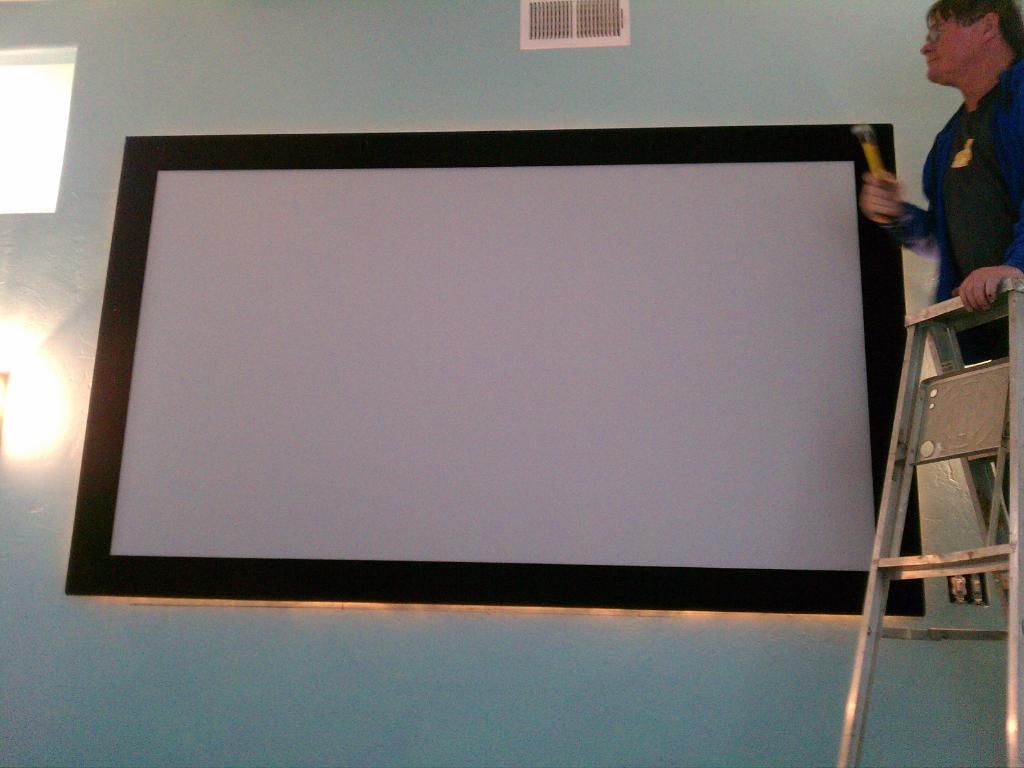 Here are some action shots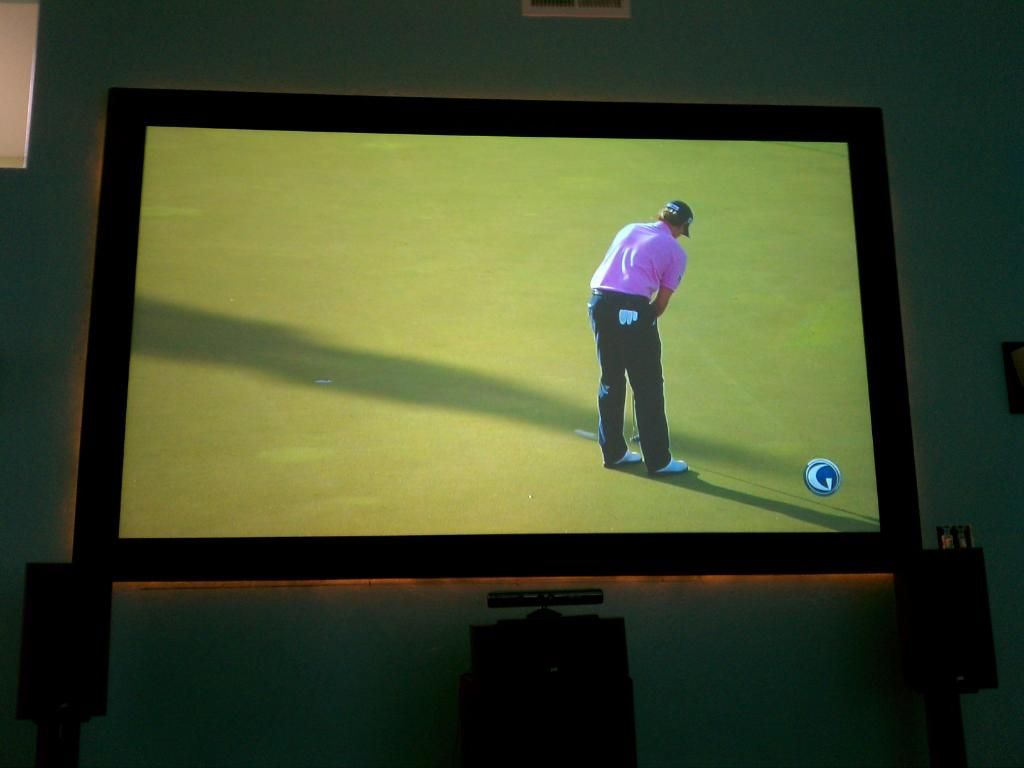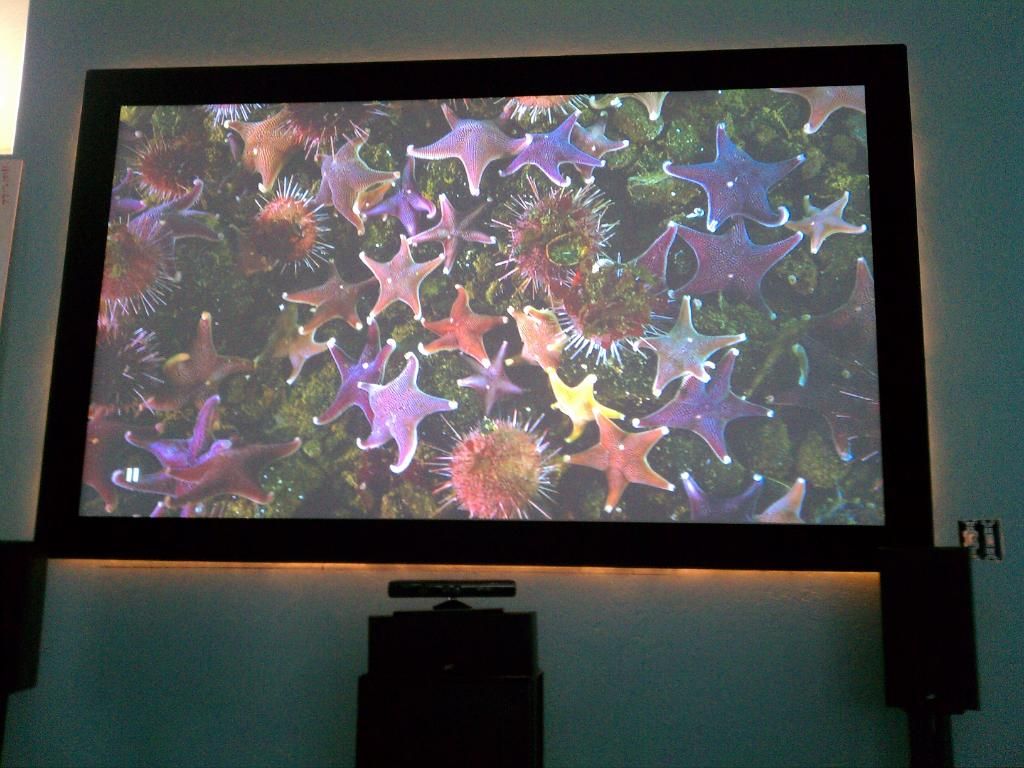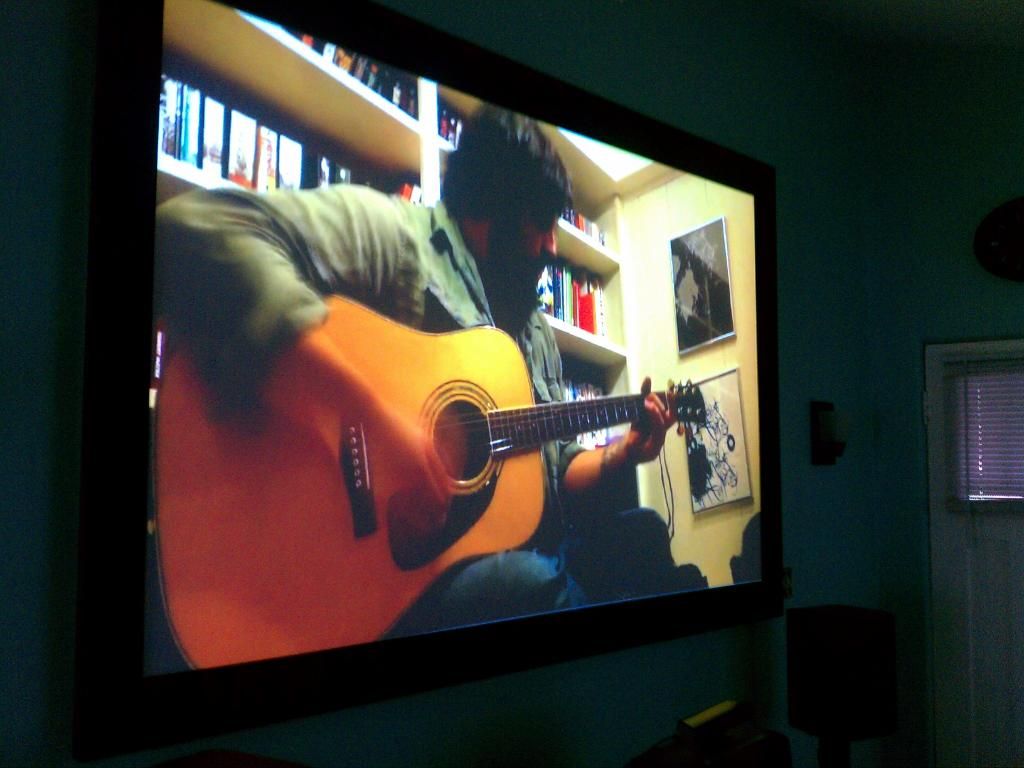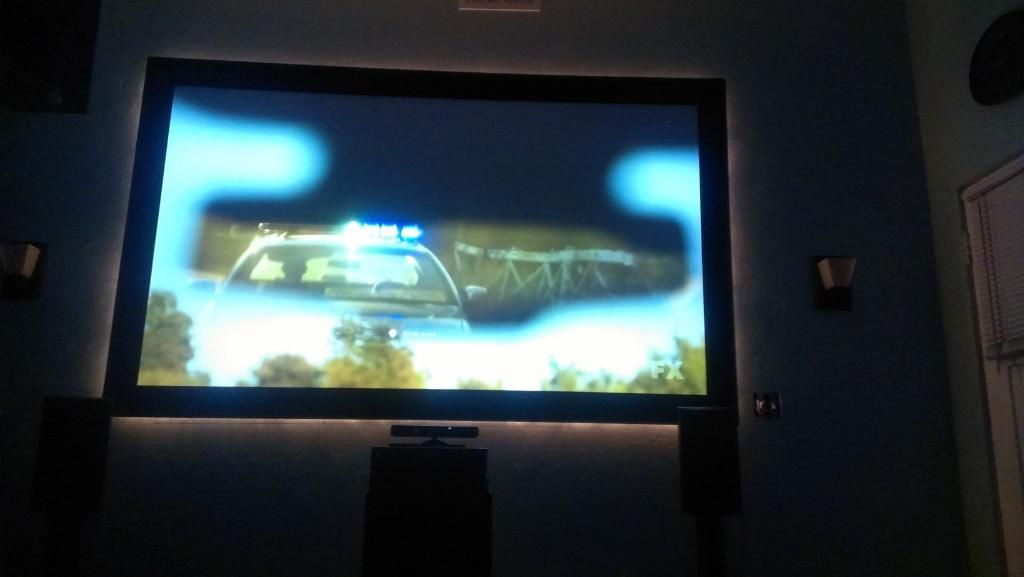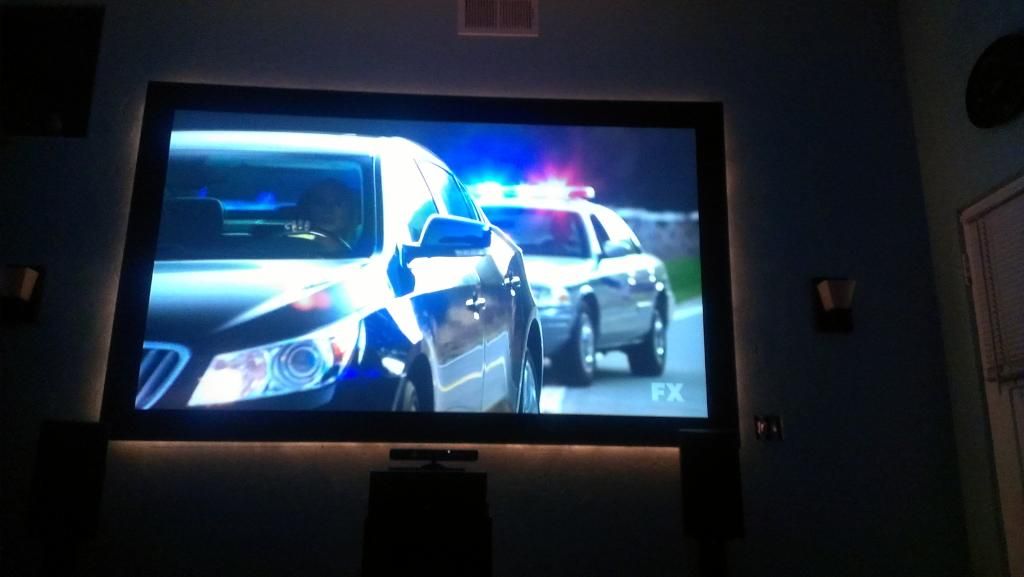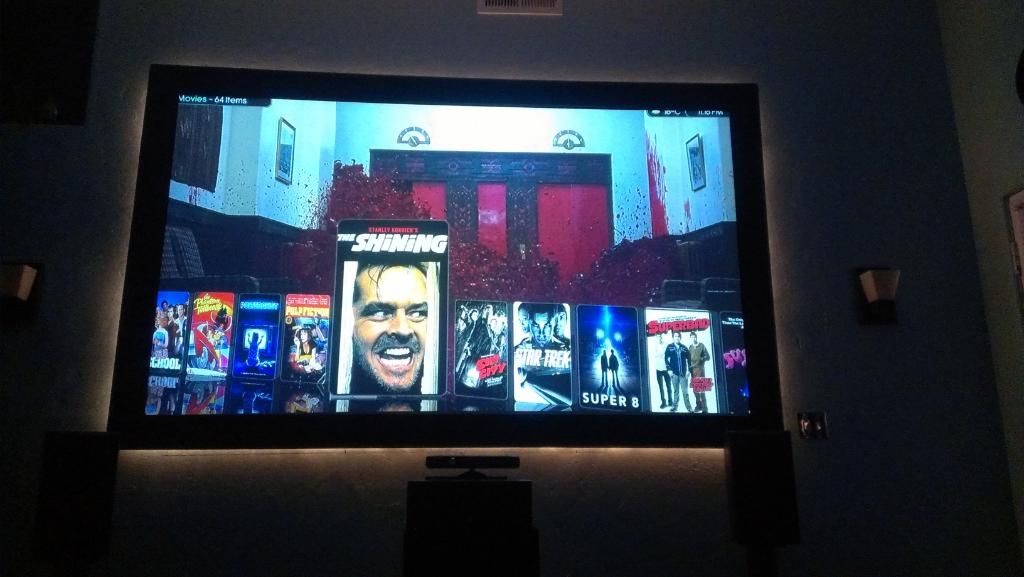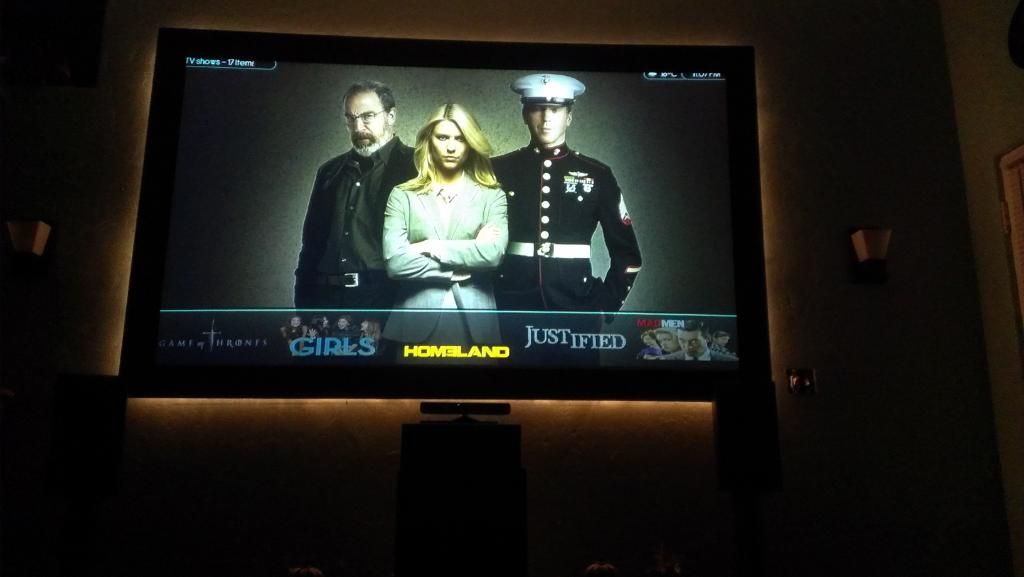 And if you were wondering how much of a difference the screen makes, here's a shot of the projector thrown on the wall with ambient room light. Compare that with the photo of the Dark Knight and the wall lighting directly on the screen
I can't wait to get a new projector and really see this thing shine. Stay tuned for the other screen.
Member
Join Date: Jan 2008
Posts: 76
Mentioned: 0 Post(s)
Tagged: 0 Thread(s)
Quoted: 1 Post(s)
Liked: 12
This screen was much more challenging due to the size and location. This is at my brewery, Green Flash Brewing Co. I unfortunately didn't get a bunch of pictures during the building of the screen. Here we are with the screen masked off.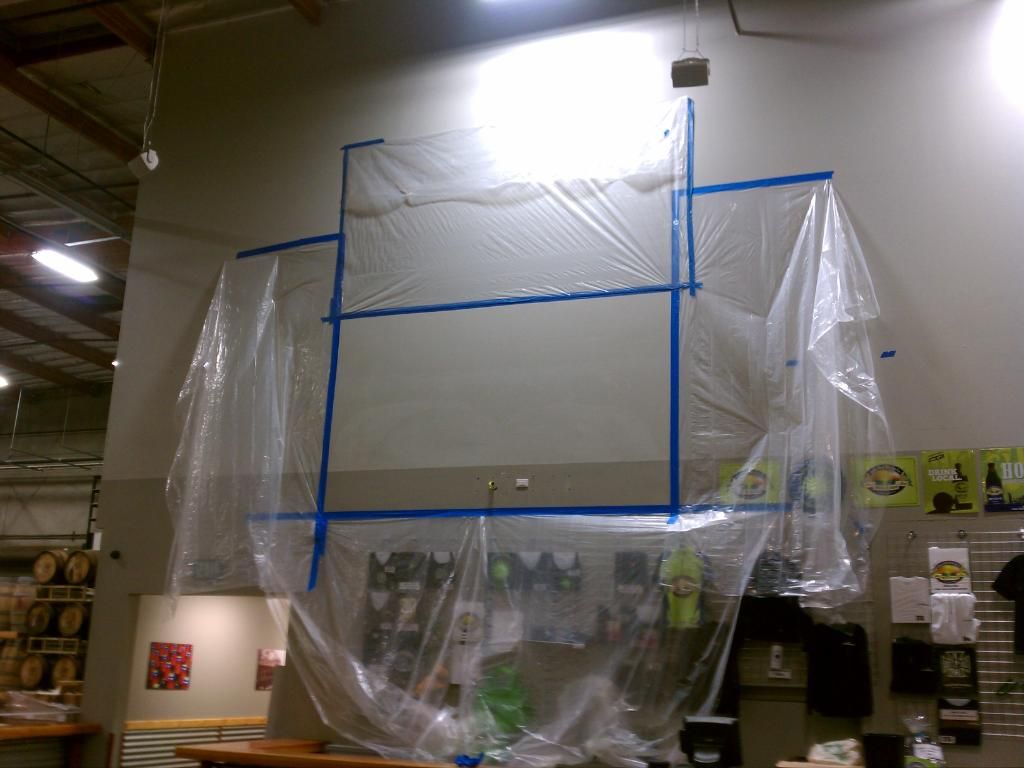 We ended up putting mud and sanding that entire wall due to the irregularities in the drywall. It took a lot of time and effort. We mounted the projector from a beam in the 30ft high ceiling and dropped it down to the right level with some PVC pipe. It's still holding strong today. MississippiMan's trip had to be extended in order to spay the screen. Once it was done it looked beautiful with the projector on but we still had no trim up. I had a movie screening in a month or so and finally got the trim hung. He are some photos of our first film screening with the screen.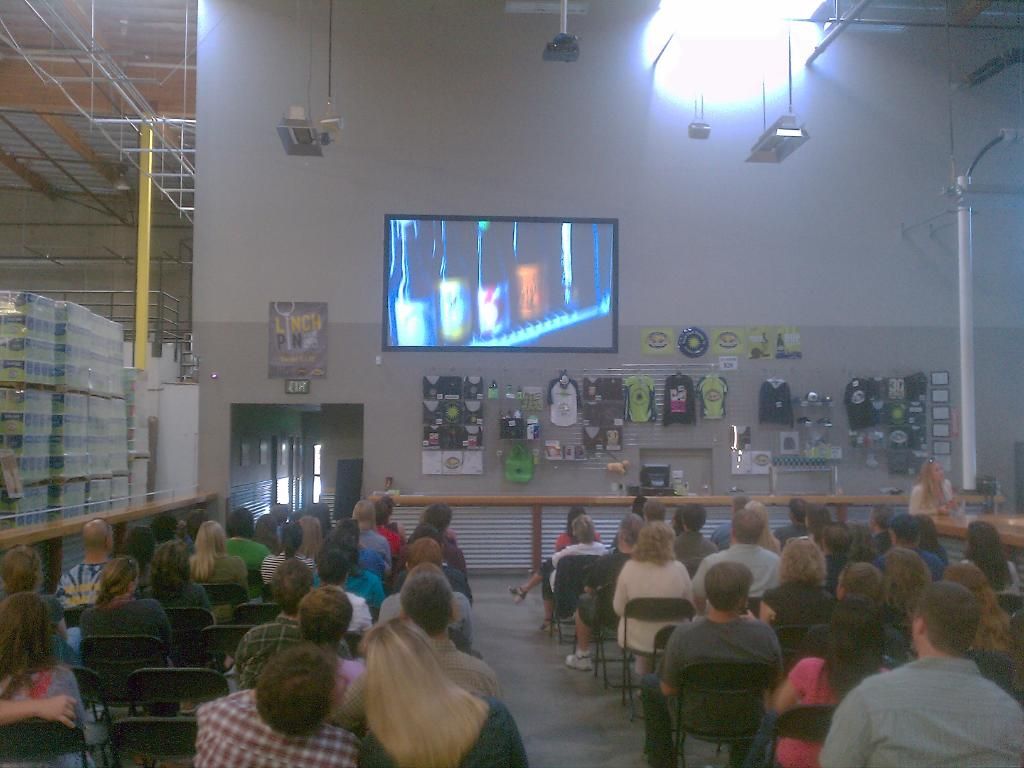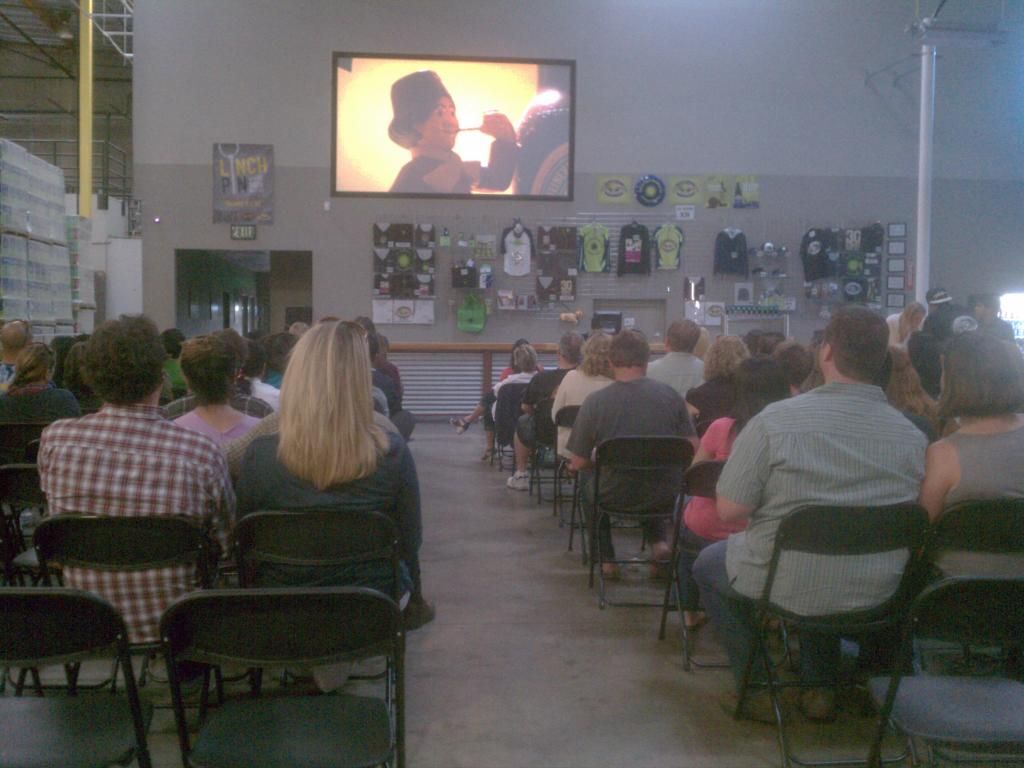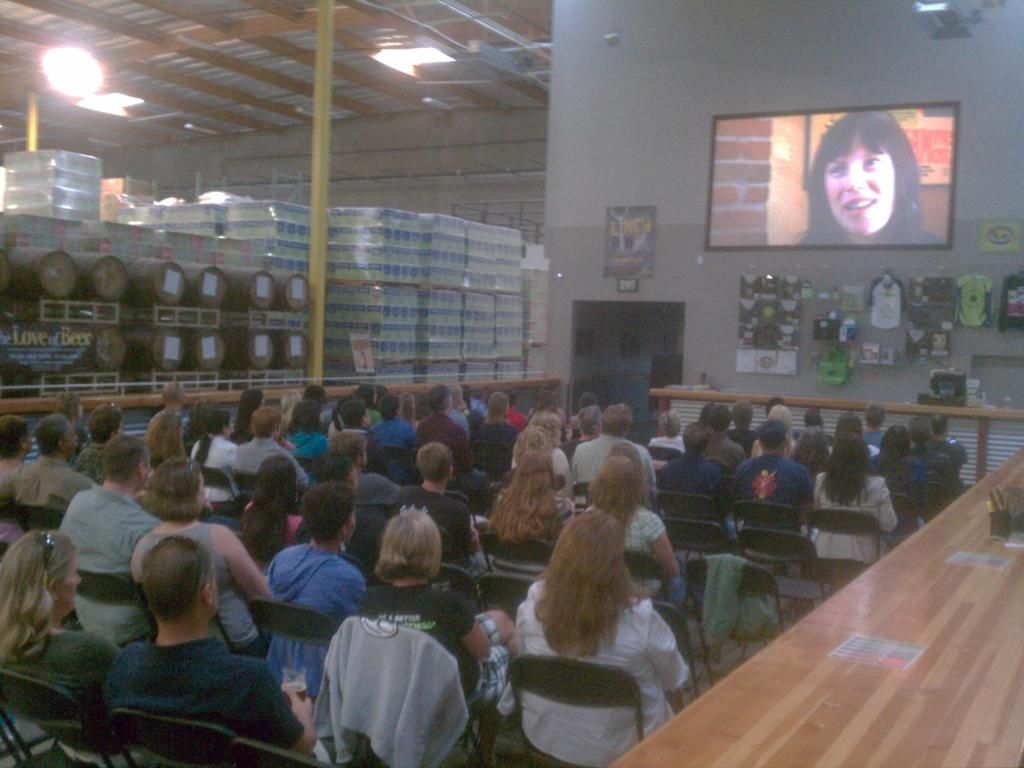 As you can see there is an incredible amount of light in the room and the screen is holding strong with only the smallest hints of being washed out. You could barley make out the image before we painted the screen. I've done 3-4 film screenings post these photos and the directors are always very impressed with the performance of the screen.
Thanks to MississippiMan for all his help with both of these projects. If you had any sort of feeling about getting a Light Fusion in your house, do it!
DIY Granddad (w/help)
Join Date: Nov 2002
Location: Byhalia, Mississippi. Waaaay down in the Bottoms
Posts: 20,903
Mentioned: 77 Post(s)
Tagged: 5 Thread(s)
Quoted: 1773 Post(s)
Liked: 808
Thank you for the update Dave!
That comment, "As you can see there is an incredible amount of light in the room..." could be changed to, "As you can see there is an INSANE amount of light in the room...."
Wow...I thought for sure they'd at least let you cover that big Skylight directly over the screen during screenings. I suppose the Silver Fire 5.0 's performance without having such be necessary kinda makes that a hard argument to push through.
I'm still dreaming dreams about that 20+ Tap Bar there, and the quality of ALL of the Green Flash brews.
I think I can dredge up some Installation Photos...even a Spraying movie or two if I try. With your permission, I'll proceed to clutter up your Thread with them.
Member
Join Date: Jan 2008
Posts: 76
Mentioned: 0 Post(s)
Tagged: 0 Thread(s)
Quoted: 1 Post(s)
Liked: 12
Advanced Member
Join Date: May 2011
Posts: 999
Mentioned: 3 Post(s)
Tagged: 0 Thread(s)
Quoted: 224 Post(s)
Liked: 85
Hi dave12285, may I know how were you attached the acrylic mirror to the Sintra?
DIY Granddad (w/help)
Join Date: Nov 2002
Location: Byhalia, Mississippi. Waaaay down in the Bottoms
Posts: 20,903
Mentioned: 77 Post(s)
Tagged: 5 Thread(s)
Quoted: 1773 Post(s)
Liked: 808
Once Upon A Time In The West......
Seems a good start.
The Green Flash Brewery Screen. Indeed a challenge from start to finish.
Memory serves to relate that this is at least a 184" diagonal Screen ( 90' x 160") It's size does not become apparent until I start moving across or standing in front of it.
Projector is a Optoma TH1020P
This is a
Silver Fire v2.5
5.0
application painted directly onto smoothed (Ha, ha, ha...), finished (Snort / sputter!) Primed (excessively) Drywall.
But don't let me make less of it that it was....no sir!
This was a Warehouse Wall....above the 12' level, where the original Drywall finishers didn't give a.......single thought about trying to cover and smooth any joints. (see below) and the outside finish was a coarse, pebbly textured paint. Hmmmmm....lets make a Screen out of this.
Really though, this absolute worst case example I saw at the time as being a way to show wannabee Drywall Miracle Finishers how to smooth out really coarse textured walls. That is after i got over the shock of just how rough the wall surface was !!!!!
That was about exactly when I told Dave that a Screen in 2 days was an impossible task. I don't take "impossible" lightly, myself not usually owning up to anything "Screen - wise" being impossible. But just the drywall finishing was going to be a 2 day affair, because the only available time to work was at night when the Brewery was shut down. And as luck would have it, being January in San Deigo doesn't assure one of Balmy days and mild nights.
No...I
T WAS COLD AT NIGHT!
Drywall mud does not dry fast in the cold.
Primer does not dry fast in the cold.
Paint does not dry fast in the cold.
Time can really drag when your cold........
The situation had to change or drowning in "beer" wasn't what lay in store for me......
But....after what seemed a desperate and depressing first 24 hours, we acquired the only two "Mini" Propane Heaters in all of extreme Southern California.
Now I could "COOK"!
The first image is of the initial start of the masking of the Screen parameter. The spot chosen (by me) was for both widely dispersed viewing and because that area of the wall was the least decrepit.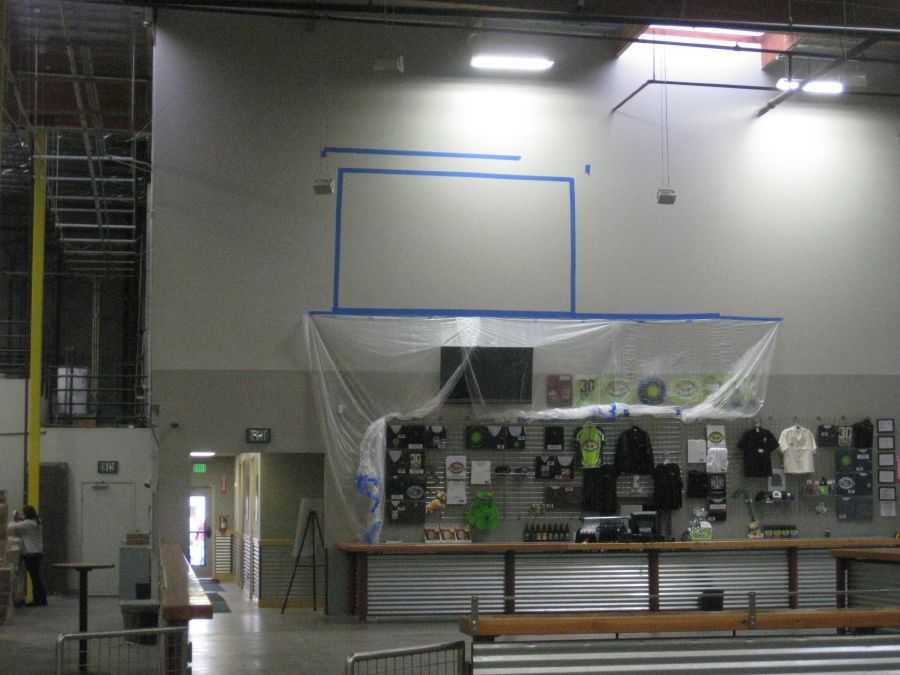 However the next AM it was related that the spot chosen was too high. "Must be Lower".......much lower. and intrude into the area where the Wall Mounted Flat screen TV was hanging. (see above) That involved dealing with this.....: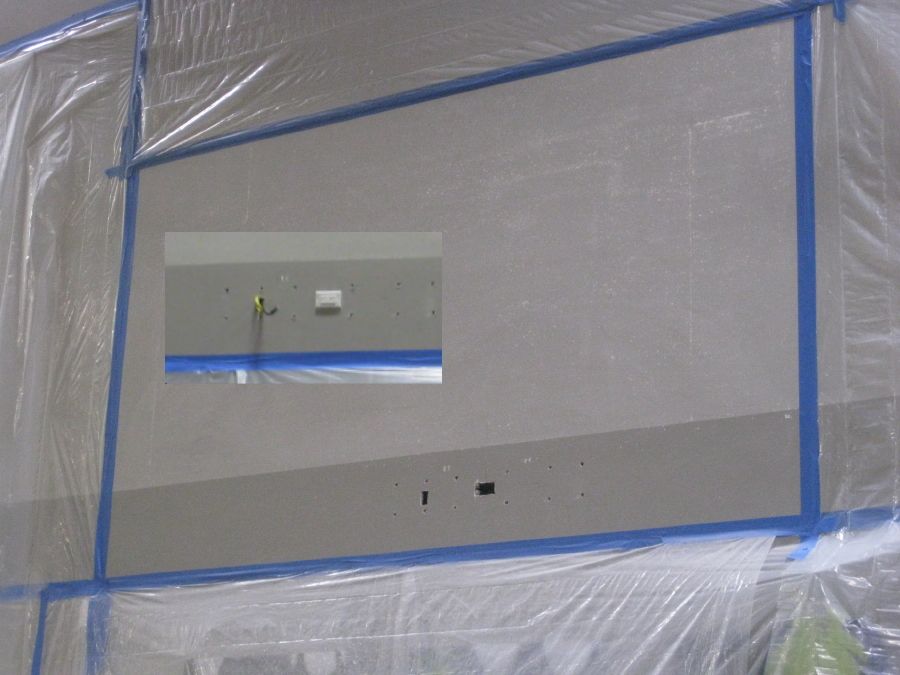 Eight lovely large Lag Screw Holes and two empty Receptacle holes. All those lumpy joints and the wall texture wasn't enough. Absolutely...my Beer allotment doubled immediately.
So we gotter masked off.....as also shown above, and i went to work with Knife, Mud Tray, Sanding sponges. So first I scraped the wall with a 4" wide Scraper Tool. But "lightly" so as to remove the topmost points and to flatten out the texture to at least some even degree.
Then I applied a Skim of Drywall compound over the entire surface and scraped it lightly. I let that dry, lightly sanded the entire surface, then applied another skim coat....let that Dry and Sanded again.
Moving on....less than 48 hours later I was ready to Prime. I decided to go back to an old friend....Kilz2 Latex, undiluted and applied with a 1/2" nap roller so as to deposit a ample amount of paint. I reasoned this would both help to cover and to fill in small depressions than remained.

2 nd coat of Primer

3 rd coat of Primer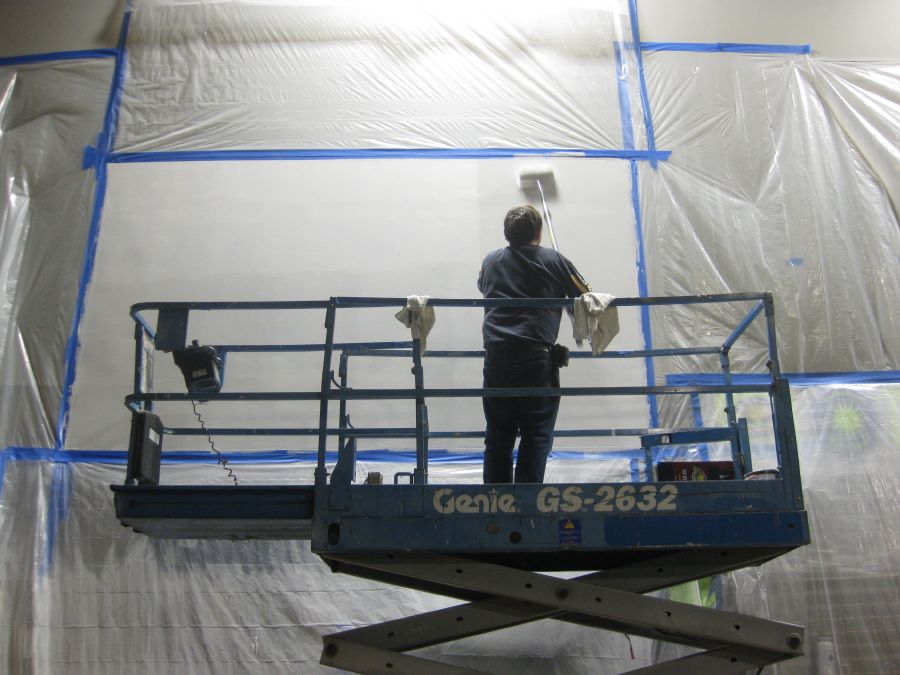 After the 3 rd Coat of Primer
(...I sanded between the second / third coat, and again between the 3rd primer coat and the 1st SF coat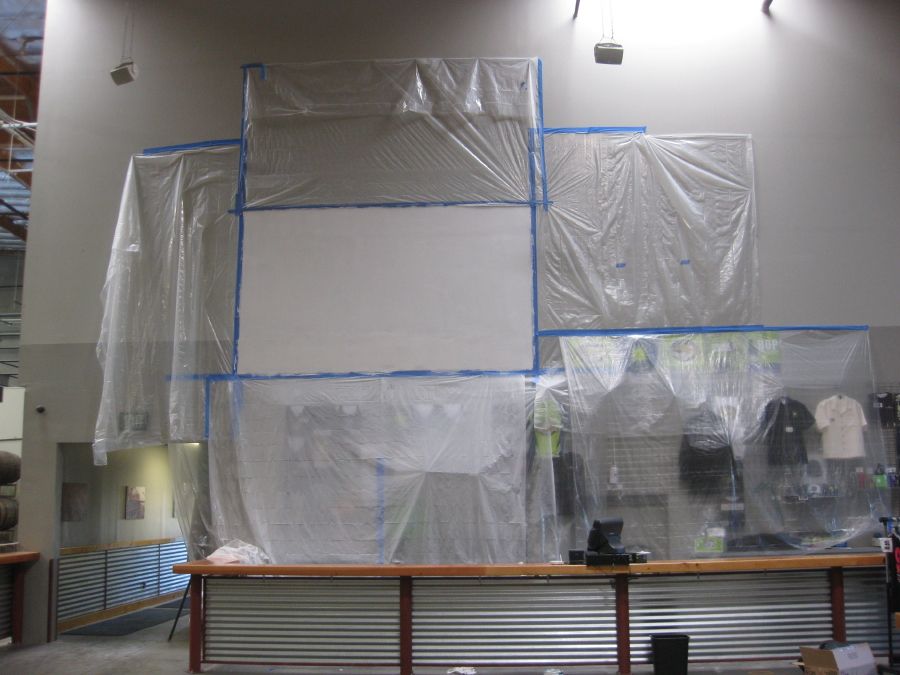 At this time we added even more Plastic masking protect the couple thousand dollars worth of Souvenirs and that really nice massively Wood Topped bar.
Oh let's not forget this. The Self Propelled Scissor Lift. Absolutely necessary, and just as necessary that I thread it into and out of as well as back and forth in this little slot.
Yes....2 Tons of Joystick controlled Steel squeezed between shelves of costly products and a Bar I couldn't begin to put a value to. Less than 6" space on either side.
Anybody getting a feel for the laws of probability (...and 'ol Murphy...) that seemed to be dangling above my head in all this?
I'll just say this once.
The Beer got me through it all.
So...let us "spray" together......:
I'm sure you noticed the difficulty I had with the trailing Hose hanging up on the Platform railing. When that happened you will note I stopped and restarted at the opposite end, feathering into my pervious stopping point. After 3 times or so I learned how far out behind me I had to hold the hose.
Also, that big dark spot on the upper right of the Screen is not / was not too much paint, but the difference in surface color between where the drywall mud was the thickest and the wall area that had a much thinner skim. The thicker area was more smooth, but also more light absorptive, and did not reflect light as effectively as the thinner mud & Primed areas. As you'll note after the 2nd coat below, the spot has almost blended completely.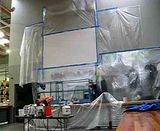 Time for the pause that refreshes.........

After the 3 rd Coat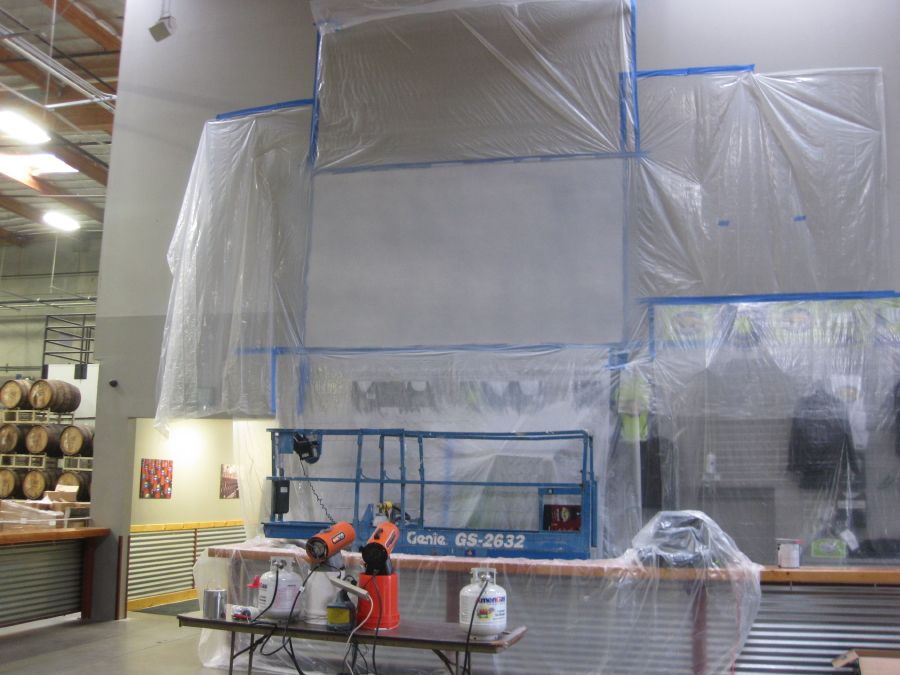 After the 4th Coat
After the 5th and final Coat, while the paint is still wet...: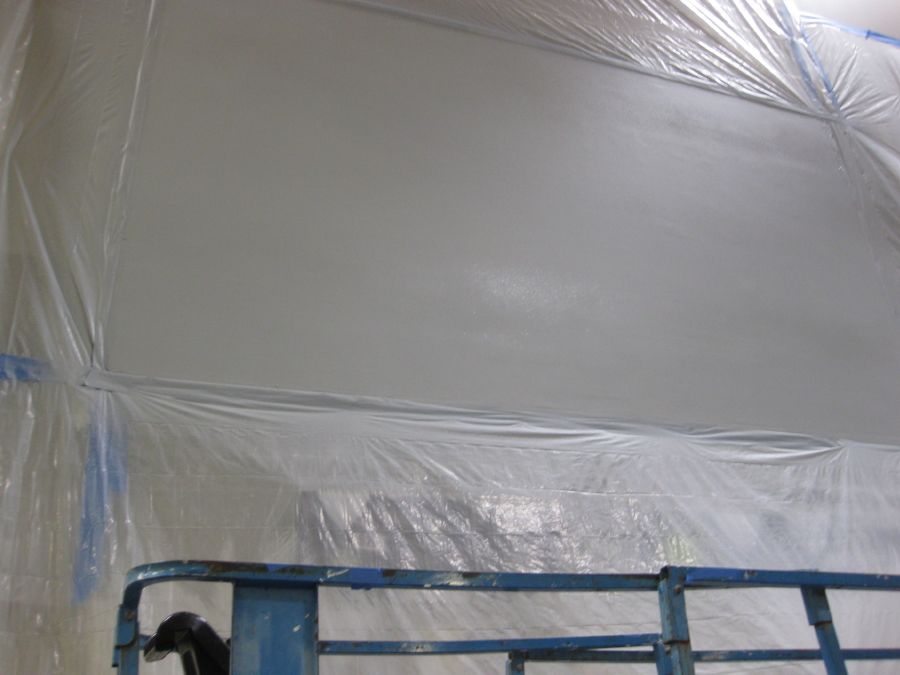 ......and as the Plastic is being removed. This shot taken from very close, and it shows how even after considerable effort to smooth, prime, and paint, the high contrast nature of the Silver Fire still makes any surface irregularities become more easily apparent. Luckily, from a Floor Viewed angle, any remaining blemished areas were wholly invisible, especially during a screening.
This shot represents the color / depth of Gray / Silver hue the
Silver Fire v2.5
5.0
presents...: And lastly (almost) a shot of the finished screen, sans trim, in a image taken with a flash from directly below.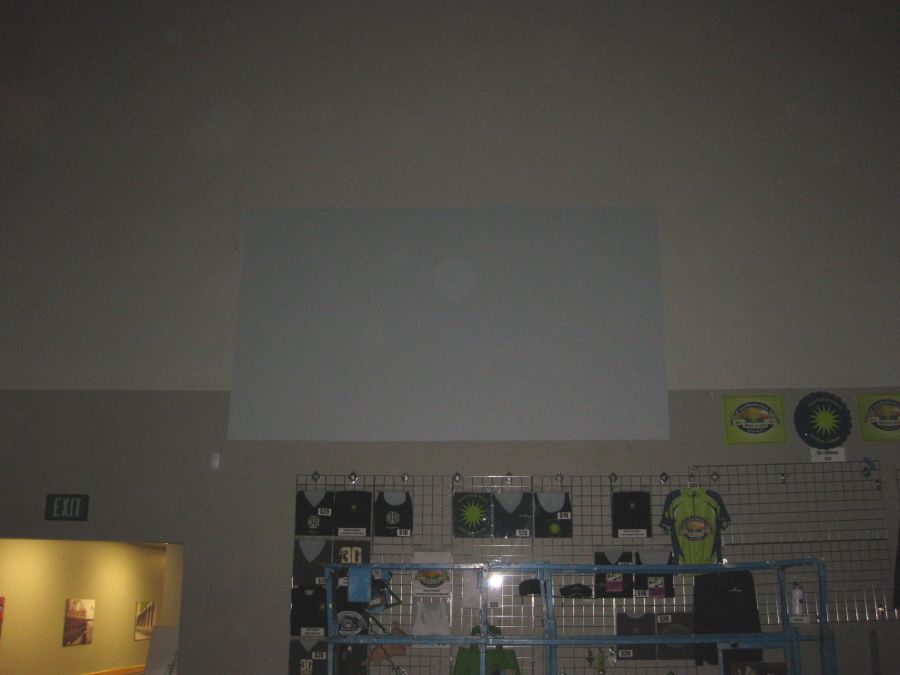 The very last shot to offer helps to show just how high up 30' really is !!! I had to use 12' of Schedule 40 PVC Pipe to place the Optoma at a ideally suited height.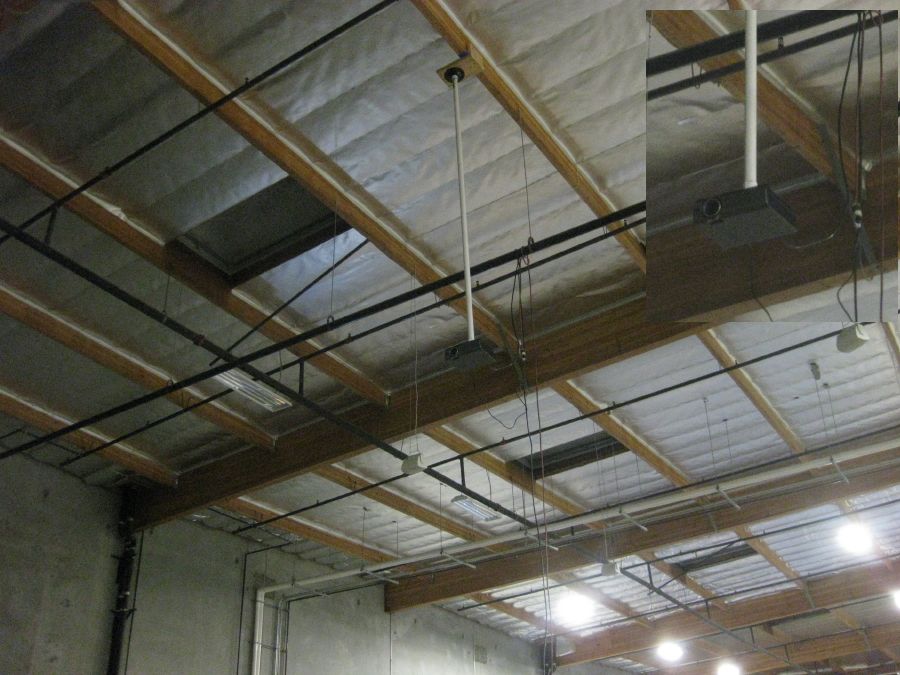 That brings us fully up abreast of Dave's photos above. I finished the big screen late in the evening before the morning of my protracted departure. Not really any time to spare at all.
But Dave's hospitality was impeccable....the Beer was delectable....and the palpitations I had early on barely perceptible.
DIY Granddad (w/help)
Join Date: Nov 2002
Location: Byhalia, Mississippi. Waaaay down in the Bottoms
Posts: 20,903
Mentioned: 77 Post(s)
Tagged: 5 Thread(s)
Quoted: 1773 Post(s)
Liked: 808
Hang on Wolfie....I'll be constructing a post dedicated to the 100" Light Fusion in Dave's house next.
But the short answer is:
White Silicone / Water based Adhesive Caulk.
DIY Granddad (w/help)
Join Date: Nov 2002
Location: Byhalia, Mississippi. Waaaay down in the Bottoms
Posts: 20,903
Mentioned: 77 Post(s)
Tagged: 5 Thread(s)
Quoted: 1773 Post(s)
Liked: 808
These images are a supplement to the first ones Dave posted above concerning his "Acrylic Mirrored Light Fusion ( coated w /
Silver Fire v.2.5
3.0
)
Tent it up...: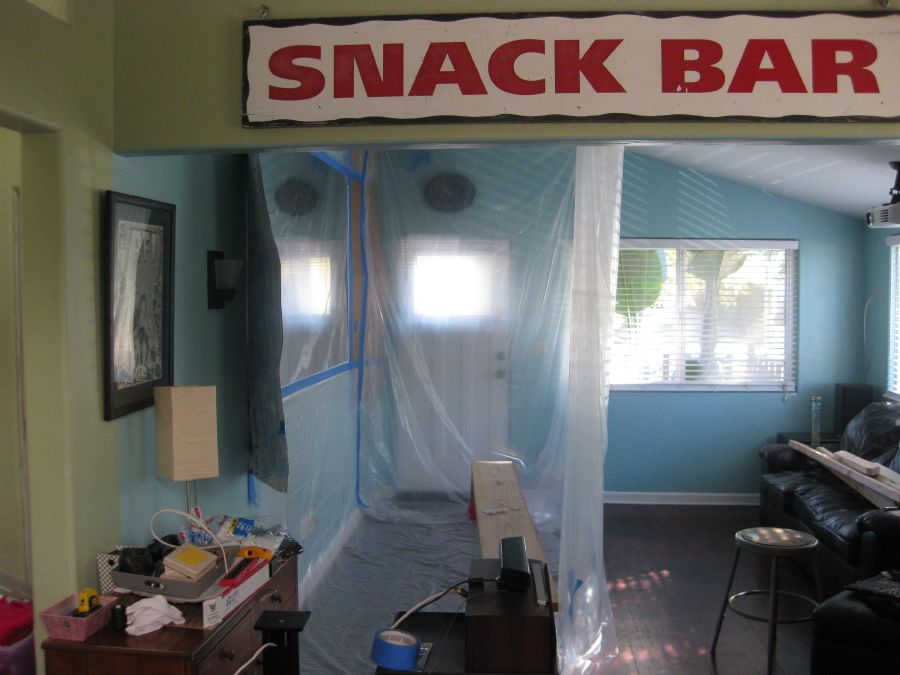 All Trimmed up....and the man himself....the Brewmaster!

All lit up....but still daylight w / lots of ambient light.....: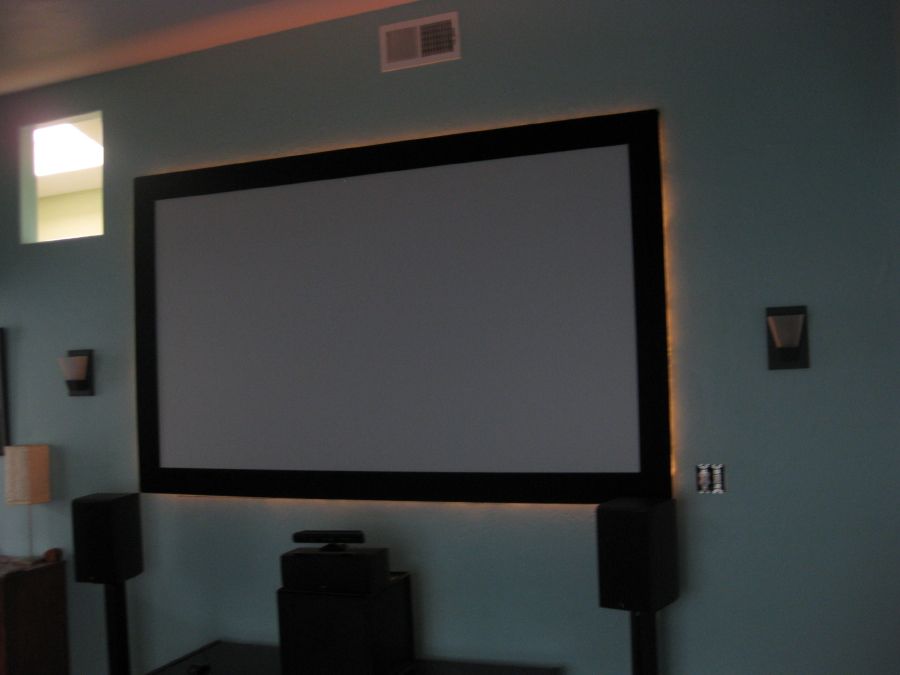 A contrast comparison shot between a White strip of Sintra and the Silver Fire v.2.5
3.0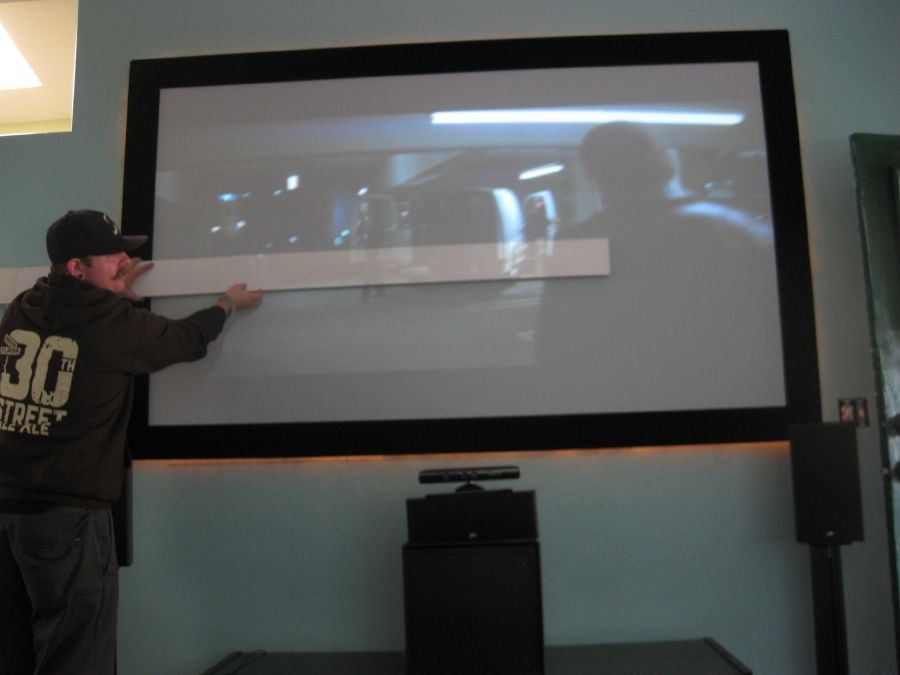 Early afternoon Football....: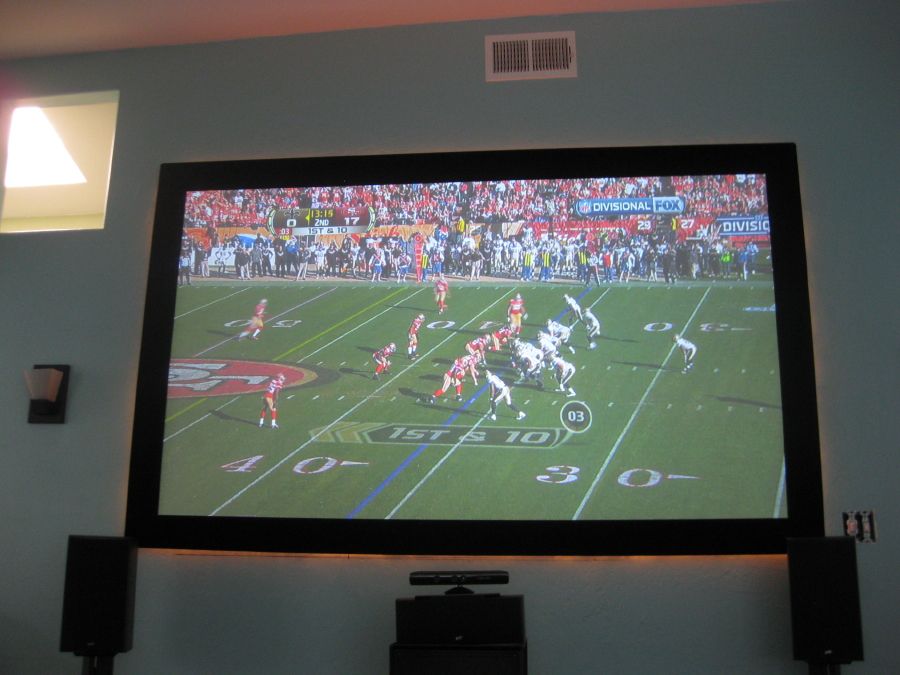 In the afternoon daylight ambient shots, the screen did have a bit of wash-out, but as Dave related, his lamp had a incredible amount of hours on it. Perhaps 3x as much as the normal Panny projector lamp. So it was far dimmer than it's original output of 2000 lumen. Even so, it did quite a job in a light pastel colored room with a white ceiling, showing images in the middle of a sunny Southern California afternoon.

But once that Sun started to settle down behind the Palm trees..........................Oh Boy! Light Fusion really started to show off it's potential. The Panny 100 / 200 units were known to have less-than exceptional Blacks, but it's color palette was never held to be anything but excellent. Still, the Panny had enough horses that when combined with both the dark reflective gray surface of the Silver Fire v.2.5

3.0

and the Light Fusion principle of reclaiming and reintroducing attenuated light, some spectacular screen shots started to flow. Every shot was taken with no pause employed and all were taken hand held. (...excellent beer steadies the hand....)

Remember to breathe every once an awhile !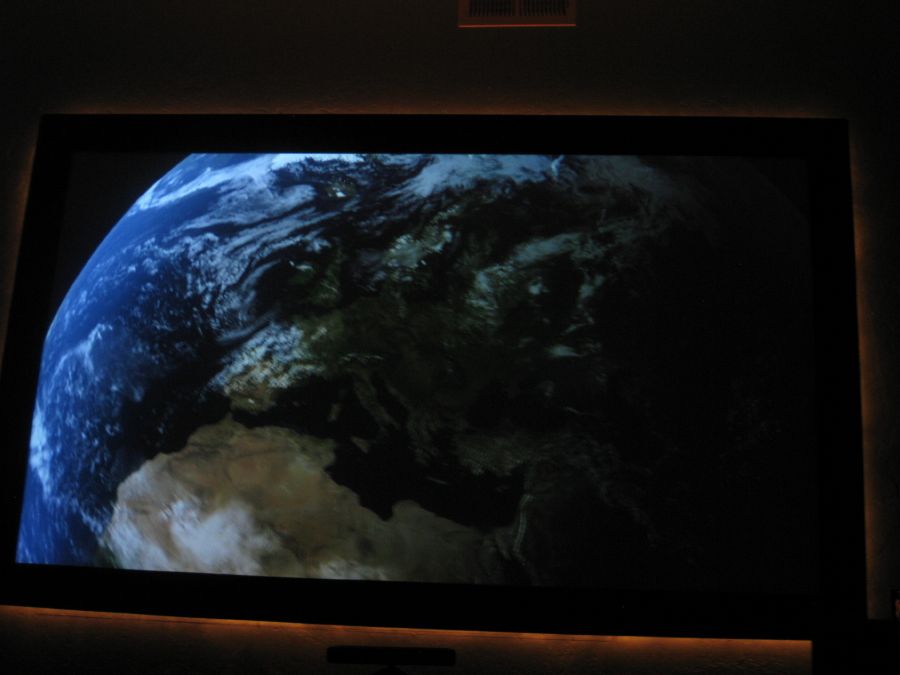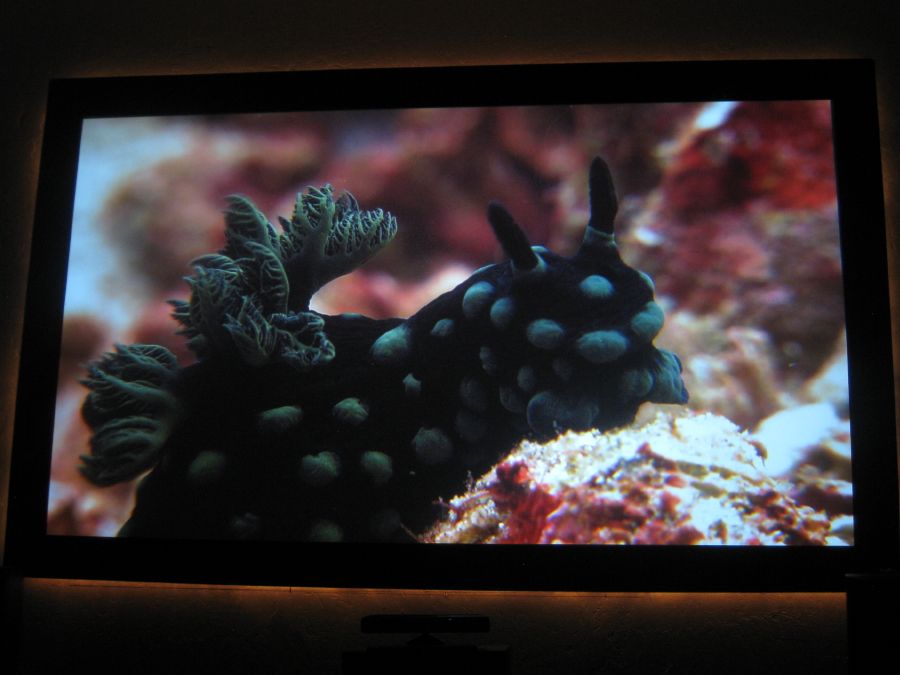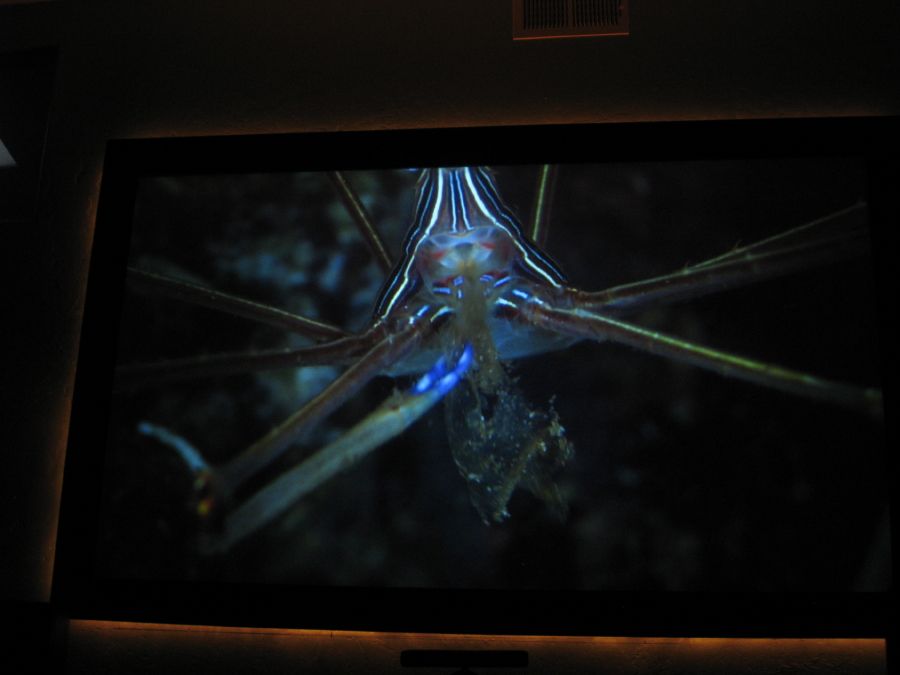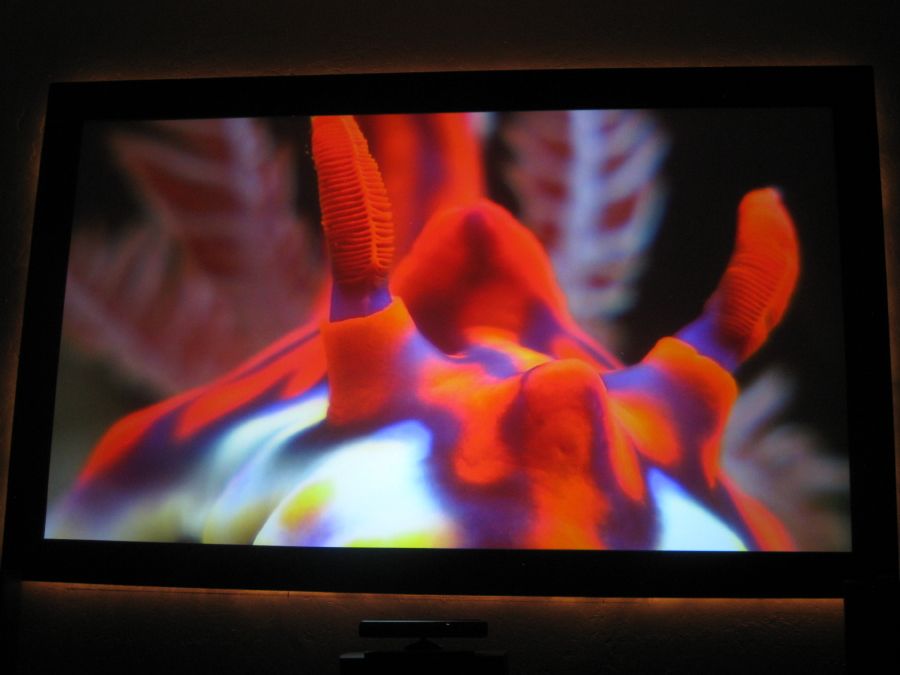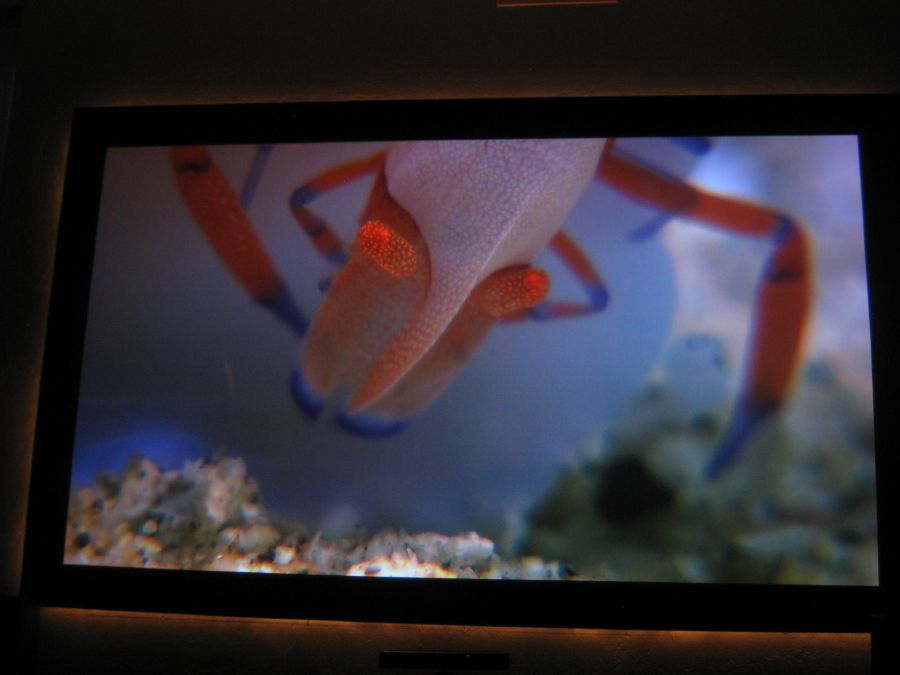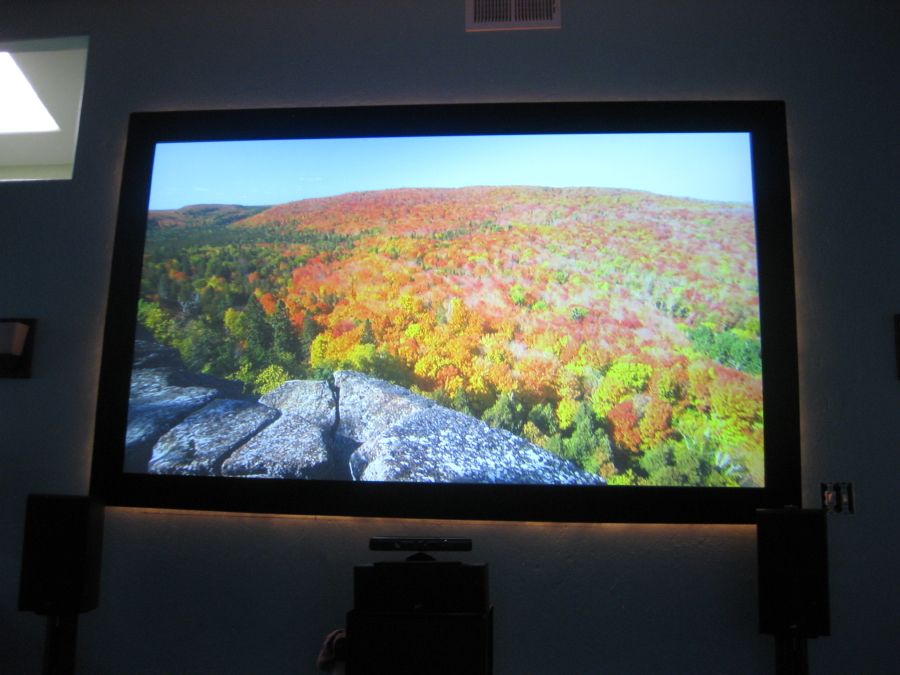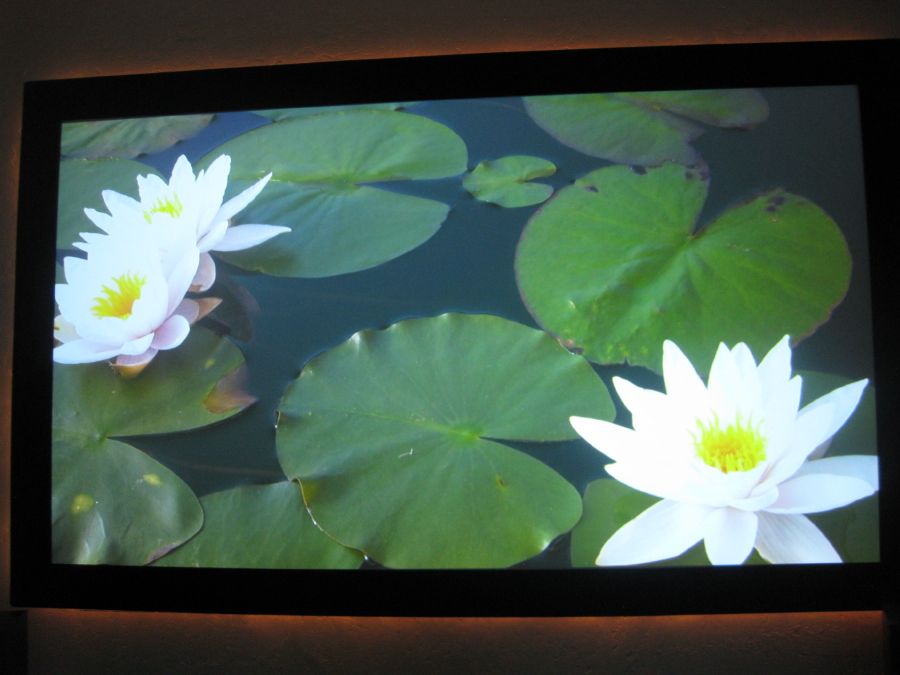 The images above represent 2D in it's best possible "light". In person, the image produced by a Light Fusion screen more often than not can fool many into thinking they are seeing 3D without Glasses.

The future holds store great expectations even as Dave frets over what new 1080p Mega Contrast Beamer to choose. Whatever the choice, I can't see it being anything but "all good".
Member
Join Date: Jan 2008
Posts: 76
Mentioned: 0 Post(s)
Tagged: 0 Thread(s)
Quoted: 1 Post(s)
Liked: 12
Nice! Thanks for all the extra photos. It has been fun reliving the grueling week while you were out here. I'll be sure to update when I get the new projector. The panny is still wowing everyone that walks through the door be it day or night.
Posting Rules

You may not post new threads

You may not post replies

You may not post attachments

You may not edit your posts

---

HTML code is Off

---