Newbie
Join Date: Jun 2014
Posts: 2
Mentioned: 0 Post(s)
Tagged: 0 Thread(s)
Quoted: 0 Post(s)
Liked: 0
BOC on frame for Epson EH-TW2900, any suggestion please?
---
I'd like to make a custom screen for my beamer, mostly because I'm unhappy with the quality when the room has some ambient light. When it's dark is mostly fine but I wouldn't mind some gain there either atm.
I read that the beamer, the room and the use affect what the best solution might be, so I'll try to be as exhaustive as possible. Sorry if it's too much details
I would guess that half of the time I watch it with (some) ambient light, while the rest at night in the dark, so I assume I have to go for a sort of all-round solution. It doesn't need to be the very best, I'm mostly looking for a good compromise between effort, cost and results.
The room is wide, white walls, ambient light coming from the side (windows go throughout the whole "wall", which is 2m (~6ft) far from the projection area , distance beamer-wall around 4m (13ft) and as mentioned the beamer is an Epson TW-2900 from 4 years ago. I'm aiming for around 110".
Since I live in Europe, I have the feeling that my options are a bit limited compared to being in the US. I stumbled upon this website selling this projection screen material (maybe simply a BOC with screen ambitions?) and its price seems fine to me (51 pounds delivered, around $85):
http://www.projector-screen-material...maxiwhite.html
This would actually be a fine solution price-wise for me, therefore my idea was to start off ordering this screen, set it on a simple wood frame and see where to go from there, if it's already enough for my use or apply SF (I guess?) later on, but the mentioned "Projector Screen Gain 0.9" pulls me off a little.. they have other materials with higher gain, but the delivery is too expensive for me (it's fine for UK, but in my case it would be Europe, the MaxiWhite is delivered for 11 pounds, while for the others I'd have to pay a hefty 40 pounds) What do you guys think? Would you suggest a different approach?
I was also considering backlight using a led strip (
http://www.amazon.co.uk/YAGGU-SET-Ch.../dp/B007H39XLA
), in that case should I go frameless?
DIY Granddad (w/help)
First off, exactly where in Europe do you reside?
There is a Company here in the US that sells a very good product, and ships via USPS (US Postal Service) to Overseas addresses, and it is by far the least expensive shipping I have found.
The have both White & Gray material, the latter being more suited to your Ambient Light needs. Silver Fire sprayed onto the White material would of course be most ideal, but also more expensive, and if your request:
"I have to go for a sort of all-round solution. It doesn't need to be the very best, I'm mostly looking for a good compromise between effort, cost and results."
is to be taken out of hand, the the Flexi-Gray found here would be the best choice.
http://www.carlofet.com/projector-sc...-material.html
You should email them prior to ordering and specifically request that the Product be shipped in a "Roll".
If you want a surface with appreciable gain
AND
ambient light performance, the go with the Flexi-White:
http://www.carlofet.com/projector-sc...-material.html
.......and spray on
Silver Fire v2.5
3.0
If you need help acquiring the necessary ingredients for the Mix, just let us know.
Back lighting a Zero Edge Cloth screen requires making a two step Frame. Let me know if you need a diagram of a suggested build.
Newbie
Join Date: Jun 2014
Posts: 2
Mentioned: 0 Post(s)
Tagged: 0 Thread(s)
Quoted: 0 Post(s)
Liked: 0
Hi MM, thanks for the reply
I live in the Netherlands, Amsterdam, Carl's Place gives me an estimate of $111 just for delivery
If I get it right, you suggest I either go for the FlexiGray out of the box or FlexiWhite + SF v2.5 3.0 and if I choose for back lightning then I want it zero edge, is this correct? For the frame in this case I was just thinking about added supports for the led strip instead of a two step frame, but I'd be glad if you could suggest me a build for that
DIY Granddad (w/help)
Here is a simple diagram of a rigid Frame with sufficient "Stand-Off" and "Inset" to allow for a LED Back Light.
The 1.5" Stand-Off provides enough room for the LED Lighting to spread out, evening out it's intensity so that individual LED Lighting Elements are not resolved.
The 2" Set-Back from the outside edge has a similar purpose, muting the "Glow" so that it produces a Halo effect, not a bright "Ring".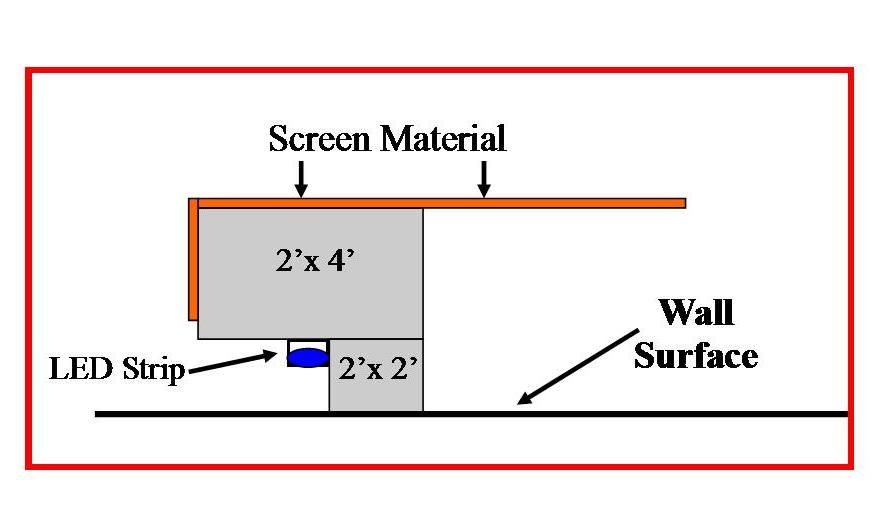 I would suggest the Flexi-Gray since the added cost of shipping can be offset by not having to spend for the SF Paint elements, which themselves would add at least $195 USD
(...of course at the current US-Euro Exchange Rate, the $111.00 for shipping isn't all that bad if it also included the cost of shipping it in a Roll...)
Posting Rules

You may not post new threads

You may not post replies

You may not post attachments

You may not edit your posts

---

HTML code is Off

---