I concur.
FTR, every mix I use is a "cobbled together" version of Silver Fire (BF) not a Mfg version. I love to customize screen performance for the situation, and readers of this thread who want to do likewise can but ask to receive such help.
The upcoming pictures are meant to show in no uncertain terms the "Real Life" results of using a correctly configured Ambient Light Mix. The screen shown has an abundance of light coming to it from the PJ (2200 Lumens) so if sheer Lumen oriented "Horsepower" has any value to making a "WHITE" screen viewable in ambient light situations, it should show up here. Or not.
The first Screen example below is a 140" diagonal Light Fusion screen with a very Dark Gray Hued "sprayed" coating of what we will call (...for sensibility sakes...) Silver Fire. It's constitution is identical to the SF formula "FIRST" posted under that name, only 'darkened by the use of more "colorant" than is advised in that formula.
It's really just that simple to accentuate or restrict the potential of the "Ambient Performance" via "darkening....but that should only seem obvious, I would think.
Previously Posted on another Thread.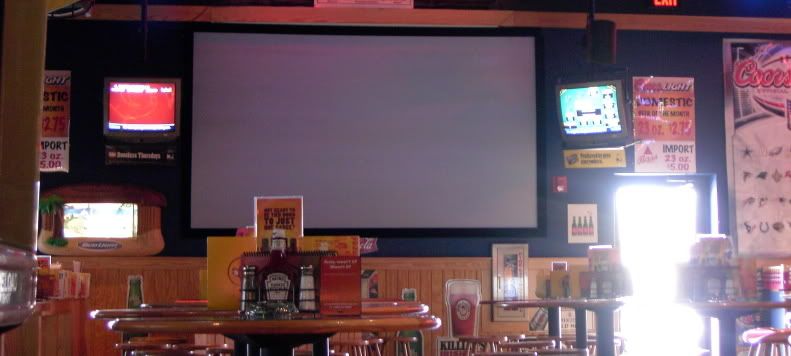 As you can see in the shot above. taken in very high ambient light, the screen's surface is darker than virtually anything that has been seen on this Forum, save Bud's whimsical but revealing "Ebony BLACK" screen experiment.
But both have much in common indeed.
The PJ being used was a $1300.00 - 3000 lumen DLP Presentation PJ (Sanyo)
It was almost 22' away from the screen to be able to deliver a 140"+ 16:9 image, so between the darkness of the screen's surface, the size of the screen, and the throw distance, the lumens hitting the screen were in no way overstating their presence. This is born out by the following images.
Previously Posted on another Thread.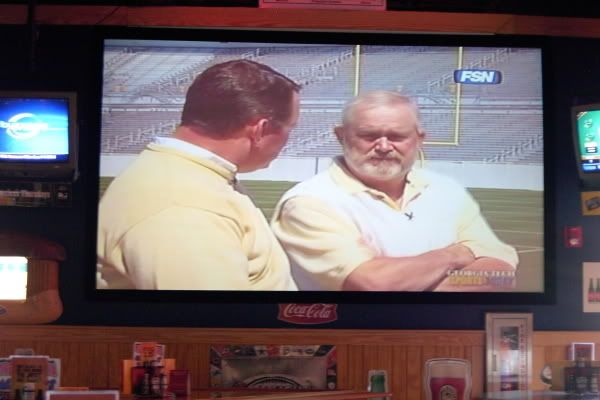 Previously Posted on another Thread.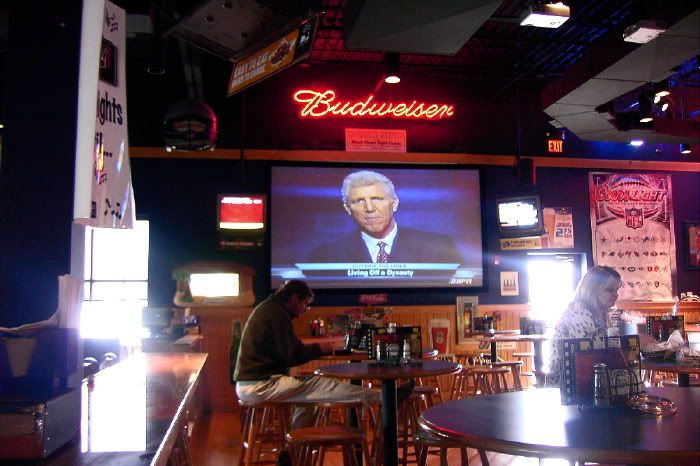 Previously Posted on another Thread.
Now for some "Comparison Shots'
The "mounted and trimmed" Light Fusion Screen seen below is a 4 year old "WHITE" MMud 1:1:1 Mix HVLP sprayed onto a 54" x 96" Mirror. It is serviced by a Studio Experience 20-HD ( aka; Sanyo PLV-70)
Previously Posted on another Thread.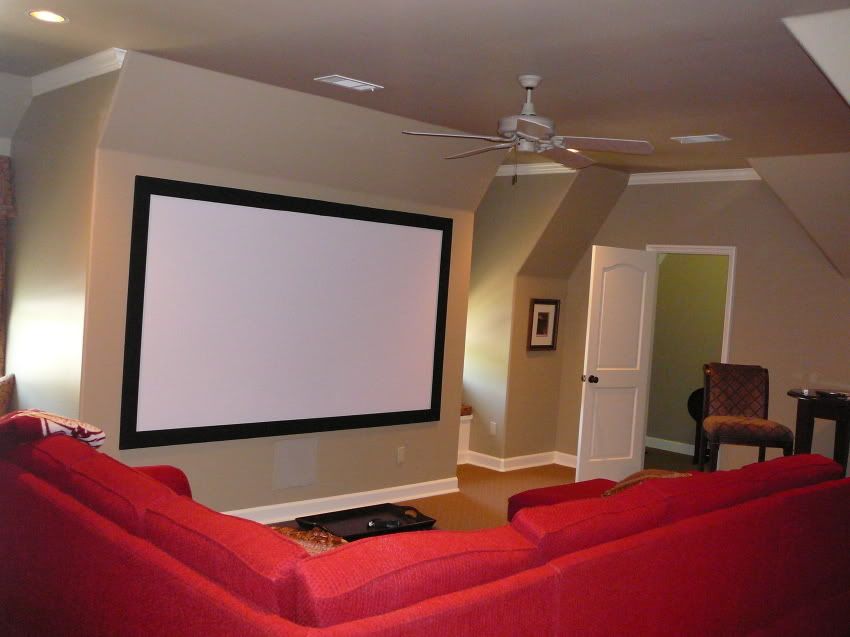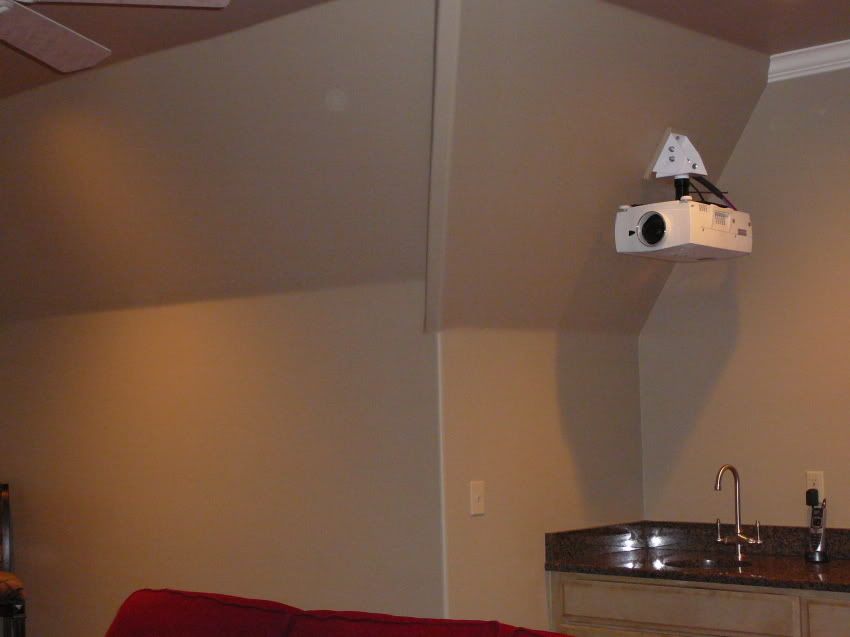 Having no effective way to place the Test strip flat against the Screen, I had to use a Chair against the Screen/Test Panel.
The next shot shows the Test Strip I recently made as seen in the "Wagner for MississippiMan?" thread. It is a "lightened version" coming directly from the same batch of paint that the first example above was painted with. Only a small amount of UPW was added to effect the lightening required, and this was done because the Test Strip seen was painted at the same time a full size screen also received the sprayed SF paint. Only the PJ being used for that situation was a PLV-Z4....and being 1000 lumens w/5000:1 CR, it's hardly in the same league as the 2200 lumen PLV-70/20-HD w/900:1 CR. There are some crazy differences between the two PJs.
But this IS a thread about achieving real and noticeable gains in perceived Contrast off the screen, so whatever works for 1100 lumens should still work better than "White" for a 2200 lumen PJ.
Now comes the "Meat". The series of shots show below in the collage are:
(...first two shots taken in identical "Low Ambient" light...)
Top Left: Note Guitar Fret Board below left hand with Hot Spotting and no detail
Top Right: Note Guitar Fret Board with "NO" Hot Spotting and recovered detail
Center Left: Full Stage shot in Low Ambient lighting (Open Curtains)
Center right: Full Stage shot Close-up in Low Ambient lighting (Open Curtains)
Bottom Left: Full Stage shot in High Ambient lighting (Open Curtains & six Can Lights x 100watts)
Bottom Right: Full Stage shot Close-up in High Ambient lighting (Open Curtains & six Can Lights x 100watts)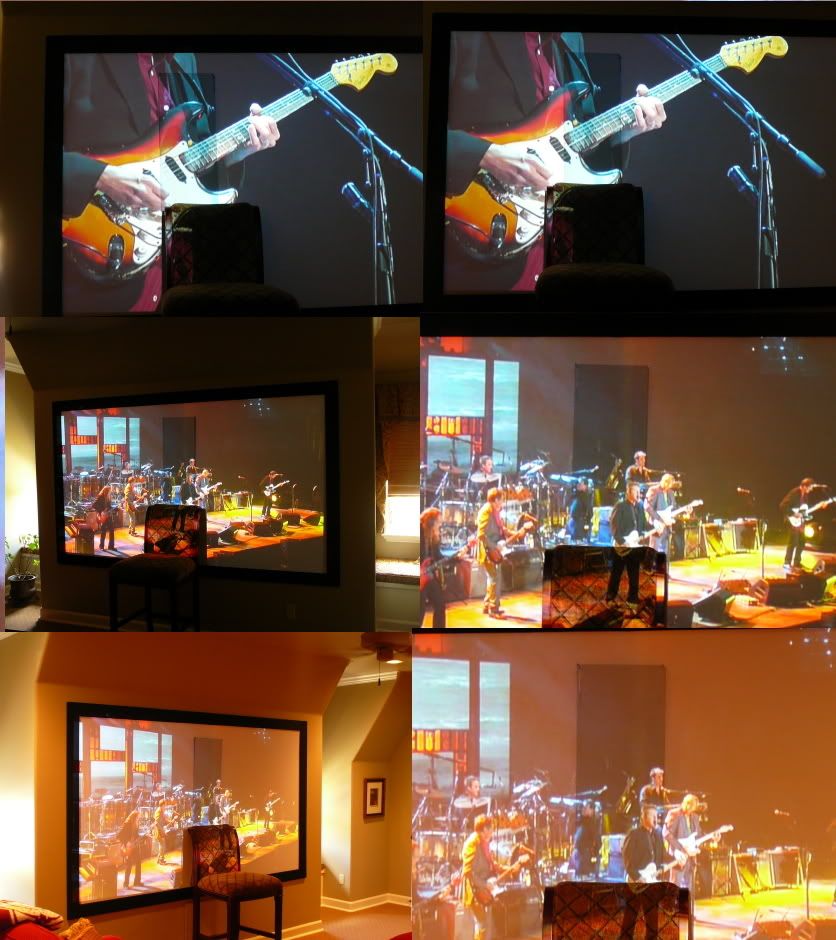 In the High Ambient Light shots, even though there is still a noticiable effect on the SF strip from the high ambient light level, it is very apparent that there is also a considerable improvement over the MMud LF Screen. And the "Dark Room" shots show just as considerable an improvement in perceived Black levels as well.[/quote]
Quote:
I will continue to show the contrasting difference between the contrast available before and after a ambient light solution is employed, and the improvement such a solution can offer even when ambient light is not present. I've chosen to use video examples with very different attributes and quality levels. The Eagle's Tour photo clips show are not of very high resolution due to a poor Video to DVD transfer, so shots taken of close ups or distant "non-zoomed" images are fairly grainy or slightly out of focus. A little fault can be found in my own needing to use the couch's back to prop the camera. Even so, the pictured end results speak quite clearly.

You all recognize this room as being the room featured above. Something important has changed, but even so, very little has changed because of it. This much I will hint at. The luminosity of the PJ has dropped a bit, from a high of 2200 lumens coming from a PLV-70, all the way down to 700 lumens coming from..........hmmmmm?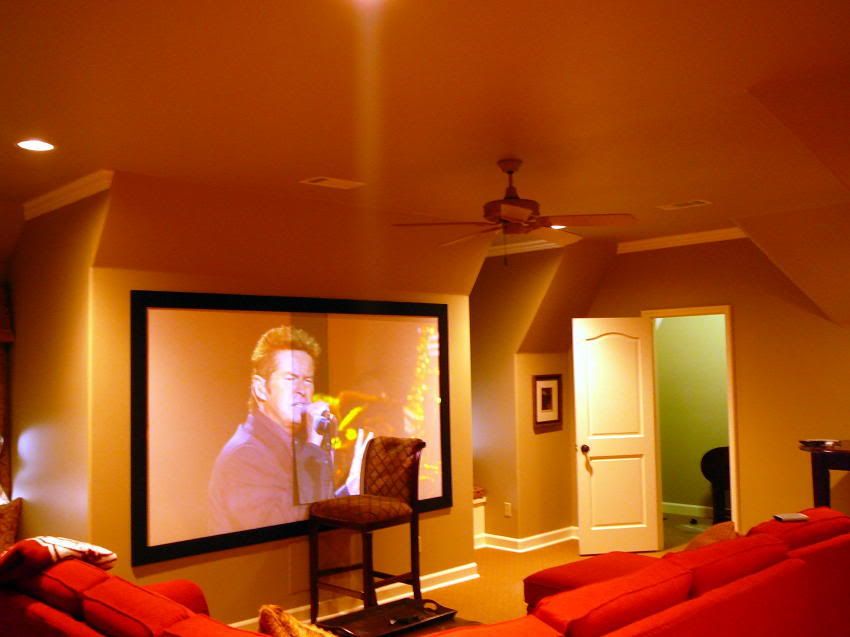 Heres a full frontal in high ambient light.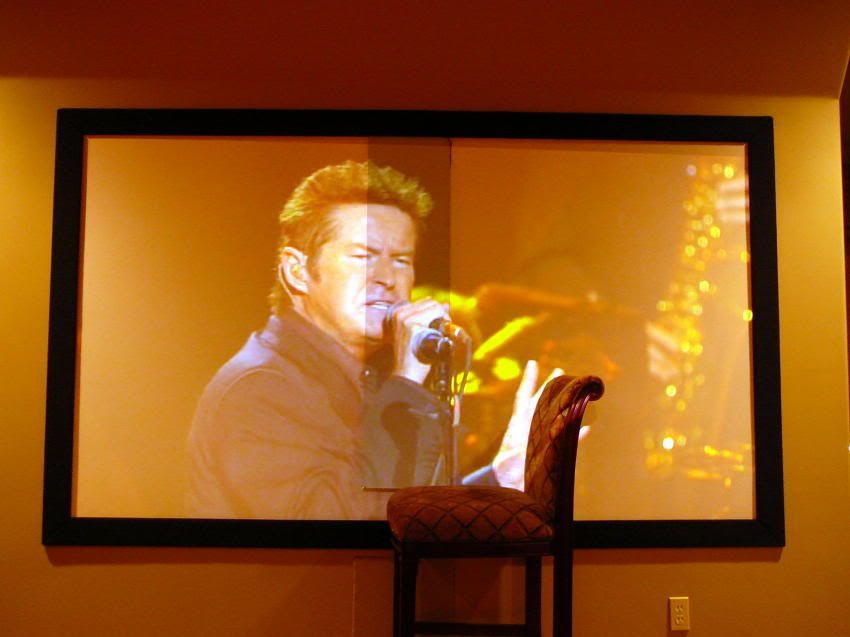 This next shot is taken in a light controlled setting, and is quite vibrant as pointed out.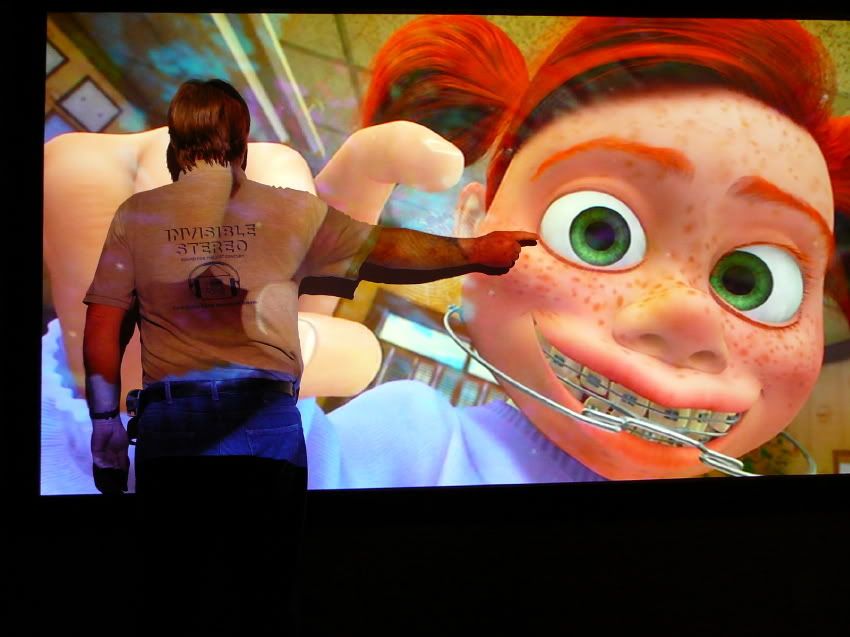 In the following shots, the Spot lighting in the Video is really bright on the singer, with a yellow colored spot in the second image that was really blasting his forehead in the second shot. All these shots were taken in the dark.
.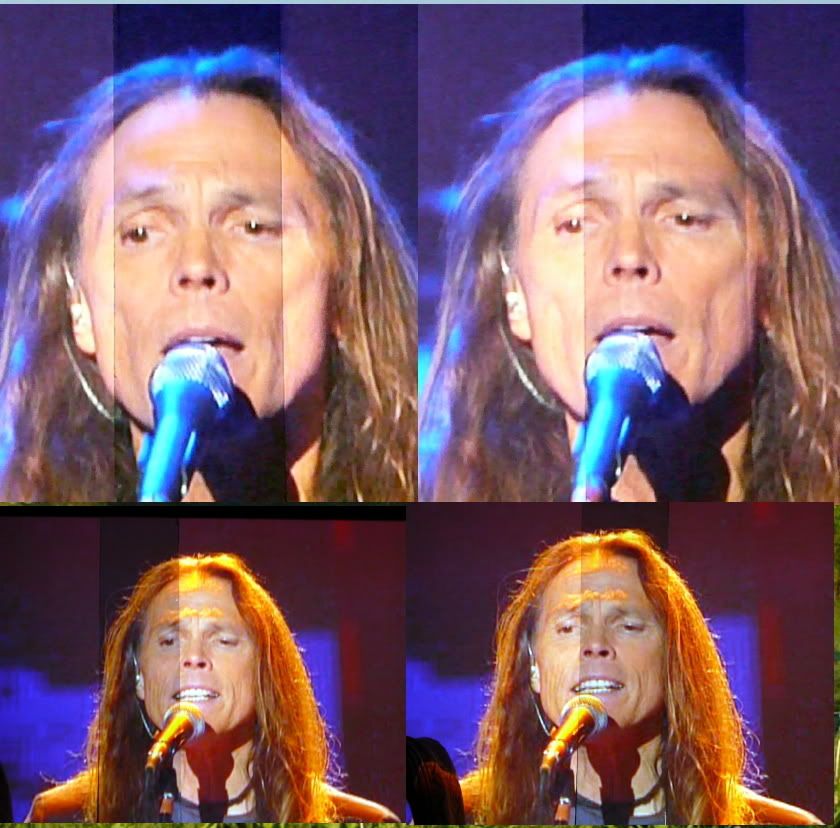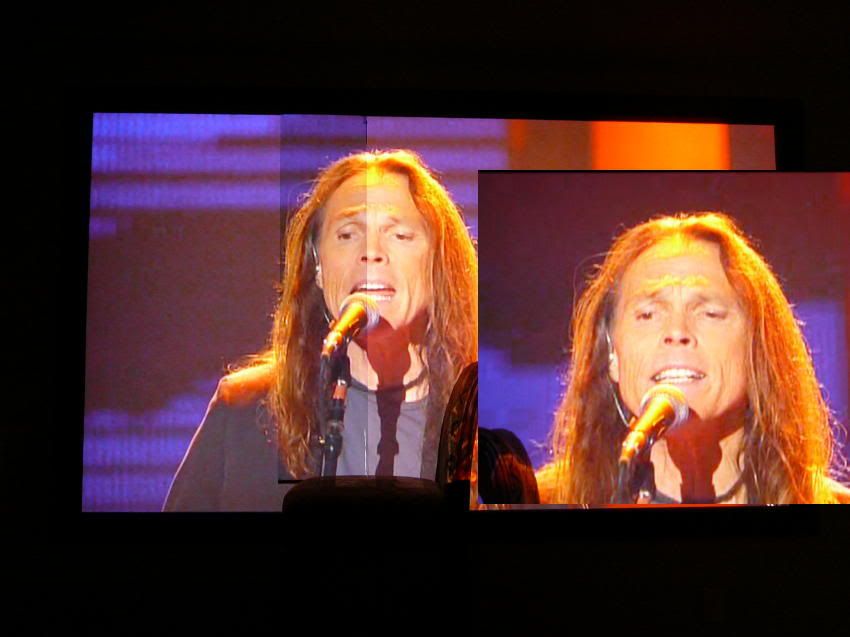 The obvious cannot be overstated when observing what is seen in this collage. Even in the ambient light shots, the image seen within the "Strip" is very watchable and basically color correct.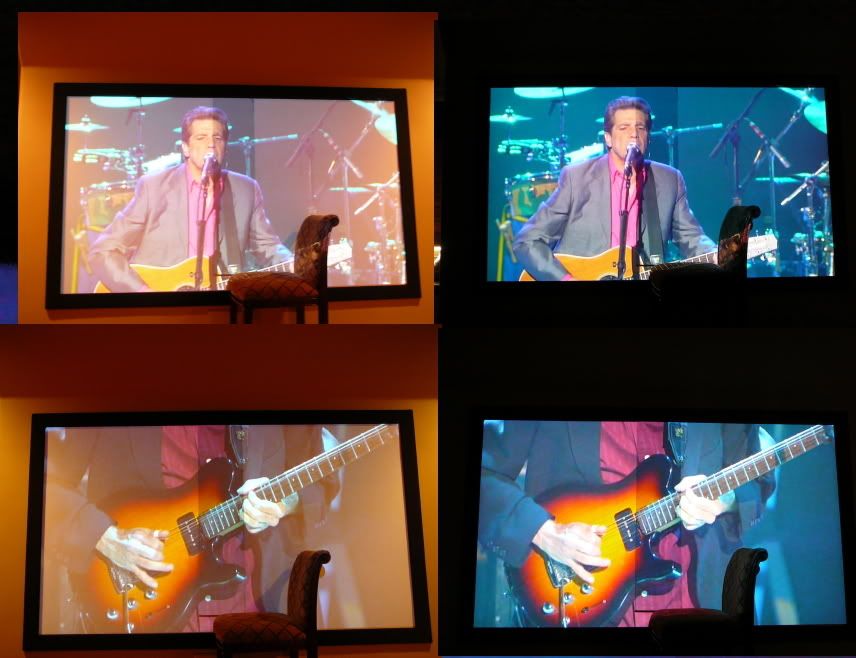 These close-up shots of a Red Guitar show both the loss of detail that comes from a white surface that is receiving even a very contrastive image in not only ambient light, but even in the dark as well. many say "White is just alright", but obviously, it leaves something to be desired....or missing rather. The last two shots are close up "crops" of images taken in the highest possible ambient light in the room.


Now a little bit of Cartoon Contrast Comparison. The center of the image is the full sized MM-LF w/test strip, while the perimeter "dual shots" feature a variety of "with/without test strip" dark room images, as well as ambient combos. (I was trying to save space.)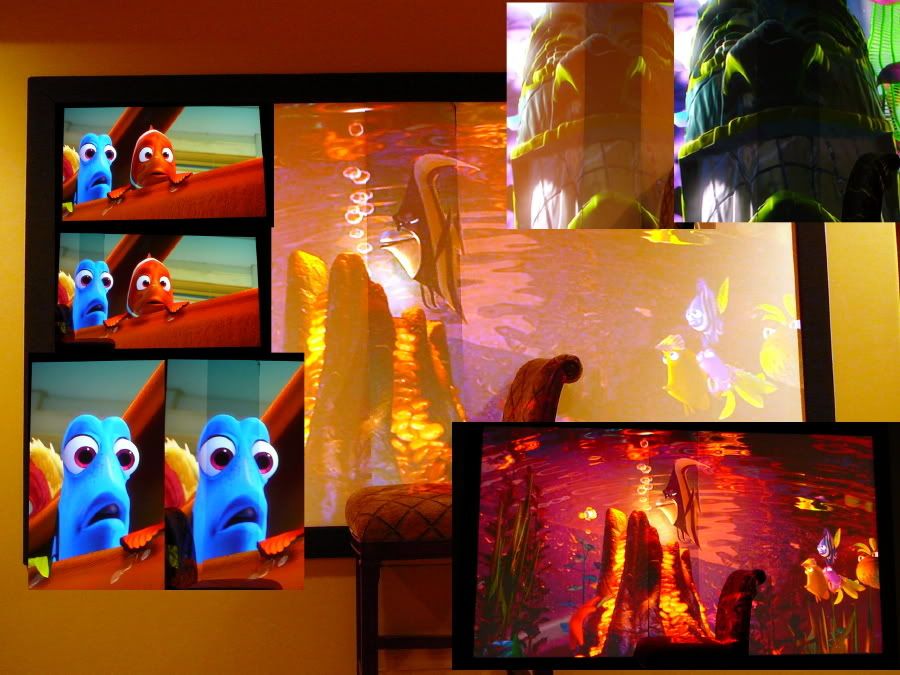 Ok, now what is different from the first round of images that opened this Thread?
Well, as I said before, the hint was that non-calibrated lumen output had dropped by over 100% from 2200 to 700. However, the PJ's Contrast has increased from 900:1 to 15,000:1.
Oops. That gave it away, didn't it? Doesn't the PJ below look a little "Blacker" than the PLV-70 poster earlier?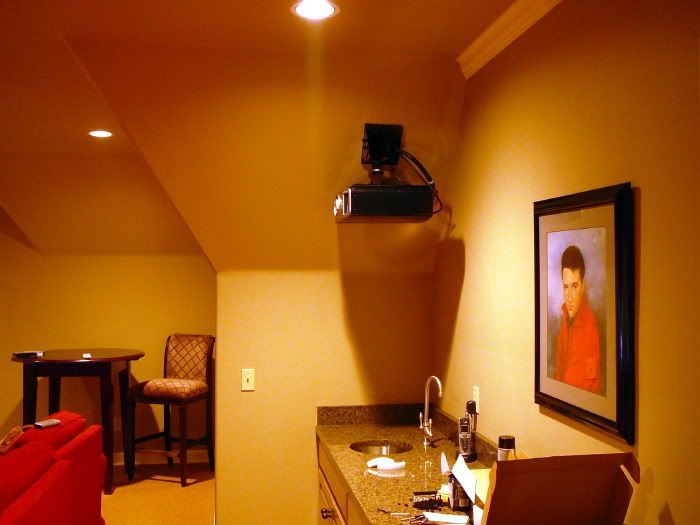 Yep, the PLV-70 just got replaced by a JVC DLA-HD1. yY wouldn't think there would still be such a difference to see, at least in the dark Room shots, or if any difference was there, one might expect a severe amount of image degradation due to such a substantial drop in available lumens as seen on such a dark screen surface. Is "Fusion" helping? I have always found it to be so....more so when a dark but translucent coating is used. But if it is not, then the SF coating is doing quite a job all on it's own in boosting the Cr of Colors, rejecting the worst effects of ambient light, all the while helping to augment the light received without hot spotting. Those are three very conflicting attributes seldom combined together in one screen.
Comments are welcome.
...................and not just from Bud.