Yeah I am really glad you got yours in. My replacement comes in today and since I haven't sent the damaged one back yet I will get to play around with two. It may be a bad idea though, because I will probably have to order another one
can anyone with the sub in hand measure the width of this baby. I need to know if it will fit the location where my current sub it. Don't really want to trust the spec info. thx.

If I remember I will tonight, although I think it was pretty accurate.

I posted it back a couple of pages (post #240 I think). It was ~14.25" W (rounded to the nearest .25")

Mine will arrive in a few hours. Can't waaaait!

Mine was delivered at 1:30 CT today. Course, I'm not home to check it out or anything. I'll hook it up tonight and maybe have some time to give it a whirl. UPS has been molasses slow so here's hoping everything arrived ok!

Quote:
Originally Posted by
jayzfelon
Make sure you set your speakers at small instead of large on your receiver. this might be the problem why your didnt hear anything when you set it at half on your sub. When its set to large the low frequenzy is being directed to your speakers instead of your subs. even if you have large speakers its ideal to set it at small so it can direct the low freq to your sub. someone correct me if im wrong. WE have similar receiver I have onkyo 705.
Thanks for the info! Ok, I did a lot more playing around and it's at the half way mark with enough sound. I just ran the Audyssey on my setup and it pretty much set it up properly for me with slight tweeks afterwards. Wow, this sub goes deep. I cranked it up a bit for the opening scene of Lord of the Rings and am very impressed. Coming from a downfiring sub to this feels a little different. I'm going to play around with placement, but I think my neighbor will hate me.
Well it happened to me too. Today I got my replacement in and its black where as my original sub was cherry. Your not alone now Scubie. I can't say that I am pissed because it actually looks really nice.
The sub showed up today (couldn't sign for it yesterday), and its a beauty - honestly, one of the finest looking subs I've ever seen. It matches my surround sound to the T, and fits in awesomely.

Using an interconnect from monoprice, its a little on the loose end, some pliers will fix that.

This sub is one hell of a deal, knocked the wind out of me just getting it up two flights of stairs... and I'm in fit shape and only 18.

My sub placement has it underneath my desk - in the leg-area. The bass pushes so hard that it makes the all-wood backboard rattle (this desk is freaking solid)

Good news for me, the foam packaging that houses the sub in the box is extremely dense and is GREAT for dampening vibrations. So I wedged two long strips of it behind the desk, and pushed it back.

...no more rattling.


I am super happy, super impressed, and extremely satisfied with the PA-120. Best buy in it's range.

yeah, the black's not so bad once you get used to the idea of not getting the color you ordered =) not the end of the world, and I assume sounds the same--still a deal.
If it was on eBay it said BLACK only. I happened to read that (and want the black) but I failed to read that it was a pre-order and shipping on 1/6.

well, I dunno about now, but back when I bought mine on ebay they had both black and cherry available.

Mine sounds great as well although I can't really crank it up as I replaced the rest of my speakers with a new Energy set and they are still breaking in.
The piano black was also perfectly matched to the rest of my set and my Samsung Plasma! I could not be happier
If this is reliable as well, then I doubt you can find a better sub for < $250 shipped!
I finally connected and here is my small review of the PA-120:
Packaging:
When the UPS driver arrived he handed me the sub I noticed that it was not double-boxed, but shipped within the original box. Although I was not concerned that it was not double-boxed, but that would have been a nice. When I opened and inspect the sub there was not one scratch.
Kudos to the packaging of Sound Distributors! I give them a 8 out of 10 on packaging.
Build Quality:
When I took the PA-120 of the box I initially felt how heavy and well constructed the sub was. I bought the Cherry finish. I love the fact that it compliments some of our furniture within the room and I also like the look of the black high-gloss top. It gives it a more expensive look without the cheap look. The grill seems some-what on the light side, and driver looks to be average. It does not look like an expensive $200 driver, but it seems to be a very good budget sub. The port is well located on the back underneath the amp. The amp is very well laid out and label and you are able to change the volume, phase, and xover. The amp is well built and looks like a pretty beefy amp for the money. Overall build quality 9 out 10.
Environment:
I will post pics, but my loft area is roughly 20x10x8. However, to the right is an open stair well. The PA-120 is located to the left, near the sectional couch. This room could get quite boomy, but with the open stair well it should be suitable for this sub.
Setup:
When I connected the sub to my inexpensive Pioneer receiver through the sub pre-out, I ran some music through my CPU to the receiver from itunes. After setup of my xover @ 80Hz, dialed the volume all the way up to 10, and kept the phase to 0. I use the Pioneer's internal xover to around 150Hz to match my in-ceiling speakers, in which gives me the best match. I also use the channel level of the receiver to match the subs output to the speakers.
Sound Quality:
First response on music, was like WOW! The PA-120 blends very well with my in-ceiling speakers. The bass is very omnidirectional, hits very clean and accurate. I have no other sub to compare with, but I will tell you that, at $229 this is a steal! I am not able to fully test, but I ran roughly 10-20 tracks and the kicks and bass lines are impressive for this sub.
I have AT&T Uverse and I kept flipping through some movie channels from HBO, Cinemax, Starz, etc...and the signal is Dolby Digital 5.1 and all I can say is "Unbelievable"! The amount of bass that comes out of this small box is very impressive. Its precise and has full control over the heavy bass/action scenes. This sub is much, much better at movies. The PA-120 picks up low bass frequencies that you would never hear from full-range or floorstanders. Most importantly is its tonal balance. It does not sound boomy or distracts from its normal characteristic of low bass.
You guys are probably like, what don't you like about the PA-120. Well time will only tell. I will have to play more music and movies at full tilt to get an idea of what the full potential can be. So far, there is no faults.
Overall, if you have read this small review and you are looking for an inexpensive sub for under $300, you have no worries. This sub is definitely worth its asking price tag. You will be impressed on its build quality and sound quality. You will find that all of your material, from broadcast or MP3s will have bass that you have never heard before. Overall sound quality 9 out 10
Chris
Glad to hear all the good reviews for the PA-120. I'm having a "blast" with it, literally.
While I was home for lunch today, I said what the hell, let's pop in Iron Man on blu ray and see what this thing can do. I skipped around to the heavy bass scenes and was just blown away with the bass compared to my previous viewings. Definitely was hearing low level extension that my cheap Polk sub could not even touch before. Although in one intense scene (I think the missile system demo) I heard an alarming loud noise come from what I thought was my left surround. Sounded like an audio spike. I was thinking oh crap did that speaker just blow or something? Next scene I hear another spike type noise from that direction, so now I'm really thinking that speaker is messed up.
I singled out my left surround and it sounded fine, so I just brushed it off as strange and went back to work. When I got back tonight and went up to the HT, I figured out what the noises were - the PA-120 had knocked all my movie art off the wall in the hallway!
Made sense because all the stuff that fell was on the other side of my left surround, and it was the crashing of the fairly heavy metallic movie tickets and reel and stuff of the like you can get at Bed Bath and Beyond. Not that this stuff was securely anchored to the wall, but it hasn't fallen in the 6 months it's been up.
That's my mini PA-120 story. Be it a warning to all, make sure all those pictures, paintings, and posters are secure to the wall, because this sub will shake your whole house! I probably broke a few dishes in the kitchen, just don't know it yet.
I ordered my pa-120 late on a friday afternoon. got a tracking number on sunday, it shipped on monday and showed up on wed. no complaints here.
I haven't really set it up yet so no review. Having just plugged it in to hear it, I can say that even after reading all the positive reviews i was still impressed. sounds awesome!
here are some photos: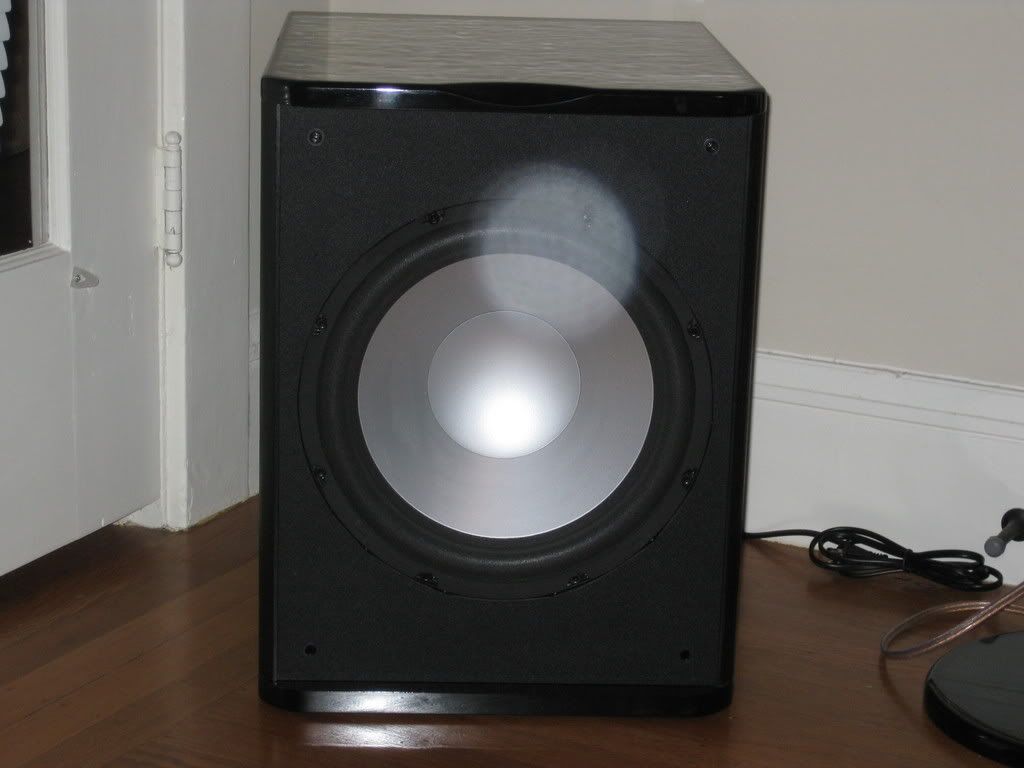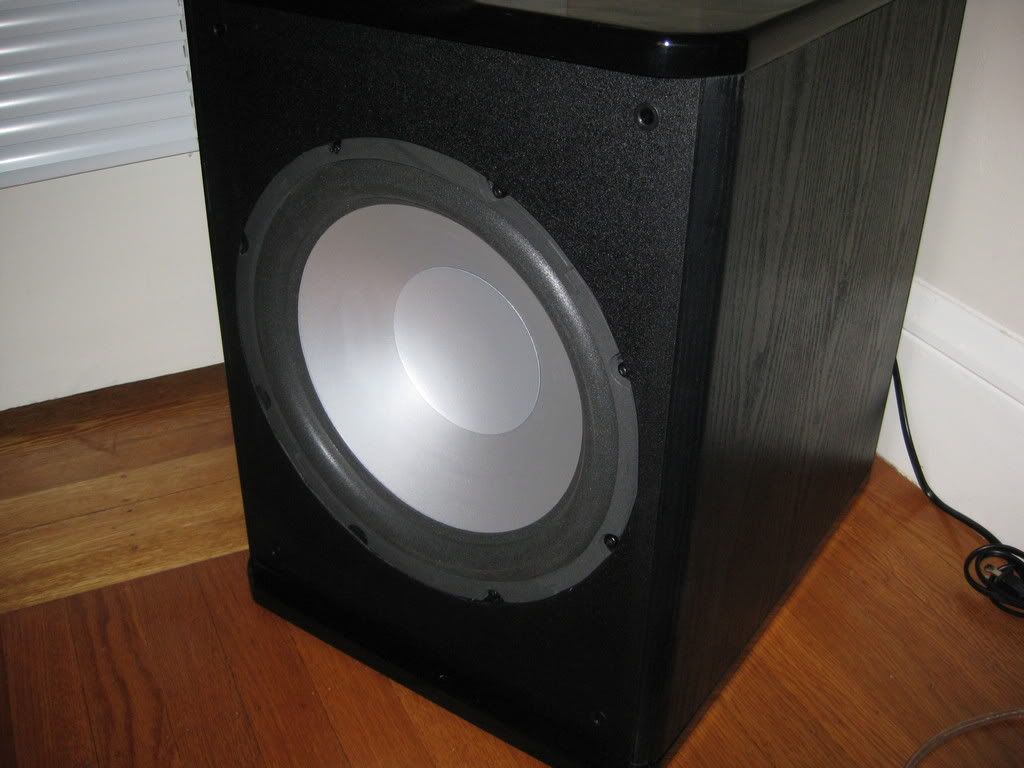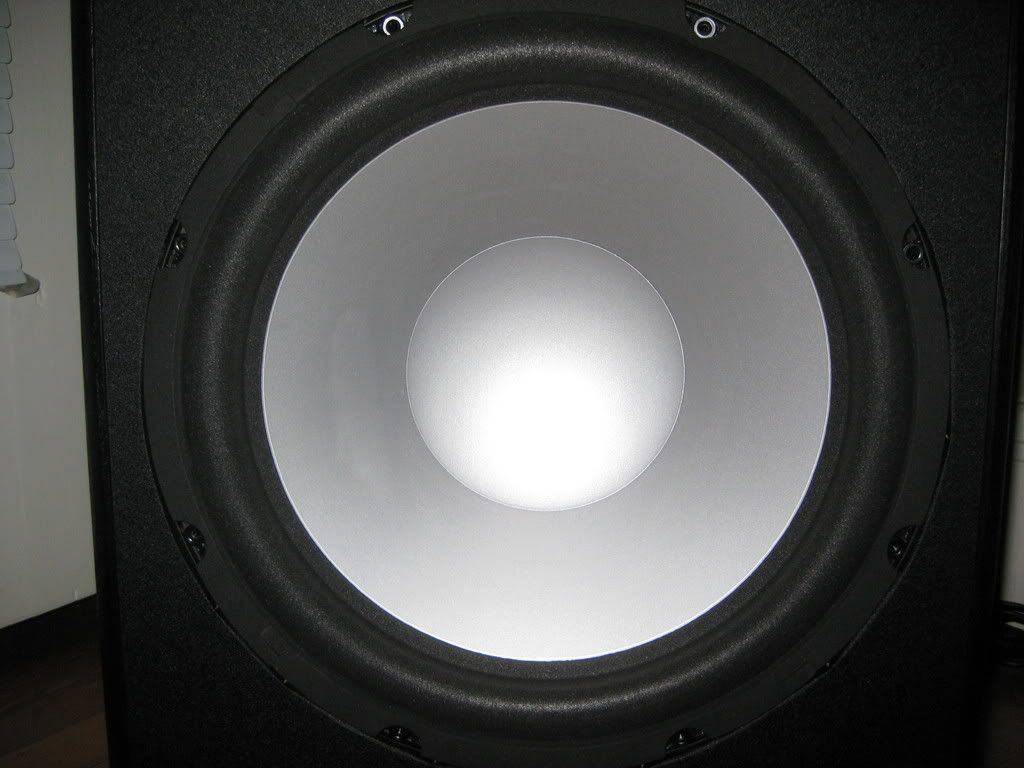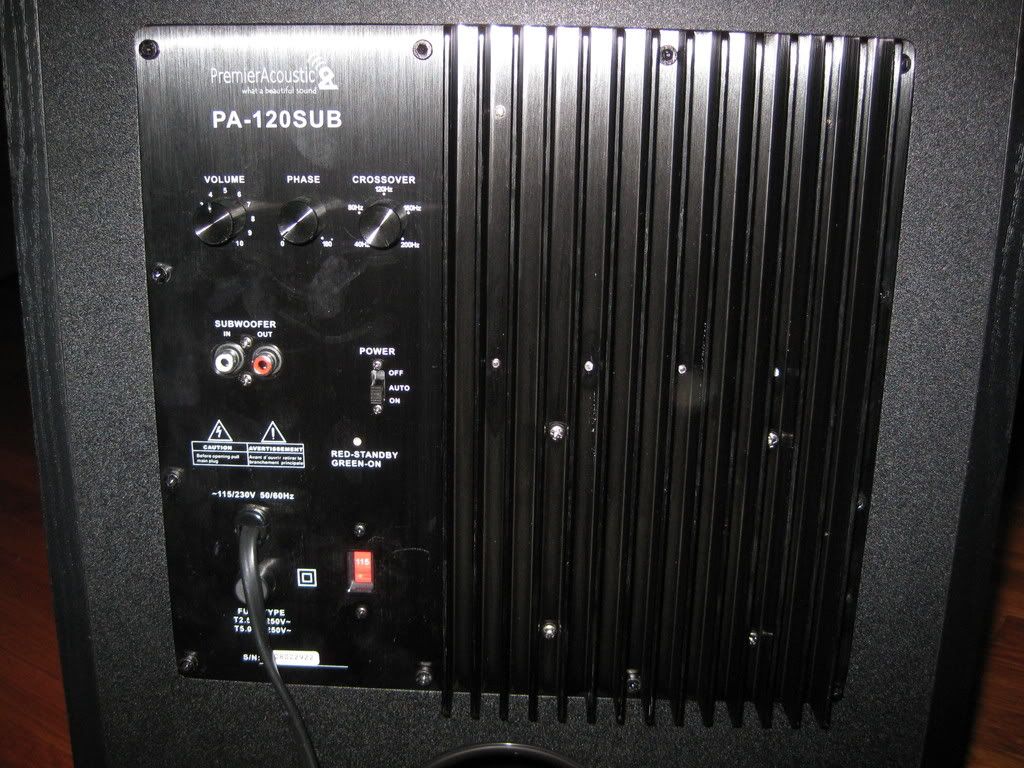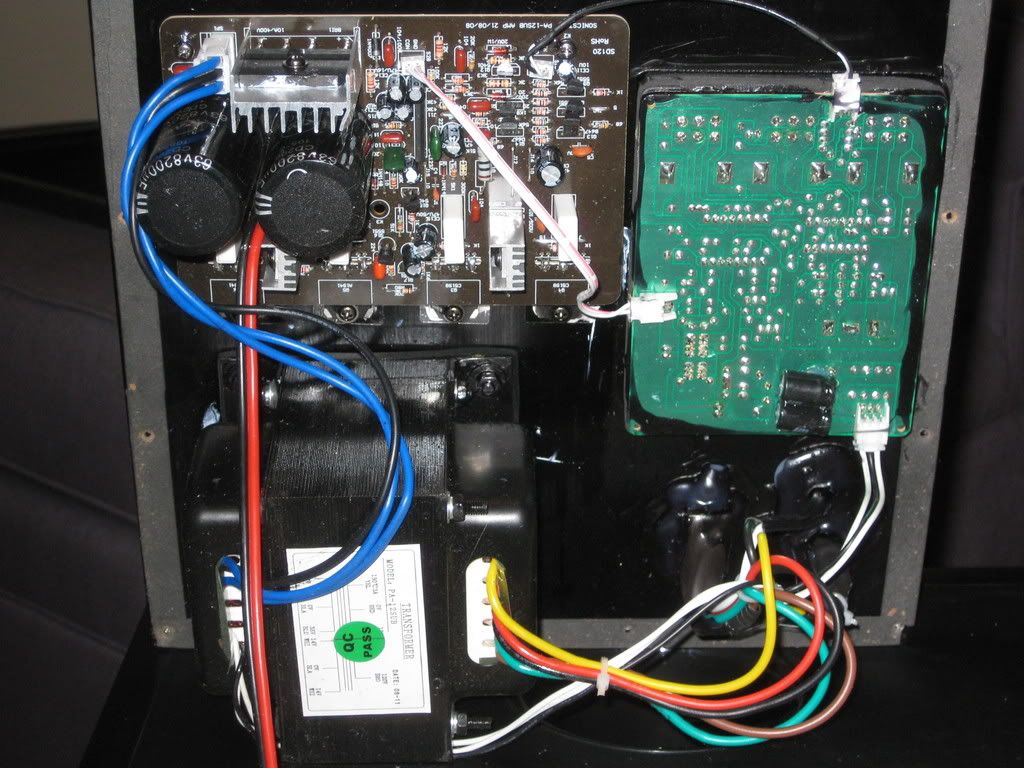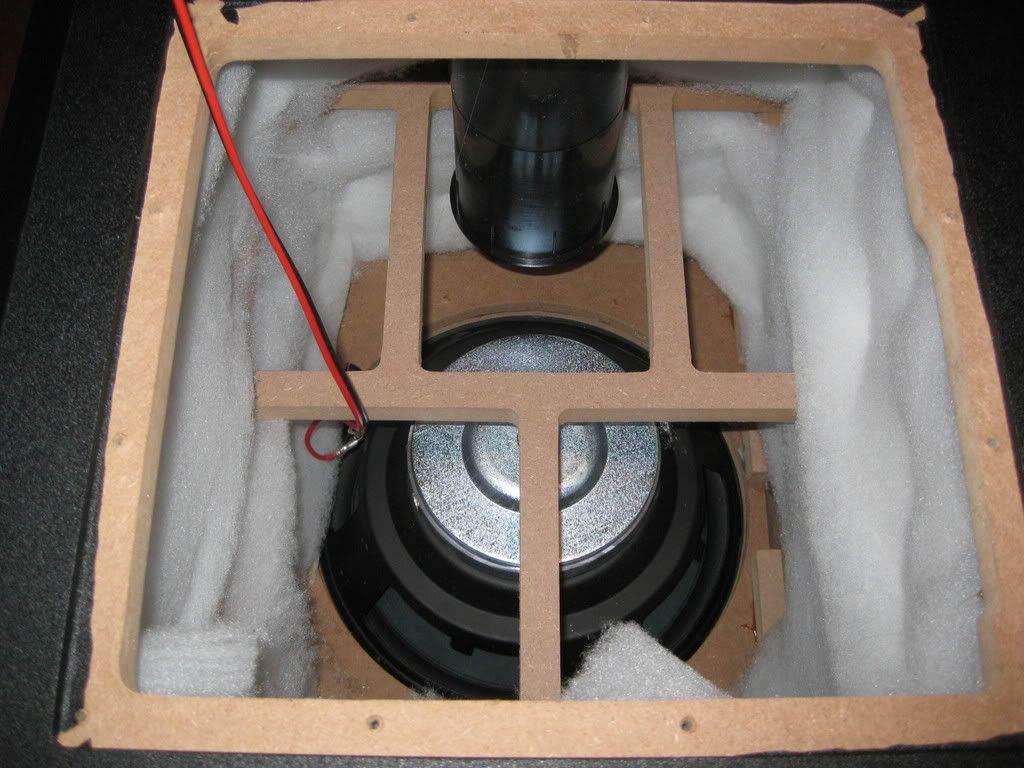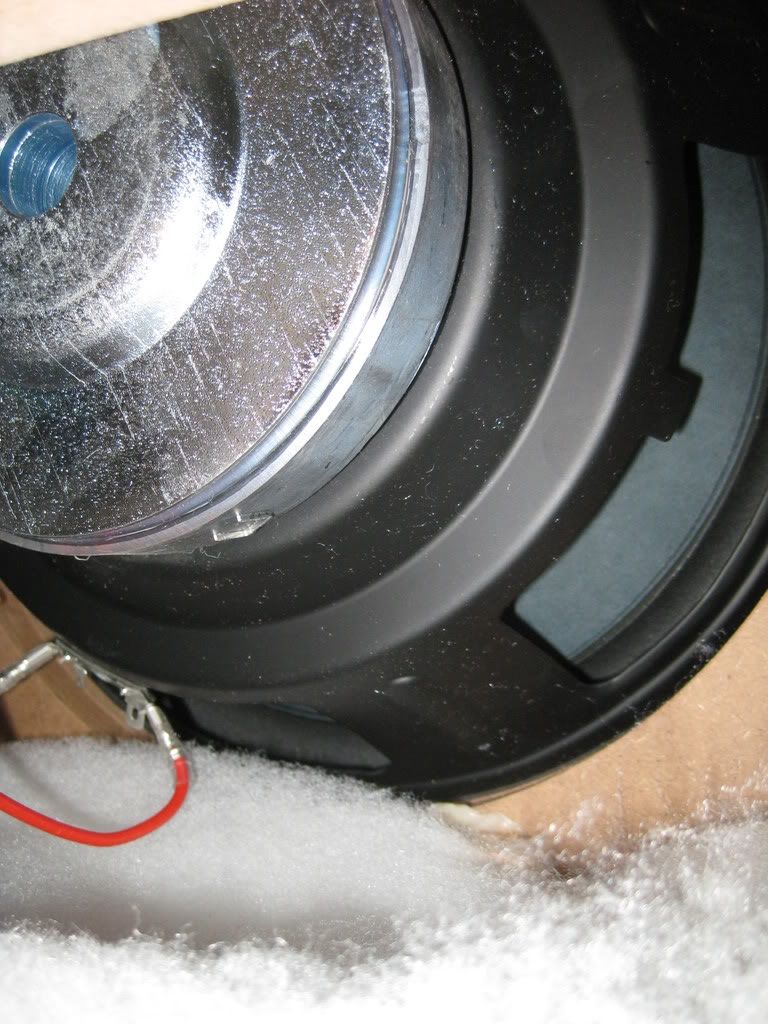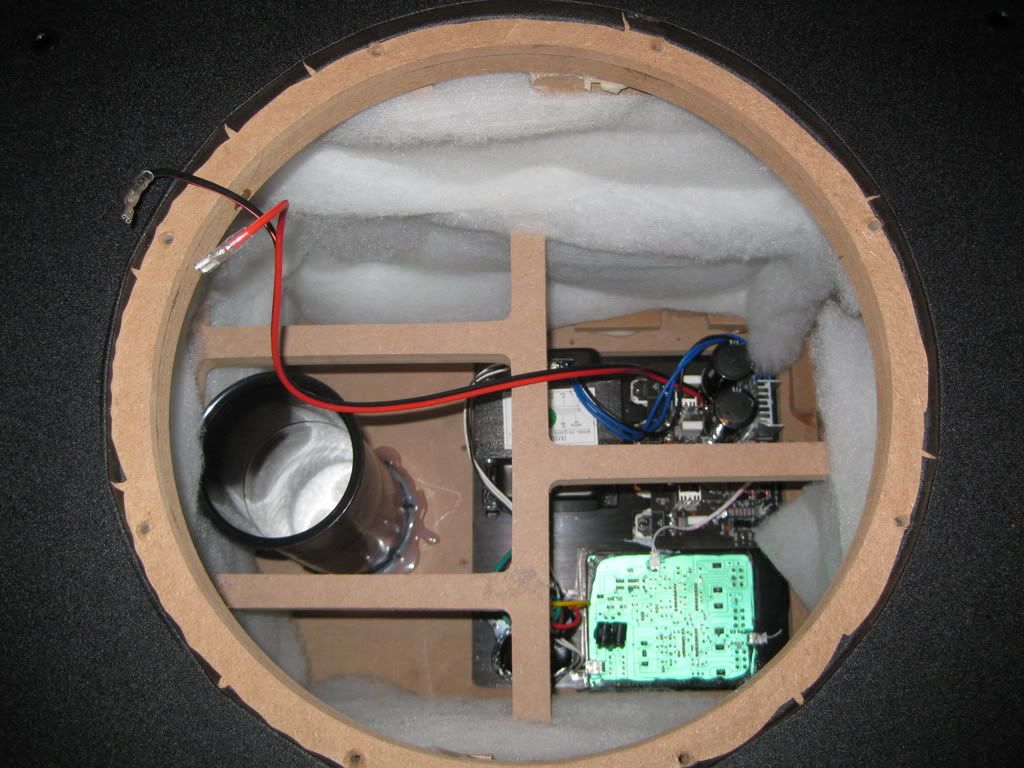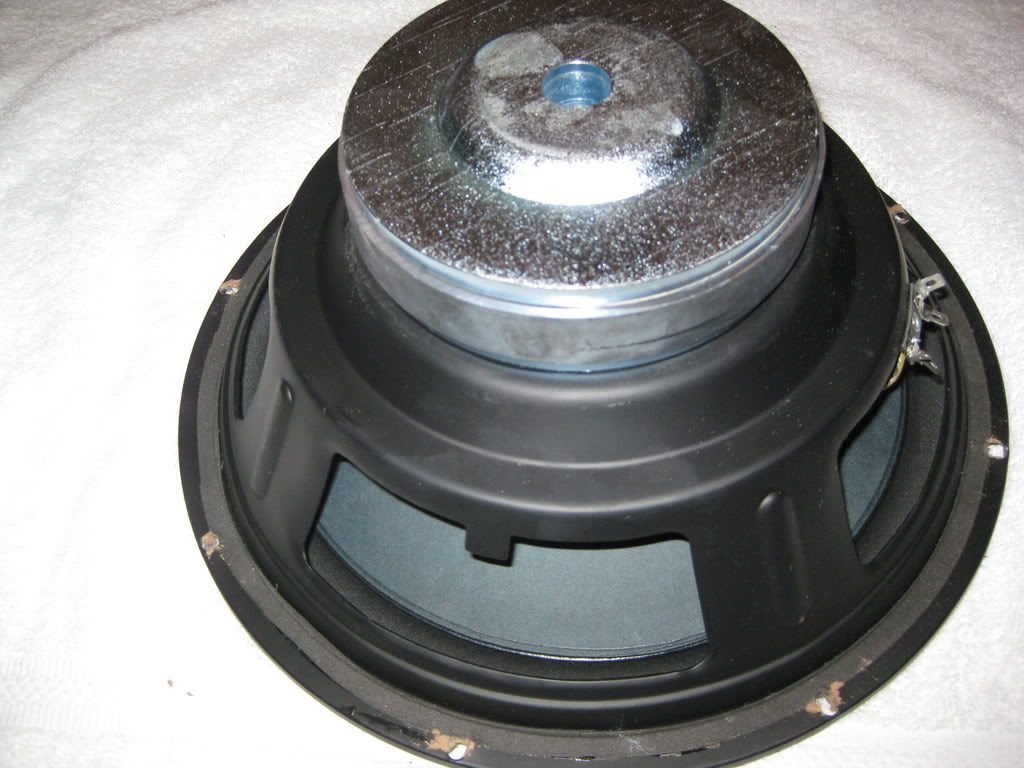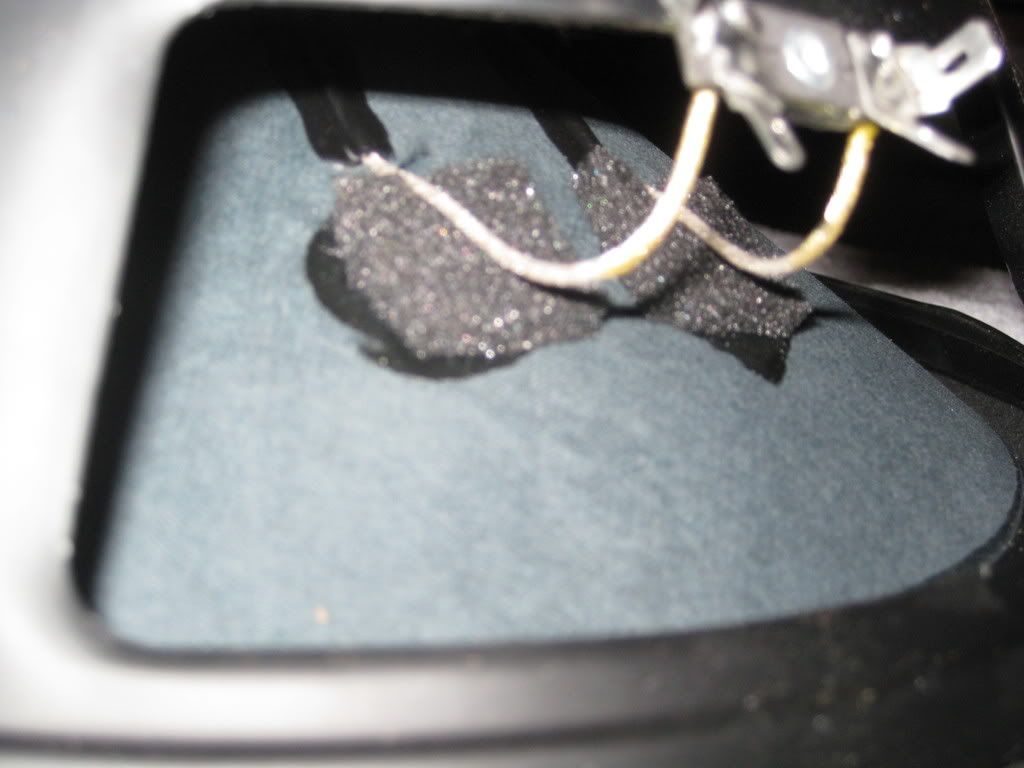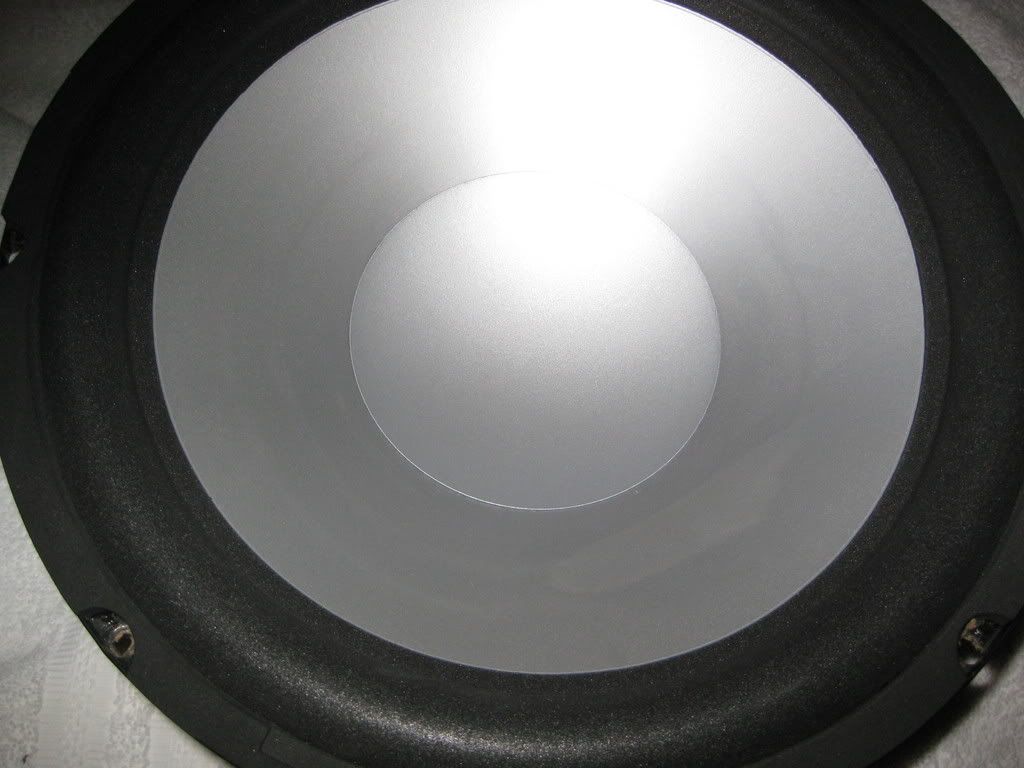 Nice pics. Looks like the old Adire Shiva sub.

Chris

I cannot believe that you had the balls to tear apart your new sub like that.
BUT- thanks, I would never have torn mine apart. I am really rather impressed with the interior build. I blew out my Onkyo sub two years ago playing War of the Worlds. Ripped the paper cone right off the magnet. I took it apart and it looked nothing like this. Honestly I am thinking Yugo to Hummer difference in build quality. The Onkyo was pretty much empty inside. It had none of the cross bracing and padding this has.
By the way- I played War of the Worlds again just to tempt fate and see what this sub would do with it. I bumped the sub a bit above my normal level. Freakin' awesome sounds coming off the tripods. Sound was sweet, movie was still lame.
yeah, it was no big deal. the driver and amp are attached to the box with nice hex-head hardware and it all fits great.

I was not super impressed by the driver. It definitely looks better from the front than the back. I guess at the end of the day it sounds great and for a budget chinese sub, its very well made.

The dimensions from the listing are 17˝ H x 15˝ W x 18-1/4˝ D and one of these would fit in my cabinet (it has to go in the cabinet because there isn't enough space), but it looks taller than I expected.

Are the dimensions right?

scroll up to where I ask the question to get the answer.


Haha, I had been following this entire thread but I missed that. My question only came up now because I saw those pictures a few posts back.

Nice looking sub though, I hope it'll be great for my other budget setup.

Pakow, excellent photos!

By the looks of it, the cabinet is 1/2" MDF with the faceplate being either 3/4 or 1" MDF. Is that right?

Just got mine and it's great. Just like everyone described. Tested on Finding Nemo "Darla's glass tap", Ironman "Missile test and fighter plane chase" and it sounds amazing. It rumbles. It's a little boomy but still have to make some adjustments. Listened to some music and it sounds good too.

Sony 10inch, KSW10 and now this. This is my first "real" sub. What a huge difference. Great sub, hands down will buy again.

yup. i would say 1/2" used all around. the faceplate is a double layer, so 1" and nicely reinforced. basically two layers of 1/2" with blocks at the seams. the internal bracing is also two layers of 1/2". there is a reason this thing weighs fifty six pounds.
now we just need some test numbers.
If only there was atleast 1 canadian e-tailer that carried the PA-120
75$CAD shipping + and estimated 50+$CAD of custom fees ... it kinda kills the deal.
$354 Is still a steal for this subs. all I can say is this thing is worth it. I dont think you will find a sub in 350 range with this quality.
Just FYI, I guess this confirms conclusively that the PA-120 is not a BIC H-100/VK-12 "clone", in case anyone still believed that. This is what I posted when I weighed my VK-12:
Quote:
Originally Posted by
batpig
the "48 lbs" info is the shipping weight, it's listed on the outside of the VK-12 box as "shipping weight: 48 lbs".
in order to settle this controversy, I unplugged my VK-12, picked it up, and marched up the stairs to the bathroom scale (which made my wife VERY confused) and weighed myself with and without it.
My VK-12 weighs about 36.5 lbs
.
Batpig,

Any chance you will be adding a PA-120 to your setup? I am very curious to see a side by side comparison to the vk-12 and the H100...

also, I'm more than a little surprised at the weight discrepancy. from handling my PA-120, it feels like a lot of the weight is in the top and bottom gloss black panels. I'm not quite sure what these are made of either.