About 4 months ago I bought a couple of popular subwoofers, at different budget levels, out of my own pocket in order to test them out and see what they bring to the table. The smallest and least expensive subwoofer is the one we will be looking at here, the Bic Acoustech PL-200.
This subwoofer can be commonly purchased web direct for around $269 to $289 depending on where you buy it from and what sort of sale is currently going on. This has been a very popular entry level sub that gets recommended a lot to people with a limited budget over the last couple of years. The subwoofer is a ported design utilizing a single back firing 4 flared port and a front firing 12 driver. The amplifier is rated at 250w, but a lot of the literature boasts of 1000w dynamic peak power. The amplifier is a BASH design. The enclosure measures 17.25 H x 14.75 W x 19.5 D and the whole deal weighs in at 52lbs, though it felt much lighter than that to me. I would personally consider this a compact subwoofer, but that sort of thing is subjective and depends on your perspective. Someone else may think it is quite large. The warranty is generous with 8years on the driver and 2 years on the electronics. I was impressed with the fit and finish on this subwoofer in light of the cost. Everything was put together solidly and the contoured gloss black top and bottom look very sharp contrasted with the black oak sides and back. The cloth covered grill is solid and locks in very securely with high quality fasteners.
The driver has a goldish colored plastic or painted paper cone (Couldn't tell for sure) and a very large foam half roll surround that looks imposing from the front. Pulling the driver from the cabinet and investigating the business end of it shows it to be less so. The motor is a very small single slug ferrite motor with what appears to be a 1.5 voice coil. And a single moderate sized spider. The back plate is very heavily bumped to prevent bottoming of the driver which is no doubt one functional aspect of the huge foam surround as well. There is no shorting circuit in the motor judging from the economy of the driver and the measurements, which we will get to later. Overall a very light weight and low cost driver, but this is not unexpected in this price range as larger, more powerful motors cost money.
The amplifier sports the usual rudimentary powered subwoofer controls: Speaker level ins and outs with a high pass crossover, input gain control, phase, crossover frequency and an LFE input which bypasses the crossover. There is no user adjustable EQ, automatic EQ, or room compensation which would be surprising given the price of the unit.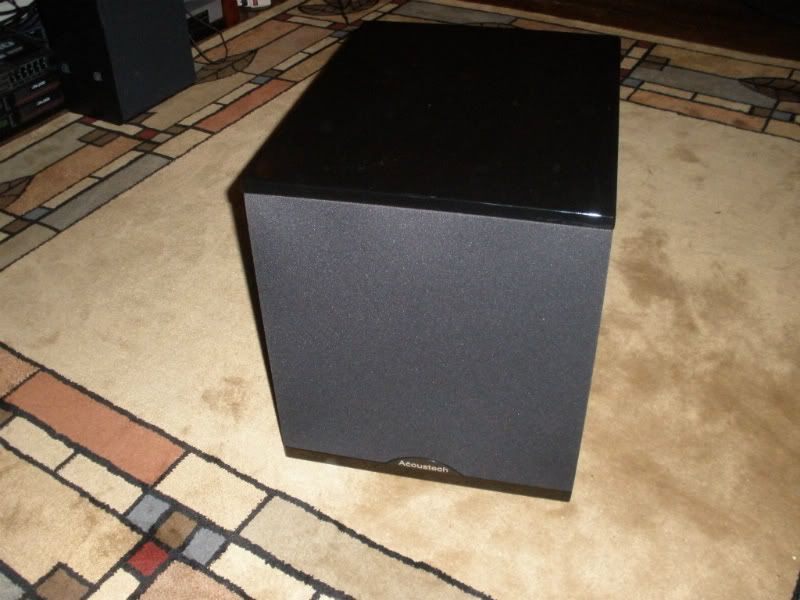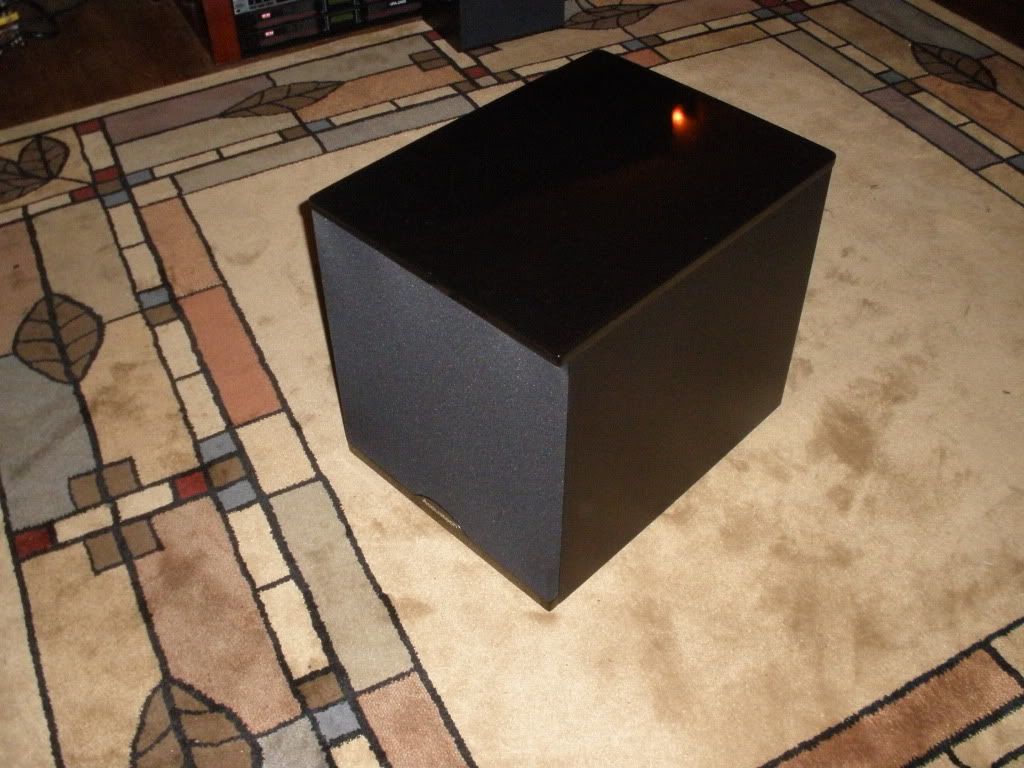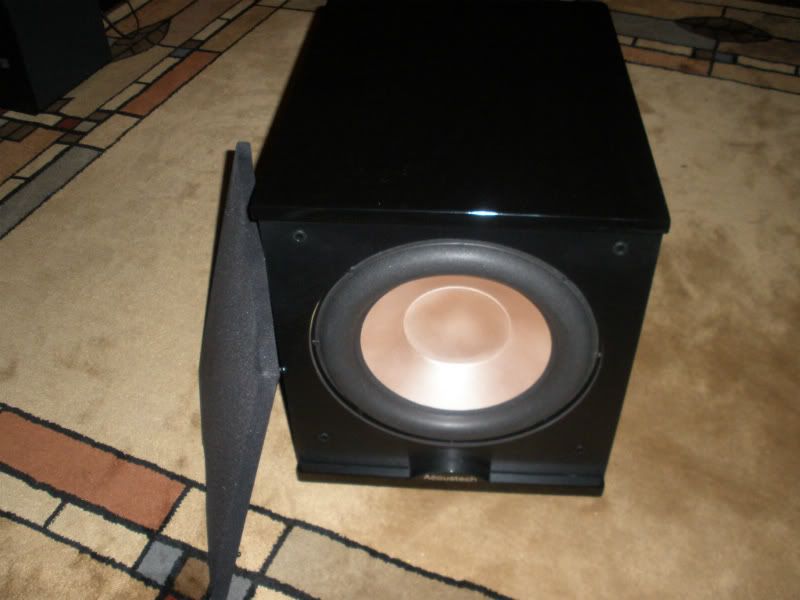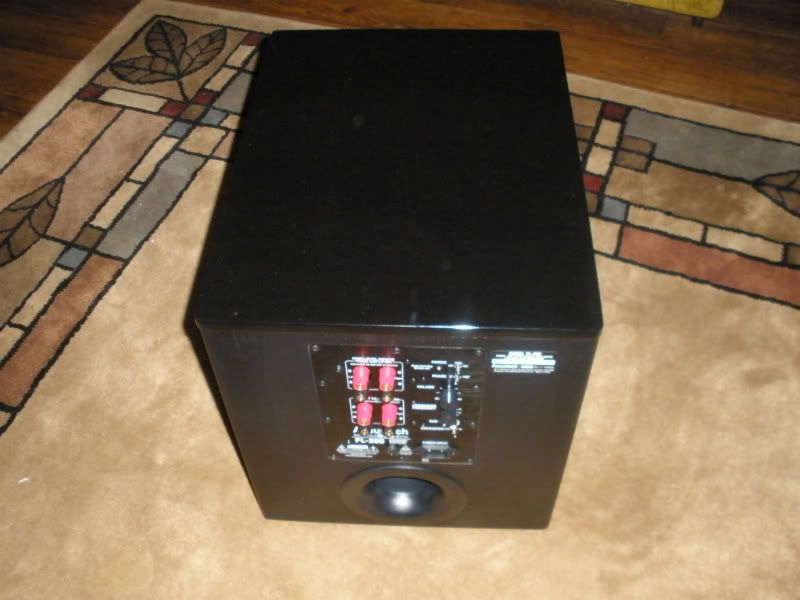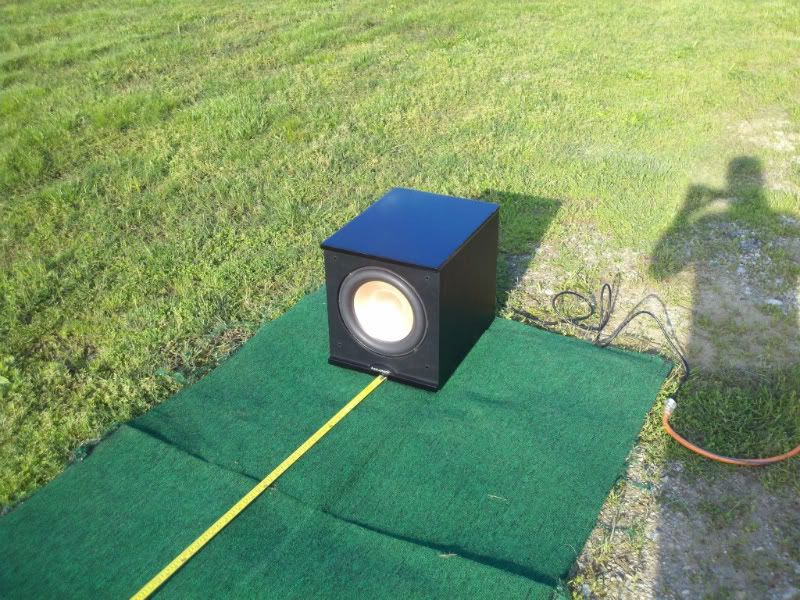 The PL-200 was measured in the standard 2 meter ground plane configuration used for all Data-Bass subwoofer tests.
I started the measurements by determining which would be the best orientation for the sub to be tested in since it has a rear firing port and front firing driver. I eventually decided that having the subwoofer oriented with the port and driver side firing from the microphone was the best compromise. The measurement below shows this test. With the driver front firing the subs had the most output above 40hz but the ports contribution was lower. With the port firing towards the microphone the low end was brought up considerably but between 2 to 6 db was lost above 40hz with this orientation. With the port and driver side firing the difference was split with the driver contribution not lowered so much and the port output was added in better.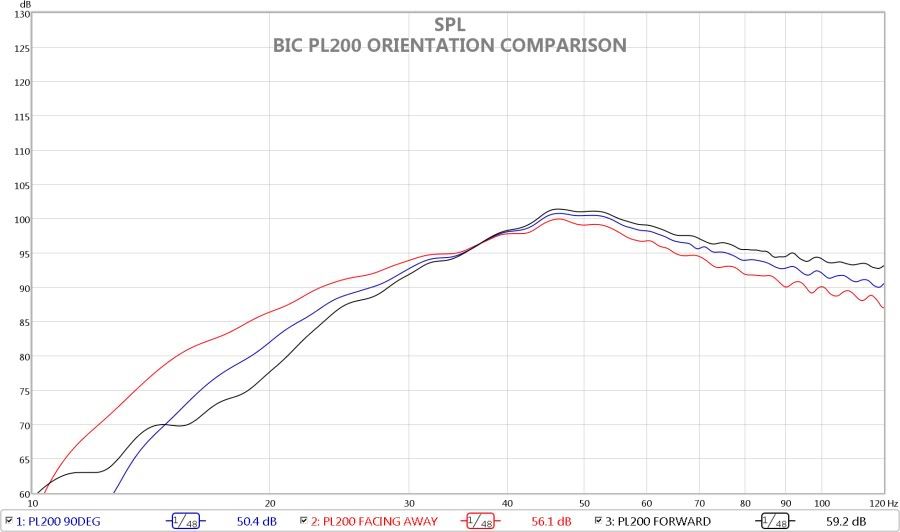 Here are the effects of the crossover controls on the subwoofers response shape. As can be seen this sub exhibits a peaky and humped response centered at 50hz. Part of this is probably due to inductance in the driver motor and some is likely from the relatively high port tuning and overall system alignment. This may even be partly intentional on the part of the designer to get extra output from modest components in the very heavily utilized 40-63hz range. Many times a peaky response will even sound better to some people as it appears louder and more powerful at first listen.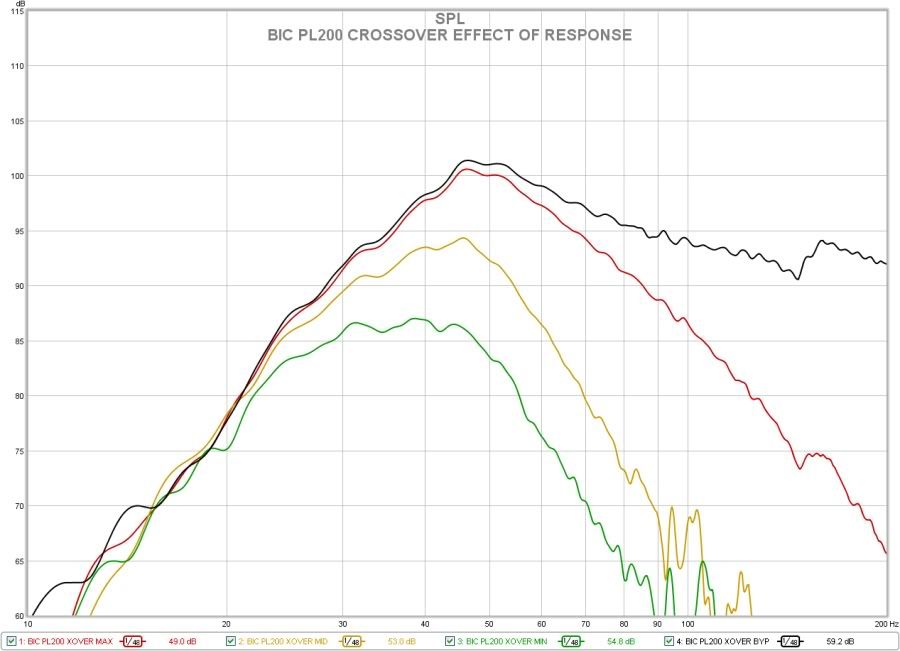 Here is the basic response used for all of the subsequent tests with the crossover disengaged by using the LFE input. Again note that the response is down nearly 8db by 100hz from the 50hz peak and 10db down by 150hz. This will limit the units output and dynamic abilities in the typical crossover region to the mains as it is much less sensitive there. The unit also is tuned rather high and rolls off quickly below 35 or 40hz so there is not a lot of deep bass extension.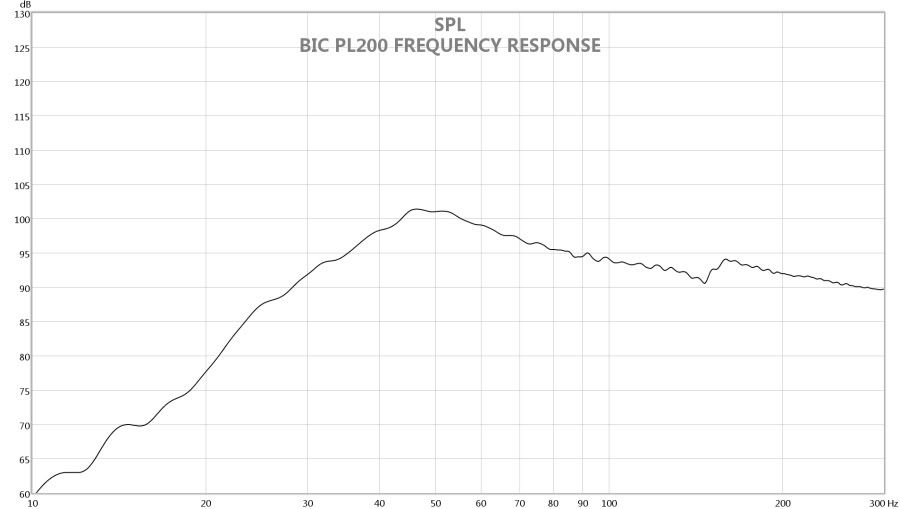 The time domain measurements are not bad. I had thought that there might be significant ringing from a small ported enclosure with such a large peak in response but overall the decay of the PL-200 seen in the waterfall and spectrogram is rather good. There is a slight amount of extra decay at about 45hz but it isn't much. The group delay plot shows that the delay exceeds 1 cycle in a couple of spots but just barely and not enough to be of issue. What we are mostly looking for here are signs of overhang or excessive ringing of parts of the frequency range. The PL-200 does not exhibit anything of real note, which indicates that with eq to flatten out the response and good integration with the rest of the system it should be a reasonably good sounding unit operated within its limits.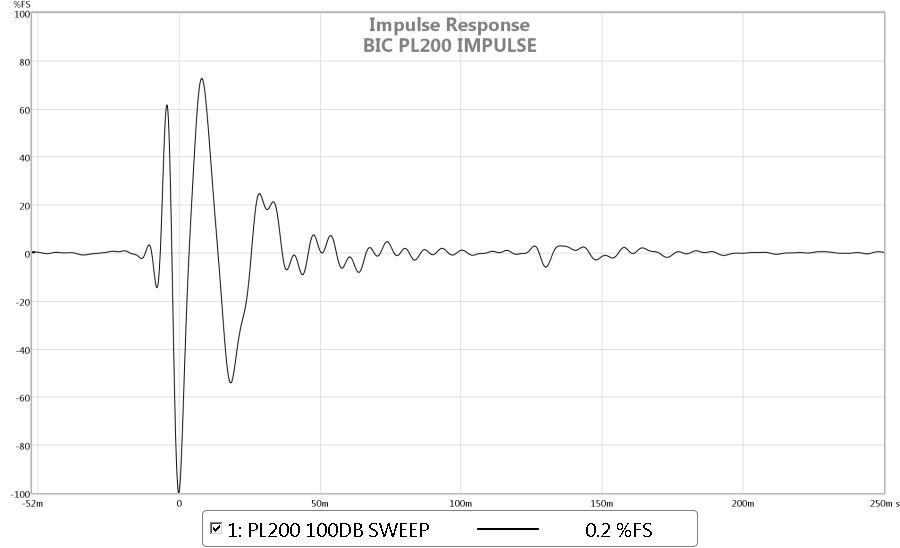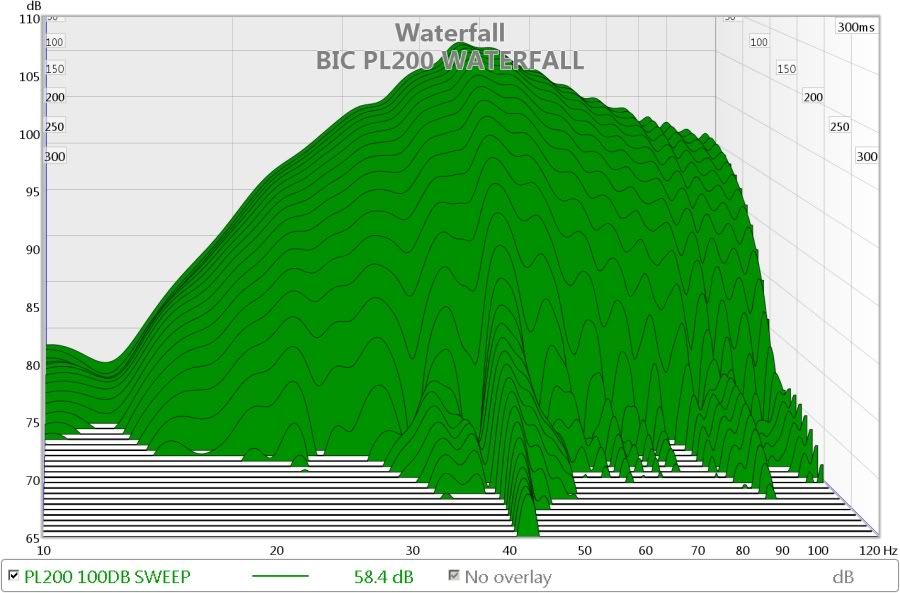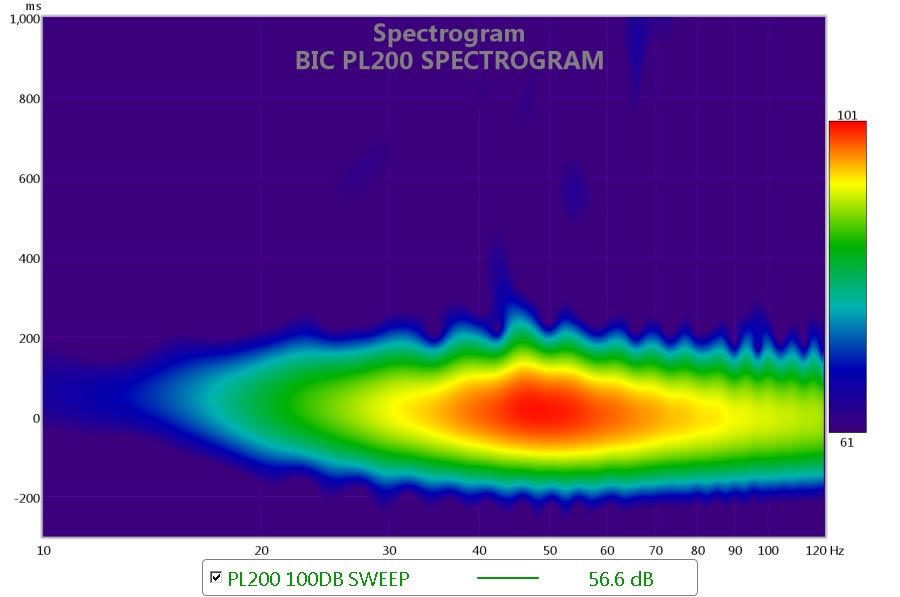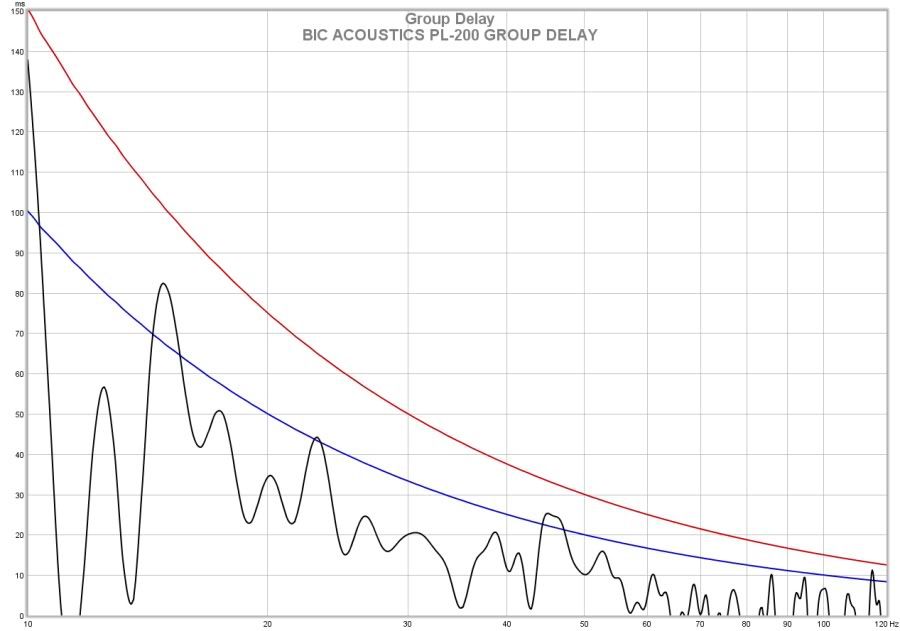 Moving on here we have the large signal test results. Overall the sub didn't do to bad. I did not expect this to be an output monster simply because logic and physics dictate it should not be. It is a budget sub with a small, light enclosure, tuned fairly high, a small amplifier, and an economical lightweight driver with a single small port. I would say it did as expected. The 110db power compression sweep was everything this little guy had. I have to give credit to the BIC here because it overloads very gracefully, the amplifier clips hard before the driver bottoms out. The driver and port will make some air/suspension noises when driven with high level content below tuning but it is not as objectionable as some more expensive subwoofers. The driver is a soft bottom design which means that the suspension stretches tight before the voice coil or triple joint can ever contact anything. (This goes back to that heavily bumped back plate and huge foam surround.) It never seems to be in danger of damaging itself. This type of overload characteristic or Dummy proofing is great because even if you turn up Tron too load trying to show off the HT to some friends one night, your PL-200 will grumble a little but should survive to bump another day.
Spectral Contamination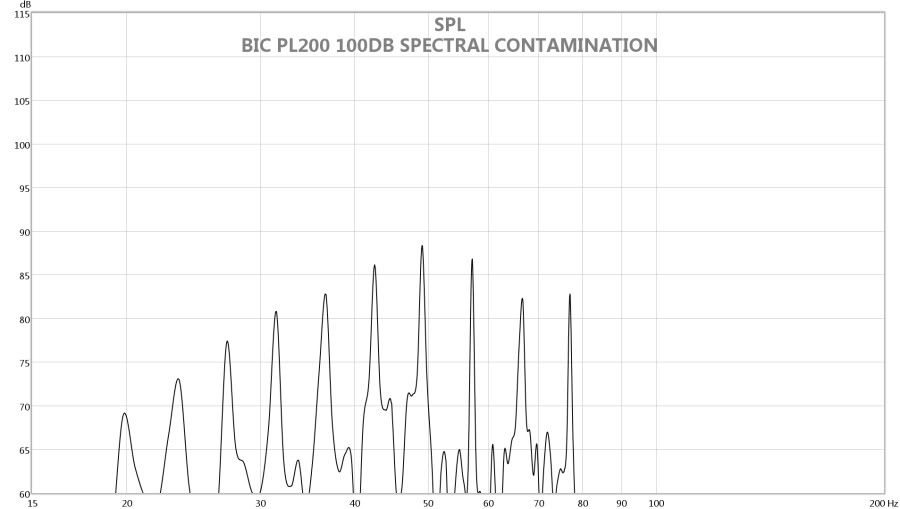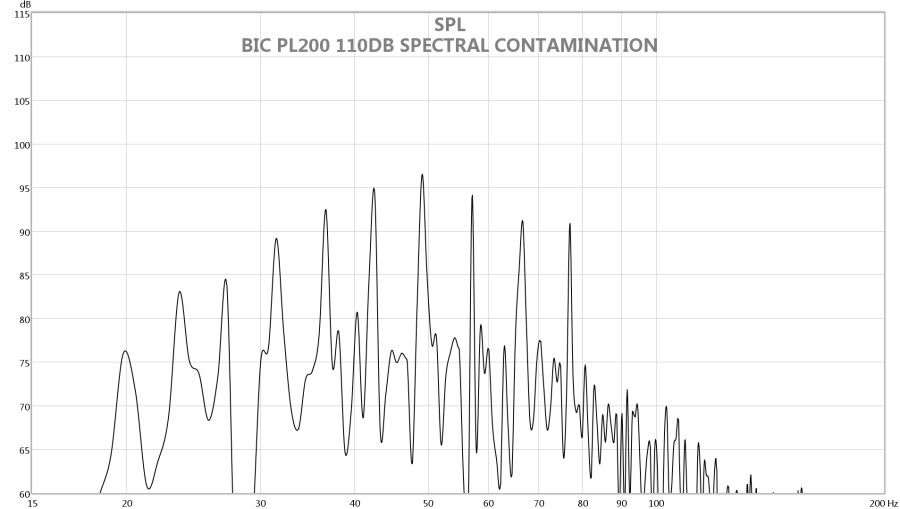 Looking at the power compression results we can see that there is a significant amount that sets in between 50-80hz (Amp clipping + voice coil heating.) and below 31.5hz which would mostly be the port overloading probably.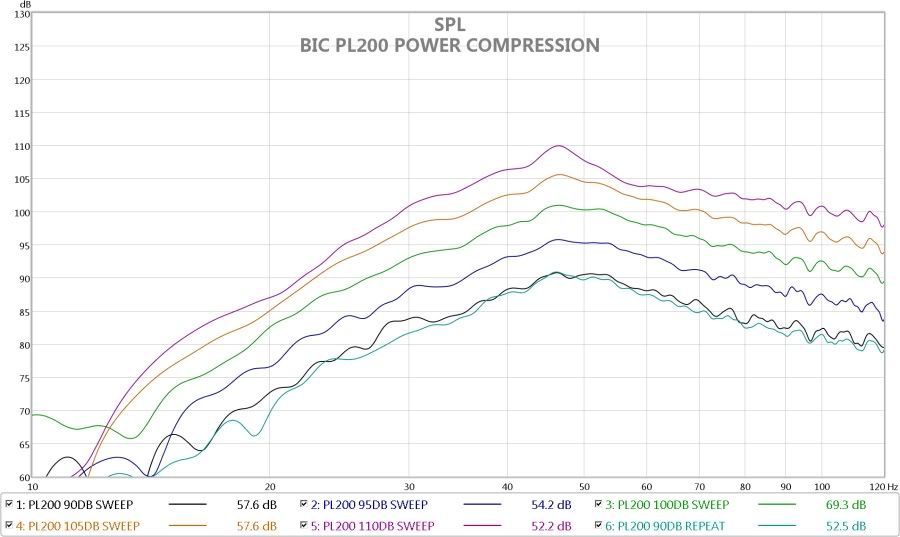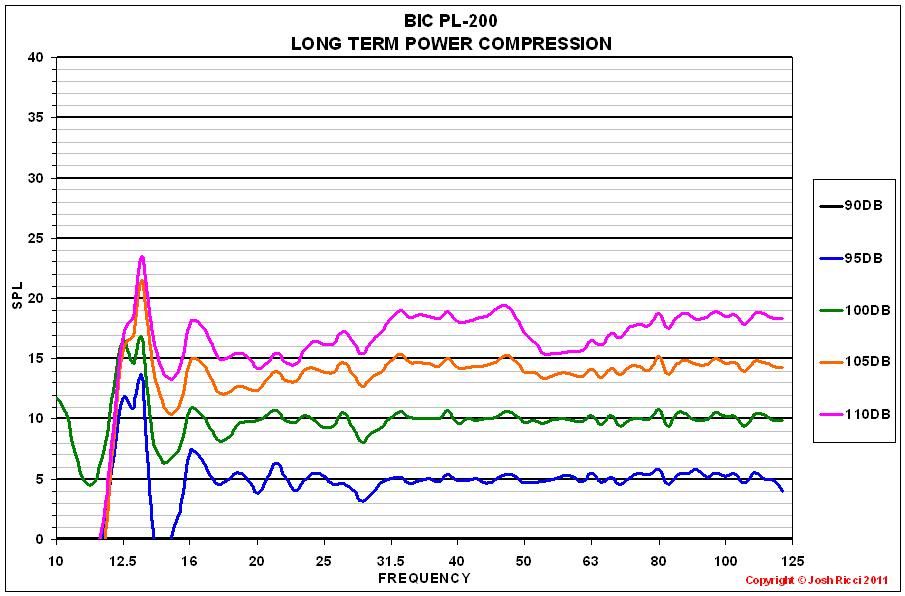 One thing that was surprising to me is how good the distortion performance is. Even at the 110db sweep level the distortion is 10% or under above 35hz which is pretty darn good. On top of that it is mostly the 2nd harmonic to boot! Nice. Below 35hz the THD skyrockets as the driver unloads below the enclosure tuning. This sub is simply not designed for high level <30hz bass. (Note that the distortion is measured using the same sweep levels as used during the power compressions tests.)
THD
95DB sweep distortion by component
100db sweep distortion by component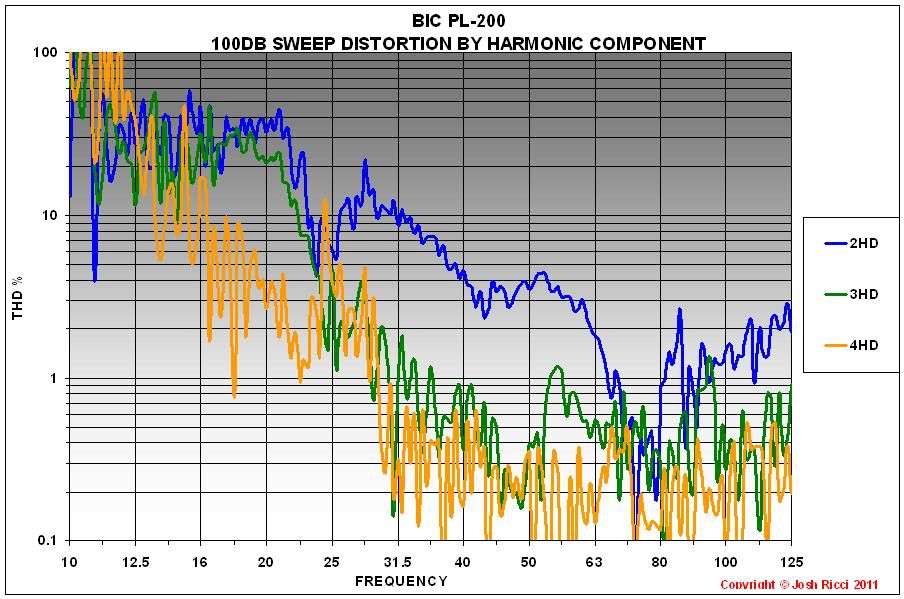 105db sweep distortion by component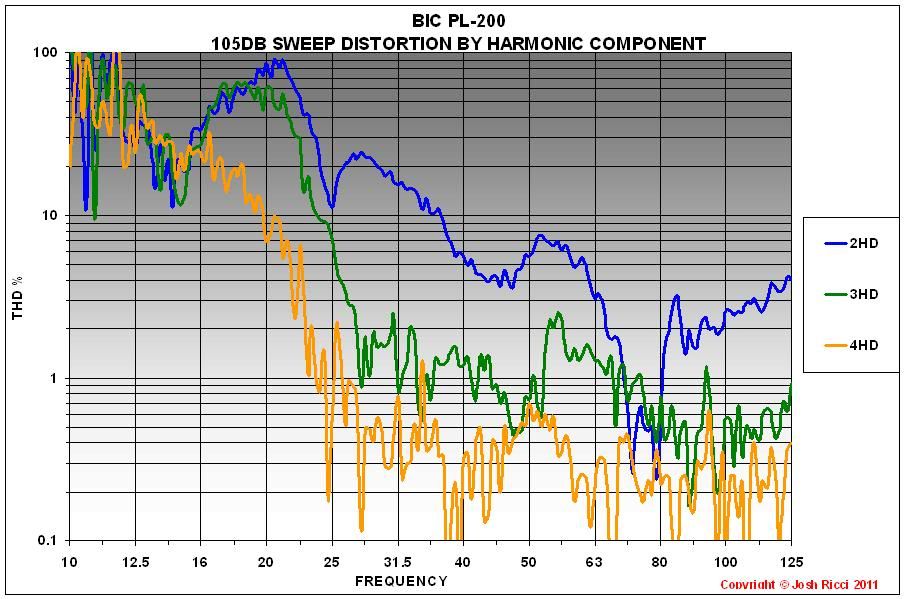 110db sweep distortion by component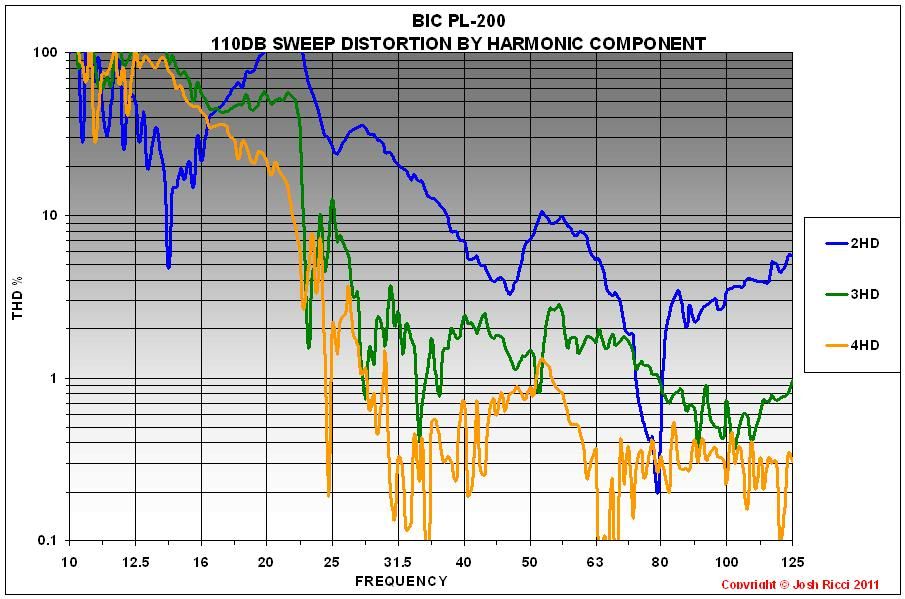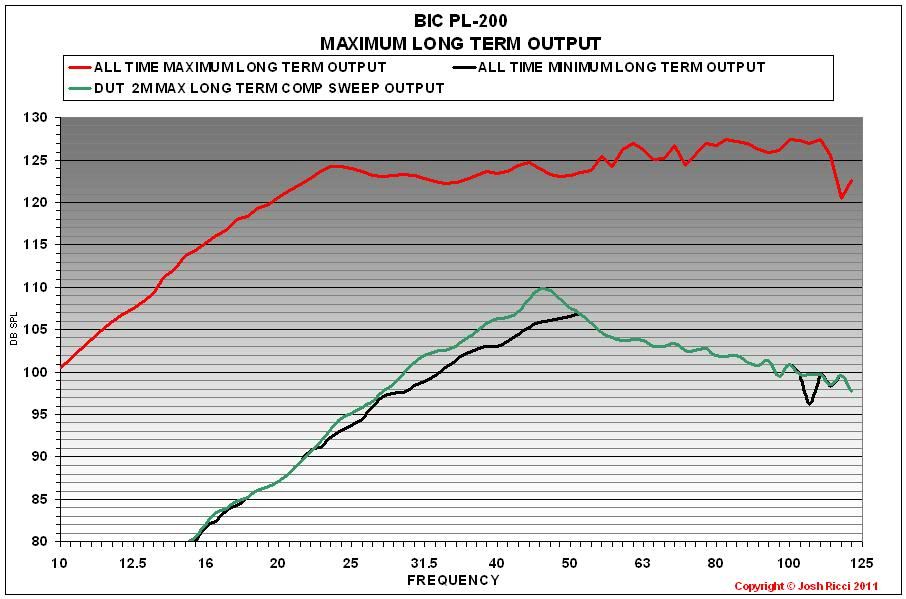 Overall I thought this subwoofer did some things well and others not so well. It is cheap, looks great and is compact. However it does have a peaky base response and limited range. It really doesn't do much to speak of below 30hz and with the top end roll off is pretty much limited to being most effective from 30-100hz at most. Looking at the maximum long term output and the CEA2010 output numbers compared with the other subs I have measured historically the PL-200 is down at the bottom of the pile. However this really should come as no surprise since it is the cheapest, lightest and smallest subwoofer I have ever tested to date. The output is about what you can expect from something of this size and price. The distortion performance was surprisingly good though, and it is a rugged unit with good overload characteristics. I wouldn't recommend it for larger rooms or people that like to listen loudly, but a pair could probably do a decent job for most spaces. If anything I would finger the driver used as the weak link in the chain. Simply using a driver with better top end performance and efficiency could probably squeeze another 5db or more average output from the sub above 50hz I have no doubt. The low end performance is limited by the enclosure size, tuning and the amplifier power so there won't be any huge gains there but just improving the top end would be huge.
Until next time fellow Bass-heads.
That would be pretty cool. Honestly, I could use friends like you around here.
I do actually have a Skype account but I've only used it once to help my father test using it. Hit me up with your username and we can do that.
Ahhh... so it looks like it's just you and me, BBQ pull pork.
Wow, impressive how much work you put into this.

About how much of your time does each review take up?

Pretty good for a sub $300 sub. Hey, "sub sub", I made a joke.
Great job as usual Ricci ... now on to the Empire!
BTW, why not post pics of the actual driver? Sounds like you opened her up?

Thank you very much for all the information provided Ricci!! Its great to see someone with test results on the Pl-200. Once again, thank you for all the hard work as we look foward to your other testing . Have fun!!! ( i know I would
)
I didn't take any pics when I had it out or I would have. I actually took it out because the sub was DOA. It had the infamous disconnected speaker lead. If anyone buys one of these and it doesn't work on arrival check and make sure the driver is hooked up.
As far as time put in for each of these reviews...If you factor in unpacking, examination, pictures, a brief listening session, outdoor set-up and testing, formatting the results and graphs and writing and generating the post, etc...Somewhere between the run time of Rush Live in Rio and the extended, directors cut Lord of the Rings Trilogy.
Great work Ricci... I have a pair of these in my theater. Your measurments were taken outside, how do you think the PL-200 would do in room with the room gain factored in?

Now that's a question with a lot of answers.
Realistically, you probably won't get a ton more extension out of this particular subwoofer as it is tuned high in the 30's right where room gain starts in most rooms. You get more output by having the subwoofer near room boundaries such as: the floor, any walls and/or ceiling. The corner of a room will have the most gain added.
I have this sub too. I can take pics of the driver and post it here if avs members wants to. I have a damaged driver here in which I can take pics. BIC was great at warranty; they replaced me the driver; no questions asked!...

I was going to replace my PL200 with an Empire or Rythmik F15HP; but i decided to DIY; I am still finding the right 15" driver on the $200-$300 range. So far; PSI Platform 2 Driver or Fi Q15 Driver; not sure which one to get; Im having issues on the Fi to be ship to PR. Sub will be powered with a Behrinhger EP4000 or the new INUKE3000DSP. Elemental Designs is making me an EFS Wood Sealed enclosure 19x19x22; with bracing, and flush mount.

Great job with this...now when the masses ask which sub to get for under $300 we can point them this way.

What other subs did you buy and what do you plan on testing. Where are located?

I have tested a bunch of subs. I have 2 more reviews already done that will be posted soon. The Premier Acoustic PA-150 and the Epik Empire. There are a lot more coming as where but they won't be posted here.
Thanks for the in depth review of the budget subwoofer. They are impossible to find
People will eat that empire review up dude. Make sure you make a new thread because it will receive heavy traffic.
Thanks for this review also!
And .... Where is the Epik Empire Review?

Great review, lots of good info.

I'm looking at the CEA2010 test data and the THD+N in many of the graphs is below the limit.

Let's take the 40Hz graph as an example. The 2nd and 3rd harmonics are 10dB below the CEA2010 limit. Did you use this SPL level because it's the maximum the compressor would allow and it didn't increase with an increase in input signal?

What impulse response window are you using for the measurements?

The cea2010 data is the absolute maximum that the sub would produce at 31.5hz and above. At 20 and 25hz it was distortion limited. Many subwoofers will never get close to the distortion thresholds at some of the test frequencies.

Generally for bass...
Tukey 0.25
Left 125ms
Right 500ms

Quote:
Originally Posted by
Ricci
The cea2010 data is the absolute maximum that the sub would produce at 31.5hz and above. At 20 and 25hz it was distortion limited. Many subwoofers will never get close to the distortion thresholds at some of the test frequencies.
because of the compressor in the amp or ???
The amplifier simply runs out of voltage. As far as I can tell there is no compressor used in this subwoofer. This is a very budget oriented unit with a cost effective plate amplifier used.

If the amp runs out of voltage, the output signal starts to approach a square wave which would cause significant THD. I don't really see that in your CEA2010 measurements. The LPF created by the voice coil inductance would reduce some of the higher order harmonics but if the amp was hard clipping (running out of voltage), it should be easy to rise above the CEA2010 THD limits.

Was the sub gain/volume/level set at max? what happened as you continued to turn up the generator level?