Ok as promised here are some shots of the Prismasonic H700 lens and Panasonic AX100. I had to adjust the gamma on the screenshots to highlight the steps required to stretch the image.
Ok so here is the pieces for my $5.00 lens mount. First drill a hole in the center of the Prismasonic mount:
The required pieces 1/2" NPT Schedule 80 Grey Plastic flange and tube:
Flanges attached with 3/8" bolt, nut, and washer:
Mount loosely attached to flange assembly:
On to the next post.....
Laters,
Jeff
Ok time to mount it on the ceiling:
Screenshots (note gamma increased..picture is not this washed out):
Normal everyday blah 2.35 image inside a 1.78 panel:
Projector in V-Fit Mode (tall and skinny):
Right Stretch:
Full Stretch Mode:
Ok that is it. Let me know if you have any questions.
Laters,
Jeff
VERY COOL!!!

Is that 3 identical LCRs I see there? These shots need to be linked the FAQ thread as well as sent to Alan (when you get a scope screen) for the official picture thread...

Mark

I am soooo stealing that $5 mount idea when my lense comes in for my ax-100. also, what's up with those couple of extra holes near where you mounted the lense? trial and error to get it right? any tips..
good to see that the picture still looks that good with all the lense shift you did as i will also have to use quite a bit..
Best,
Chris

Thanks for the kind words!
Mark -
Yes I the FP room I have 5 Klipsch Heresy's. They are all the same except for the center which is actually the industrial version of the Heresy. It is ported and actually made for voices so it is a kick ass center channel.
Chris -
Yes those were some test rig holes. They will be filled in later but I wanted to get the pictures up for everyone
Anyway before I thought of the current mounting system I used a piece of wood attached to the ceiling. Using the flange system you will have to dig out a little bit of the drywall to accept the top of the bolt. I do have several suggestions but I need a little more time to write them down. I will post them here.
Laters,
Jeff
I've just updated my BLOG (click on My Projects) with a similar show and tell for the scaling and optics how to...

Mark

Mark,

what are the dimensions of you 2:35 screen, please?

Scott

Too big for that room and the seating distance
The screen (frame) is 8 foot wide with a 2.75" border. The AR is 2.35:1, but I need to change it to 2.37:1, so right now I have some overscan on the sides. Most likely I'll simply insert a length of MDF into the bottom to reduce the screen height to suit...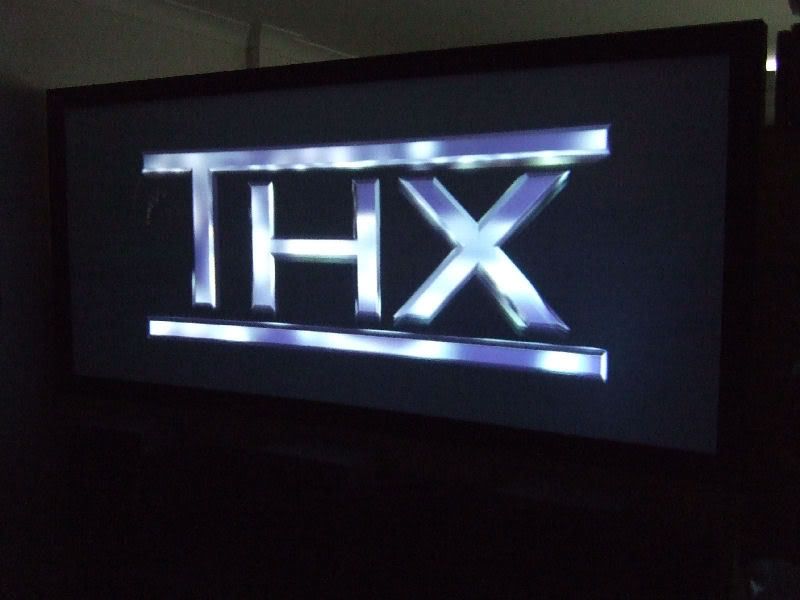 Mark
What is the point of doing the stretching if you still have the black bars below and above the image?

If he is referring to my photo, that black is the screen masking...
But I think he referring the OPs photos that look like they have been projected on to a 16:9 screen...
Mark
I was referring to eq-shadimar's screen. After looking a bit closer, the bars are gone, but the aspect ratio of the screen is still off. I take it the aspect ratio of the screen is still 16:9, but the PJ is using all as opposed to just 75% of it's pixels.

Ah ok I understand. You are totally correct that it is confusing. Let me explain. The screen that I currently have is actually a square 10'x10' screen that I got for free
I only have 8' ceilings so it is not pulled down all the way. I can actually drop the screen all the way to the floor if I want to. So it is not a true scope screen. The one that I will be buying will have the screen material in the correct ratio with the proper black dropdowns for proper image positioning. If you look at the first picture you can see the black bars that are part of the 1.78 image that the projector is throwing in the middle of the huge screen. You have to ignore that the screen is oversized for the moment
I have to say though that having a huge screen like I currently have was great in figuring out the image size and position. It was basically like being able to shoot on a blank wall.
Mark -
I like your blog and setup too! Scope screens rule!
Laters,
Jeff
EQ... thanks for the clarification
. Besides losing the "grey" bars above and below the movie image and the image itself being bigger, can you appreciate the difference from before to after (ie can you tell more pixels are being used?)? After all is said do you think it is worth the cost of the lens? BTW, I plan on getting the same PJ as you so this is really helpful. How did you decide which anamorphic lens to get?
Ok well lets see if I can answer these questions. There is just no comparison between having the 2.35 image the same height as the 1.78 image vs the standard letterbox. The visual impact is huge. The difference is like night and day. To me the cost of the lense was well worth it. Could I have lived with the letterboxing? Yes. Could I have lived with the zoom method? Yes. Am I glad I don't have to? Yes! If you can afford it and watch lots of 2.35 material I would say get it. Would I get the lens before I had kick ass speakers, a proper sound system, massive bass etc... No. Would I get a lens before I had and HD disc player? No. But this is just me.
So what is the difference between using the zoom method and a lens to achieve the constant height image? Well for one when zoomed the pixel structure is much more visible and the focus needs to be changed. I really can't explain it but after watching 1.78 HD material when zoomed the image looks like it was zoomed. I know that sounds weird but I really can't explain it much better than that. Using the lens there is no difference between watching 1.78 HD material and 2.35 HD material at full height and width. This is a good thing
That is perhaps the best way to state it. Additionally there is no need to mess with the zoom and focus functions. Press a button on the projector remote, twist two knobs, and presto chango super sized 2.35 image.
For the lens choice it was really easy for me. I knew that the pass through was a feature that I needed to have because I did not want to have to purchase an additional scaler. As to the difference in the models I simply purchased what I could afford.
I hope this answers your questions.
Laters,
Jeff
Great... that's exactly the type of response I was looking for
.
If one gets a lens to horizontally stretch the image to 2.35, what happens with material recorded with a 1:85 aspect ratio? What is typically done to keep the constant height without the material appearing stretched horizonatally or vertically?
You have 4 main choices:

1) Leave the lens in place and use an electronic scaling system that handles everything for you. This system stretches or compresses the image electronically to come out correctly.

2) Move the lens out of the way for 1.78 (or 1.85) material.

3) Purchase a lens like the H700 that has a pass through mode. In other words the prisms can rotate such that you can apply stretch when you want it and have a pass through mode when you need that. The lens will always stay in front of the projector.

4) Do nothing and live with the distortions or image cropping in other modes.

Laters,
Jeff

Thanks for you help
.
Looks great man! Really great. I'm jealous.
krholmberg -
You are welcome. Glad I could help!
Tim -
Thanks for replying. Of course once I got the lens mounted and tweaked what did I do? I started construction
I will start a construction thread in the correct forum this weekend. Hopefully it won't take long at all. I am only building a riser and two wing walls to enclose the room a bit more. The riser is done and the first coat of mud is already on the walls so it is moving along super fast. Then a quick coat of paint or two and it should be done. The lens and projector are safely stored (double bagged of course) in a safe location until it is all done.
Laters,
Jeff
Ok I started a
Construction Thread
. Take a look if you are interested in seeing the room transformation that I have started.
Laters,
Jeff
Very cool Jeff and I also checked out the construction thread as well. I wish I was as far along as you but we haven't even moved into our new house yet so I will just settle for getting heat and electric at this point.

Later the basement will get finished for the home theatre/den but as tax season approaches I don't dare get started on something I cannot hope to finish.

Halveb -
Thanks for looking. I am surprised no one has posted in that thread yet. I guess I am doing everything correctly
Electricity and heat are good things. Both are needed for a proper HT I am told
Laters,
Jeff


Jeff,

What do you do when viewing HD material that's natively 16x9? Is there a passthrough on the lens? Or do you have move it out of the way?

Thanks,
Ed

Ed -

There is a passthrough. See the first screenshot. On this lens you twist the two knobs that you see there on the bottom of the lens for passthrough or stretch mode. No need to move the lens out of the way. They also sell a remote controled motorized verison.

Laters,
Jeff

Jeff,

I just got the H-700 and AX-100. What PJ mount are you using?

Also, a FYI for everybody considering this set up. The Panny only supports V-FIT for 720 and 1080 input signals. Not a huge deal, but right now I don't have an upconverting DVD player to test with.



BTW, did you get any pin cushioning on display after putting the lens in place? I'm getting some CA and a little barreling. My throw ratio is around 2.2.

Thanks,

Ed

Ed -

It is a Peerless PRS universal mount. I think the model is simply PRS-UNV.

I have slight CA and pin cushioning in stretch mode only. In pass through there is no distortion at all. Make sure that you tilt the lens through its full range of motion and pick the position that gives you the best image.

Laters,
Jeff

Ok a shameless bump. I ordered my 2.35 screen from AVS today! Here are the specs:
The numbers may be hard to read. It will have 4" black borders, top border of 6", bottom border of 23". The viewable area will be 52"x122.25" (~106" dia 1.78, ~132.5" dia 2.35).
The material is high power and it will be a Da-Lite Model C with CSR. Jason here at AVS helped with all the ordering. I will post actual pictures when it arrives. Maybe I can finally get in the 2.35 Picture Thread hehe.
Laters,
Jeff