Member
Join Date: Apr 2012
Posts: 18
Mentioned: 0 Post(s)
Tagged: 0 Thread(s)
Quoted: 2 Post(s)
Liked: 10
The odd thing is that I could not remove the black plastic cover.

Isn't that supposed to come off easily?
Member
Join Date: Aug 2014
Posts: 65
Mentioned: 0 Post(s)
Tagged: 0 Thread(s)
Quoted: 24 Post(s)
Liked: 1
It might have been adhered, can't remember, but it went right back together no problem.
AVS Special Member
Join Date: Apr 2006
Location: California
Posts: 7,666
Mentioned: 3 Post(s)
Tagged: 0 Thread(s)
Quoted: 206 Post(s)
Liked: 80
wow, folks are still playing their BDP-05FD machines? I had one, seems like years now, loved it!
Member
Join Date: Nov 2014
Location: UMATILLA, OR. U.S.
Posts: 32
Mentioned: 0 Post(s)
Tagged: 0 Thread(s)
Quoted: 4 Post(s)
Liked: 2
PIONEER BDP-05FD Blu-Ray Disc player (2008)
---
my first truly high-end BRDP. just nabbed off the BAY for just over $200 shipped.
had to load the latest Firmware to get it to play nice, but that done, it has loaded every disc i've yet tried perfectly
and has easily proved itself the all-round best BRDP i've used to date. it may not be the fastest loader ever,
but it's speedy enough for me, and in any case well worth the very few minor faults
to own an honest to goodness Japanese made PIONEER ELITE BRDP.
this one's definitely a keeper for sure, for as long as i can keep it or another like it running...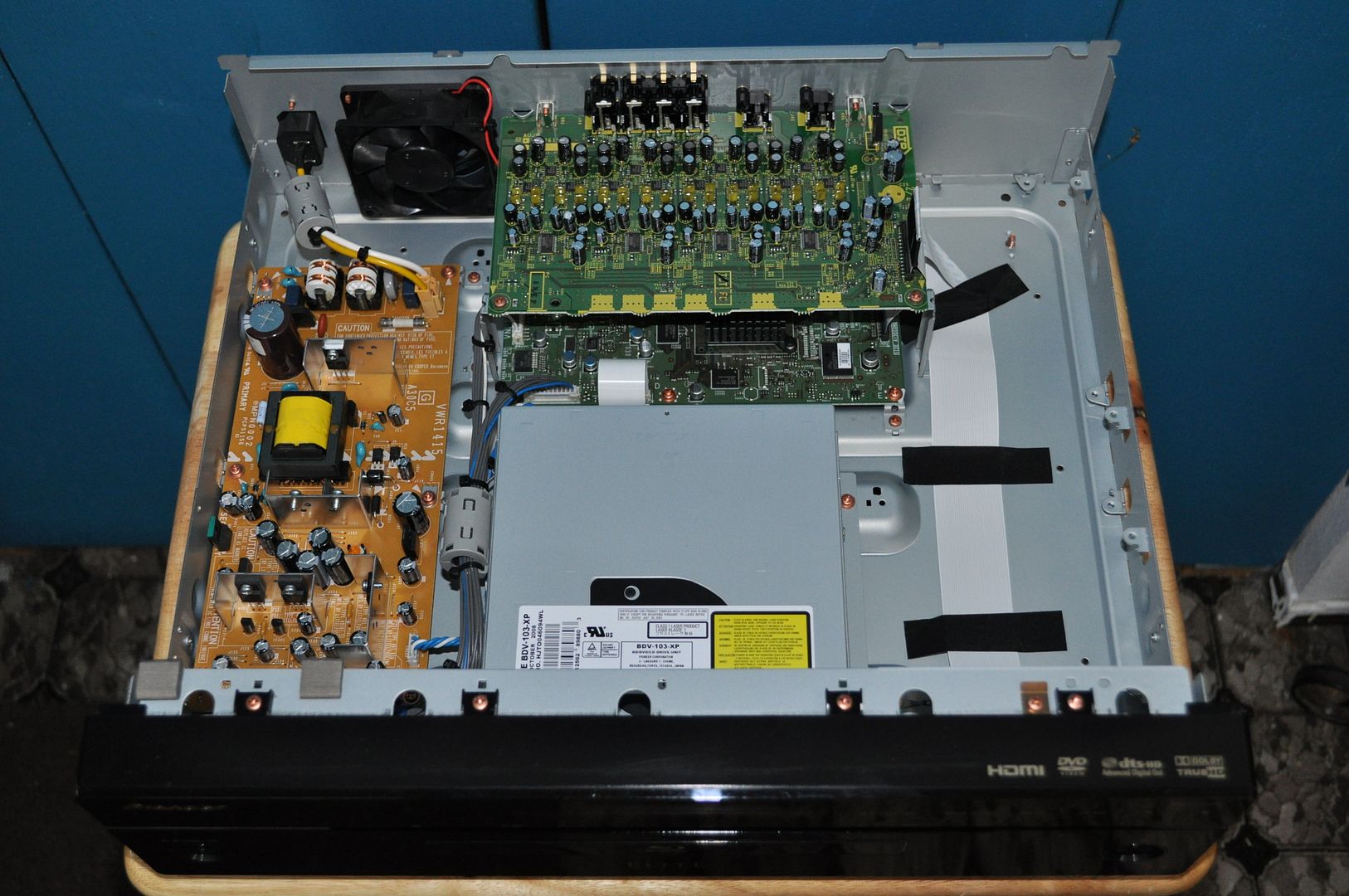 ---
Catch the Spirit of a True
ΩPIONEER
AVS Special Member
Join Date: Aug 2004
Location: Massachusetts
Posts: 3,057
Mentioned: 0 Post(s)
Tagged: 0 Thread(s)
Quoted: 11 Post(s)
Liked: 19
Quote:
Originally Posted by
TimV
Just as a follow up, I ended up replacing this player with an Oppo 103. WOW!! What a difference. The Oppo is much faster. It loads the first time, every time (what a concept!). Also the PQ and AQ on the Oppo are top notch. My 05FD is now for sale, if anyone is interested. It is in excellent condition and, like I said above, still plays CDs, DVDs and older BDs just fine. Thanks for the feedback.
Same here...I have the 51FD and it served me well. Still works fine but it was slow and rentals would freeze if there was a scratch. I finally gave up and bought the Oppo 103. Wow its a great player. I have a Meridian surround processor setup and added an HD s/pdif card that replaces the analog output card. Now couldn't be happier with the upgrade. I had added multi-channel s/pdif output to my old 51fd as well so I was stuck with that setup until I discovered that I could do the same with the Oppo 103. Meridian processors do not handle HDMI thus the need for multi-channel s/pdif output from the player.
Ron
Member
Join Date: Apr 2012
Posts: 18
Mentioned: 0 Post(s)
Tagged: 0 Thread(s)
Quoted: 2 Post(s)
Liked: 10
O.K. final update.
After looking at the back I discovered my player was made in Japan.
Can't say where my Brother's 05FD was made, as it is a moot point now.
I could not make heads nor tails of the pics showing the lenses facing upwards when the plastic cover was removed from the top of the chassis housing that sub-assembly.
But now, I can.
I tried using the Blu Ray cleaning disc from DI...three times in fact and it failed.
So I decided to open the unit one last time.
I pried off the plastic cover that was glued to the chassis of the sup-assembly.
Removed the white plastic insert and this revealed nothing...to my great disappointment.
And then it dawned on me...open the disc tray.
Once I did this, all was revealed, and of course the pics I mentioned earlier made sense.
So I grabbed some six inch cotton swabs and some 70% alcohol and cleaned the lenses...twice.
First clean then blow with canned air, then clean again and blow with canned air again, then let air dry for five minutes.
I looked closely at the two swabs I used, and there was only three tiny specs of dirt, but that is all it takes.
I popped in the new Blu Ray disc that would not play on my 05FD, but would play on my Brother's 05FD.
It loaded faster than ever before...and it LOADED and played.
I could not be happier...LOVE MY 05FD!
So DON'T give up.
http://www.amazon.com/First-Aid-Only...ZGJ6G4KSBQF8A0
Posting Rules

You may not post new threads

You may not post replies

You may not post attachments

You may not edit your posts

---

HTML code is Off

---