Long story short I just got my Samsung BD-P1600 in the mail as I prize, it's not yet released but rumor has been pointing to a mid March.
It's my first BD player so it's kind of hard to know what to cover.
Little things I have noticed:
*Decodes both DTS HD and Dolby True HD
*The whole front flips down to reveal the disc drive and buttons (not a fan)
*Supports Netflix and Pandora
*There will be a USB WiFi dongle (USB port on front and back)
*1GB not built in for BD Live
*Ejects discs in 1 second
*Started a DVD in under 30 seconds
*Relatively quiet, though had sort of a whrring reading noise that would come and go like an old game console on the DVD I watched.
It seems to be a pretty modest step up from the 1500 model, please feel free to ask questions. I will try to answer them best as possible. Hopefully I will get to watch a BD movie soon, but I have a pretty busy schedule.
(BTW my current setup is a Samsung 32a450, xbox 360 w/ VGA, BD-P1600 w/ HDMI, and an Aiwa stereo. So nothing really amazing)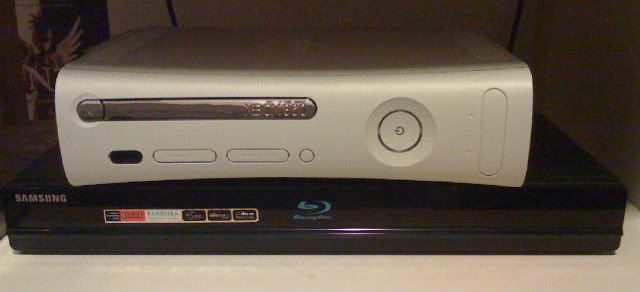 Seems like a very nice player overall. Thanks for posting a photo of it, I had not seen this yet.

Someone on HDD spotted the 1600 at Best Buy.

Does the door flip up and close by itself (like the S350/550)?


Yes it does but if you pull it down all the way it it stays down as there is a USB port on the front and of course the face buttons.
It does sort of worry me about durability being built that way but I doubt it will ever get used that much.

What a rip off. The 1600 looks like a xbox to me?
just messing with ya buddy
. Look like they made some improvements internally and externally for our baby brotha.
Hope you'll enjoy your newfound Samsung toy for many more years to come.
what kind of upscaler does this one have?

Does this unit have a fan? The 1500 did not.

Is the wireless USB dongle in the box or is it a separate accessory? Be kind of stupid to sell it separately IMO...can't see BB stocking Samsung USB wireless dongles next to the bluray section.

And how much would it cost? $10? $20?

According to what I read, all new Samsung BD players will come with USB wi-fi dongle in the box for free.

I won one of the BD-P1600 as well. I'm very impressed with the load times, and the way everything functions. The interface is solid. It's my first step into Blu-ray and it looks beautiful on my 106" screen.

I haven't done any upconverting of standard DVDs yet, I have heard that there has been an issue with the BD-P1500 about that.

We will see.

I just got BD-P1600 at local best buy,it retails for $299. It looks pretty solid, has a fan, netflix streaming and nice remote.There is an opening front panel and touch sensitive buttons on the front. It's way much lighter than Sony BDP-S350, but somehow the power consumption is even bigger than previous model-it's 30W I didn't have a chance to set it up but I will follow up later on.

I believe the 3600 and the 4600 will come with the dongle. Not sure how much it will retail for, the model number is WIS09AGBN, but can't find anything on it besides a reference to it in the manual and front of box. I would assume it will be $40+.
Right now I am using an ethernet bridge, but would much prefer to get the dongle.
Congrats man. The DVD upscaling is OK, it's no HQV but it is better then my 360. I don't believe there is a way for me to find what the upscaler is without cracking it open.
It does have a fan and I am in a small room (bedroom) so it is pretty noticeable having it out in the open. A lot better then my 360 though
, just have to get used to a different pitch. Though I really think the fan is overkill on this model as after 30min of NetFlix HD it was blowing out cold air.
Both Pandora and Netflix work pretty much identical to the 2500/2550.
Does it decode DTS-HD MA internally that you dan determine?

I just set it up and it doesn't read any of my 5 blu-ray discs! anybody has problems with this player??

If it's like BD-P1500 and all your 5 discs are BD-Live enabled, you need plug in 1GB USB memory stick or disable/re-config BD-Live for the player. If I read OP's post right, BD-P1600 does not have 1GB of memory on-board which is required by BD-Live.

If it is caused by BD-Live issue, he just need to disable BD-Live and the disc will play. No player is perfect. And Samsung isn't known to release perfect products.

so where did you guys win them from anyway?

It didn't help. I tried to disable Bd-live, connect usb drive , and try other discs. Nothing. They only discs that played was DVE Digital Video Essentials on blu-ray. Other movies- 21, casino royale, miami vice etc. didn't work. It looks like I have a faulty player. Is your player working OK?
Thanks
Anybody check Samsung's website for f/w updates?

I saw it today at BB very nice looking player.

Steve

In BB right now looking at the box. No mention of a wifi dongle being in the contents, and the box says wireless ready which to me indicates no indication to give the dongle away for free.

Other thoughts.....price is 299, no hqv chip, no built in 1gb memory, no 7.1 analog output.

The 2550 includes all of those for only 50 dollars more, unless for some reason you need wireless the 2550 seems a much better buy

just picked this up because they did not have the panny 35 or 55. in fact this was the only player they had besides the sony 300/350

I'm going to go set it up and see how she rolls. BB people didn't know anything about this 1600 and it wasn't on the sammy website yet. if it sucks i will be taking it back

Sounds like a good player. I am happy with my 1500. As a whole, the PQ is slightly worse for Blu-Ray and DVD vs my Panasonic BD35. It does load movies slightly faster than my BD35, and I like the look and feel of the menu options of the 1500 better. My 1500 has been a rock. It gets used everyday and has been nearly trouble free (had a problem playing "For Your Eyes Only" on Blu-Ray and a DVD. But those issues were resolved with a firmware update.

Samsung rightfully deserved a bad rap for many of their previous Blu-Ray players (BD1000, 1200, 1400), but they seemed to have turned a corner. I like the idea of the built-in Netflix streaming and potential wifi with this player, but the $299 price tag at Best Buy seems high. I suspect we will see this player for $199 and under by the end of the year. I paid $140 for my BD1500 at Amazon after selling "The Ultimate Matrix Boxset (BD)", that came free with the player. I would consider picking this player up at some point if I could get it for a similar price (I could retire the 1500 to my bedroom).

updated: this unit will not play 310 to yuma. simply says this disc cannot be played.

called support, they want to send me a firmware cd or download from site but that's funny like a previous poster said there is no firmware for the 1600 yet.

I'm on hold.........

so she came back on and told me to wait for new firmware. She had no idea when it would be released. I told her I'm going to return it for a different brand and she hung up on me. Way to go samsung