Readers with young eyes (or good reading glasses!) may have noticed I recently mentioned that there was a reason why I had not been talking about (or posting any photos of) the main HT/rec room area of the basement, but just the laundry room & bed room/hang out room:
Quote:
Originally Posted by
hanesian
The battlefield for this engagement was intentionally limited to just the southern half of the basement, which includes the laundry room and the bedroom, or more likely (now that "the kid" has moved out again) the hang out room. Or perhaps the HT - who the hell knows anymore?!
The main area of the basement (current rec room) was intentionally left untouched by this assault, for reasons to be made clear soon
.
Incredibly, a few of you - and you know who you are so I won't name names - have even begun inciting the masses by openly questioning if there is
any
HT in this project at all, simply because there has been no mention or proof of it in, oh I don't know ... months at least. Man I hate observant people.
So obviously I have no choice but to finally come clean and fill yous riff-raff in on some of the behind the scenes things that have had a wee influence on this so-called "build" in recent months. I mean in addition to my usual cluelessness and lack of know-how affecting the entire project. That's just a given.
I've been hesitant to pull back the curtains on my so-called life and elaborate for a while, since it is easier - and much more fun - to post silly photos and comments. But journalistic integrity (which is so important to us Emmy-winning photojournalists
) demands I drop my drawers, so to speak, and level with you. But please keep looking me in the eye as I do so.
Every now and then it seems even the best laid plans of mice and men go awry and run head-first into that entirely unexpected obstacle known as reality, which often times derails those plans, or at least twists them around so that they are all but unrecognizable. And mine were certainly
not
the best laid plans. Not by a long shot.
That's pretty much how I found myself in this (so called) HT project in the first place - because of the entirely unplanned, unanticipated and unwanted mold problem that served as the catalyst for all the craziness that has followed since.
It happened again. No, not the mold part - the unanticipated part. First let me briefly recap, especially for those sane souls who didn't actually read the early posts in this now long-in-the-tooth, pathetic thread.
First I backed into this unanticipated and unplanned unproject because of the mold problem which forced us into trashing large portions of the basement (among other areas) anyways, so - heck! - why
NOT
rebuild it better than before, and toss in a PJ, screen and speakers and call it a HT just for some consolation! Cheaper than years of psychotherapy and scads of alcohol, I told myself.
Well, here we are just one year, two and a half bathrooms, one furnace, three rebuilt closets, a new bed, and one large woodpile later, and I'm
still
not done. Excluding the alcohol portion, of course.
In the meantime, the kid I used to have returned safely home from the war, languished for several months in a construction zone, and moved back out and into his own apartment, muttering something under his breath about woodpiles and insulation and the desert being more comfortable than this.
But lest you think that would leave the construction zone unoccupied and therefore more ripe for progress, well ... here sit down because here comes the punch line: just as he was moving out, others were moving in.
Long story short(er), our "family" increased slightly from the missus and me plus 2 teeny boppers to the missus and me, 2 teeny boppers, a brother & sister-in-law, and their 4 kids ages 2 - 7, as my wife's sister's family needed a temporary place to live while their new house, bought in a recent relocation to the area, was undergoing a major addition. And if you think that was a long sentence to
read
, try
living
it!!
So our cozy little home is fairly bursting at the seams with 6 extra people for a while, although since 4 of them are 7 years old and younger, at least it's nice and quiet and calm.
Fortunately we all get along great, as we get to spend plenty of time rubbing elbows. And it's a treat to have the pitter-patter of little elephant feet (and the crashing of things they get into) echoing around the house again. But it does pose some space management challenges, and one of the casualties was the rec/room/future HT, which has been converted from a early (and sadly dormant) construction zone into a bedroom for mom, dad and (depending on the night) one or two of the little kids. To wit: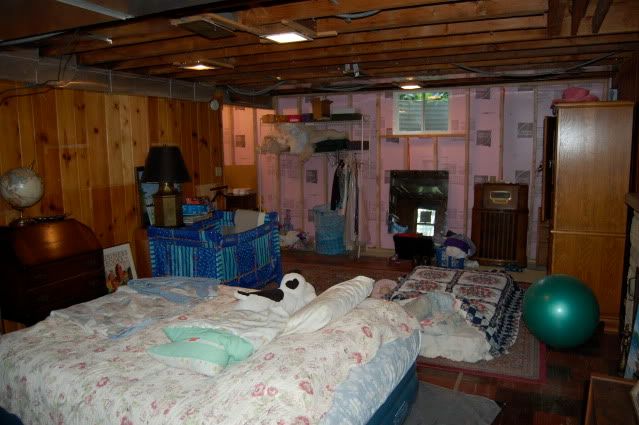 Pretty posh accommodations, eh? Obviously it would have been nice if I had not been such a bloody ****** and gotten the basement build completed
before
they moved in, but I was going as fast as I could (which I'll be the first to admit ain't saying much).
Besides, we didn't exactly plan on this development, and the sun was in my eyes, plus I got a bit hung up at work.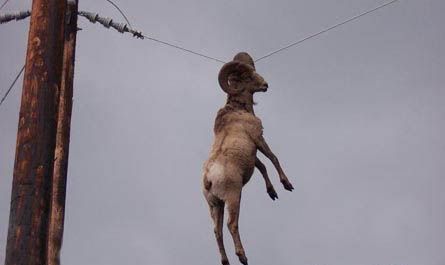 Sooooo, here's the plan. For now. Until something else unexpected happens.
Focus all efforts of the southern half of basement that includes the laundry room and bed room/hang out room. With Chris's recent help we're (thankfully) almost finished with the framing and prep work in there. Just a bit more electric work, the low voltage wiring and some more insulation and we'll be ready for drywall - I'm talking now ONLY about the southern half of the basement. Nothing happens in the temporary living area until it is no longer a temporary living area.
And here cane.mba's early guess is right on - I'm hiring out the drywall so we can get 'er done asap. Then we'll paint, do some very quick trim work (with Chris) and move the gypsies into the now finished bed room area. When they're gone we'll do the same process in the rec room and other area, at which point we should be done with everything except the sauna, which I'll finish myself (he managed to say with a mostly straight face).
By the time that is all done, it will be time to move out and into the old folks home. I sure hope they have at least a large screen TV there, because I'm sure going to miss the dream of having an HT with a big screen.
Thanks, cat.
That's my story, and I'm stickin' to it!