Member
Join Date: Mar 2011
Posts: 70
Mentioned: 0 Post(s)
Tagged: 0 Thread(s)
Quoted: 38 Post(s)
Liked: 12
Ok, so my little home theater pales in comparison to some of the high dollar works of art I have seen on this forum.
But gosh dang it!!! I love it....
.... because IT'S MINE!!!
Anyway, I can't find the old pictures of my basement when I first moved into my house. If I do, I'll have to scan them, because I think all I have are prints from using an actual film camera.
When you see my pics, just imagine a bare concrete floored basement, with only studded contruction, no insulation or drywall, and no electricity routed. I had to literally build my whole basement to complete my house, as many of you have as well.
So, When I moved in back in 1998, it is was a finished 1,500sq ft. house upstairs, with a full 1,500sq ft. daylight basement completely unfinished. I started finishing the basement by coming up with a basic floor plan, then spending countless hours at Home Depot and Lowe's. I added another bedroom with a full bath, a full rec room with my own custom built wet bar, computer space, and a family HT room which actually ended up being my kids play room for the last ten years. I also installed a woodstove in the family room. There's nothing like watching movies with a warm woodstove in the background, and a bar full of whatever my heart desires.
This may seem boring at first, but here is the wet bar with all of my goodies. I have alot more now. These are very old pics.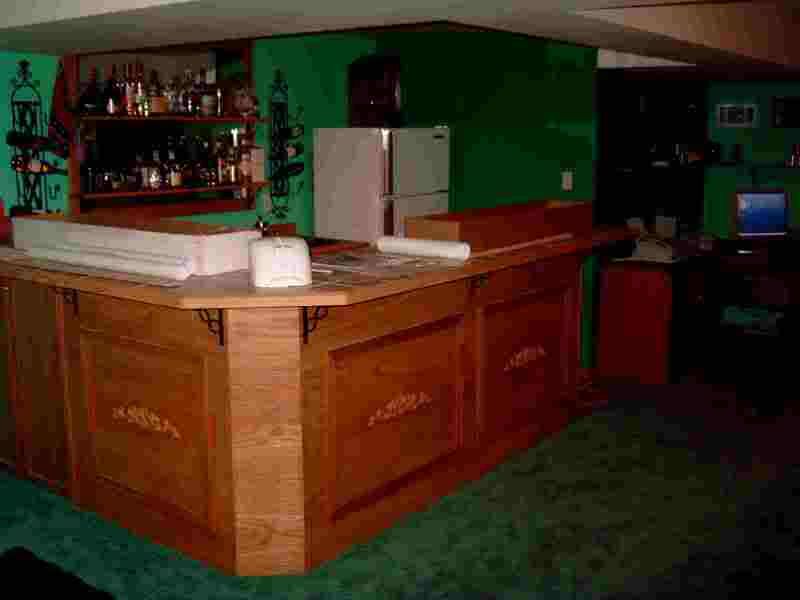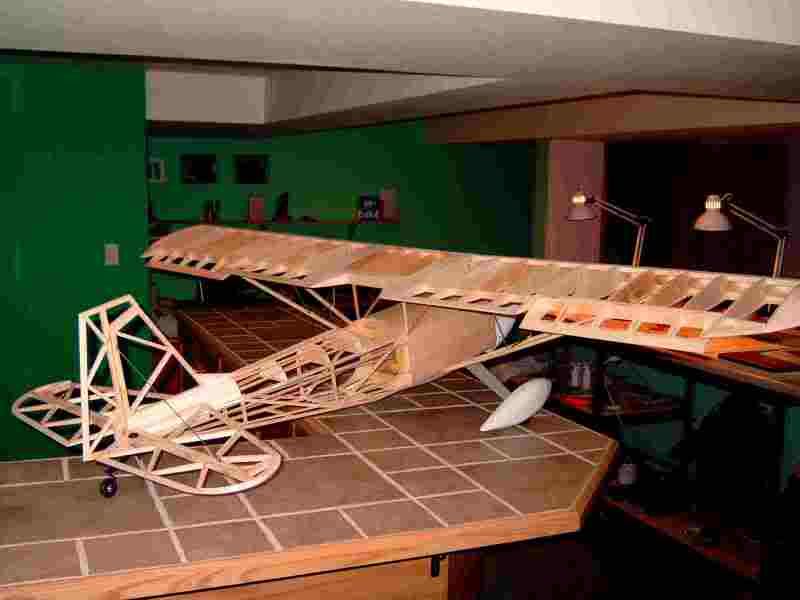 I have my old airplane sitting on the bar and workbench. In the background you can see my computer space.
This is my new gaming PC, for defeating my enemies, and hearing the lamentations of their women.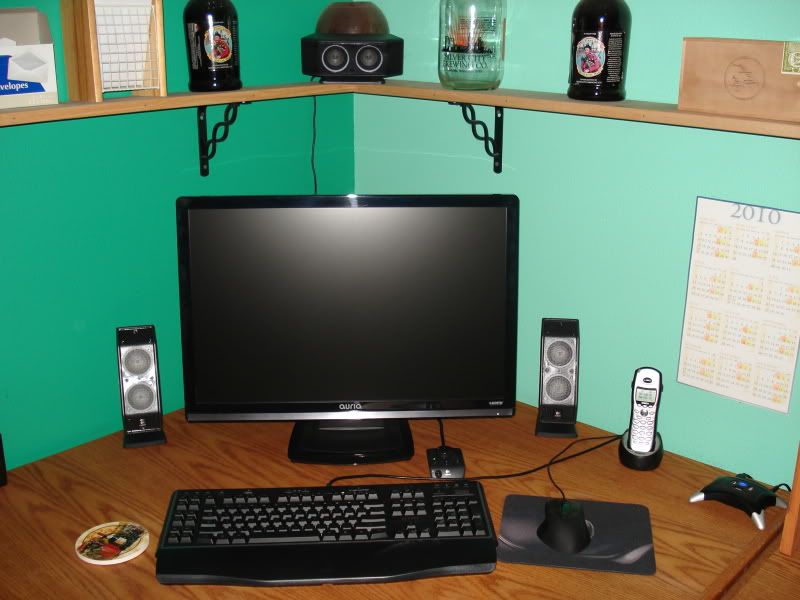 -----------------------------------------------------------------
Now for the good stuff. My new home theater. I finally cleaned out all of my kids toys (they're getting older now, tweens), and annexed this territory for my new tv and stereo system, along with a new sectional.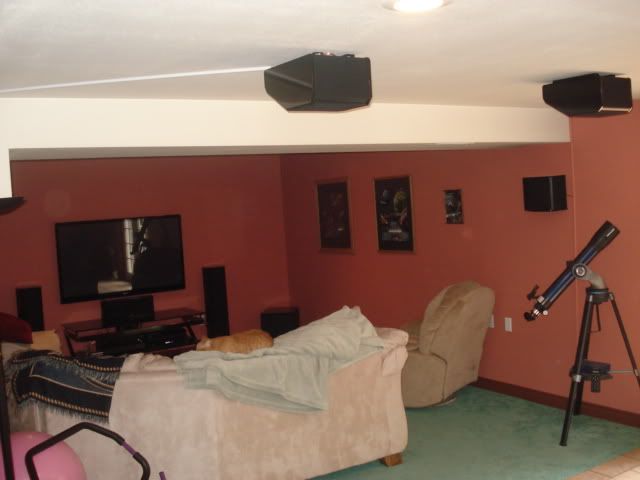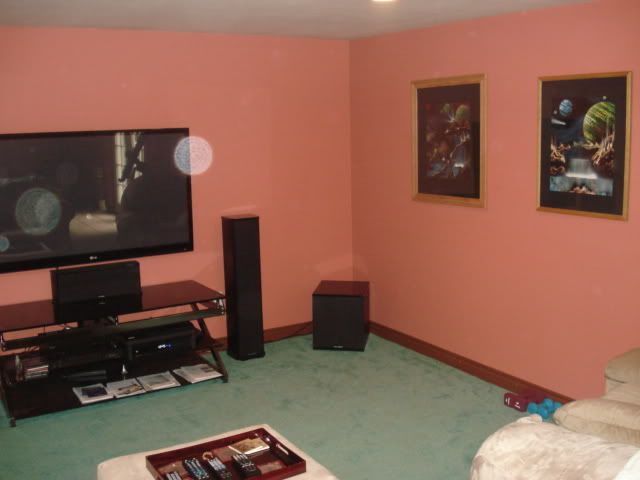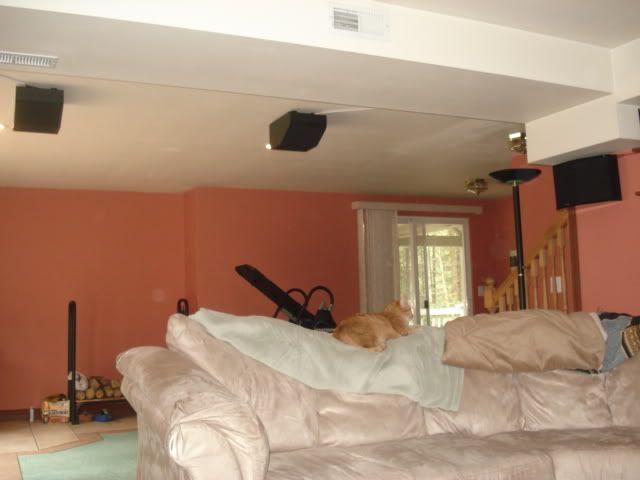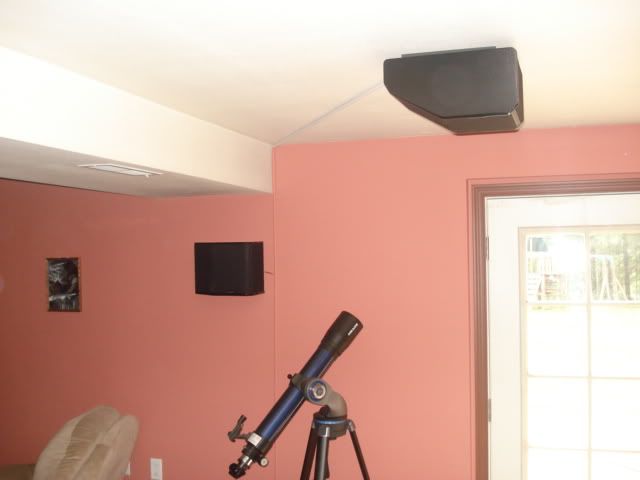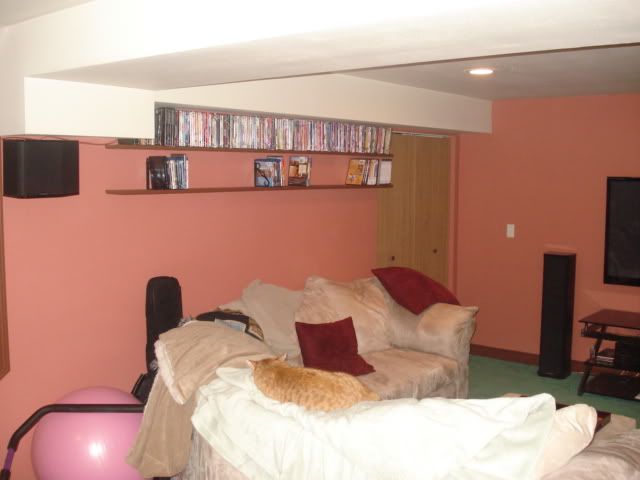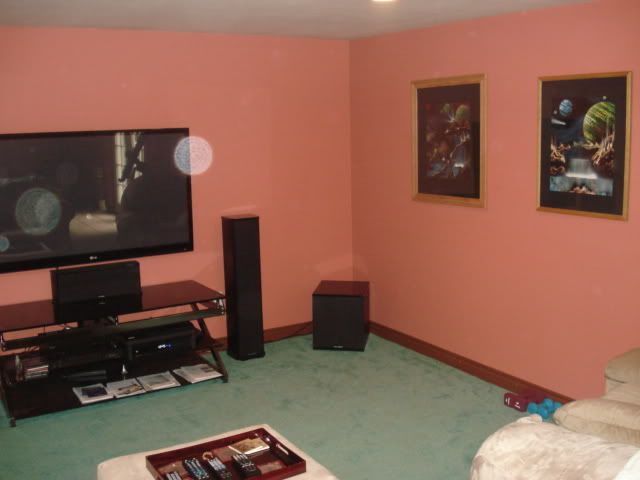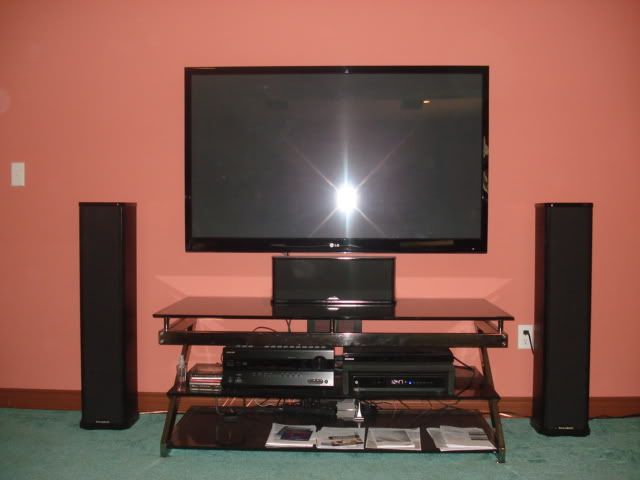 Here is a run down and review of all my new components.
TV- LG60PK540. 60" 1080p Plasma
.
I really like this tv. After setting it up, and making all necessary adjustments, I actually like it just as much if not more than the Samsung I was looking at which was a little smaller. This is a great tv. I know alot of 3D tv's are coming out, but I got this one for $1,200 shipped, so it was a deal I didn't want to pass up. I opted to get HDMI 1.4 compatible BD and reciever for future upgrade if I desire. As it is, this tv is more than I will need for many years to come.
Samsung Blu-Ray
-
I got this with HDMI 1.4 thinking some day I could play 3D, but until tv's come out that don't require glasses, I'm happy with 2D. This blu-ray is nice in that is also has the Smart TV internet apps. I ran an ethernet cable to my gaming PC/router so I can go online with it. The Apps are nice, but after having it for a month, I find I don't use them very much. It almost seems more of a novelty, with exception to the movie download/streaming from Blockbuster, Netflix, etc. If I want to surf the net, I just use my computer which is much faster and more capable. The 26" 1920x1200dpi gaming monitor I have is pretty awesome, so I really don't need to watch YouTube on my 60" plasma. The BD player itself is a fantastic player. The picture quality it creates, even in upconversion of my older DVD's, is fantastic.
Onkyo TX-SR608 100w/channel reciever-
I got this on sale from NewEgg for only $350/shipped. All I can say is it has 5 HDMI inputs (1 output) on the back for all the comonents I will use for the foreseeable future, including a gaming input if I ever get my kids an X-box or something. Even though the X-box is crap. Ok, so I am PC biased. Live with it. The audyssey setup worked very well for my speakers, and with a square room, I get incredible sound for such a good mid-rate budget system.
-----------------------------------------------------------------
BIC Acoustech Speakers-
Ok, these speakers have really taken me by surprise. I purchased the PL-76 HT system from Overstock.com, and an extra pair of HT-63 rears to build it into a full 7.1 system. I have heard nothing in this price range that even comes close to sound quality in this setup as a package for this price point. The whole 7.1 system was $980.
PL-76 towers-
These are nice two-way towers, but not mind blowing by themselves. As with all of the speakers in this package, they have 6" horn tweeters that I really have grown to love. They also have two 6.5" woofers, and are front vented. I listened to a Klipsch set of HT speakers that were around $1,800-$2,000, and this whole Acoustech system is close, if not better than the Klipsch, which has really shocked me. These towers could use more bass, but BIC Acoustech does have a higher end with a bigger tower (PL-89). However, after the audyssey set the cross over at 40Hz, I don't think it really matters. Virtually all the bass now comes from the sub. The mids and highs on these towers are quite good for the $350 price point. They easily compare to towers twice the price.
They aren't the best by themselves when just listening in stereo for music. However, when using the whole system is in "All Channel Stereo", it sounds phenomenal. All these horn tweeters never made my Pink Floyd CD's sound so good.
H-100 subwoofer-
This sub is also a real performer. It is a 500w peak sub, designed by HSU. I thought my theater room being 14x28ft would need more sub. This is not the case. I have the gain set only at 3 (out of 1-10), and it rumbles the whole room. While watching the first 10mins of Master and Commander, I quickly became thankful I live in the country. Otherwise I would surely have neighbors complaining. This sub literally shook my bones. If BIC needs money, they could easily get a military contract to use these things as some kind of sonic weapon. (Image of the Incredible Hulk came to my mind).
PL-26 Center-
This center is also a great performer. It has one 6" horn tweeter, and two 6.5" woofers. Needless to say, I am now hearing things from peoples voices I never heard before. They are very crisp, and provide enough volume on their own, that you don't need to have the stereo turned up to hear people talk, as with many centers.
HT-63 surround speakers-
What can I say, these are great, and very sensitive surrounds. I bought four of them so I could upgrade the 5.1 to 7.1. I love this whole system now. It makes movie watching a real pleasure. The sound just fills the room, and I hear things like never before. These speakers also have one 6" horn tweeter, one 6.5" woofer, and a 4x8 passive woofer on the rear.
As you can see in one of the pice, I mounted the 7.1 rears to the ceiling. I had to make my own special brackets to do so, and bolted them into the ceiling rafters through the drywall. I routed the wiring the cheap way with some wire moulding, because the rafters run perpindicular, and I rwally didn't want to spend God knows how long trying to drill through each of them.
Overall, this speaker package is amazing in qaulity for the price. They have a satin black finish, and the tops and bottoms have a hand rubbed gloss black lacquer finish. The only reason these speakers are as affordable as they are, is because the BIC lab is here in the U.S., but manufacturing is in China. With exception to the higher-end Klipsch, I think even alot of their mid-range stuff is even being made in China too, which doesn't surprise me.
----------------------------------------------------------------------
To finish it off, I found a really nice 8ft sectional on craigslist for only $300.
I also found the tv stand made by
Z-Line
, (normally $400) for $70 used (but mint cond) on craigs' as well.
All in all, to finish this room, I put about $3,500 into it. Not too bad. Pretty much my whole tax return, but hey, I'm not regretting it.
Now, all I need is some cool movie posters from my favorite flicks to put up on the wall above the tower speakers.
Thanks for taking the time check out my setup.
AVS Forum Special Member
Join Date: Dec 2005
Location: South Central Indiana
Posts: 6,696
Mentioned: 11 Post(s)
Tagged: 0 Thread(s)
Quoted: 195 Post(s)
Liked: 169
Looks good. Nothing like the kids getting older so you can commandeer the space. I'm sure that they can appreciate the space now that they are getting older. I have a space for my kids as well (and currently serving as my temp theater) and they love it.

Enjoy.

Regards,

RTROSE
AVS Forum Special Member
Join Date: Jun 2008
Location: New Hampshire, USA
Posts: 1,074
Mentioned: 0 Post(s)
Tagged: 0 Thread(s)
Quoted: 6 Post(s)
Liked: 21
Oh yes, very boring.
NOT!
Well, they how about some new pics? What, do you think we don't want to see that fabulous bar and the rest of the setup? Haven't you been reading the popular threads in this forum? We demand pictures of everything, including the shed you built after you finished the basement... (yea, we know you did, admit it
)
---
Chris
"It hurts to admit when you make mistakes - but when they are big enough, the pain only lasts a second."
--Despair, Inc. "Regret"
My AviaTrix TM Build
Member
Join Date: Mar 2011
Posts: 70
Mentioned: 0 Post(s)
Tagged: 0 Thread(s)
Quoted: 38 Post(s)
Liked: 12
Quote:
Originally Posted by
BeerParty
Oh yes, very boring.
NOT!
Well, they how about some new pics? What, do you think we don't want to see that fabulous bar and the rest of the setup? Haven't you been reading the popular threads in this forum? We demand pictures of everything, including the shed you built after you finished the basement... (yea, we know you did, admit it
)
Actually, I do have a small metal shed, but that is no big deal.
What is really nice, is I dumped a few grand into building a nice elevated wrap around deck off the back of my house which is on a slope. Along with a slate tiled concrete pad with a nice cover for my hot tub.
For years I had to live with walking out the back door and falling down a steep hill into a bunch of wild brush. No more. I'll get some pics taken and post them. For now, I'm going to go for a bike ride with the Mrs. since we have a few hours of rare sunshine here in the NW.
Senior Member
Join Date: Jul 2006
Posts: 229
Mentioned: 0 Post(s)
Tagged: 0 Thread(s)
Quoted: 0 Post(s)
Liked: 10
Senior Member
Join Date: Apr 2008
Posts: 480
Mentioned: 1 Post(s)
Tagged: 0 Thread(s)
Quoted: 127 Post(s)
Liked: 41
Posting Rules

You may not post new threads

You may not post replies

You may not post attachments

You may not edit your posts

---

HTML code is Off

---