Last weekend I put in 6 6" recessed lights in my "movie room"... I went with a contractor pack of airtight IC lights that fit my low budget.
Anyway - after installing the trim rings I noticed that the springs pull the bulb mounting surface down at an angle pretty badly... so when a bulb is installed I get this look:
If I stick a physically bigger bulb in - it looks slightly better, because the bulb contacts the inside of the trim piece and gets pushed straight... that doesn't seem safe to me: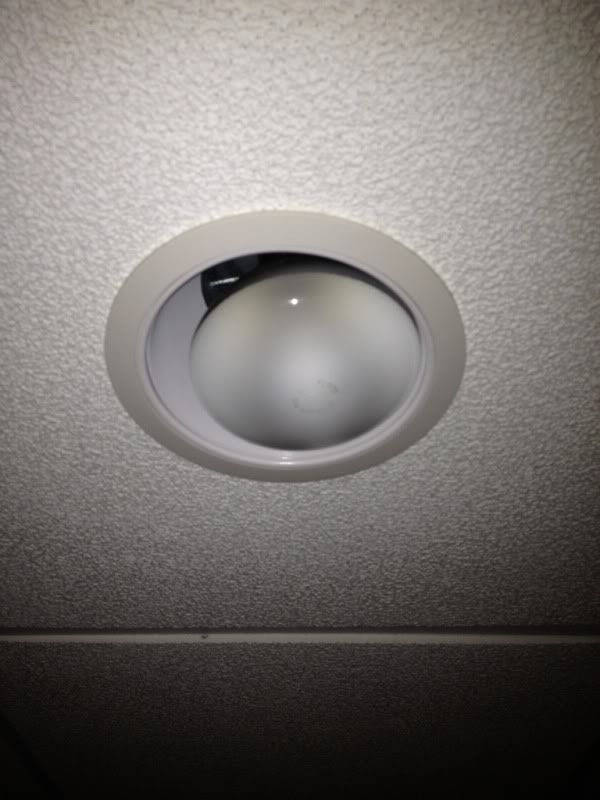 The surface the bulb screws into is attached via L bracket to the inside edge of the can where there is an adjustment wing nut to adjust for bulb depth. The trim/ring piece attaches via spring to the top part of the L, which pulls it down on the side that is not attached to the side of the can.
I thought of 2 options - but I wanted to see if there are better thoughts: 1) add some small metal rings (that my wife has for scrapbooking) to the attachment of the springs to the trim to decrease the tension. 2) Run a screw through the side of the can to stop the edge from being pulled down - but I am not sure if that is a good idea.
Is there anything you guys can think of that would fix this problem?
Note: I intend to use the smaller bulb size - we have over 50 recessed lights in the house... there are 8 in the master bathroom alone - controlled by 5 switches... someone was a little light crazy when they designed this place. They all use the smaller bulbs, so for ease in replacement I would like to keep using the smaller ones in the movie room if I can get it to look right.