Newbie
Join Date: Nov 2006
Location: MA
Posts: 3
Mentioned: 0 Post(s)
Tagged: 0 Thread(s)
Quoted: 0 Post(s)
Liked: 10
I've found a lot of 4-6in, 1 out switches, and I currently have an automatic 4 in, 1 out switch at home. However, I'm working on setting up a gameroom that I hope to end up with about 22 consoles. These switches must exist, but I have no idea how to search for them since I'm probably talking a commercial solution. Most retro video game systems use standard RGB, and anything else that is newer, I'll have to have a separate solution for.

Anyone have any suggestions on where to start??
AVS Forum Special Member
Join Date: Nov 2010
Location: Twin Cities
Posts: 1,984
Mentioned: 17 Post(s)
Tagged: 0 Thread(s)
Quoted: 575 Post(s)
Liked: 373
So, you are going to be sending audio and video to 22 different displays? Are the displays going to be all displaying the same content or could they all be displaying different sources and how many different sources? A simple AV splitter won't be that expensive, but a 32x32 matrix, would be in the neighborhood of a nice used car.

A little bit more info may help direct you to good solution.
---
-

Nothing in this world will tick you off more than seeing a vegetarian eating pudding.
Advanced Member
Join Date: May 2002
Location: MD, USA
Posts: 520
Mentioned: 0 Post(s)
Tagged: 0 Thread(s)
Quoted: 1 Post(s)
Liked: 15
Yeah once you get past around 12 ins and outs you're taking big equipment and potentially big money. Many years ago I did an impulse buy of an Extron Matrix 3200 off of eBay for super cheap (relative to its MSRP, at least). I think it's configured for 32x32 RGBHV and stereo, can handle HD resolutions, has an LCD front panel controller, RS232 computer interface, and so on.
It also occupies 4-5 feet of rack space, so just finding somewhere to put it can be a bear. This stuff is designed to be modular, so for example there's one unit that handles just the "R" lines, another for "G", another for sync signals, and each individual piece is 5-10U of rack space. There are special cables that pass the control signals between them so that they can act in concert.
In these commercial switches the video connectors are usually BNC, so you also need a huge pile of adapters or custom cables if you're going to hook up consumer gear -- plus some special tools that can attach/detach BNC connectors in high-density configurations, because once the lines are attached you can't fit your fingers in there to manipulate them.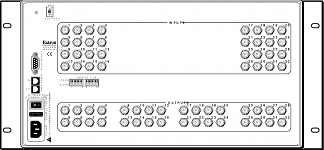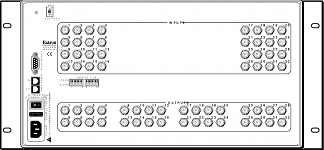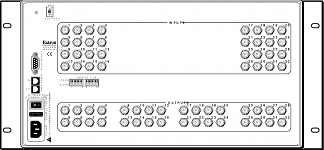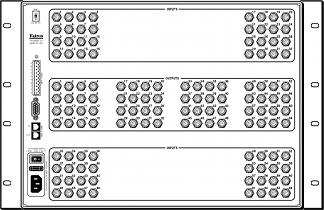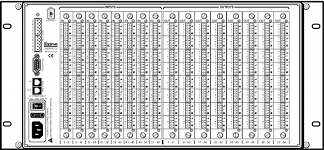 Posting Rules

You may not post new threads

You may not post replies

You may not post attachments

You may not edit your posts

---

HTML code is Off

---