I'm at work now, and this is the only before pic I have on my work PC (I will swap it out later with a better before pic).
We bought our house (foreclosure) in 2008, gradually built up our foundation, extended gutters, other waterproofing methods...Now the basement is bone dry and almost finished.
[quote=
Most people make them full sheets of 8x11, but I wanted to feature more items so I thought making them smaller in a all in one frame would look better.
[/QUOTE]

I think that's a brilliant idea. I've planned on doing the same.

wow you did a heck of a job there panther. New theater looks great, especially considering the first picture.

I learned the majority of what I know from this Thread...I'm glad to share

Before:
After:
2nd Street Cinema
http://www.avsforum.com/avs-vb/showthread.php?t=1293768
Wow! What a sweet transformation of space. Very nice. Thx for sharing. Rocko. Love the front wall and the custom audio cabinet. You should be proud.

Awesome job to both Panther and Rocko.. I'm sure whoever used to live in your houses would have their jaws dropped if they saw the space now.

Rocko, I like how you hid the projector in there (and pole), while everything is still accessible.

Rocko, nice job!

Three questions:

1) What's the ceiling treatment above your seats?
2) I like how you mounted your projector. I assume that the other two holes are for ventilation? How's the sound level, and are you using supplemental fans at all?
3) Can you share where you got your bar stools. They look like just what I'm looking for.

Hope you're really enjoying it!

Thanks. The pole just fits in one of the corners.

Thanks. I picked up the 12"x12" ceiling tiles at Lowes. The tiles were painted to look like copper.

The projector sits on a shelf. I have the vents in the front and one on the side with the ceiling open above. I didn't install a fan, but everything seems to be ok. If you follow my link I have more pictures that shows this a little better.

Cool, thanks.

Would love a pointer to a source for those chairs! :-)

I found the stools at Target.

No kidding?! Great. I'll have a look.

I love looking at these threads. Maybe someday I can have an actual "dedicated" HT room. Maybe after I get back from this next deployment I will have enough for a room edition... lol

Thank you for your service. We are all indebted to you, and I hope your dedicated theater plans go well!
Love these quick before-and-after posts. Panther, that's an incredible transformation!
Ours was a 13x9 basement office...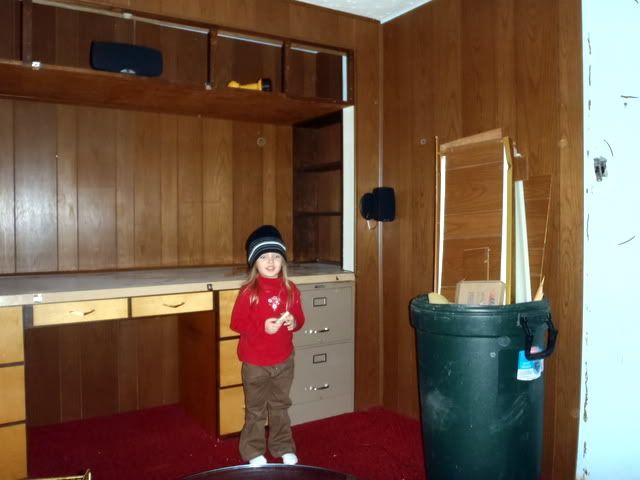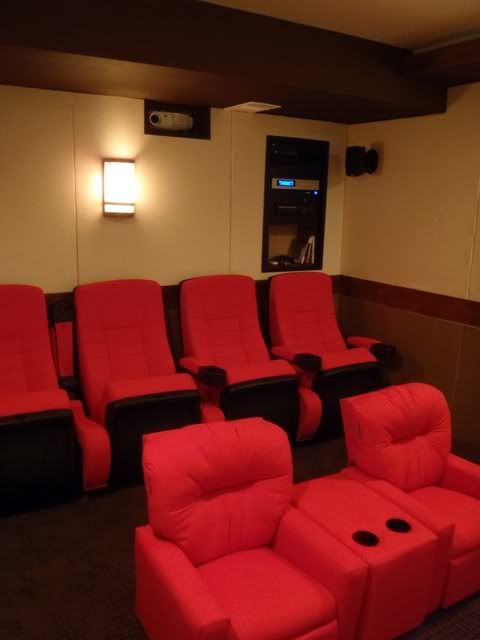 Angles are a little weird in the finished pics because the room is so damn small I can't shoot very well in there. Everything came out *mostly* straight though
Looks GREAT! Did you do the stretched fabric walls yourself, or did you have a contractor do it?

Nice. I'm thinking of doing something similar, at least where my speakers and stuff hide, so that I can get access in case I need to adjust/repair anything.

It's not quite done yet, but pretty close.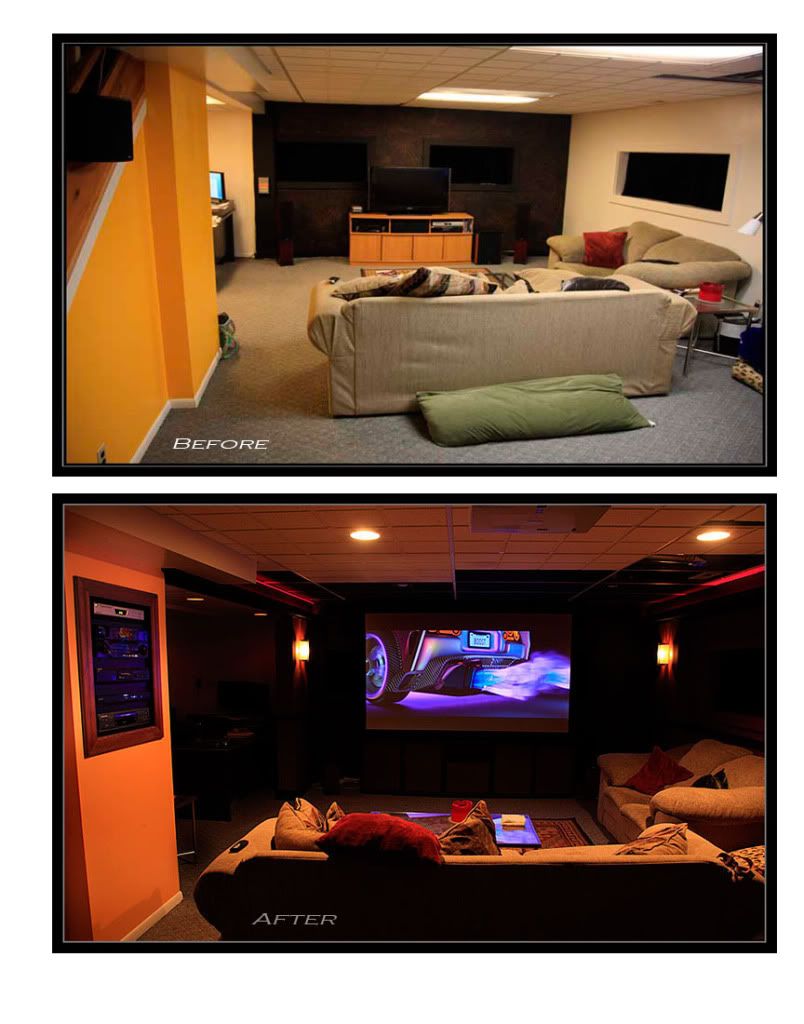 Thanks to everyone on this web site who spends the time to share their knowledge.
Before
Attachment 213339
After
Attachment 213340
After
Attachment 213341
Bar Before
Attachment 213342
Bar After
Attachment 213343
A few more pics.
Before Staining
Attachment 213353
After
Attachment 213344
Attachment 213346
Attachment 213345
dude, that is some crazy nice wood work on the bar! Must have taken some time for all that trim. Looks great.

IPT,
Thanks. Four years to complete the entire basement.
The bar was a project that spun out of control after I started. I wanted something simple but the perfectionist in me couldn't let it go. The trim wasn't the hard part it was the sanding and staining that took a lot of patience.
I'm thinking about upgrading my speakers and AVR alreay. Your set up looks great, how does it sound? What speakers/subs are you using?
LOL - I hear you on the perfectionist thing! My g/f was getting all irritated at me saying "it doesn't even matter, you barely see it" when I was making sure things were level and so on. She may barely see it, I on the other hand knew I would be blinded by it. In all likelyhood the flaws is
all
I would see if I left them!
I have all Energy Speakers. LCR for the center, RC -30's on the front R and L, and RCR's for the rears. Snatched them up when they were blowing them out on clearance. I also just built a Rythmik 15" sealed HP (600 watts) 4 cu/ft Sub. Overall I
really
like the sound. I still need to tweak it some as I have yet to do any real calibration or even SPL testing. It has a great smooth but quite clear sound. I will likly add a second sub just because there are some real dead spaces in the room. Plus I
like
bass
.
So much inspiration from this thread. People need to realize that they can get a decent home theater experience with a tight budget. Go get 'em!

Excellent use of a small space Juanflaco! It looks spectacular.

I was trying to figure out the dimensions of the room. I had alot of obstacles, duct work, main drain, water heater and the ejector pit. I marked off the area and decided the best I could do was an 11X24 theater.

Big ave