Advanced Member
Join Date: Nov 2007
Posts: 579
Mentioned: 0 Post(s)
Tagged: 0 Thread(s)
Quoted: 1 Post(s)
Liked: 29
Darwin the Voyage that Shook the World Blu-ray
** This Blu-ray title is mainly for those people that disagree with the theory of evolution **
(Expelled : No Intelligence Allowed is another Blu-ray that is pro Creation faith based movie documentary).
It's difficult to keep up with all the Christian and faith based Blu-ray titles that have been released from various studios and ministries. I only have time to create posts for select Christian titles and not every title that has been released.
According to my research
Darwin : The Voyage that Shook the World was released on Blu-ray on June 28th of 2011
(UPC code: 678570100156, all region worldwide Blu-ray, 5.1 Dolby Digital).
Quote from Creation Ministries International:
The actual documentary was released in April 2009 and the Blu-ray discs were made available in June 2011.
This Darwin : The Voyage that Shook the World Blu-ray documentary according to one online source had a budget of over 1 million dollars. The movie is an Australian documentary that was shown in theaters in Australia. Creation Ministries International commissioned Fathom Media to produce and distribute the 55-minute film (Exploration films offers the Blu-ray version).
The US Blu-ray version can be purchased for $27.95 directly from
Creation Ministries International
or it can be found on Amazon and EBAY for under $20 brand new. Amazon prices can change daily but currently a brand new version of the Blu-ray movie can be found online from an
Amazon dealer
for $15.10 plus shipping.
The following is a quote from Creation Ministries International website:
In 1831 a young amateur scientist, Charles Darwin, boarded HMS Beagle on an epic five-year voyage of discovery.
2009 marked the 200th anniversary of Darwin's birth and the 150th anniversary of the publication of his book, Origin of Species'. The Voyage that Shook the World retraces Darwin's journey, exploring the places and discoveries crucial to the formulation of his Theory of Evolution.
Filmed with High Definition (HD) cameras in South America, UK, North America, Australia and Europe, The Voyage features dramatic period recreations and stunning nature cinematography interwoven with scholars sharing their perspectives on the man and the controversy.
A fascinating and thought-provoking opportunity to gain new insight into The Voyage that Shook the World.
Special features include:
The making of The Voyage

Extended interviews

Director's introduction

Trailer

About CMI
Subtitles
: Afrikaans, Albanian, Arabic, Chinese (traditional script), Chinese (simplified script), Czech, Danish, English (for hearing-impaired), Finnish, French, German, Hungarian, Indonesian, Italian, Japanese, Norwegian, Polish, Portuguese, Romanian, Russian, Spanish, Swedish, Vietnamese
Format: Blu-ray
Audience: Junior High-Adult
Product Code: 30-4-500 "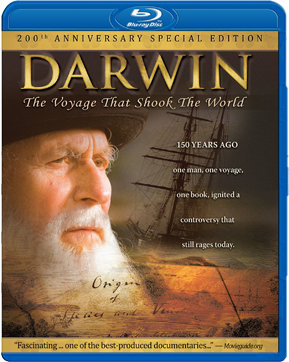 Super Moderator
Join Date: Mar 2002
Location: Metro Detroit, Tampa Bay
Posts: 14,673
Mentioned: 16 Post(s)
Tagged: 0 Thread(s)
Quoted: 1274 Post(s)
Liked: 2449
Feel free to discuss the title as is done in nearly every other thread on the board. This is NOT a thread for theological arguments nor is it one for promoting particular ministries. Posts doing so have been removed.
---
Walking the fine line between jaw-dropping and a plain ol' yawn.
AVS Forum Special Member
Join Date: Nov 2004
Location: Huntsville Ontario
Posts: 3,844
Mentioned: 3 Post(s)
Tagged: 0 Thread(s)
Quoted: 728 Post(s)
Liked: 435
Hopefully, you will not find fault with this post then. I am merely making clear precisely what this documentary is about. I feel that it is important that people who decide to purchase this Blu-ray know exactly what they are buying.
The purpose of this documentary is to promote Intelligent Design (in other words, creationism), and to show that the Theory of Evolution is wrong by pointing out flaws in Darwin's life and work. It was commissioned by Creation Ministries International (
http://en.wikipedia.org/wiki/Creatio..._International
) , a group that promotes the view that the Book of Genesis is a true and accurate account of the origins of the universe.
Here is a link to a Wikipedia entry discussing this documentary:
http://en.wikipedia.org/wiki/The_Voy...hook_the_World
Again, this is factual information concerning this film, and the people behind it. If you understand this, and are still interested in the film, by all means, search it out.
Advanced Member
Join Date: Nov 2007
Posts: 579
Mentioned: 0 Post(s)
Tagged: 0 Thread(s)
Quoted: 1 Post(s)
Liked: 29
Darwin: The Voyage that Shook the World Blu-ray (a brief review)
Source equipment used to review the video and audio
My first and second viewing of the program was on a 50 inch Pioneer PRO-101FD connected to a Pioneer VSX-33 A/V receiver with a 7.1 surround sound speaker system setup. Blu-ray player used was an OPPO BDP-93. The Pioneer PR0-101FD displayed the Darwin 1080P 24Hz source material at 72Hz using a 3:3 pulldown method. The Pioneer was set for Dot by Dot.
Before watching the movie I placed the professionally stamped Darwin Blu-ray disc in my computer BD-ROM drive. The Darwin Blu-ray disc ended up being a single layer disc with 22.3GB used out of 25GB. The Darwin Blu-ray main program is 16:9 ratio (1:78:1). Literally 100% of the disc including all bonus features is 1080P at 24Hz with MPEG-4/AVC being used.
Also the 24Hz being used is not 23.976 fps like many film based discs. The OPPO BDP-93 reported a frame rate of exactly 1080P at 24.000Hz for the entire disc and menus.
This Darwin documentary movie was shot using a Panasonic HD camera. For many scenes in the Darwin documentary high bit rate MPEG-4/AVC was used with some scenes peaking as high as 44.1Mbit/s for combined video and audio (While other fast moving scenes used around 25 to 35 Mbit/s).
The scenic HD footage in South America, UK, North America, Australia, and Europe looked very good with the mid to high bit rate MPEG-4/AVC encode. Also during the interviews, one could see very fine detail resolution from people's faces with accurate color. The HD source material looked excellent along with the professional Blu-ray video encode.
I am aware that there are some low budget documentaries in the world that contain a 2.0 or 5.1 Dolby Digital lossy audio track. The weakest part of this movie documentary is the audio quality. The 5.1 Dolby Digital audio track listed on the back of the Blu-ray jacket is wrong audio information. This Darwin Blu-ray disc only contains one audio track, and that audio track is English 2.0 Dolby Digital at 48k. The Darwin stereo lossy audio track was ok for a documentary. The ideal movie documentary on Blu-ray should have a lossless audio track like PCM, DTS-HD Master audio, or Dolby TrueHD (I have seen some Blu-ray documentaries with 5.1 lossless audio tracks). Under the language menu there is a total of 18 different subtitle languages on the Blu-ray disc including English subtitles. This Blu-ray is all regions and is being sold in many different countries.
The Darwin Blu-ray disc is really around 121 minutes in length if one watches everything on the disc
Posting Rules

You may not post new threads

You may not post replies

You may not post attachments

You may not edit your posts

---

HTML code is Off

---