Next I cut a piece of drawing paper to the dimensions of the baffle and drew out exactly where the drivers were going to go. The woofers are in the same position for the center and the mains, so I just made one drawing, but I drew out both places for the mids and all three places for the tweeters on the same piece of paper. I can send this paper to anyone that may need to lay out the baffle. It was real easy to mark the center hole for each driver this way.
The hardest part of this build will likely be the tweeter mount. So I wanted to cut that first, because if that gets messed up, there's no reason to cut anymore holes in that baffle!
Here's why it's hard: There are no screws on the front, it sits back into a recess and gets held in place from the back of the tweeter. Well, the difference between the tweeter through hole and the recess is only 1/16". So you can't mess up! I tried this 2 times on a seperate board, then went ahead and gave it a final run.
I wrote down the exact hole I used on my circle jig if anyone is interested. Mine was set at 1 15/16" for the outer recess hole and 1 7/8" for the cut through hole. Obviously, everyones jig could be slighly off, so you would run a trial first. The recessed area is 4.5mm deep. Yeh, I actually got it right too!
Here's how it turned out: Keep in mind, I haven't done any light sanding yet.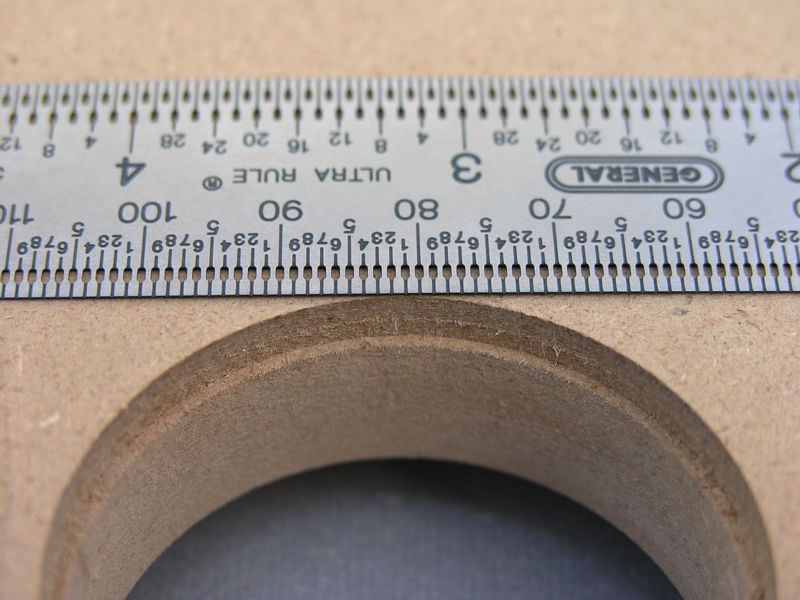 I should mention that the inner hole is slightly too small at the size I listed for the jig. But you can't move it up any bigger, or the tweeter will fall through. So after you make the cut, you need to sand the inner circle down.
NOTE:
When sanding it down, you must sand from the back of the baffle. If you sand from the front, you may smooth out that nice little lip that holds the tweeter in place. I learned from that mistake, luckily it was on a trial piece. I just used a tiny piece of 150 grit that wrapped around my index finger.
Honestly, after my trial run, it wasn't that hard. I was overly worried about it.