Advanced Member
Join Date: Feb 2011
Posts: 620
Mentioned: 0 Post(s)
Tagged: 0 Thread(s)
Quoted: 0 Post(s)
Liked: 15
Over the last week my friend has asked me for suggestions for a subwoofer. Since then he's agreed to build a horn, as long as the footprint is small, but compromises on the fact that it might be a tall format like the THT low profile.. something like 10x15x40 dimensions for example would work. He wants at least one of the dimensions not to exceed 10" by too far.. like 15x15x40 he would consider. That is worlds of improvement over the initial coffee stained napkin sketch he showed me with the dimensions of 10x11x8.. lol..
He has two DCS205-4, and a 100watt plate amp. He is actually considering two towers as long as they are matching in size - OR a single wider tower to accomodate both speakers. He just wants to know what would be best in his living room. I will try to attach a pic.
What horns do you suggest? I was looking at BFM's website, the autotube looks good, not sure if I can parallel load 8's in there. It would be ideal if it could be a bit slimmer and taller though. There is not really a limit on the height, he is willing to compromise most on height and width, but wants a slimmer build... I said it might be a close call for a horn.. so he'll go a bit wider if he needs to.
What models do you suggest? Is there a tube I have overlooked in the tower format? Something compatible with the DCS-205-4?
Thanks!
In red are teh locations of the placements he would agree with. The entrance is split level and lower than the Listening Position. Stairs go to basement. I think one dual sub at the left would work best, but you guys have rew experience behind you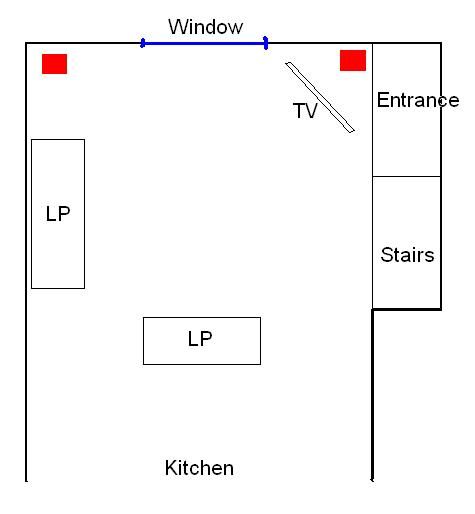 EDIT: The Table Tuba Long style would work dimension-wise (pushing limits @15" depth) but if it can accomodate the two DCS205 with a bit more width he would go for it.
AVS Forum Addicted Member
Join Date: Nov 2009
Location: New Hampshire
Posts: 14,505
Mentioned: 0 Post(s)
Tagged: 0 Thread(s)
Quoted: 3 Post(s)
Liked: 4667
---
Bill Fitzmaurice Loudspeaker Design

The Laws of Physics aren't swayed by opinion.
Advanced Member
Join Date: Feb 2011
Posts: 620
Mentioned: 0 Post(s)
Tagged: 0 Thread(s)
Quoted: 0 Post(s)
Liked: 15
Ok thanks - Edit: I think I'll design something to his specs.. he won't settle for the TT, and I can't suggest teh autotuba since it doesn't extend down low enough for HT applications..
I was kind of hoping he'd pick the TT..
Anyways, thanks again for the help guys, I'll post a thread with the design as soon as I draw it up and go through a dozen sketches lol
Posting Rules

You may not post new threads

You may not post replies

You may not post attachments

You may not edit your posts

---

HTML code is Off

---