Newbie
Join Date: Jul 2011
Posts: 1
Mentioned: 0 Post(s)
Tagged: 0 Thread(s)
Quoted: 0 Post(s)
Liked: 10
Some time ago there was discussion about a solid, horizontal white line appearing on Toshiba TVs. Other than possible CRT damage is there any chance of electrical fires? Answer received - Thanks
Member
Join Date: Feb 2010
Location: The Western Hemisphere
Posts: 176
Mentioned: 0 Post(s)
Tagged: 0 Thread(s)
Quoted: 1 Post(s)
Liked: 11
You mean vertical collapse (vertical deflection failure) like on this TV?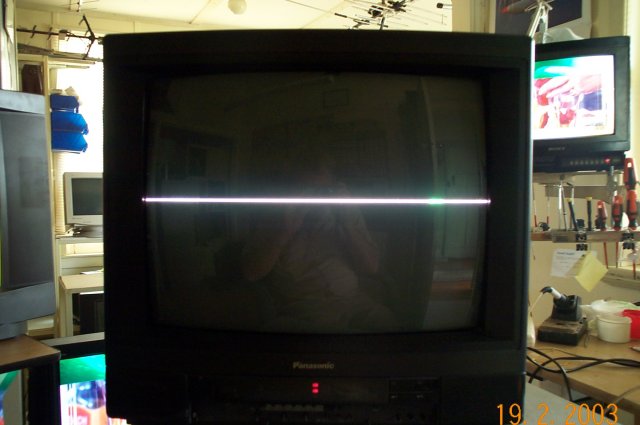 Fire is unlikely, I've never heard of any fire caused by vertical collapse. But I suppose it is possible if the loose electrical joint causing the problem experiences a lot of arcing and there are enough combustibles around. A lot of later-model CRT TVs will cut off the picture completely when vertical collapse occurs so as to avoid burn-in, but then that makes it a bit harder to diagnose the problem with the TV. It's also not a Toshiba-specific problem, it can happen with any CRT and is a rather common problem.
By the way, this post would be better suited for the "Direct View (single tube) CRT Displays" category rather than this one.
Newbie
Join Date: Sep 2012
Posts: 1
Mentioned: 0 Post(s)
Tagged: 0 Thread(s)
Quoted: 0 Post(s)
Liked: 10
what component i need change?
AVS Forum Addicted Member
Join Date: May 2000
Location: Vancouver, Canada
Posts: 18,463
Mentioned: 0 Post(s)
Tagged: 0 Thread(s)
Quoted: 34 Post(s)
Liked: 63

The one that is defective.

(sorry, couldn't help myself)
Posting Rules

You may not post new threads

You may not post replies

You may not post attachments

You may not edit your posts

---

HTML code is Off

---