I would agree. The picture is definitely not as vibrant and sharp as on some other TVs I've seen. Then again, I am comparing it to a Samsung that cost 4x as much as this Sony, so maybe it's not fair. But that's a 3-year old Samsung. Maybe the same one would cost a lot less today. The Sammy also suffered from major backlighting bleed in dark scenes.
Still, there are a lot of other 42" TVs available in the same price range as this Sony, so I would shop around. I would expect plasma to give you more vibrant picture.
also, are the picture settings independent for each source? or do they stay the same? at work so can't check. thanks.

The picture settings are independent for each input.

Need some help. I purchased the Sony 42ex440 and just set it up tonight. Using HDMI through Charter cable. Picture was excellent but NO sound. Checked audio settings and they were set to standard and tv speakers. Switched the HDMI cable to HDMI 2 with no change...picture with no sound. Switched to another HDMI cable, again picture with no sound. Grabbed a component video cable I had and hooked that up....Got sound...no video!! Am I messing something up?? Any suggestions would be greatly appreciated!! Thanks.

Did you check the settings on your Charter cable box? Possibly you need to enable audio on the HDMI output of the box.

Question here for anyone who can help

Anyone know if this tv is a "full" or "limited" tv in terms of RGB?

Apparently most tv's have a setting, like an HDMI black setting that can change it between the two but i see no information on this tv about it. Can someone help me out here? If not ill just call sony i suppose

Teeoter,
I had the same issue .Video was fine but no audio,With HDMI it is either 0 or 1 . I was really surprised that I was getting video but no audio.
Changed my HDMI cable and started working.Maybe you can try with a couple more HDMI cables.They are really cheap.

Hi guys, i just bought this tv. However the picture is not sharp especially when i warch sports game. Do you guys have good calibration for sport especially

Hey guys, I'm really new here but really need your help.

I will soon be buying a new HDTV for gaming, and have narrowed it down to two choices. The ex440 and ex645 (it's the 640 with built-in wireless).

I know technically one is 60hz and one is 120hz but this TV is primarily going to be used for gaming. from what I've read so far the input lag on the ex440 is excellent although back light bleed could be an issue, I'm guessing the ex645 suffers from clouding as well. making it a tie.

does anybody on this thread have any info that might help my decision one way or the other. I've read 120hz HDTV's even with game mode activated are still going to have more lag then a 60hz HDTV. but if the ex645 is going to be the same lag wise i may as well get the "better" ex645.

The thing is I've read the ex440 has better blacks then ex645 but the ex645 has a brighter picture overall. The ex440 has a wider viewing angle and slightly higher contrast ratio and is a smidge bigger at 42 vs 40 so as you can tell I'm so confused. I don't really care about SMART TV features i just want the TV with the better picture quality so i can enjoy my Ps3/Xbox 360/Wii.

ANY Help would be greatly appreciated. Thanks guys.

PS. I've read all the reviews on amazon/BB and going by just reviews the ex440 is the second coming but i'm guessing that has to do with price to performance more then the ex440 truly being superior.

I've got the same question as the previous poster. I am gearing up to purchase a new TV asap and had narrowed it down a while back to either the Sony EX440 or Panasonic L42E5. Prices seem to be consistently set (in Canada) around $549 for the Sony, $649 for the Panny. So I'm very close to pulling the trigger on the Sony.

Issue is that the price seems to have dropped quite a bit for the EX640 ($599) and the EX645 ($699).

I really want the 42-inch screen, so I am leaning 440 but since the 640 is only $50 more, I figured I should do my due diligence. How do these two compare? 120Hz vs 60Hz seems to be the main difference I can find. I will use it for gaming, but from what I've read the 440 handles this pretty well. I really don't care about the Smart TV features at all since I'll be going through Xbox Live for streaming.

Any real difference in picture quality here, or should I just get the EX440?

I have owned both and I can say that the picture in the 640 is better then the 440. Flashlighting and clouding are present in both but in the 440 is less annoying. Both TV are good for gaming and lag is very good on both sets. 30's ms.

Hi,

I am thinking of buying this Sony TV EX440 TV and i will be using it only for connecting it to Laptop using HDMI cable
I have 2 questions
1. Will 60hz be any problem with lag/quality of pic?
2. How will the sound quality be?

Any suggestion whether to go for this TV or not will be helpful else is there any other alternative which is around $500 range. My need is to connect the TV using laptop and use it as Monitor

Thanks,

Supposedly according to others in this thread this thing doesn't have hardly any lag on games and things so you should be OK. The sound is OK as long as your not expecting earth shattering bass or audiophile quality. My old CRT Toshiba 34HFX84 had great audio, even good bass but it had good main speakers and a small sub with a lot of tweaks. This one has some too but there is only so much you can do with tiny down firing speakers with no sub. I haven't used mine as a monitor so can't say but I'd think as long as you feed it the right resolution and all that it should look great. I'm still surprised how nice it actually looks when just watching movies and TV on it for the tech it uses.
Pretty sure it can be had for around 500 or so when you shop around, pretty sure my family paid about 650 or so for us as a Xmas present but that right at full retail.

I hook up my laptop to it via HDMI (mini-DisplayPort to HDMI actually) to watch movies. It displays 1920x1080 60p just fine. As for sound quality, it's no different than most other flat screen TVs, which means it sucks, at least to me. The problem with flat screens is that there isn't enough space left for decent size speakers and acoustic chambers, so it is what it is. I'm using an external A/V receiver with mine.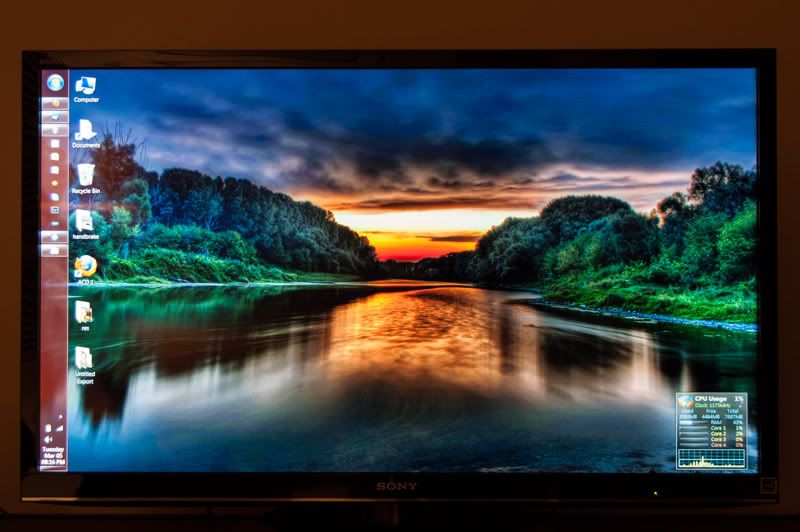 Pete and Dart - Thank you very much for the response

Is there any lag in terms of response time from keyboard to what is displayed on TV? how is video quality (mean by display/sound)....The reason i ask this, when i went to best buy store they asked me to go 120hz for best experience, when using the laptop with LED TV.

So I just want to ensure the experience of watching in a laptop should be same/better when watching on this TV...

Why don't you bring your laptop to best buy, hook it up to one of their TVs (both the 60Hz and the 120Hz ones) and see for yourself? I don't think they'd object to that. Your laptop's screen is most likely 60 Hz only, so the EX440 won't be any worse in terms of smoothness.

I haven't really noticed any lag myself and video quality is good, although that to some extent depends on the quality of your video card - some are better than others. As for audio, if you enjoy a proper movie watching experience, you really owe it to yourself to get an A/V receiver and some decent speakers and a subwoofer, or at least a good soundbar.

I have the full setup myself audio system wise, a decent Onkyo 898 with good speakers and a sub if I want good sound with my movies or shows I like, otherwise I just use the speakers that are built in. I do plan to get a soundbar of some sort when I can afford it so I can at least have better bass with the things I don't want to fire up the rest of the system for. I do miss the great sound my big heavy 34" CRT Toshiba I used to use, but don't miss the tiny picture size.

I want this TV mostly for the Twin View Picture.
Getting PIP is harder and harder to find and the worse to get to, on the Samsung it is about 6 remote inputs to get it on and 15 pushes if you want to change the sound from one screen to another, unacceptable.
I went to the Sony store on 4/9/13 and there was no model in the 42" and below range that they could get to bring up the Twin Picture after an hour of trying:.
Has anyone used this feature? What are your impressions?

Mine doesn't work as I'm pretty sure it needs a PC hooked up to it otherwise no go according to what I can gather in the manual. My old CRT set has two qam tuners so all I had to do was hit the pip button and it worked, plus it had freeze, multi channel scan in small boxes, all the cool geek toys before everyone wanted the net goodies that I don't need and neither set has. It doesn't have a second tuner so no matter what it needs some other input active for the twin veiw to work and haven't hooked my PC to it to check it out or see if any other inputs work.
I'm still loving the black level and pop mine has and have been trying to figure out if it has a better panel then normal or just got lucky in the cheap TN panel lottery.

I've had this TV for almost half a year and wasn't aware that it has PIP. How do you access it? I couldn't figure it out.

Old question now but I THINK you have to have either a PC hooked to it or a cable box and the built in tuner hooked to a antennae or something to get it to work. I've only got the cable box and a couple of media players hooked up so don't have a setup that would enable the function as far as I can tell. It would be nice to have some sort of easy to use PIP function like my old Toshiba has for the times I'm recording something somewhere or trying to keep track of two shows at once but it seems most makers have quit providing PIP and now just want everyone to use all the net goodies and netflicks and all that but I can do all that with my media players or get a newer BluRay player if I want it.
Comcast here has totally encrypted EVERYTHING now so can't just jack in the cable off a splitter to use the tuner built in:mad:
The FCC was pretty short sighted and stupid to let them get away with that one...

You have to have the PC hooked up, then you have the PIP option WHEN you push the OPTIONS button. Decided to hook up my antennae and try out the
PIP stuff and looked at the manual again. Then I read and figured out that it only works when a PC is hooked up and you go to the PC input.
Don't have a laptop right now and the PC is about 20 feet away.