Newbie
Join Date: Jan 2010
Posts: 3
Mentioned: 0 Post(s)
Tagged: 0 Thread(s)
Quoted: 0 Post(s)
Liked: 10
My Samsung 50" Plasma just died. After reading various forum posts, I learned a likely culprit may be Electrolytic power supply caps. I removed the back cover and located the main power board. It is roughly 1 foot square and appears to have a front end isolation switcher and individual voltage outputs connectorized and cabled to the other 4 boards. At the AC input I found 2 ( one per L1/L2) slow blow miniature ceramic 12A fuses, one of which was blown.

I replaced the fuse, hoping, and sure enough it immediately blew on power plug in. I see no capacitors that appear bloated in any way. I see no obvious damage. I used an ohm meter to just check all caps for shorts. None found as I saw each cap slowly charge even with my low voltage meter. That doesn't mean they don't break down under voltage but I found nothing shorted. I did the same for each switching transistor and also found no clear shorts.

Because of the history of failed caps and I have all ShaWha large HK and smaller WL type caps. I'm thinking of replacing them all but wanted to ask if anyone has Plasma TV troubleshooting experience?

Is it safe to power the supply board with all the other board connectors ( the loads) removed to see if the fuse blows without any load on the supply? I'm worried about logic or other interlock signals that might be important.

Does anyone have a common sense approach divide and conquer strategy and or a schematic for this Samsung power supply board?

I went ahead and disconnected all the secondary boards from the power supply and replaced the fuse and powered it on. The fuse did not blow. I then connected the processor board and audio/video input processing board and powered t up again. No blown fuse and know the remote control appeared to work and various LEDs looked normal.

I then checked the high DC voltage to what appeared the Plasma display control boards. The voltage appeared ok at 200V to both boars which was consistent with a Samsung label for NTSC.

Then I just went for it and connected the Plasma boards and turned it on. Wala, it worked. That is spooky. I did vacuum inside and reseated the power board and generally made sure everything was ok and connectors seated.

I have now run it over night and it has operated normally. I have an electrical design background albeit very rusty. I had recalled that some Electrolytic capacitors when underrated and or over heated can punch through the dielectric and then self heal once the cap cools off and the voltage removed. Does anyone have thoughts about this and whether replacing the power supply output filter caps would be wise if it happens again? Or throw in the towel.

Given the dropping prices and cost to repair plus shipping plus its an intermittent problem, it hardly seems worth not just buying a new one if the problem continues. The 50" Samsung Plasma TV is 24 months old. A tough call.

Any thoughts appreciated.

thanks

Tom
Member
Join Date: Jan 2005
Location: Brooklyn, NYC
Posts: 67
Mentioned: 0 Post(s)
Tagged: 0 Thread(s)
Quoted: 0 Post(s)
Liked: 10
what did you end up doing? I think my fuse just blew last night.
Newbie
Join Date: Sep 2011
Posts: 1
Mentioned: 0 Post(s)
Tagged: 0 Thread(s)
Quoted: 0 Post(s)
Liked: 10
I also have a 50" samsung 5084 that would not power on no red light no nothing. Turns out it was a simple fix there are three ceramic fuses on the power supply board 2 in the bottom left hand corner and one tucked away just to left of the middle of the board (this one is kind of hard to see you have to look at the board vertically to find it). I had to replace one of the first two (which had no visible sign of being blown and also the third one (left of middle) which had a black band around the middle of the fuse. Swapped out the fuses and presto unit powered up and is working fine. Hope this helps.
Member
Join Date: Nov 2006
Location: Houston, TX
Posts: 153
Mentioned: 0 Post(s)
Tagged: 0 Thread(s)
Quoted: 0 Post(s)
Liked: 10
I think I may have the same problem.

While watching football last night the TV just turned off for no reason. I thought it was a breaker issue from the house. But the cable box was still powered on.

I unplugged the TV from the surge and tried it on another outlet and still nothing. I'm very upset. I dont know what it could be.

I have no electronics repair experience. The TV is well out of warranty.

I don't know what my next step is at this point.
Newbie
Join Date: Oct 2011
Posts: 3
Mentioned: 0 Post(s)
Tagged: 0 Thread(s)
Quoted: 0 Post(s)
Liked: 10
Hello, I am fixing a 50" Samsung HP-T5064. Like another plasma I have, the picture was taking longer and longer to come on, and eventually went out altogether. I opened the back and swapped out the blown caps in the other (32" Vizio) and it worked fine ever since. I opened this one, and swapped out 4 caps, but used one that has the wires coming out one on each end, rather than both on the bottom. The guy at the electronics store told me it should be ok. Well when I turned on the tv after swapping them out, after about 20 seconds, I heard a big SNAP and saw a small flash. When I investigated the area, I found a small piece that looks like the culprit. A small 1/2" square that looks to be burned (blown up), on one side. I am including a photo cause I have no clue what this is, and would love to be told what it is, and that I can replace it myself, rather than paying a repairman to do it. Also, I am wondering if using that cap with the wires on each end was the cause? I have since replaced that with the correct type, but now this small blown plate stands in my way of having my tv back. Any suggestions greatly appreciated! Thanks, Nate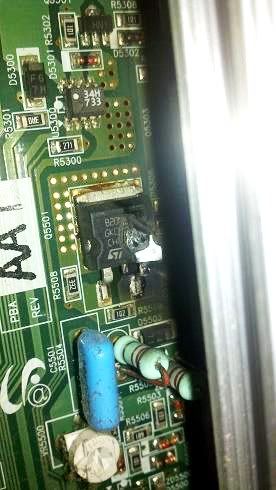 AVS Special Member
Join Date: Feb 2008
Posts: 1,384
Mentioned: 0 Post(s)
Tagged: 0 Thread(s)
Quoted: 2 Post(s)
Liked: 23
---
That which may be known of God is evident within man, for God has shown it to them, so that they are without excuse. (Romans 1:19-20)
Newbie
Join Date: Oct 2011
Posts: 3
Mentioned: 0 Post(s)
Tagged: 0 Thread(s)
Quoted: 0 Post(s)
Liked: 10
I can't figure out how to download the manual. It says click the link above, but all I can find is links for other ads. I opened in firefox also, and only got the same thing. Any suggestions? Or maybe you could email me the pdf file? Thanks so much for your help! nate
Newbie
Join Date: Dec 2011
Posts: 1
Mentioned: 0 Post(s)
Tagged: 0 Thread(s)
Quoted: 0 Post(s)
Liked: 10
I also have blown the 250v 12a fuse in my samsung fpt5084. when the fuse blew it also melted the holder. Does anybody know what holder I need? Getting a little lost in the digikey catalog. I know that it is 5x20mm but I dont know what mounting type I need. Also I have 2 bad uF2200 @10V caps. Not sure what ripple current and esr mean and if they are important.

thanks
alex
Posting Rules

You may not post new threads

You may not post replies

You may not post attachments

You may not edit your posts

---

HTML code is Off

---