Update 03/19/09 in order to add index
INDEX:
A river runs through it
Foundation Cracks Repaired
Temporary Set up for Son's B-day which shows off proj. bay and attic t-stat
Bedsheet Screen
First piece of sheetrock is raised
Pocket door rails and temp switch bank
3rd Heating Zone added to Hydronic boiler and HVAC blower unit
HT primed and the beginnings of my Star Panel
Insulating my pocket door
Mini soffits go up
Riser and Stage
Recreation Room gets sheetrocked and 1st view of equip. closet
Access vent to equipment closet wiring and storage area underneath stairs
Plaster patch job to added wall areas and equipment closet
Speaker shelves and stage and riser detail with step lights
Ceiling painted Blue Coal color
Equipment list
Seats get ordered
Recreation room gets Primed and Dricored
Yoda
Initial & revised sketch of floorplan including HT layout and lighting
Marquee sign
Curved stage step
Curved soffit frame
Sheetrock & lights on curved soffit & curved false wall
Second tier added to riser, false wall area painted black, HT getting carpeted, front row of seats set up
All HT seats setup
Start of curved screen frame
Finish and set up of curved screen frame
Assembling DIY Anamorphic lens
Screen pics
Completed and painted Anamorphic lens
Start of Drop Ceiling
Dreams and Wishes
New equipment shelving/rack
Star panel installed
Drop ceiling completed & rec. room speakers installed
Light trims and projector bay cover installed
Basement support columns covered up & added a light fixture to the equip. closet
Projector warm up image discussion
CabCool 1202 install and mini review
Current To Do List
Stringers and fabric added underneath mini soffits
Start of the crown trim on mini soffits
Learned something new, crown stops
Final warm up/no signal proj. image currently in use
Finished crown trim on mini soffits with coped inside corners and some fuzzy rope light pics
Finished crown for the starpanel skylight
Flexible fabric panels for screen wall
____________________________________________________________ ________________________
Ok here we go,
I've decided to finally start a build thread after reading in the loganator's thread that it was a commandment to set up a build thread (broke that rule too, till now.. Oops).
Can someone pm me the commandment's I never got my full copy
.
To save time (read as to lazy to type it all over again) I am copying what I stated over at the "motivation" thread about my build, if you already read carry on below the blue:
"The details, I started my build in Jan. 07 thus far I have completed the following:

Framing, I am not using staggered stud or rsic clips etc....just standard framing. When I purchased my home the framing for 3 of the exterior walls in the basement had already been framed and insulated. So I had to frame up the theater wall, mechanical room wall the last remaining exterior wall which is side facing the garage. I also framed a half wall and door underneath the steps coming down for equipment and a seperate closet for electrical panel and water meter. During this process we had some heavy rains in Spring, this led to the discovery of cracks in the foundation wall in two sepeate areas. My builder being none reponsive had to be taken to small claims for recoup of the repair costs.

Electrical, ran all the wiring, receptacles, lighting fixtures. My room width is eleven and half feet so I'm not doing sconces. I have 8 recessed 4"cans.

HVAC a friend helped me complete this, last summer-fall. Seperate Cooling unit, additional heating zone on boiler for forced hot air.

Sheetrock in theater room done. Single layer 1/2" densarmor. No double drywall, green glue or the like. Pleasantly when I had the Supebowl party in a still under construction setup with about 20 people in the room and sound blasting, another guest came and said if she didn't know I was completing the basement she would have never known we were down cause is was so quiet.

Riser done, then re-did to raise an additional 3.5 inches. Stage done loaded with sand. Both stage and riser decoupled. Dricore in HT room done. Walls primed ceiling painted. I wanted to prime the walls incase I didn't do fabric panels and simply to seal the walls. Primed with grey tinted Kilz2 actually looks pretty good as a color. I have since obtained Dazian cloth (thanks Dave) and have to fomulate some wall panels.

I'm doing 4x6 star panel inside of the 8 recessed can area. Panel is done, ceiling frame is done. Need to install and surround with crown and trim.

The rest of the basement is an open area in the process of being sheetrocked.

Need to finish:

Sheetrock-Mud & Tape
Prime and paint this same area
Dricore the rest of the basement
Install doors on mechanical room, equipment closet, electrical closet
Finish pocket door (yes I said pocket door, look at what I would name build thread for reference!!) and surround for home theater room which is located at the front of the theater room. I am doing everything I can to help insulate the hollow cavity.
Install cabinets for kichenette area and perhaps a concession/bar counter.
Install engineered laminate flooring outside of HT and carpeting inside of theather and stairs coming down.
Install drop celing in rec room and gym area(theater room has sheetrock) along with recessed lighting trim and in ceiling speakers.
Setup pool table, and wall mountd LCD.
Finish projector shelf/soffit enclosure and setting up equipment
False wall, cloth frames, screen frame "
End of quoting thyself..
I'm gonna post some pics of some of my initial troubles and progress. Soon to follow pics of where im at now.
This Loganator stuff really works
Here are some pics of when I came down one day and found some C02.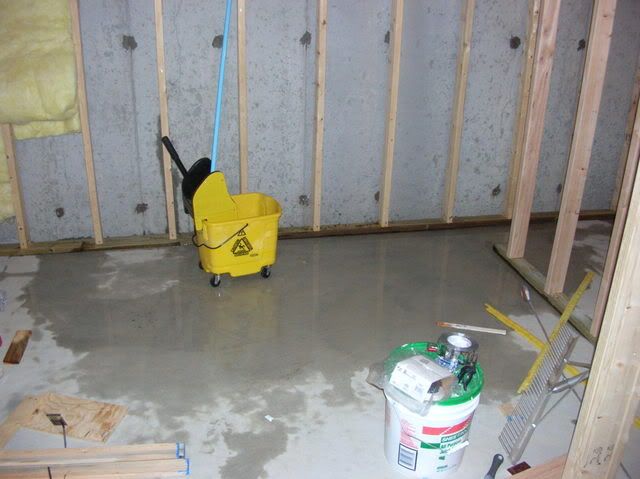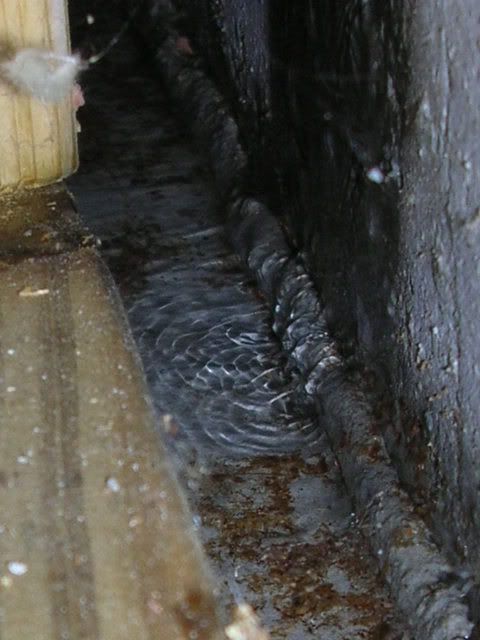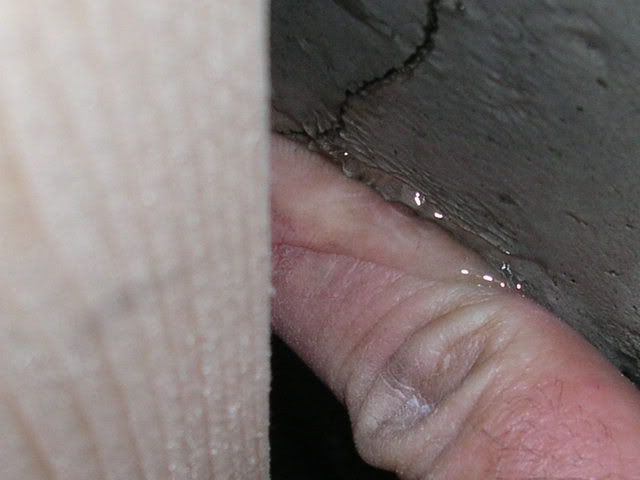 Then the fix:
These first two are in the theater room.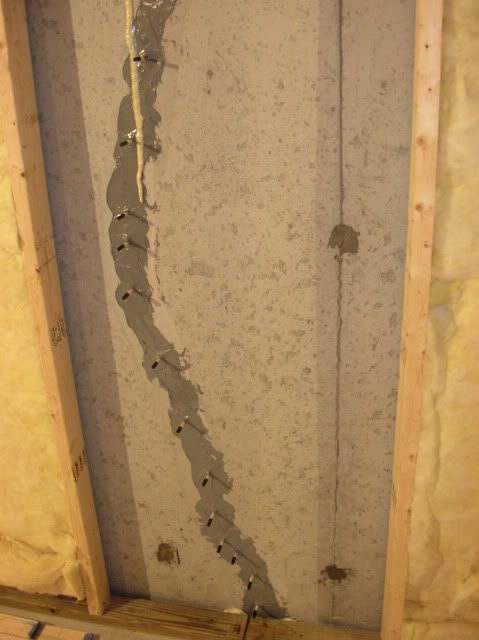 These next 2 are where a future rec/room with a kichenette will be.
CO2 or Hydrogen Di-oxide?

PICS PICS PICS. Don't make me Logan you.
Good job posting what you are doing. I am sure many stop by this section and think that unless they do stuff like GG and 2xdrywall, they can't have a nice theater.
PICS.
lol, you posted pics while I was typing.
That was an impressive amount of water coming through. Did the builder not seal the outside of the foundation wall with a waterproofing system?

Good luck with the build, we got keep the pressure on Logan.

I see that the room is 11 1/2' wide, how deep is it?

Ok, for my son's Bday last year we did a temp setup in order to have an all night/campout party, they had a blast. Here are some pics with the setup: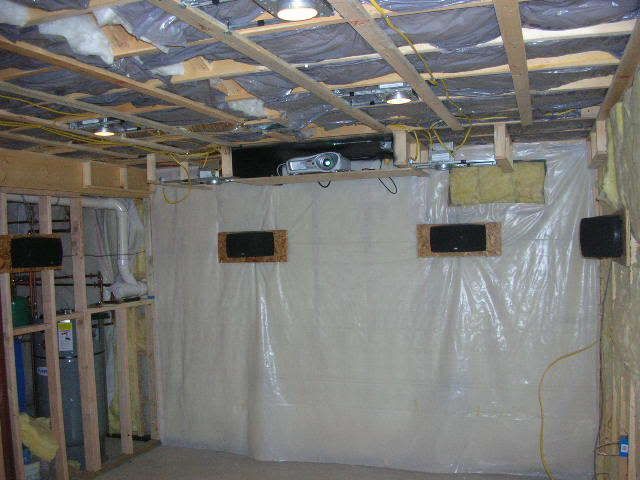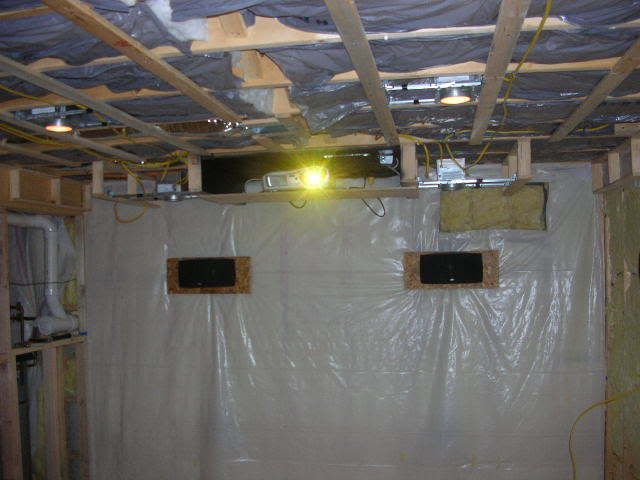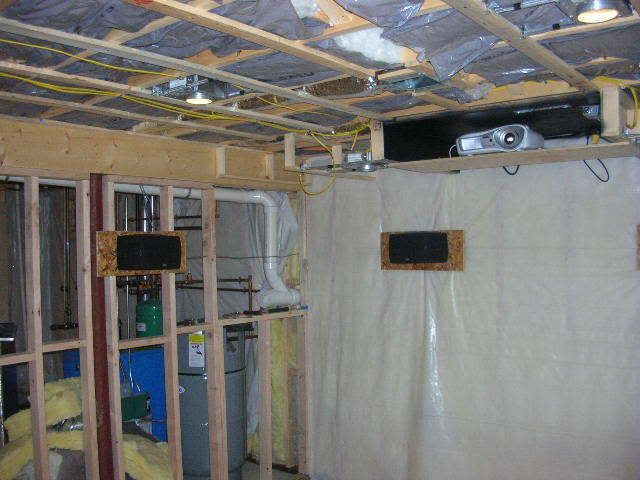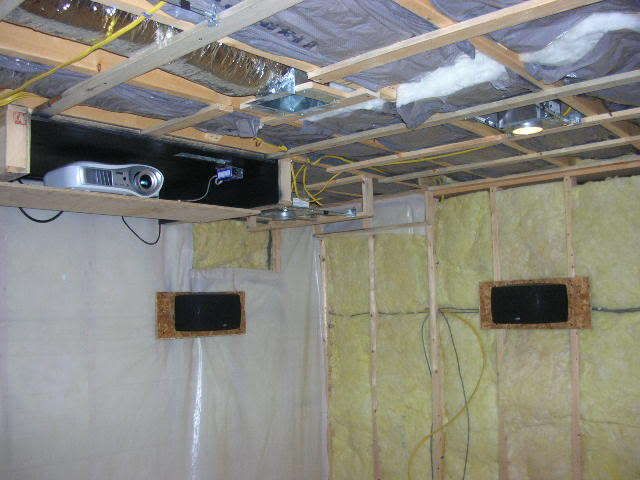 After I took these pics I lined the walls to the left and right with a 100' roll of plastic table cloth from I party. Fished my blue rope light thru the strapping in a random pattern and it was then referred to club NUVO there after.
Stupid question, what are those cylintriical things hanging out of the walls?

Thanks for the encourgament, just hope to be able to keep up with the posts.
It was sealed, however settling crack won the battle. Basement repair guy said it happens all the time.
Room is 18' deep exactly rough framing.
The wall crack gets sanded and vacumed, then those cylinder straws with a triangle base gets cemented over the crack about 8-12" apart. Then the rest of the crack gets filled. After a half hour water foam solution gets injected starting at the bottom. It is injected until it starts pouring out about 2 straws up, then it's capped and they move up the line until it starts to flow out the top of your foundation wall.
Like funston just said. I didn't bother to snap off just tucked them under the insulation.
Front of temp set up.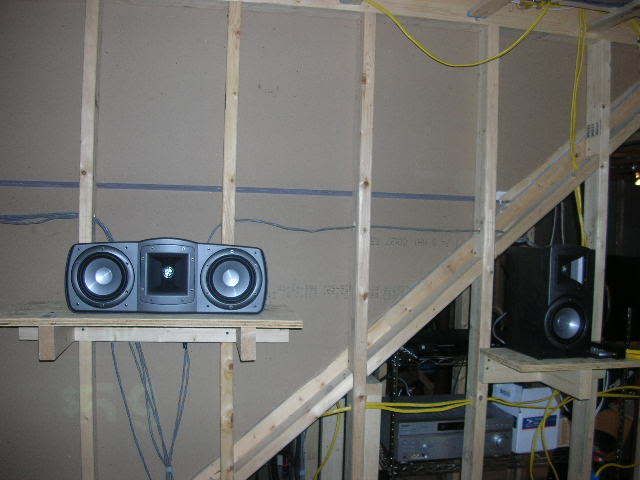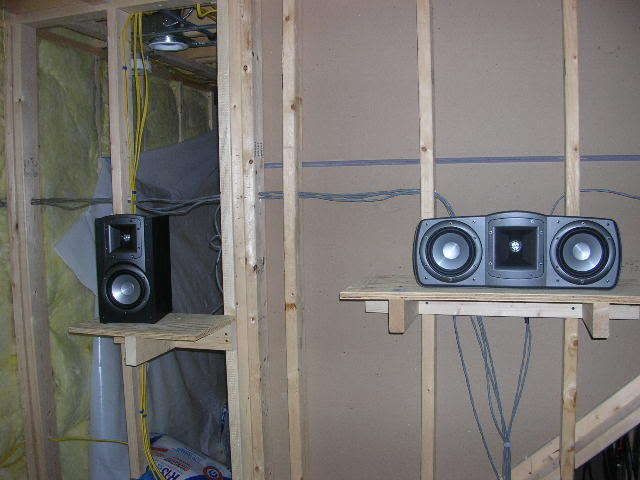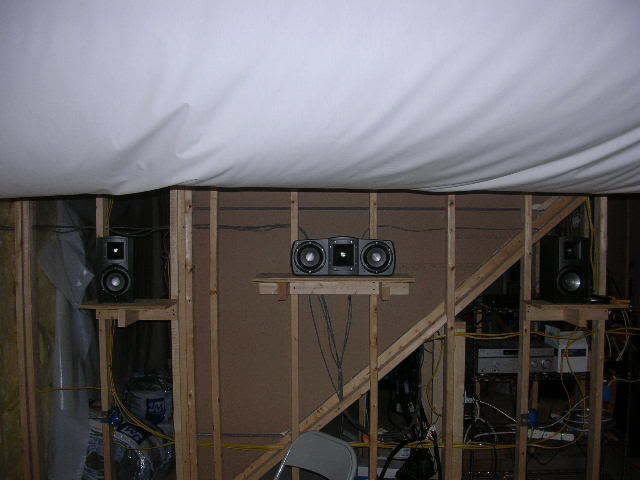 In the background you can see underneath the steps where the equipment will be housed. Door will be to the right before you enter room.
Sorry that I don't have a room/basement layout. I started to use google sketchup but it became to time consuming. I'm more of a sketch on paper or index card kind of builder similar to how BigmouthinDC does it.
This first pic shows my temp screen (walmart bed sheet). Pic was a lot better with ambient light, it was the flash that killed it.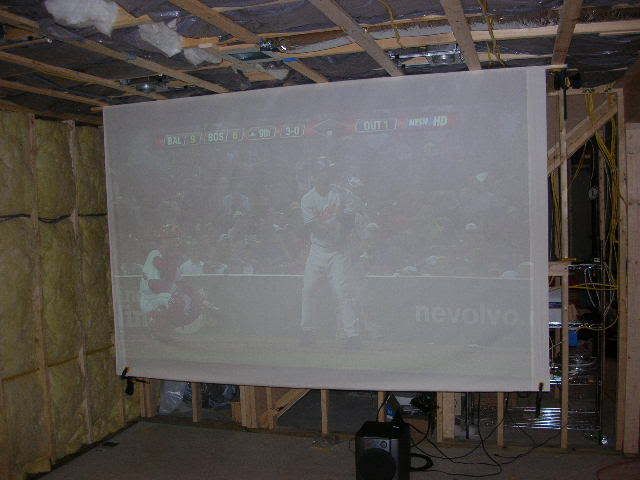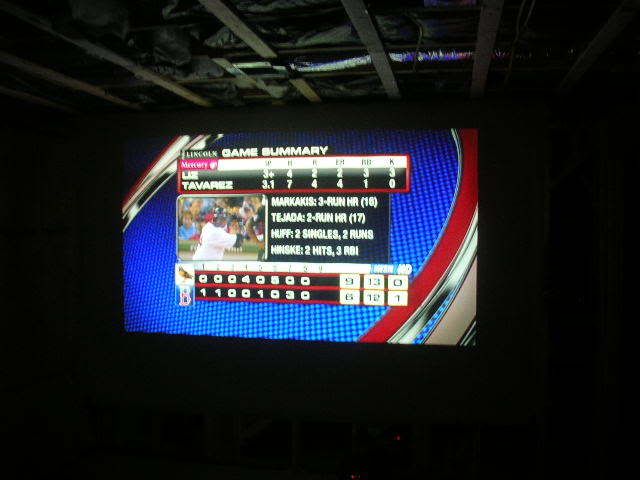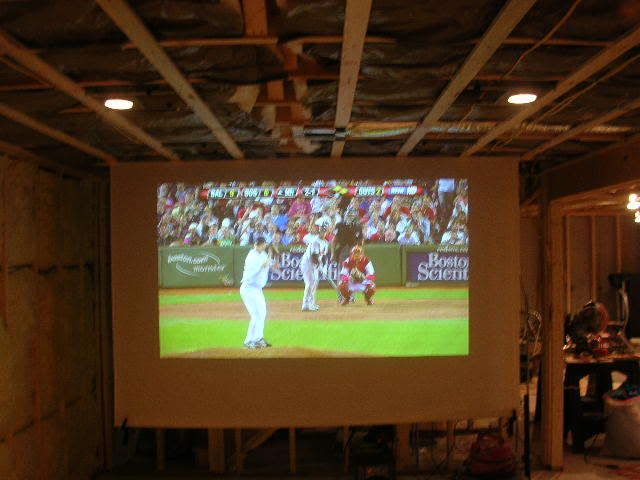 Sorry about the blurry pics that was me not the image itself.
Let the sheetrocking begin: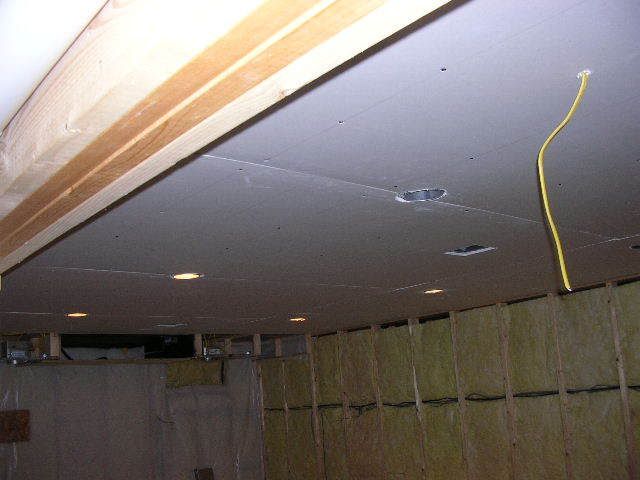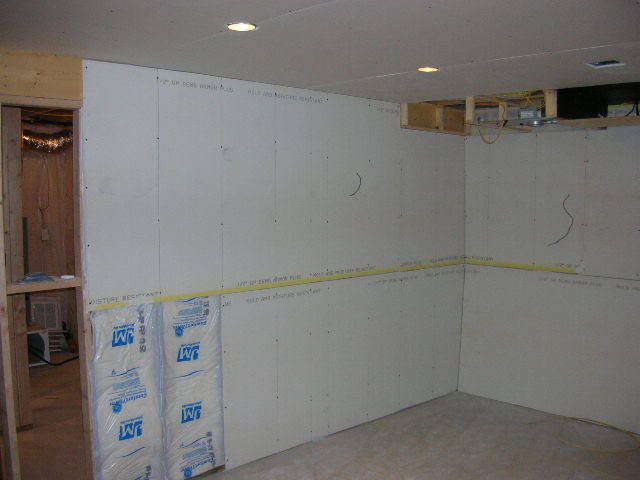 and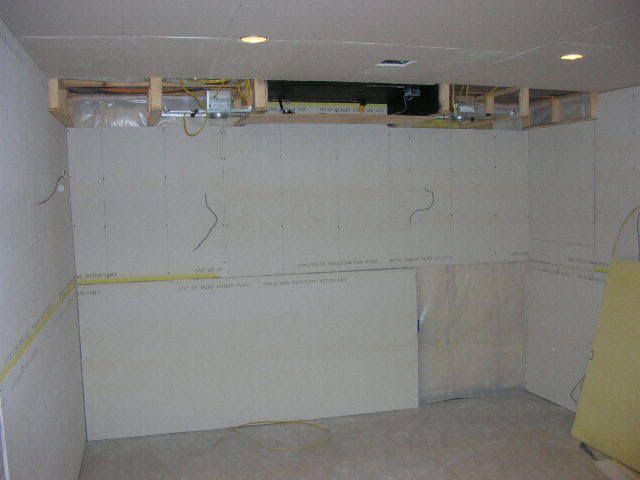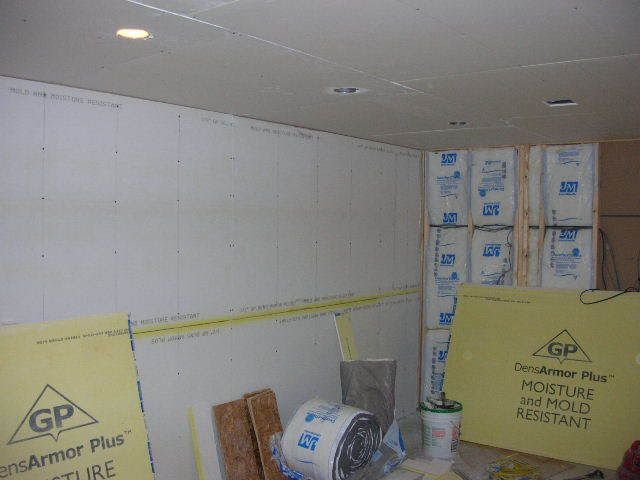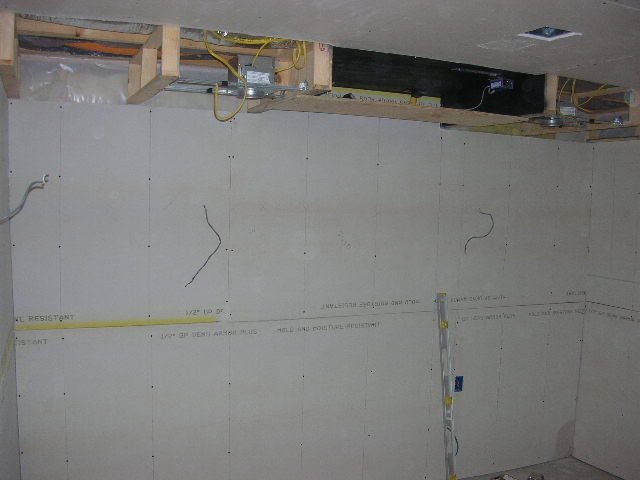 Well, well, well.

Quite a mess that leak made. Best that it was before drywall went up.

That's what the Mrs. said when I was blowing up about it.

Is that a door in your pocket....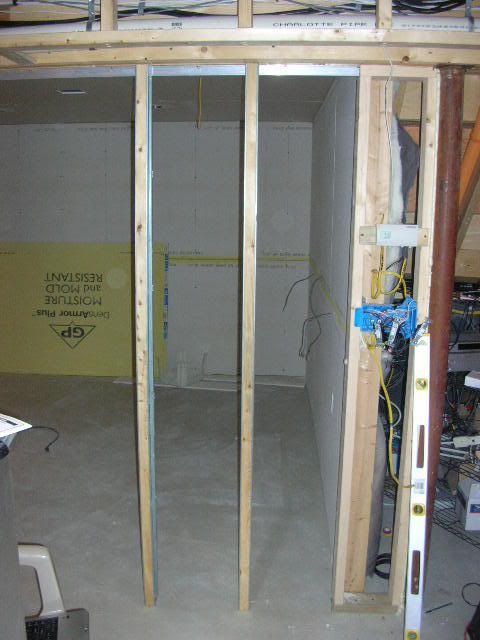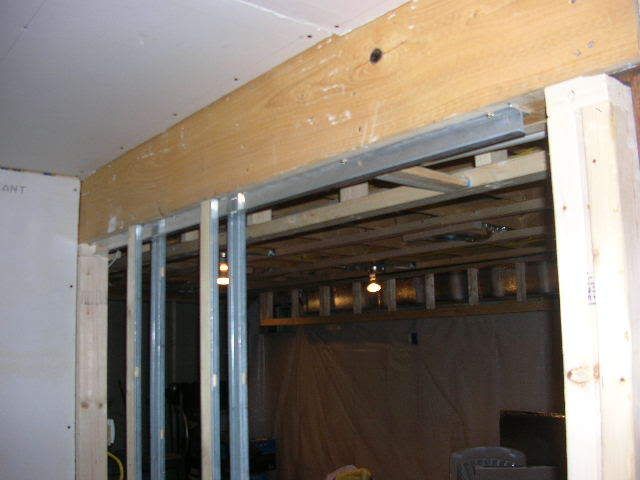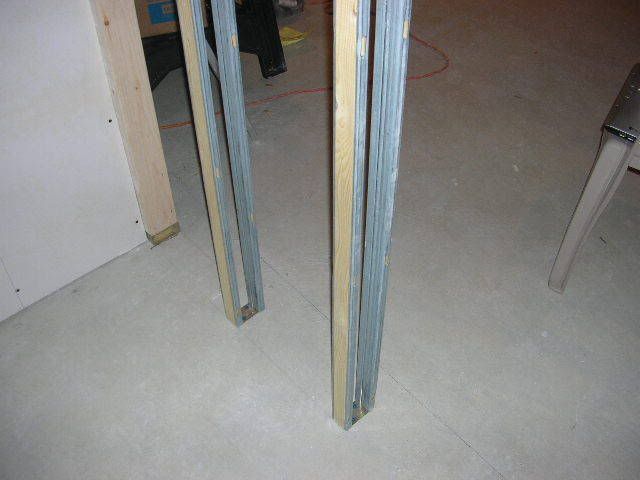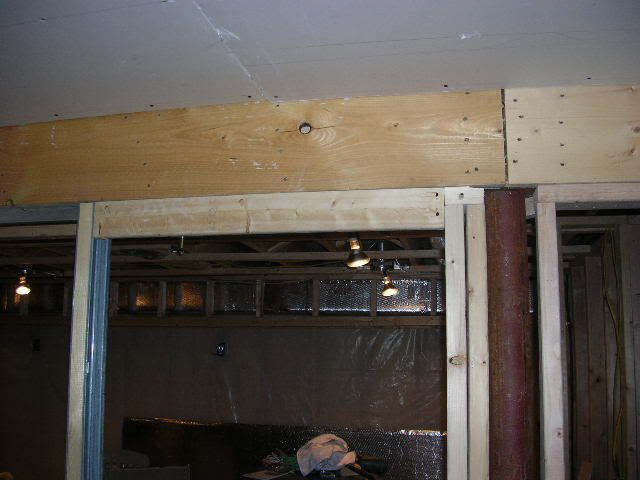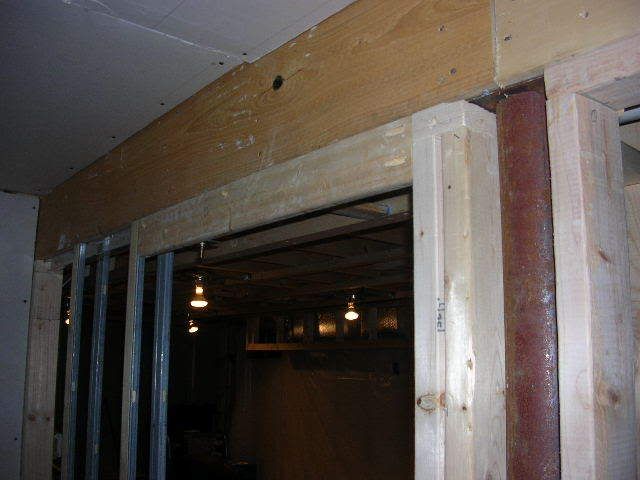 The waste pipe overhead in the next photo is the reason I had to put the door in the front of the theater room. I couldn't flip the room cause it would cause a step up on to a riser which would not have been feasible.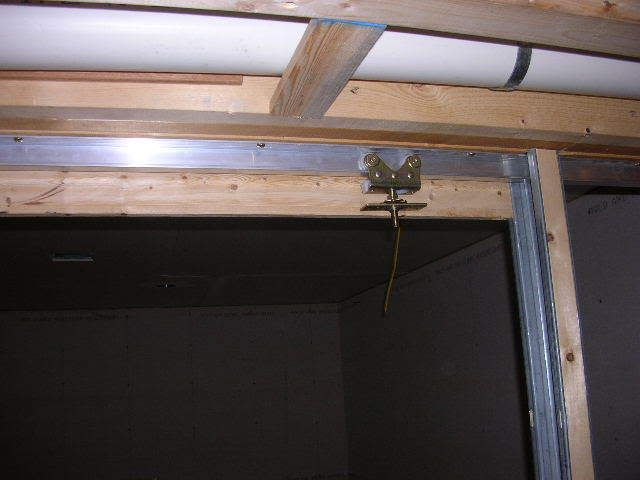 As you can see in the photo's above I'm using the beam as a header. I used the metal floor clips which hold the rails together under the beam as well. Normally the rails get attached to wood and the track goes below this. My pics showing what I'm trying to do to somewhat insulate the door are on another source so I will try post up later.

To the right of the pocket door you can see the location of the Grafik eye, plastic box was changed out for metal masonry box.

For those who are interested in HVAC:
The blue valve and the 3rd pump are what was added to the boiler in order to create a 3rd heat zone for the basement.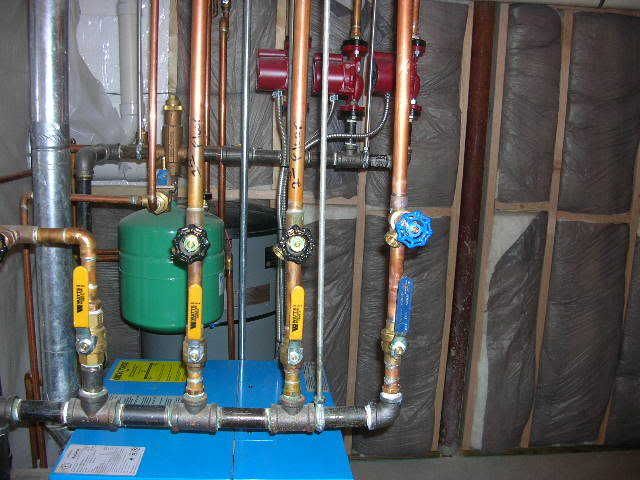 Then you can see the copper rising and coverting over to the pex tubing.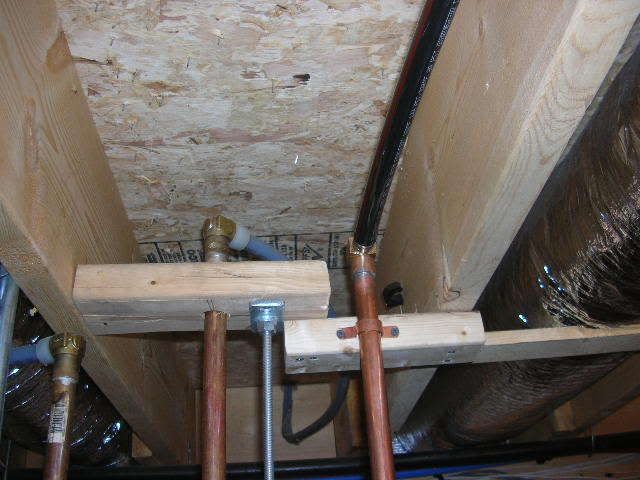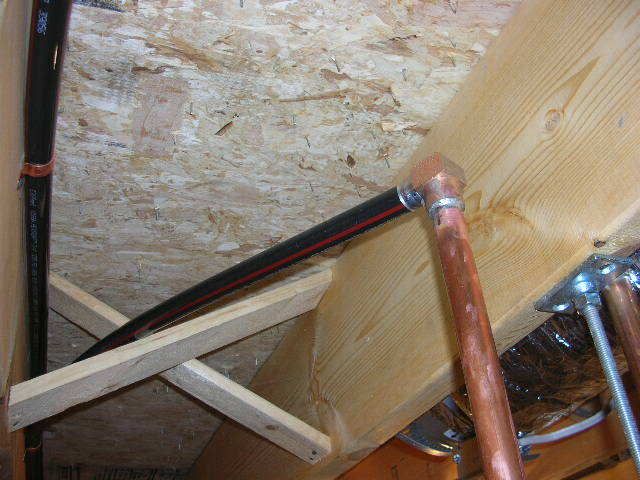 Heading over to the blower unit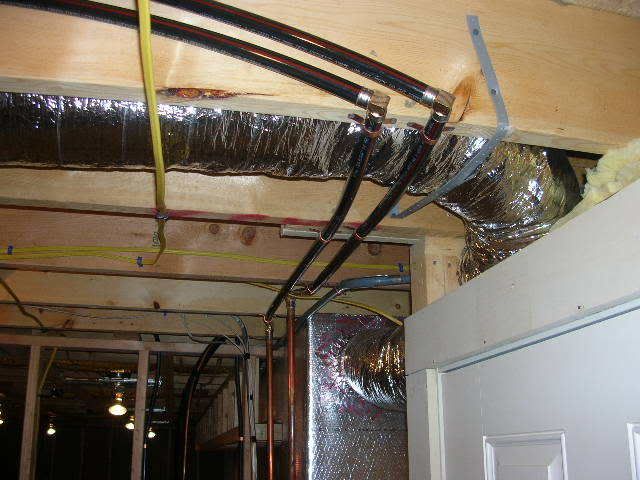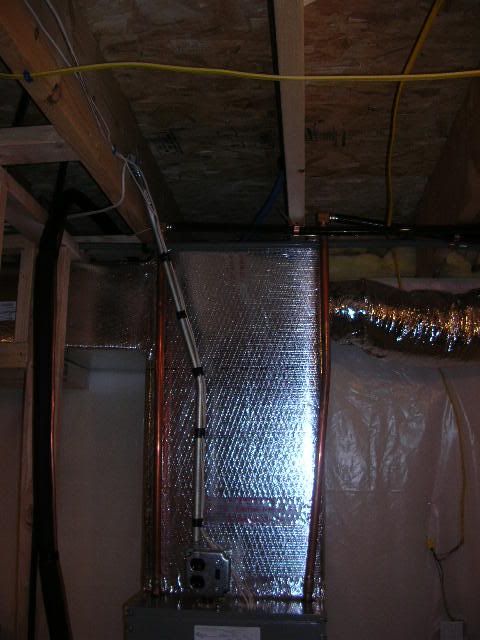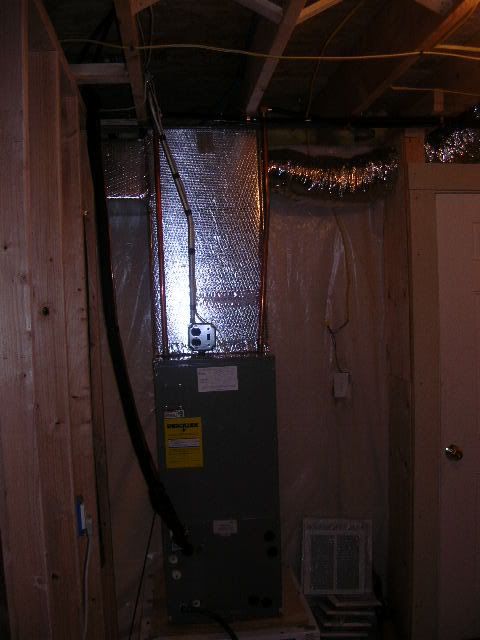 My advice to anyone looking to buy a front loading washer and dryer. Do not buy the pedestals. The blower unit you see above is sitting on top of my washers pedestal which started to vibrate uncontrollably after 4 months of use. Tried everything including replacing the washer, still the same problem. It's a center of gravity issue. Instead build yourself a riser for both the washer and dryer paint to match and save yourself about 300 bucks in the process. Just don't bolt it to the riser rather screw down the rubber 3M pads they provide with the washer and dryer. With the drawer removed at least it made for a very expensive blower stand...
After the sheetrock got done I primed it with 2 coats of grey tinted kilz2
I wanted to seal since I wasn't sure at the time if I was doing fabric panels or if I was just going to paint. Also the Densarmor is encased in fiberglass, so sealing it was the best way to go.
Then I decided to do a star ceiling/skylight using an insulation board from Lowes. Below is the frame and board.
Hole for toggle bolt
Mounted and primed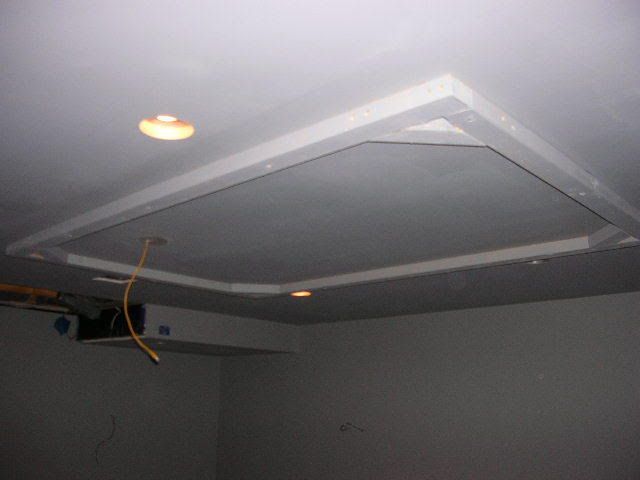 material wrapped board(excuse the phone pic, I have a new camera now)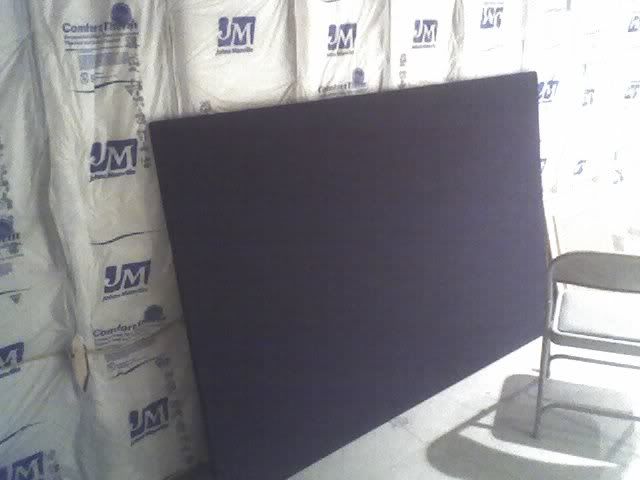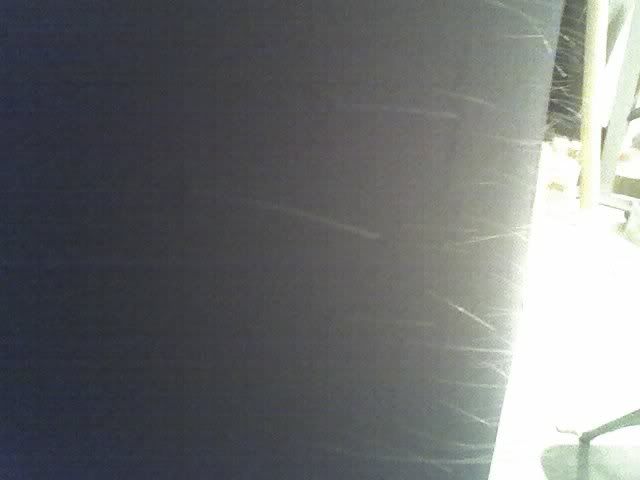 So, like I stated earlier I'm trying as best as possible to insulate the cavity of the pocket door. What I did was as follows:
I applied a foam board to the back side of the densarmor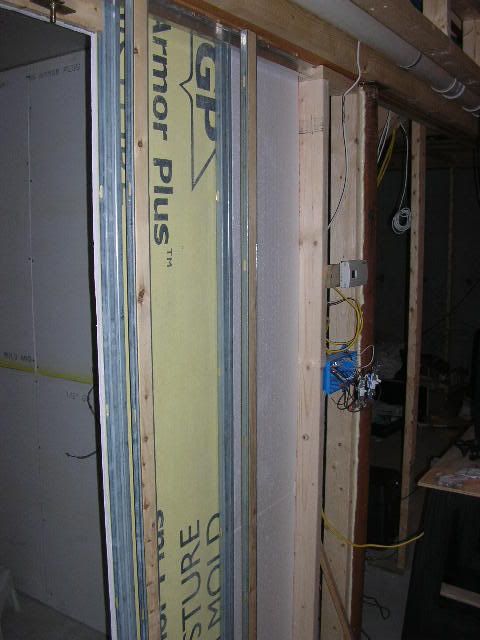 This was applied using a spray adhesive on both surfaces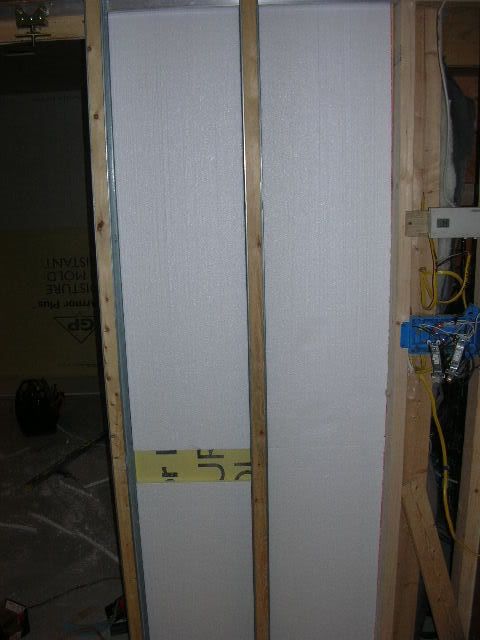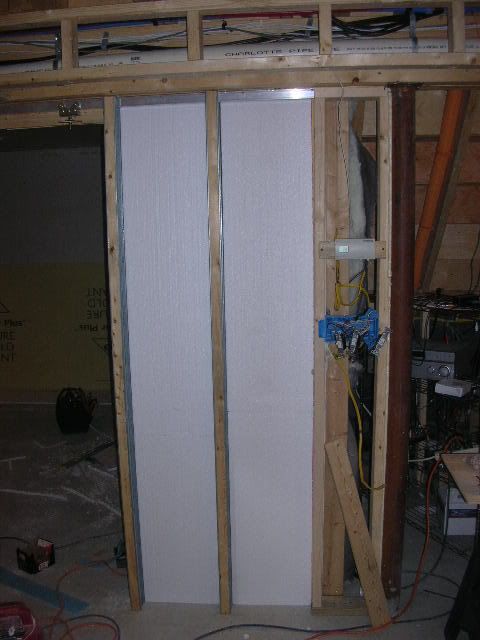 Not a perfect solution but it should help with filling the cavity. I intend on applying it to the outside surface as well.
I then started working on some mini soffits for my room. I could have done crown simply on the walls but I like the look of a 2 tier ceiling better. I also plan to stuff the cavity with either insulation or cotton material to assist as a bass trap.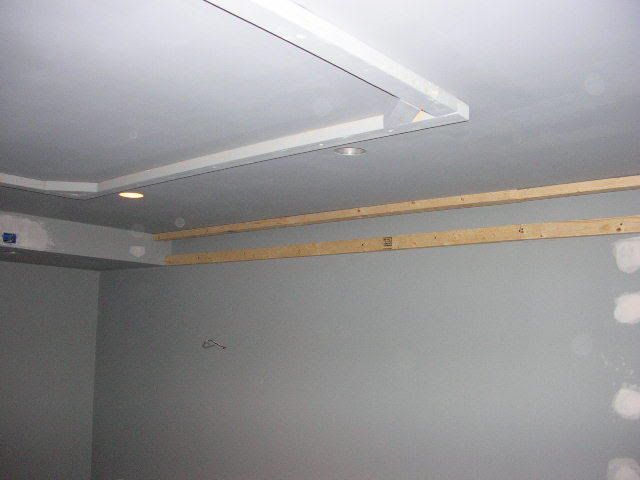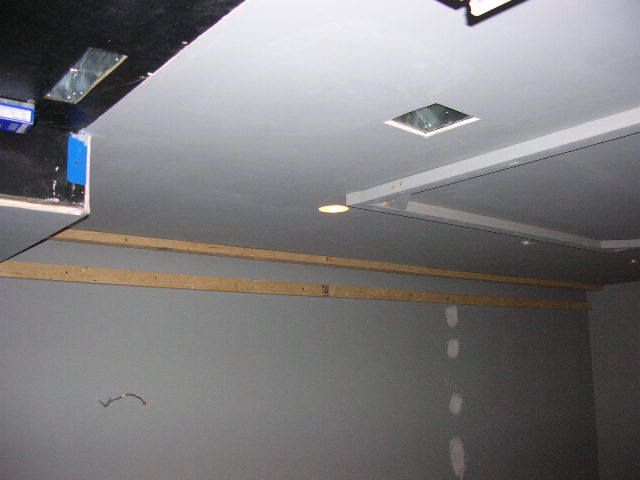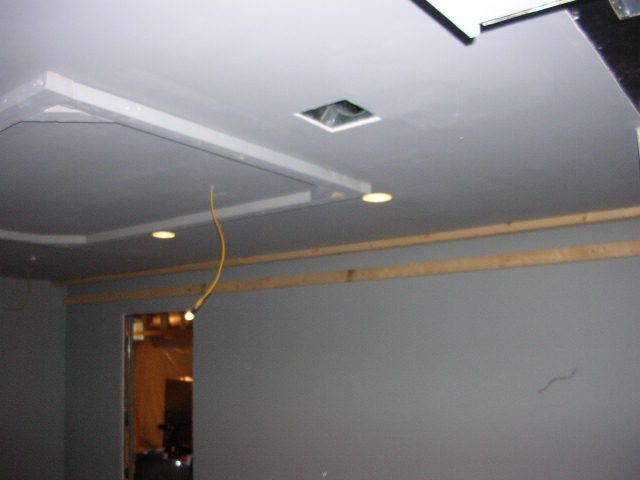 The soffits match up with the rear soffit area where the projector will be housed.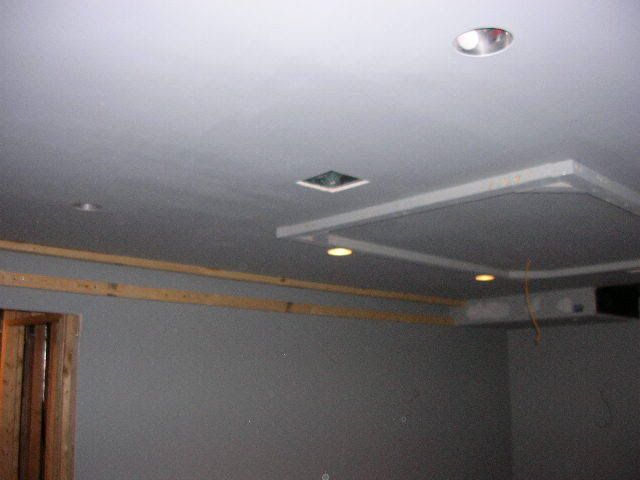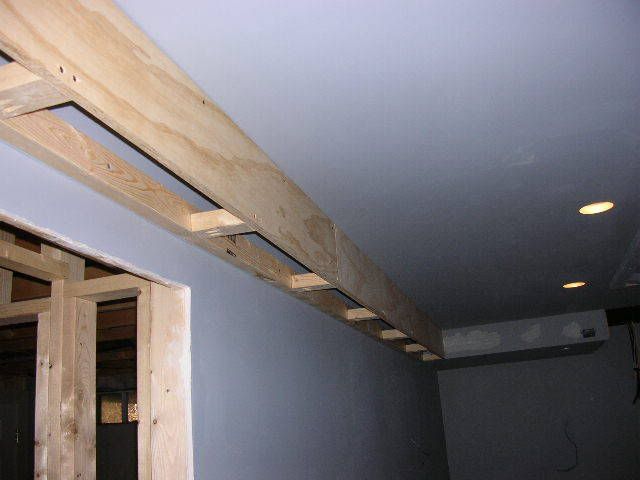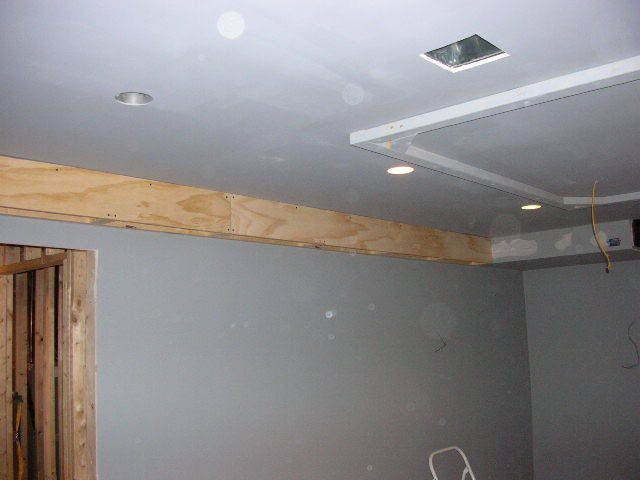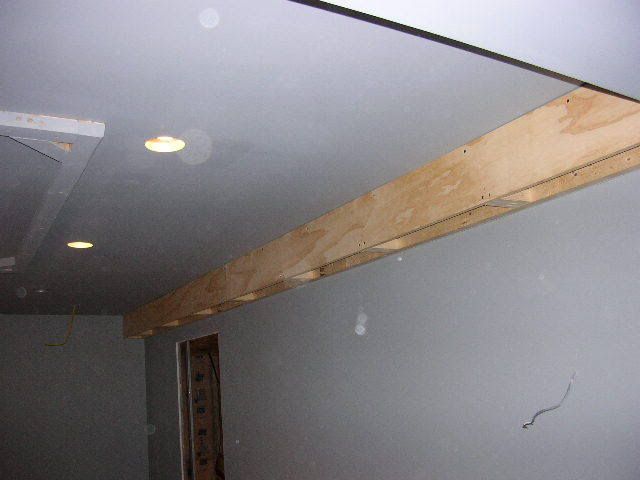 The ply on the soffits was skim coated and the edges which meet the ceiling area wer caulked. It has been primed and painted the same color as the ceiling, blue coal. Looks great.
Then I started building my riser and stage. This is about when my camera went missing so not a lot of pics of the build process for this segment. Now that I have another camera I'll be able to get some current shots this weekend hopefully (mess in there right now, housing all the tools while I work on the rec room sheetrock)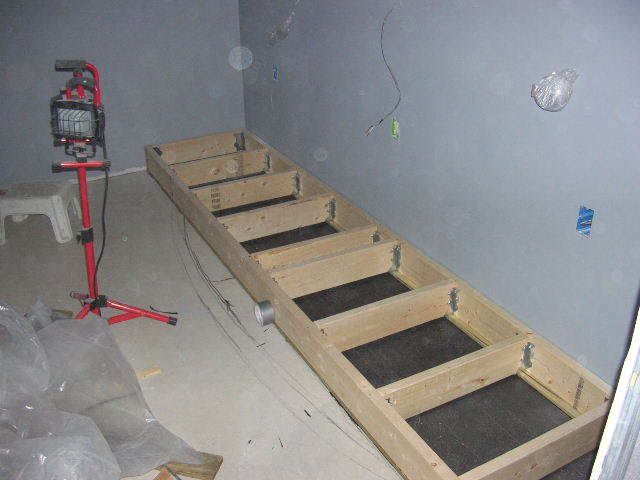 Thought I would update the thread some since I had my camera with me at work.
Future pool table area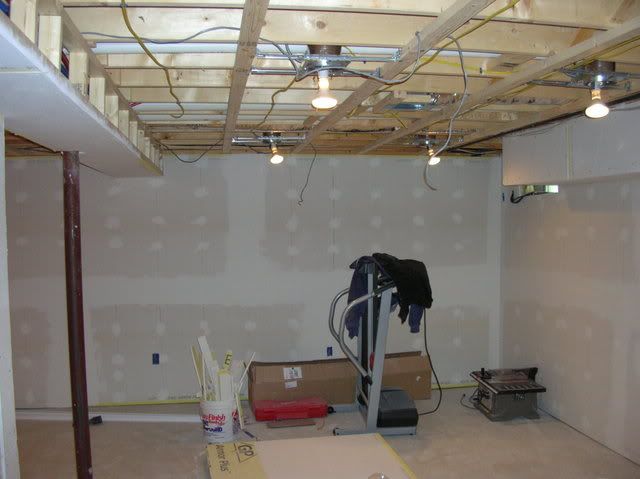 Electrical and water meter closet(just to the left of pool table area), closet has been sheetrocked since this pic. Also this area is where exercise equipment will be.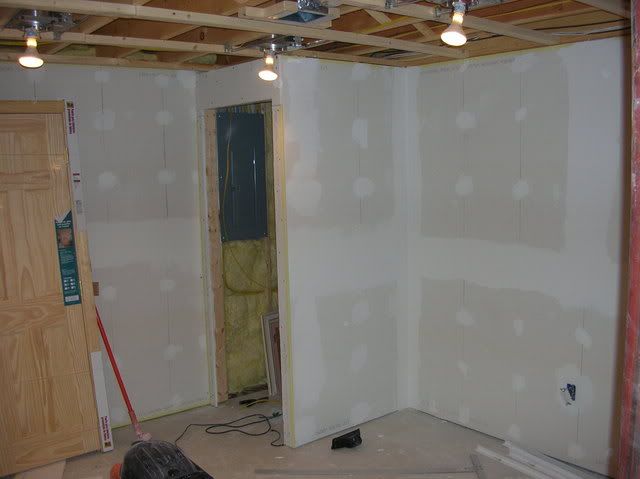 This is access for the rear of the equipment closet where all the A/V wiring terminates.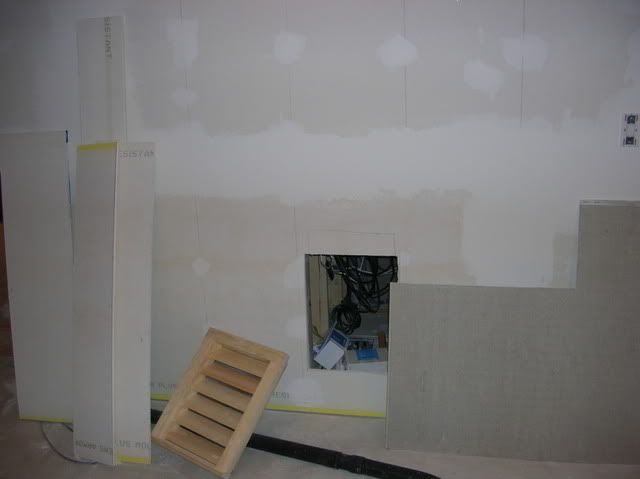 This again is looking at the pool table area from the workout area. There will be a flat panel mounted to the left of that window in the corner.
Looking toward mechanical room and kichenette area. Cabinets will go in that recess to the left. I plan on doing a bar/candy counter with stools there.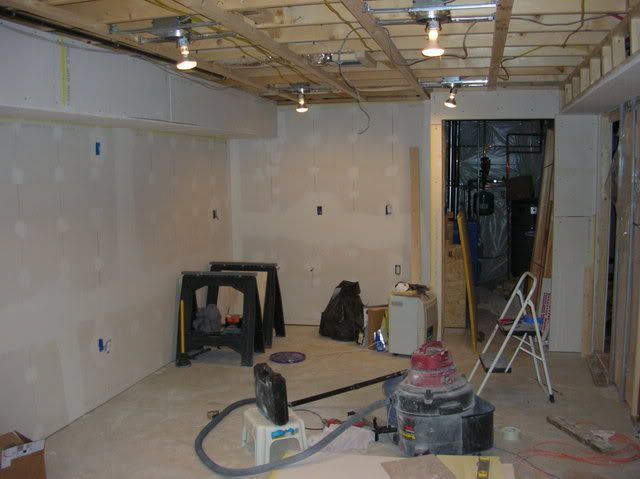 Looking into equipment closet
Close up of wall plate connections and component distribution amplifier.
I am distributing my DVR signal to the HT, Pool room, Living room and Master Bedroom. This allows me to view my cable and control my dvr in any of those room with my remote extender. I am also sending HDMI to the HT and pool room as this connection will likely be used for a PS3 and HD DVD (yes I'm holding on to my player, it does a damn good job at upconverting
)
Loving all of the pictures dude. Nice work.

I framed my stage almost EXACTLY like yours. I like the simple approach. Will you be hiding your front channels at all or will they be on stands?

There's been progress since these pics. Coner beading has been done on the soffits and outside corners. I added a little half wall at the bottom of my steps and skim/rough coated a small section of wall that needed to tie in to the stairway coming down along with the little half wall section. I also rough coated the equipment closet hoping to get the electrical closet done tonight, I had to tape and flank the corners last night.

Thanks,
I'm doing an AT screen, so yes the speakers will be behind the screen. I already have the final shelves in place(similar to WOOlly's shelves), in fact the speakers have been on them since the Super Bowl
. I have to snap off some new pics, hopefully tonight.
I did some futher detail on the stage but not much. I simply added some small sections of the same 2x6's at the corners cut at about a 45 degree angle, so something like ____/------------\\_____ I plan on adding a curve to the front which reaches from the one piece to the next.
This shape also complement the front of my riser which has the opposite angles.