Newbie
Join Date: Nov 2009
Posts: 3
Mentioned: 0 Post(s)
Tagged: 0 Thread(s)
Quoted: 0 Post(s)
Liked: 10
This is my first post. I have been reading for hours on end for months, and I figured I would ask for some help. I am getting more confused as I continue reading. First off, I know this is the absolute worst room for a theater. I am cut in to the side of a mountain, so I wanted views, but I would also like to be able to drop my 185" screen at night and watch a movie. My throw distance will be 22 feet. I don't want to see the projector, so it will be hidden in the wall behind the sofa area.
My question is: What kind of projector choices does a person have to get a decent picture on a 185 inch 1.3 gain screen from 22 feet. I won't watch it during the day, only at night in complete darkness. I am not nearly as picky as some of you guys, so I am after something that looks good to the untrained eye.
The projector will be housed behind the wall behind the sofa, roughly a foot below the copper arch, and the screen will drop down over the LCD on the opposite side of the wall.
Any help or suggestions you guys can give me are greatly appreciated.
Pictures below.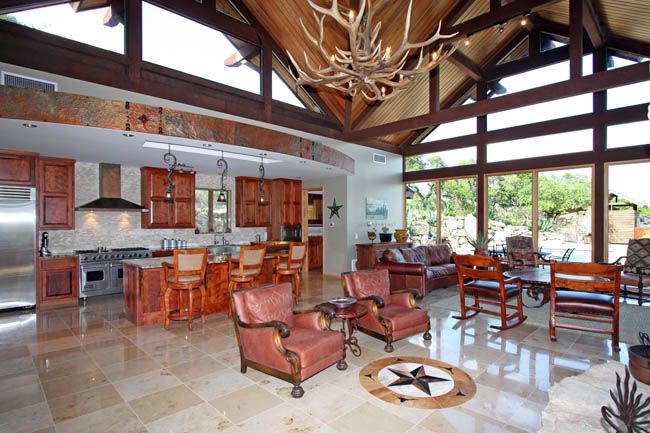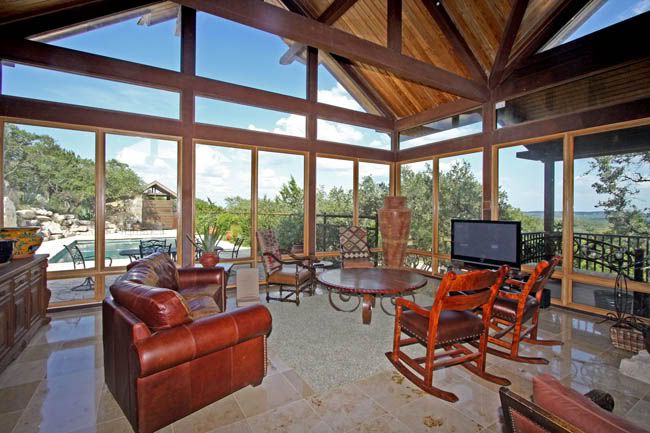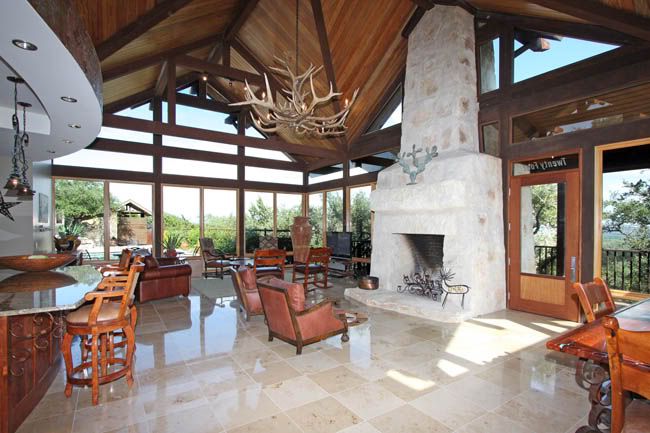 AVS Forum Addicted Member
Join Date: Aug 2006
Location: Dark Side of the Moon-Right Side of the Bay, MD
Posts: 10,298
Mentioned: 3 Post(s)
Tagged: 0 Thread(s)
Quoted: 768 Post(s)
Liked: 1146
Tuckerdog, I can appreciate you're looking for a DIY solution to your install, but...not to be crass...IMO, the person who can afford that house should be looking for professional help. With that room, you'll likely need it for things to turn out right anyway.

CD
---
FOUNDER - E.S.A.C. (Eastern Shore Audio Collective)

Newbie
Join Date: Nov 2009
Posts: 3
Mentioned: 0 Post(s)
Tagged: 0 Thread(s)
Quoted: 0 Post(s)
Liked: 10
Understood, but I am not really looking for anything fancy. I built the house, furniture, etc...but electronics just aren't my forte. I am just wanting something that looks decent enough to watch some movies with my three year old. I am just trying to avoid buying a great projector like an RS1 or RS2, and then kill it completely with throw and huge screen.
Senior Member
Join Date: Apr 2007
Location: Vancouver, Canada
Posts: 414
Mentioned: 0 Post(s)
Tagged: 0 Thread(s)
Quoted: 7 Post(s)
Liked: 47
Try the calculator on projectorcentral.com to find something that matches your throw and desired screen size. With that kind of room and size, you'll probably want something with a high lumen output too.
Newbie
Join Date: Nov 2009
Posts: 3
Mentioned: 0 Post(s)
Tagged: 0 Thread(s)
Quoted: 0 Post(s)
Liked: 10
Thanks for the response. After a few months of looking, I found it this morning and have worn it out.
I have been looking at several from that calculator. I was set on using a JVC, but it looks like it doesn't have the lumen to carry the image as far and support the large screen size. I have seen it in person and loved it.
The Leica Pradovit D-120u and Digital Projection iVision 30 1080PXL look to be the best fit from the calculator.
On the cheaper side, the Infocus SP8602 and Ben Q W6000 look like they would work too.
As mentioned earlier about getting a professional to come out to the house etc...once you build something like this place, you look to pinch some pennies somewhere.
Finding something that won't break the bank would be nice.
Posting Rules

You may not post new threads

You may not post replies

You may not post attachments

You may not edit your posts

---

HTML code is Off

---