You also need to make sure the screen is plumb too in addition to the projector being leveled. My screen bottom needed to be shimmed out about 1/2" to get a square image.
I'm trying to nail down a color scheme, which is proving to be rather difficult. I think the hang up is finding a fabric that is both attractive AND acoustically transparent. I don't really care for the FR701, but it seems to be the only fabric that easily passes the blow test. Anchorage seems rather heavy (and also quite reflective). Most of the other fabric samples I have from places like Acoustimac, SpeakerWorks, & ATS Acoustics won't work for one reason or another. Some claim to be acoustic fabrics, but seem as heavy as Anchorage. Others are more suited for speaker grills. Is there another source that has a nice variety of AT fabric appropriate for panel work? I have a request for pricing into TK Living, but am not expecting that to come back in my budget.

I have a two-tone scheme and both color fabrics need to be AT enough to hide my surrounds. I'm not looking to do semi-AT everywhere but where the speakers are and then using a 3rd AT fabric just at the speakers. I want the speakers to be totally hidden behind the same fabric that is used throughout the room for a seamless look.

Another fabric question I have relates to the false wall. Because my speakers sit directly behind an AT screen, is it real important for the rest of the wall to be AT? I had always planned on using black FR701, but I'm thinking I would get a deeper black from something like Fedelio black velvet. Would this change compromise acoustics? Has anyone done their entire front wall in Fedelio?

When I saw the acoustic suede products in a demo theater, I immediately knew that's what I wanted. Agree that most of the GoM fabrics are, well, not what I wanted either.

(I've got those color sample charts for the stuff I have if you need them... Well, they're here somewhere)

The TK Living fabrics are very nice. I never got a quote (too late), but guessing you'll want to sit down for that one, too... But, quite frankly, it's not a bad place to splurge - it IS something everyone will see and look at - at least until the movie starts.

Jeff

Quote:
Originally Posted by
jautor
When I saw the acoustic suede products in a demo theater, I immediately knew that's what I wanted. Agree that most of the GoM fabrics are, well, not what I wanted either.
(I've got those color sample charts for the stuff I have if you need them... Well, they're here somewhere)
Jeff
Jeff,
Which company did you go with for your acoustic suede? I like the suede samples I got from Acoustimac, but I would not call them acoustically transparent. Takes a little effort to blow some air through them so I would not consider placing surrounds behind them. Too bad, because they are probably the best looking out of all the samples I have so far.
If you happen to run across the sample chart, set it aside and I'll take a peek at it when I return your PJ. By the way, my JVC should arrive next week so I'll need to set up a day & time to return yours.
>>Because my speakers sit directly behind an AT screen, is it real important for the rest of the wall to be AT?

Not really. I have Commando cloth over my front wall, around the screen - its even heavier than velvet - and I plan to replace it with triple velvet (actually have it sitting in a box, just haven't gotten to installing it. Lots of theaters use velvet on the front wall.

Tough call on the fabric to hide the speakers - speaker cloth and FR701 are the ones that come to mind, the TK stuff is nice too I'm sure, but pricey.

No real progress on the theater, except for taking delivery of the projector and receiver. Still waiting for confirmation that my surrounds have shipped. I'm also waiting for some screen samples before I pull the trigger and order a screen.
I did however, want to share a link that I thought all DIYers would enjoy, called "Why We Make".
http://www.tested.com/videos/44436-adam-savage-at-maker-faire-2012-why-we-make/
I've been working on color schemes and panel layouts. Right now, I'm leaning towards a combination of beige, dark brown and black. I need to find a dark beige to minimize reflections, but this is the concept.
The small beige rectangles at the top of each image would be the recessed areas in the coffered ceiling. They would be painted to compliment the lighter color on the walls and would be up-lit with rope lighting (tray not shown).
The large black band below that is the perimeter soffit. Both the side (shown) and bottom would be painted black.
Below that would be a narrow band of dark brown panels, sized to match the band along the floor. The same dark brown fabric would be used on the columns and between the corner bump-outs on the back wall.
Between the dark brown panels and dark beige panels would be 1x4 trim painted black. One band would serve as baseboard along the main floor. The 2nd band serves as baseboard along the top of riser, and continues across the wall as accent trim. The top piece acts simply as accent trim. I wanted to use black accents in the theater (in addition to the ceiling) because my seats are black.
The front wall is all black.
All panels will be 2 layers of 1/2" ply (1 1/2" wide strips) installed over 1/2" furring using ball/socket speaker pegs (like Brad's theater).
Left Wall
Rear Wall
Screen Wall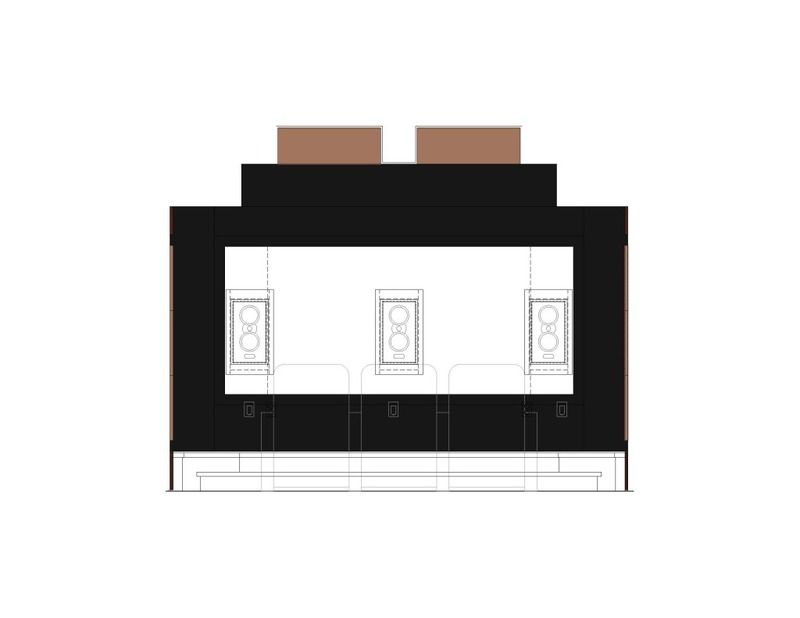 A few carpet patterns we like from Stanton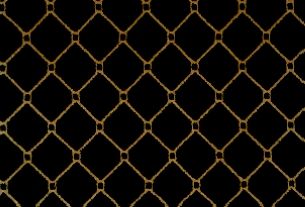 Thoughts, comments, concerns?
I like it! Yay for Earth tones.
When I was looking at fabric samples, I considered a similar main color combo, the hard part for me was finding a tannish color that didn't have a hint of pink to it, which I didn't want. So lets see those fabric samples!
The search for fabric continues. I like a few of the suedes I have but they are not acoustically transparent. I haven't found any GOM samples that I like (maybe a few FR701s, but I really don't like the burlap look).

Brad-How does the Dazian Janus line compare in weight/acoustic transparency to the GOM Anchorage line?

Is the Anchorage line any good? I know it is popular but doing an air test it doesn't seem like much air goes through?

I like the Streetwise design (very similiar to Anchorage but with a design) and I plan to go with it, but the material worries me a little

This is really driving me nuts wih the e-mails not going straight to the latest unread post....did I miss something in my settings?

Its not as open weave as 701 / burlap, but I seem to recall it did OK with ye olde blow test - I still have the sample, I can test it tonight - if my porous brain remembers - or I can send it to you if you want it faster than via Dazian samples.
Hmmmm.... Don't know if I like "brown" for a theater - why not black?
I like the first carpet pattern - looks like rogue popcorn, which is something I wish my carpet hid better (oh, need to put that in my thread!).
You don't need to go too light in the trays to get the reflection you want from the rope light - even a moderate brown will do the job.
Don't hang that projector until you get that paint done - we don't need another unpainted 5-year-old theater around here! Just use my test PJ - that way you won't be tempted by the image quality!
Jeff
After performing my own highly-scientific blow test on the Anchorage line, I pretty much ruled it out as an acoustically transparent fabric. My question to Brad was more "Is the Janus as bad as Anchorage" rather than "Is it as good"?
I'm still getting used to the changes as well and have to take another look at my settings. There seem to be a few bugs still.
Not as open as the "burlap" is a good thing as long as it passes the blow test. I just sent an email to Dazian requesting some samples. If they drag their feet, I'll let you know. Can I get a shipping quote to Houston?
No bat cave for me. Something unique but that still compliments the rest of the house is the goal. And just because my ceiling and color scheme might look familiar does not mean it's not unique
Good point on the recessed areas in the ceiling. I should probably have those match the darker color rather than the lighter color.
I was this close (holding fingers 1" apart) to unboxing the JVC on the kitchen table and projecting images on the family room wall. My wife has heard all of the horror stories about premature projector installs, and quickly took control of the situation.
I won't get the key until I finish cutting 400+ strips of plywood for fabric panels.
Quote:
Originally Posted by
Spaceman
"Is the Janus as bad as Anchorage" rather than "Is it as good"?
Unfortunately, I can't answer that one, since I didn't care for the Anchorage patterns, so never ordered a sample. The GOM lines that I got samples of were FR701, VSS, Framework, and Broadcast. VSS appears to be exactly the same as FR701, but doesn't have the NFPA-701 fire rating (does have ASTM E-84 class 1 or A). Broadcast and Framework are both tighter weave, and my scientific estimate is that they pass the blow test about 64% as well.
There are different characterizations I've read about just how acoustically
transparent
fabric over broadband absorbers need to be. The one that made intuitive sense to me (and which was easy to grasp) was from Ethan Winer, which is that over speakers, it needs to be very transparent, so as to not color sound; but over traps, it just needs to be reasonably breathable, and also not reflective (rules out leather, vinyl, other shiny surfaces). So I went with the Chinchilla fabric from the Broadcast line, as it satisfied that criteria to my satisfaction, and I liked the color/pattern.
Maybe we could do a "pay it forward"/"stanley cup" fabric sample exchange. I bundle up all my fabric samples, send them off to you; when you're done choosing, you can add any other samples you have, and send it off to whoever else needs samples. What do you think? We could create an exchange thread. Just a thought. I have samples from FabricMate (GOM), Dazian, Rose Brand, Distinctive Fabric, All Vinyl Fabrics, SyFabrics, Acoustimac, ScenicSource, Lamvin (GOM), and newtoto.com.
Let me know what you think.
Sounds like a plan. I have a rather large pile already and will definitely want to move it when all is said and done.

I just heard back from the Dazian rep and of the 9 fabric lines I asked about, he only considered one to be acoustically transparent.
For reference:
Acoustically Transparent:
1. Celtic Cloth (Black)
"Close to acoustically transparent":
1. Trapeze Plus (but since it is a knit it is uneven depending on how it is stretched)
Not considered acoustically transparent:
1. Janus
2. Lucky Duck
3. Poly Flax
4. Poly Linen
5. Poly Muslin
6. Eco-Janus
7. Exposure
The frustration mounts!
As per my previous comments, I wouldn't too hung up on "acoustically transparent" in front of absorbers - "acoustically translucent" is more like it.
Odd comments from the rep - I have samples of Janus and Celtic in front of me - they have
identical
weave, openness, porosity. It looks to me that Celtic is black Janus. Maybe something changed since the samples I have though??
Another line they have that I thought looked nice is called Poly Linen Plus - slightly coarser weave, but only slightly.
Hmm, if I could get bigger samples, it could be placed in front of a speaker, and with/without measurements taken to get more accurate on degree of acoustic transparency.
Unfortunately, my current panel/fabric layout has the same fabric in front of absorbers and surround speakers. I'm trying not to use "regular" fabric (acoustically translucent) for the panels and speaker grill cloth (acoustically transparent) in front of each surround. I'd like to use just one kind of fabric everywhere for a seamless look. Maybe I need to rethink that.

Thanks for your thoughts on the Janus. I'm going to request a few samples of both Janus and the Poly Linen Plus and see how they compare to what I already have. I'm almost to the point of picking a few FR701 colors and calling it a day.

Ohhh right I remember you mentioned that - could be a very clean look.

I need to order my door and would like some feedback on the swing direction. As you can see below, I had planned on having it swing out of the theater and into the game room. There are no obstructions in the game room and as drawn, I could easily swing it all the way open against the wall to the right of the door. The problem with this orientation is the appearance of the door from the game room side when the door is closed. Since it won't be recessed into the jamb, it's going to appear to be the back of a door with little or no visual interest (face of door essentially aligned with surrounding trim). All other doors off the game room, and throughout the rest of the house for that matter, swing into their rooms, so they are always recessed when viewed from the "public" or "common" side. Any suggestions/comments?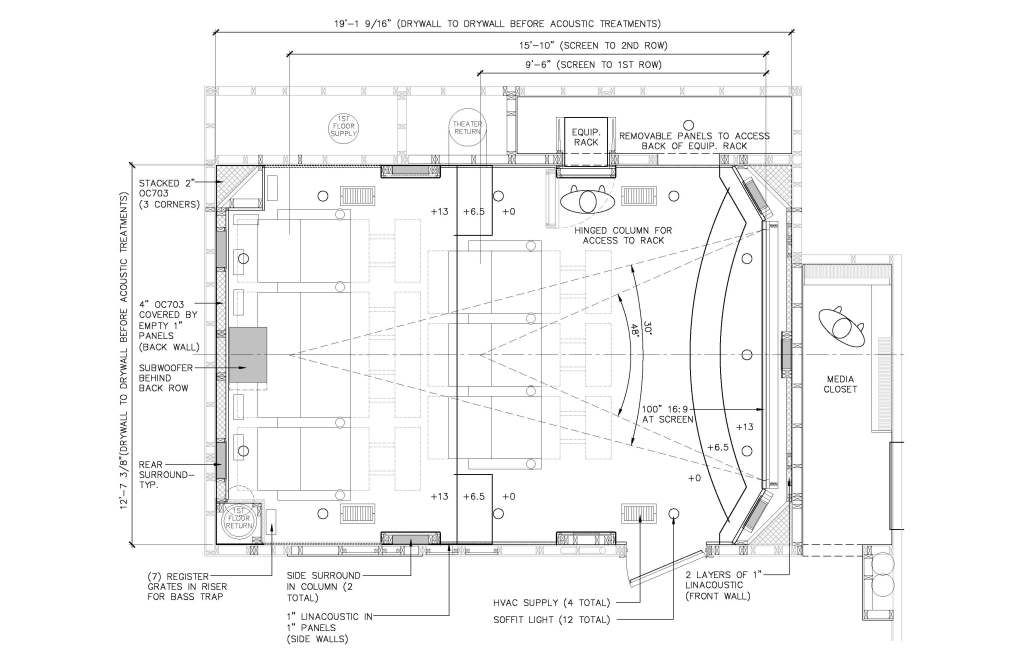 My opinion is nobody is going to notice anything untoward about it, ever.

Swing out

I say this because during a movie you don't want the door swinging in potentially blocking the screen or opening in the other direction and blocking the path to the seats forcing the visitor to walk in front of the screen.

I'd swing out too - if it looks boring on the outside, put up some more meaty trim to dress it up - and/or colonial or other patterned door.

Found a cheap door in stock at HD last night. Thought about upgrading to a solid core but the lead time on a custom order would have slowed me down too much. I've pretty much passed on all other sound proofing efforts to date, so I'm not sure spending more on a door would buy me much at this point in time.
I selected one that had a curved panel, to match the arch going into the adjacent media closet. It will swing out into the game room as originally designed. I'll just dress it up with some oversized casing to give it some depth. Took longer than I expected to hang but seems to be working now. I'm thinking of painting it black and will probably cover the 2 panels on the theater side of the door with fabric panels.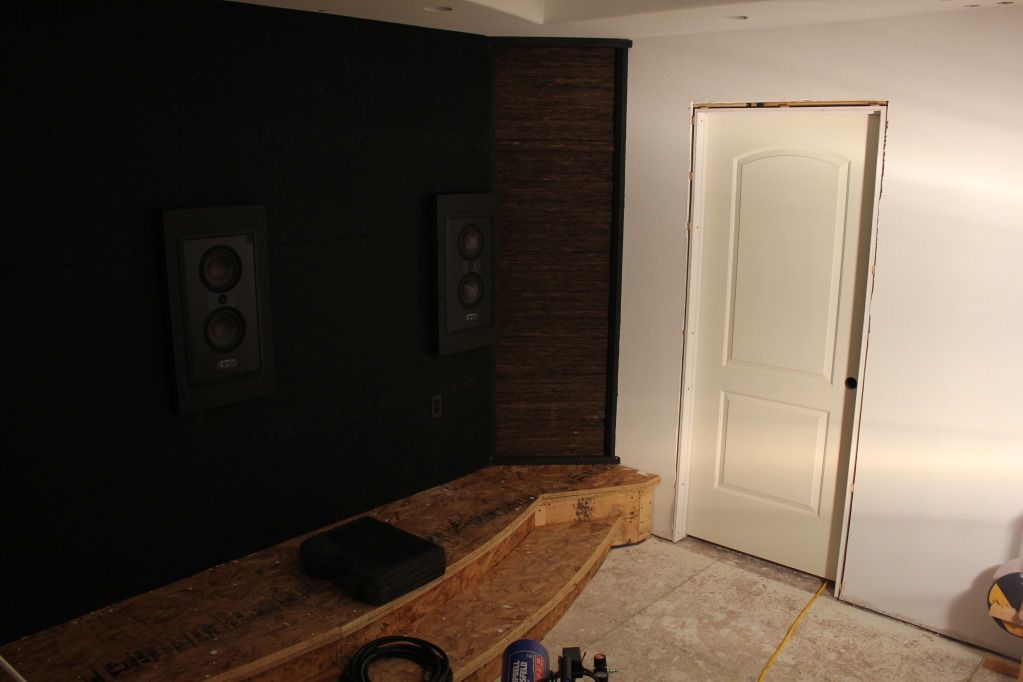 I also received a special delivery from Brad today. My fabric collection just doubled.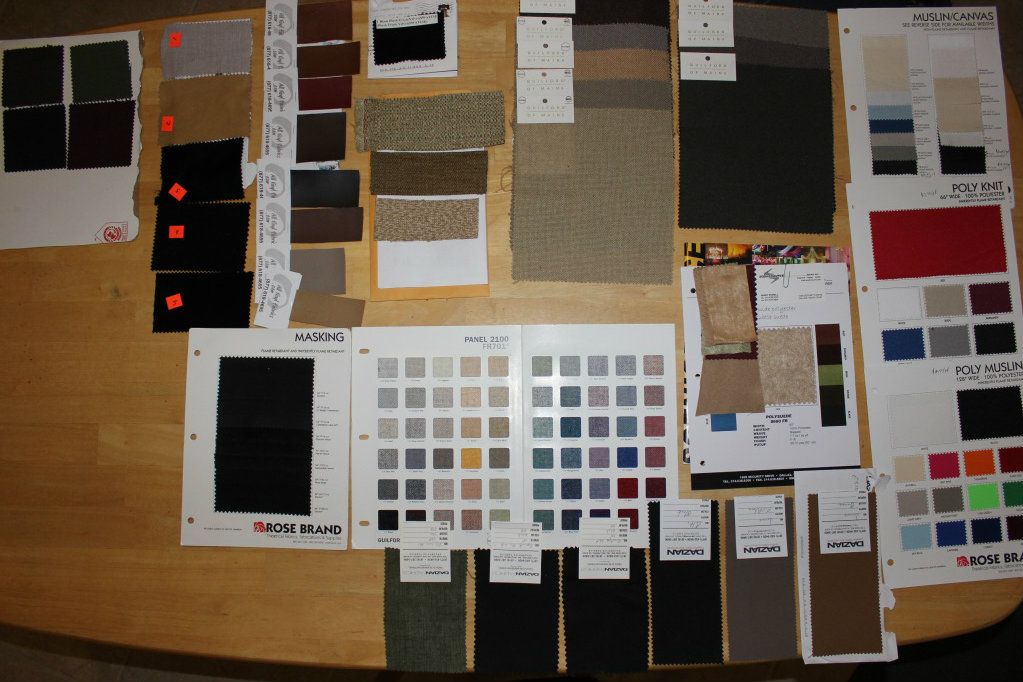 I'm telling you; with the amount of soundproofing I am doing, the room better be quiet.

Sorry just a little envious of your progress

Finished rendering the right wall with the new door, to go along with the other renderings from a few days ago.
If I put fabric panels on the door, I could either go black to match the door or use one of the other fabric colors in the room.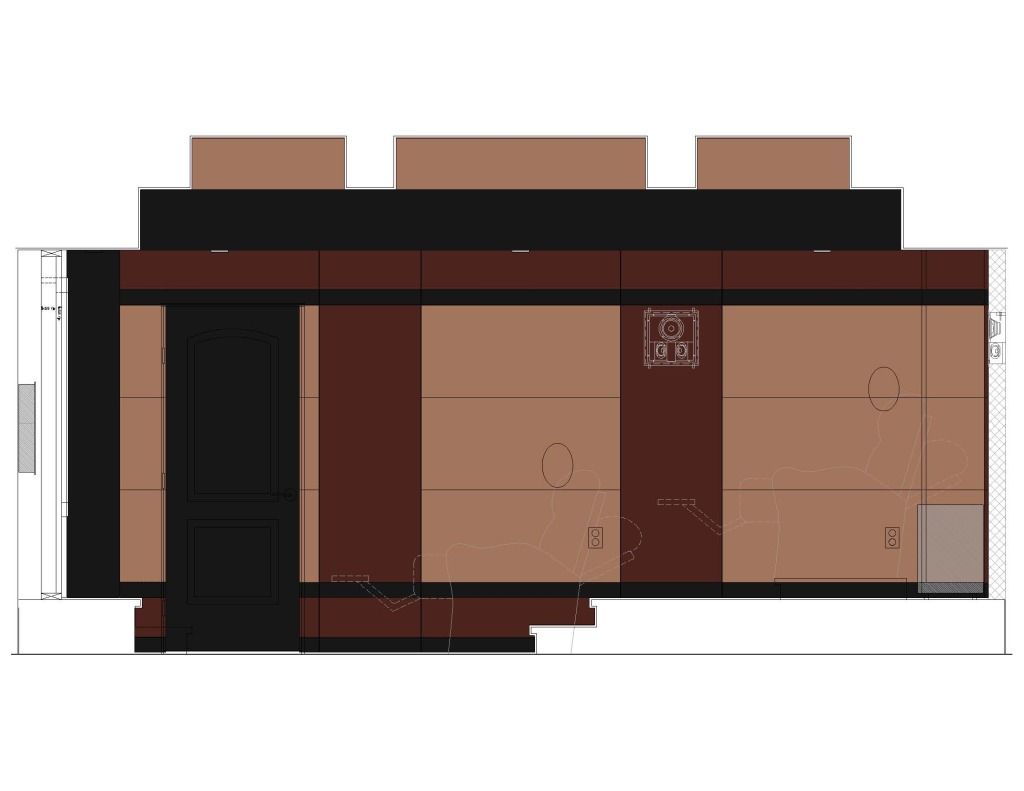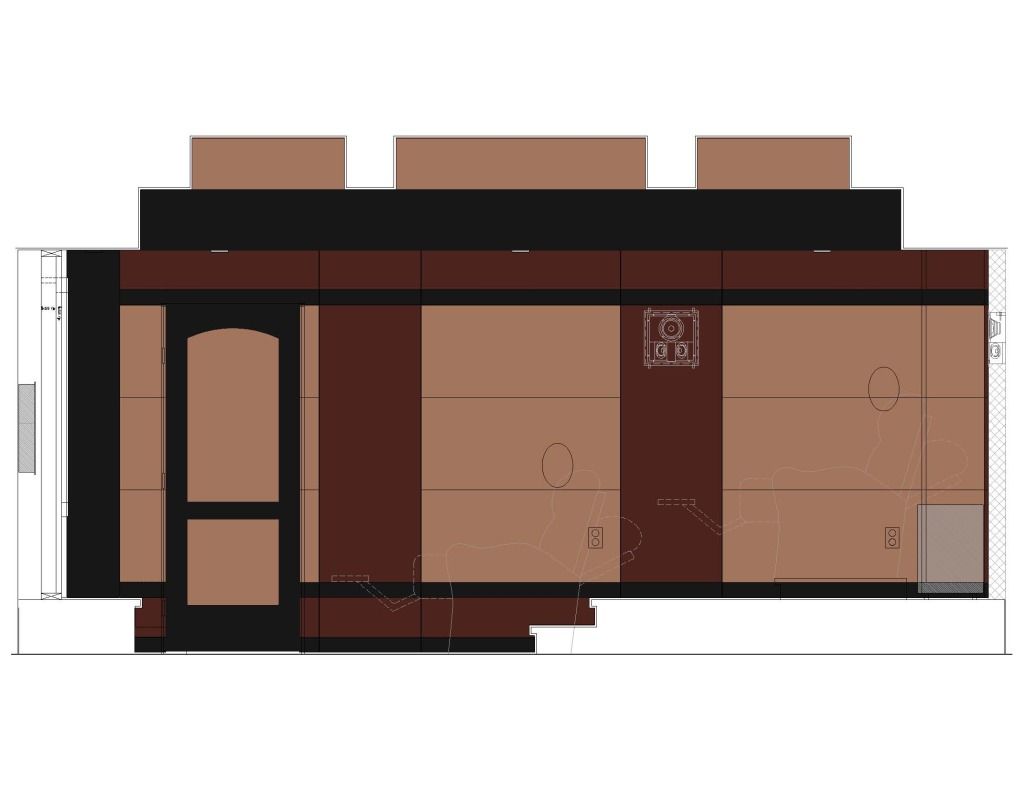 Still need to try a few different color schemes. I'm worried about the beige/tan reflecting too much light, although I've always liked it in Mavromatis' theater.