I use a small allen wrench

Hey Spaceman. I came across the photo in my archives and I thought I would share as the ceiling reminded me of what you are trying to accomplish (I think). If I am not mistaken I think Chinadog is also trying for an LED coffered ceiling for his new theater.
That's cool. Thanks for digging that up. I have two ideas bouncing around for lighting in the ceiling. The first is a simple amber rope light in each coffer. The 2nd is to have Jeff come paint the inside of each of the 6 coffers with his glow-in-the-dark stars. I didn't plan for this when building the light trays, so I don't have room for both amber rope lighting and the bulky traditional black lights. I'd have to see if I could find an LED strip light that broadcasts UV blacklight. I would then probably just throw some of that up in the light tray instead of the amber rope light.

Do you think the 6 coffers in my ceiling would look nice with stars (a skylight effect) or should I keep it simple and stick with amber rope light?

They do make UV LED light strips, here is an example on eBay:
http://www.ebay.com/itm/420-nm-Violet-Purple-UV-Aquarium-Light-LED-Strip-250-Lmn-Ft-Salt-Water-Reef-/271002967851?pt=LH_DefaultDomain_0&var=&hash=item3f19091f2b#ht_1709wt_1139
They also make 120v UV rope light as well, fyi. Looks like you already have the duplex receptacle there so one plug could be for UV and the other for the colored rope / LED strip lighting.
This place really kicks a*s for black lighting supplies of all types, including UV lights:
http://www.blacklight.com/items/CYI4340
You MUST pay attention to the wave length (in nanometers (nm)) to make sure you are truly getting UV light. There are some LED light strips that look like UV strips but are actually just a cool purple color, fyi.
Do I think the painted stars would look nice in the coffers? ABSOLUTELY!!! In fact, I personally think it is one of the coolest types of ceiling because it makes it seem as though you are looking through a set of skylights into space. Here are some perfect examples of what I am talking about in Jeff's webpage gallery:
http://www.nightskymurals.com/portfolio/atlanta-ceilings-coffered-w-beams/gallery/gallery/
And I think it would be fine to do both - rope light (or LED light) and the stars. The rope lighting will give you a nice indirect lighting glow for a movie pre-show or for ambiance. The stars are just the coolest effect for when you have the colored lights off and the paint charged. If you do RGB LED right strips and UV rope lighting, you could probably simultaneously have a fake purple color that mimics the color of the UV lights which can be charging the star paint. Just a thought.
You are right. I do have the duplex receptacles up there and could use one outlet for rope lighting and the 2nd outlet for UV LED light strips. Currently, I have all of those receptacles wired to operate off a single dimmer. Not sure how I would easily modify that so both outlets could be switched independently?

Quote:
Originally Posted by
Spaceman
You are right. I do have the duplex receptacles up there and could use one outlet for rope lighting and the 2nd outlet for UV LED light strips. Currently, I have all of those receptacles wired to operate off a single dimmer. Not sure how I would easily modify that so both outlets could be switched independently?
Do you have a 3-wire going from the switch to your first receptacle in the ceiling?? And where does your hot line come in - to the switch box or to one of the receptacles?
+1 for the star ceiling within the coffered ceiling!

-(1) 12/2 hot line coming in to power up a bank of dimmers or a Grafik Eye
-(5) 12/2 loads leaving the dimmers/Grafik Eye and running to 5 different zones in the room, one zone being the 6 duplex outlets in the ceiling
I don't think I can make one outlet switched and the 2nd outlet always hot without some rewiring, which is not an option at this point. Is there some type of plug-in appliance module that could be operated via remote control. I could then plug the colored rope light into one of the outlets and use the plug-in module in the 2nd outlet. I would turn the ceiling light zone on either by dimmer or Grafik Eye to make both outlets in the receptacle hot and once the stars were charged, use the remote that controls the plug-in module to shut off the UV strip light while leaving on the rope light. Would that work?
Yeah, no real workable way to split it out at this point. As far as a separate remote controlled power device I would ave to do a bit of checking, but my first inclination would be to look at what is available in X-10.

But to be perfectly honest, you should be able to make all receptacles hot and just use separate credit card remote units that typically can be ordered with these lighting packages. Only question is if those things have different transmission codes. At worst you could upgrade to the RF credit card remotes for the light strips vs. the IR.

Watch out for UV LED lights. They usually do not have enough UV, especially because LEDs have such a narrow wavelength. You need 385nm light to fluoresce. Most LEDs are violet in the 420+nm range. No one would buy the UV LED if they could not "see" the light. But in this application you do not want to see the light, but rather have the light work for you. Look at the specs of black light blue bulbs and most of their light output is at wavelengths shorter than the human eye can see.

Thanks TMcG for the Blacklight dot com link. They carry slim versions of 24"
http://www.blacklight.com/items/VISV802
and 48"
http://www.blacklight.com/items/CYI4340
models that look like they would fit in my tray. Maybe (2) 24" models in each 3' square coffer and (2) 48" models in each 3'x5' coffer. EDIT: The 48" version would be too tall, so I'd have to double up with 24" models.
+1 on Blacklight dot com. I've purchased from them before and have received excellent customer service. I've also tried several different blacklight leds and have always been disappointed. They just don't work.

If I did put stars in the coffers, do you think it would look funny if they were on the top AND sides of each coffer? Depending on where you sit, the angle may not offer you a view of many stars if I only put them on the ceiling of each coffer, particularly when looking into one of the 3' coffers from a sharp angle. I'd get more bang for my buck if I also brought the stars down onto the sides of the coffers (between the ceiling and top of light tray). In a pitch black room, this probably wouldn't bother me as the corners of the coffer would disappear. But if the corners are visible, I'm not sure it would look right.

IMHO that would kind of kill the effect - of looking through ceiling windows to the starlit sky.

GRBoomer is absolutely correct....and as I also said in my previous post regarding the wavelength of the black light LED strip lights. The one I pulled on eBay is 420nm, but GRBoomer makes a good point that the shorter the wavelength the more powerful the UV. If you do a Google search for 380 - 385 nm UV LED strip lights you will find options....meaning they exist as a product for that wavelength.

Since you have the room for the larger "conventional" fixtures and already have full 120v receptacles available, I think your approach is correct.

I don't think doing the entire ceiling will be as nice of an effect as simply doing within the coffers, but I have not seen it the other way to be honest. Something tells me though that your perspective and suspension of disbelief might be a little disturbed if all sides of your coffer ceiling are painted.

Something like this would be pretty cool.
Option 1
Top of each coffer gets the sky treatment (dark blue paint and stars). Vertical faces inside coffer get secondary color, most likely whatever is used on the ceiling adjacent to the light trays. Some type of trim gets added to the perimeter of the coffer top to create the skylight frame (shown here with heavy black line).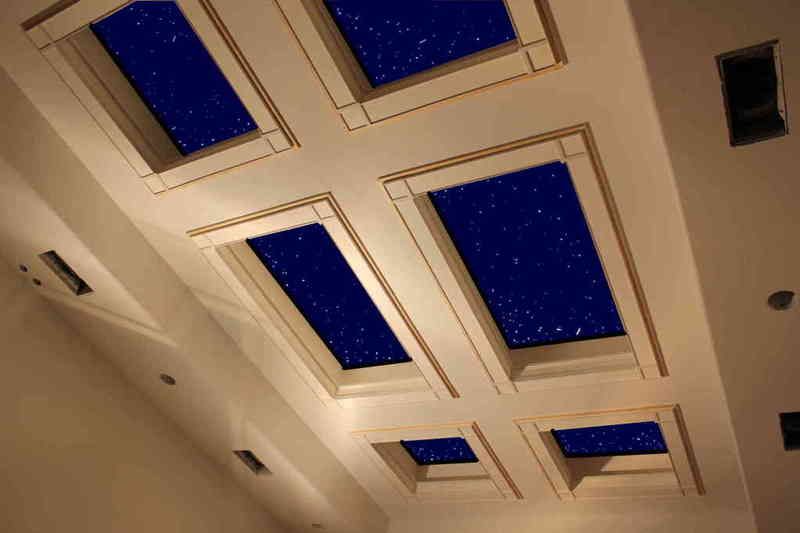 Option 2
Entire coffer gets the sky treatment and the light tray acts as the skylight frame. If the blue paint is dark enough, the corners inside the coffer hopefully disappear. Black lines in this option are only there to show the corners. I would not add any trim within the coffer on this scheme.
I like the simplicity of option #2, since it doesn't require more trim within the coffer. It also gives me more real estate for stars. I also like the idea of the light tray acting as the skylight frame. I'm just not sure how the corners will look if they become visible. Any preference?
I like option 2 as well... Is that just paint and not actual lights?

They would be painted stars from Night Sky Murals, charged via blacklight, rather than fiber optic.

Interesting... looks pretty cool

Definitely option 2 IMHO.

When I did my star ceiling last time, I used panels from Numinus - had them custom made - and it was pretty painless to setup. Each panel had it's own light source and you could daisy chanin them together. The do make standard sizes as well.
http://www.numinus.com/product.html
Bud
Hi Spaceman.... sorry for not replying before now. I have been in Wisconsin and California... and then back home finishing my new office so that I can get out of the house and focus on answering questions without kids and a wife (all of whom don't understand that even though I am at home, I am working). Well, the inside, at least, is now finished and I can start answering some questions.
Either one of your options... painting just the top, or bringing the stars down the side, are great options. It's just a preference. And, both would look real. If you just have the top painted... and your room is dark enough, then it will just look like a window at the top. If you bring it down the sides, then it will look like just a larger open space, or window. Unless you have lights on to charge the stars, or to see the stars during the movie, you shouldn't be able to see the sides, or corners. Basically, what I am trying to say is that they will both look nice.
If the sides come down far enough, however, then we can make it look like there are smaller windows around the sides by creating the illusion of a window frame around the top area, and some support boards in each corner and possibly in the middle of the sides. I just did that in my office (I have roughly 10 inches of side walls in my soffit) and I created the illusion of 8 windows around the sides. I'll try to find time tomorrow to snap a picture and post it.
for now, though.... let me put up a picture of a ceiling that is similar to yours. And, by the way.... you have a perfect ceiling for stars. You have probably one of my favorite ceiling types. I also like tray ceilings because both types of ceilings add a little extra perspective when viewing the stars.
OK, here is the picture of the similar ceiling...
By the way.... I have a few black light flashlights that have between 9 and 51 LED US black lights in them... and each one charges the paint nicely. And, in an area the size of each of your inset areas.... I think that something can be made. I am actually working with a couple of different LED companies to see if they can, and/or will make something that could be used in soffits. I have also found UV black rope lights and I've sent at least 10 emails to them, and left 3 voice mails... but I have yet to get a reply. I can't say much about them, however, because i have been so busy this past year that I have been just a bad as them, and it bothers me.
Anyway, I will keep checking and let you guys know.
Air Compressor Question:
Fabric frame construction is moving right along but my air compressor is starting to act up. I have a compressor similar to this one:
http://www.sears.com/shc/s/p_10153_12605_SPM5896790807P?sid=IDx20120715x00001&ci_src=25356082&ci_sku=SPM5896790807&srccode=cii_184425893&cpncode=30-65816310-2
The compressor is giving me trouble when it attempts to automatically repressurize. It works fine when pressurizing from empty to full, but during use when the pressure drops from full (110-125 psi) down to the point where it automatically repressurizes (70-80psi), the compressor sputters/chugs a few times and eventually stops and makes a slight hum like it's not getting enough power. If I turn it from auto to off, manually bleed the tank from the automatic startup point (70-80psi) down to around 40-50psi, and turn it back on, the compressor will kick in and fully repressurize the tank. Any idea what might be causing the trouble at automatic startup?
Quote:
Originally Posted by
BIGmouthinDC
control unit
pressure switch
motor
all are available at ereplacementparts.com
the switch is only $6, motor $55 and the manifold control $20
http://www.ereplacementparts.com/pressure-switch-p-432148.html
From Campbell Hausfeld customer service
Thank you for your recent inquiry.

Your compressor is set to build up to 125 psi and shut off, as you use the compressor the pressure will drop to 95 psi and restart.

If it's struggling to restart at the 95psi mark, it sounds like it's trying to start against it's own head pressure.

Empty all the air out of the tank. Start the compressor and let it build to the 125 psi and shut off automatically. Listen for a little burst of air right after the compressor shuts off.

If you don't hear the burst of air, you have a bad unloader.

CW212300AJ $26.95 pressure switch with unloader

If you hear the burst of air, you have a bad check valve.

CV307800AV $11.92 check valve and

HL014900AV $12.99 Exhaust tube kit
Mine was a check valve and exhaust tube.
Fabric frame assembly question:
On larger frames where a mid-support is required, is it better to make the mid-support from a single layer of plywood, keeping it flush with the back of the frame so the fabric never touches the support? I seem to remember reading that someone found that the edges of the support became visible once the fabric was added if the support was made from two layers of plywood and sat flush with the front of the frame. Is this something I should be worrying about?
Mid-support made with 2 layers of plywood (flush with frame face)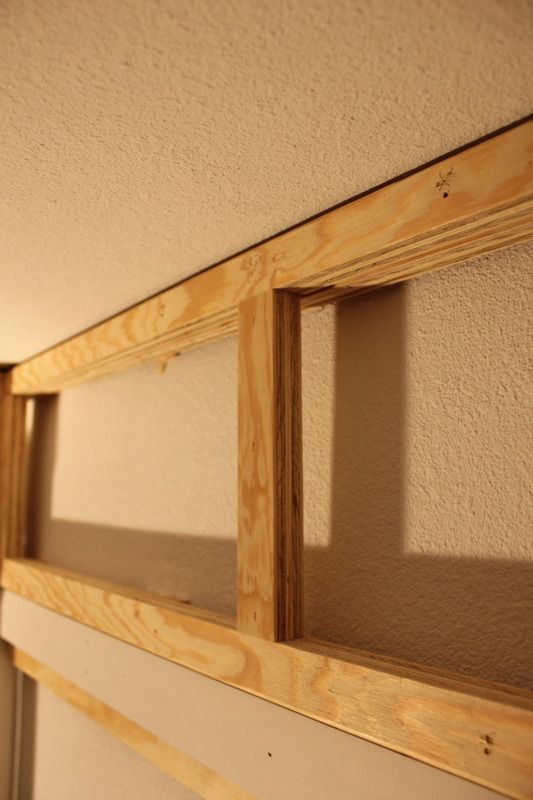 Maybe rounding over the edges of the support would keep it from showing up. How have others handled this in the past?
FYI-Completed panel count stands at 28, but I'm just getting to those that need a mid-support.
When I made the fabric frames in my previous theater, I placed the support pieces of the frame flush with the back of the frame and made them about a 1/2" smaller than the border frame members. With the support piece a little smaller than the main frame pieces,there was no chance the support piece would touch the fabric. The smaller mid-support pieces will provide more than enough support for the frame when the fabric is strectched, and you don't risk the support member being seen on the fabric face in case it's not perfectly flush with the border members.

BTW, I really like you theater, it's turning out real nice.

I did the same - while the frames are two layers of 1/2" plywood, the mid supports are a single layer, flush with the back.