I REALLY need to get moving on my wall panels (you know you do when the WAF is prodding you) and am hoping to get an idea or two on construction. I plan to have 1" thick frames with 1" thick linacoustic, covered with GOM Anchorage Poppy fabric. There will be a wall panel between each column (see example pic below), amounting to around 10-11 panels overall. Rough dimension between columns is 44" wide and 72" high. I plan to make the panels with a 6" or so wall reveal all around, which would yield a finished panel dimension of 32" wide by 60" high (approx).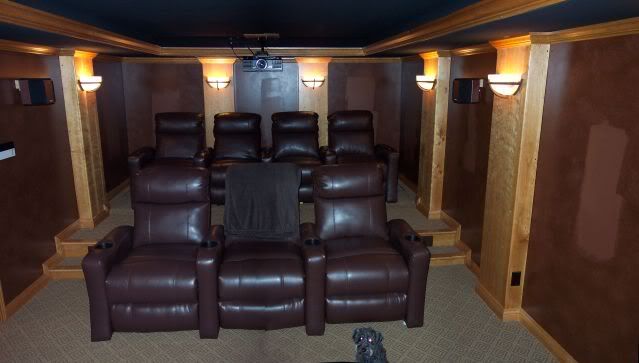 Although Fabricmate would be my first pick, I've ruled it out due to cost. Planning on some type of wooden construction, with French cleat at top and some velcro at various points on sides and/or bottom as needed, and a horizontal middle support between the two sides.
I've considered just ripping some 2x4's down to 1" thick x 1.5" wide but concerned they will warp. Also considering GPowers construction method but not looking forward to the amount of ripping involved, but not out of the question.
Any other bright ideas on a simple construction approach out there?
Pop into your local HD and look at the finger joined pre-primed exterior trim boards that say "Made in Chile". When ever I need lumber that is going to stay straight that is what I grab. You can buy the wide stuff and rip to the desired size. They come 5/4 thick. Pictures of the stuff in my HT2.0 renovation. Just a note, they come in 16 ft lengths. so plan ahead. They will be standing on end in the composite wood section. Runs about 3-4x the cost of studs.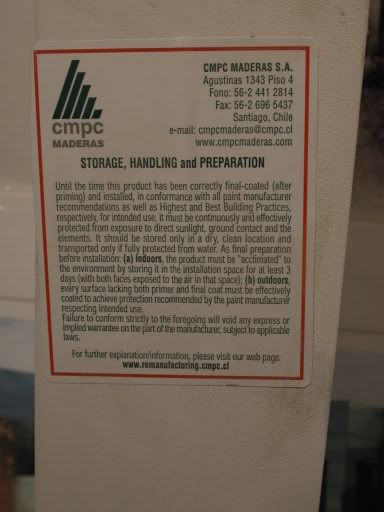 I remember you mentioning this stuff before (maybe your thread or others) but never really looked hard for it. Sounds like it would do the trick quite nicely and 5/4 to boot (didn't know that). Maybe I can use that for my screen frame as well.

Thanks for the tip!


Before you go to all that trouble, understand that one inch is nowhere near thick enough to help much below 1 KHz. Panels mounted flat on the walls near corners should be at least six inches thick. If you straddle the corners at a 45 degree angle you can get away with three or four inches thick. Panels at the loudspeaker reflection points should be two inches thick, or one inch thick with a one-inch air gap behind the panel.

Note the key points above are that you need panels in corners to absorb bass, and at specific places on the side walls (and ceiling) for early reflections. Placing panels randomly will help for sure, but not as much as following the specific placements I described.

--Ethan

Thanks for the advice Ethan. As additional info, I have superchunk traps at front two corners floor to ceiling, and a nice stretch of 703 in a recess in the ceiling behind the screen/soffit, as well as front wall treated with Linacoustic (behind screen wall). I also put about 6 4"x14" riser vents along back and side walls.

So far, I have not detected excessive bass build up anywhere in the room at using a single SVS sub. What I am noticing though is that I think the room is too "alive" with the higher frequencies, although I don't know what a really good audio response across the room should be due to inexperience. Just feels like the high end needs tamed down.

I will have to think more about going with 2" vs. 1" thick panels all around, and maybe consider if I can fit a smaller version of the superchunk construction in the back two corners (it's pretty tight there).

If you have any change in suggestions based on this additional info, please let me know.