An exercise in thought and education at the moment, for the early pre-pre-planning stages.

Consider a large basement theater, slab floor. Walls can be anything you/I/we like - room within a room, DD/GG; let's say filled concrete block walls on interior side, separated stud/drywall outside. Room in room + I guess.

So that leaves us just the ceiling. One, maybe two floors supported above? I've read about most everything regarding ceilings here on AVS and elsewhere over the years, but there is one that really doesn't come up much and I don't have any experience with at all. And that's poured slab or prestressed slab concrete construction.

Let's make the room large so that this becomes even more critical of a problem - say at least 30' by 30', so that we're looking at serious beams (LVL, steel, glulam, whatever) to span the distance. Stopping floor bounce will be hard. Doing a separate ceiling isolated from the floor above will be even harder... two sets of beams and framing? As you can see space/height gets to be a premium.

But concrete... ah! Can easily span 30' x 30' in reasonable thicknesses. I really don't know what applicable residential codes might deal with this, but even poured in place 4" would work, 6" would probably be overkill. The required testing to assure proper setting/strength etc... a show stopper?

And what would you do underneath? I can think of two options, really. One, start with a traditional wood framing that will be the ceiling of the theater, sheathed with plywood, supported with temporary columns for construction, and poured slab on top. Remove columns and enjoy. For this option, would you try to couple the framing to the slab? Or intentionally leave it floating? Potentially the framing could be jacked for the pour and lowered afterwards to leave a gap - there is plastic ply in between, I don't think bonding would be an issue, but I don't know. I don't know what applicable "no load" celing span residential codes would apply to a ceiling that supports only its weight and absolutely nothing else. If tied to the slab... what code applies then? The second option - pre stressed slab forms. With block walls, lay them and anchor and enjoy. Again, how would you handle the ceiling underneath the slab? Attach wood framing directly to the slab? Free floating wood framed ceiling?

I can think of advantages and disadvantages to each. Mainly, balancing sound "proofing" which would ideally have a separated framed ceiling and slab floor above, and wanting a stiff ceiling to stop resonating ceiling, drywall cracking, squeaks etc. over a large span which would ideally tie the wood ceiling framing directly to the concrete to create the stiffest overall system for both.

Thoughts? Anyone here a structural engineer that can comment? Anyone have commercial construction experience that can comment? Anyone want to comment at all? Cost? The poured slab wouldn't really be that expensive in materials at all... getting a residential contractor to do something like that, outside his area of expertise/comfort, that might be the real cost issue...

There was a build from Utah documented here a while back that utilized a room under a concrete floor garage. Can't recall the name of the thread maybe someone else will.

Not all concrete slab floors are poured on-site. Some are manufactured off site in sections and lifted in place with a crane.

Thanks, I'll search again using more specific terms. Perhaps "Utah" will help.
I've run across a couple of shortish threads on other theater/audio forums but not a lot of really helpful information came out of them. I've run across some more helpful discussions on non-audio sites, stuff like diytractor or other silliness
but it sounds like in commercial construction it is done all the time, isn't cost prohibitive, and isn't difficult. Some prestressed/preformed slabs like you mentioned even have hollow channels through them to route wiring, plumbing etc. if needed. I don't think that would be necessary... in the pre-pre-planning brainstorming I can't see much reason to consider this for an entire house, just the floor directly above the theater. All other floors/ceilings can be traditional wood framing.
Hopefully we've got an expert or two (well, anyone with experience in this area!) wandering around the forums. I asked a couple of friends that are residential contractors, and neither had any experience nor did they really even know where they would begin researching if I were to task them to do this in a build.
From a more theoretical perspective, any thoughts from our master acousticians on the pros/cons of a coupled vs decoupled wood framed ceiling below a slab floor? As I mentioned above, coupling would stiffen both and really cut down on ceiling resonances (not sure that is normally a big problem, but I could certainly imagine it being with a very large span ceiling that is framed only to support its weight and not loads above). But coupling might allow greater sound transmission in both directions. On the other hand decoupling is probably the best for sound transmission but I'm not sure it's the best overall room acoustics solution due to it being a potential large LF resonator. I know there has been a lot of past discussion about the pros/cons of lossy/flexible wall/ceiling construction vs stiff. I think flexible could work well if both flexible and damped well but if sound transmission/isolation/proofing is as big a priority as sound
treatment
perhaps very stiff walls/ceiling with whatever subsequently required in room absorption would be best. I know solid concrete doesn't have a superior STC rating compared to say double wall with DD/GG on both or staggered studs with acoustic filler and DD/GG on both sides... but STC ratings don't go low in frequency. To stop LF, you need stiffness. Dennis E has commented in the past (years ago?) that really stiff walls can be the bane of acoustic treatments. Not wanting to drag up old discussions, but how do you guys think those thoughts apply to this specific scenario?
Also... any other ideas on how to tackle a large ceiling/floor above a largish basement theater that is designed with both sound proofing and internal sound treatment/acoustics in mind?
I found the thread... Wish I could see the pics. From asking around more it seems like it's a geographic thing. None of the residential contractors in the southeast have much experience with this whereas it seems much more common in the north, Midwest, etc where basements are common.

I've got plenty of time to learn about the cost and logistics. Any thoughts from the crowd on the acoustic issues I raised?

You could go either metal deck or Lite-Deck. With the price of steel these days I would bet money Lite-Deck is cheaper, even with the cost of temporary bracing.

Cost of special inspection should not be too bad. Assuming your local building dept will inspect the steel (rebar), you would only need somebody there to check slump.

Engineering will be an expense and will vary greatly depending on locale, seismic requirements etc.

Soundproofing comes from mass and isolation. You get the mass from concrete.

Bigus,

Putting acoustics aside, you won't be able to do 30' x 30' as a flat slab. At least one deeper beam will be required down the middle.

Sorry, let me qualify that ... I'm referring to cast in-situ solid concrete. If you go with some sort of prestressed hollow core planks of maybe 12" depth, then it becomes doable.

Those pictures will pop back up when his new month on Photobucket starts or he relents and signs up for a paid PB account.

Tim, I'll check out that decking. This is all a mental exercise for now but I'm kinda at that point where I need to know what I need to learn about so that when the time comes to begin serious houseplans in three or four years I won't have to make as many starts and restarts due to ignorance. So I'm glad you've mentioned specific products to research.

Peter,

That surprises me. My original background was in mechanical engineering, not civil, so while I could calculate the cross sectional area required I've never actually done it for a building structure using concrete nor am I familiar with codes that will surely constrain what is possible much more than material requirements.

But what you say does still surprise me. Today I was gazing at the construction of the parking garage where I work before I left for home. The span looked to be pretty close to 30 feet between beams and this span ran perhaps 75 feet before there was any additional support in the other direction. Looks to be right at 12" concrete, which apparently is enough for the live and dead loads of multiple vehicles. Hard to imagine that residential construction supporting a floor or two above would produce heavier loads. I'd guess that there may be 8 or so vehicles potentially parked in a 30 x 30 area in some spots, say 30,000 lb static, and maybe another 10,000 lb at least dynamic for cars moving through? That's 30psf dead and 10psf live which isn't way out of line with housing figures is it? Do you think the required safety factors are similar? Are construction and concrete mixes for these two applications vastly different (wouldn't surprise me)?

I also took a quick look at steel beams for residential spans. Even the largest w14 in the table wasn't listed to span this distance. So I guess I'm wondering what the best way of doing this really might be. I oviously don't want to pay a structural engineer at this brainstorming stage because I'm really after a generalized solution so that I can begin to think about how to work intelligently with acoustic concerns within that approach.

The lite-deck product looks interesting. I noticed that they mention form depths of 16" for spans of 30 to 50 feet. Wow. Much deeper than I had guessed. One advantage of that product is the steel studs integrated into the form so maybe a separate wood framed ceiling underneath would be required... but then it sound like there would be deeper beams interrupting a flat ceiling.

I'm thinking I need to find the code that defines sectional strength required for various residential loads... The code structural engineers use to size structures. Then I could just do the sizing directly and compare solutions using various materials. When the time comes an engineer licensed for this application would of course have to sign off.

Our theater is below the garage. Its precast concrete slabs with the cables inside them and they have hollow tubes as well. Lifted in with a crane. I know of a few commercial properties in my area that have the same thing done. The slabs in my application are slanted slightly and arced. The slant is for drainage and the arc i believe is for holding the vehicles. Concrete was poured on top of the precast for the garage floor above. i'm just doing a suspended ceiling below. its a 31' expanse across but the slabs are only a couple feet wide maybe.
Here's a couple pictures: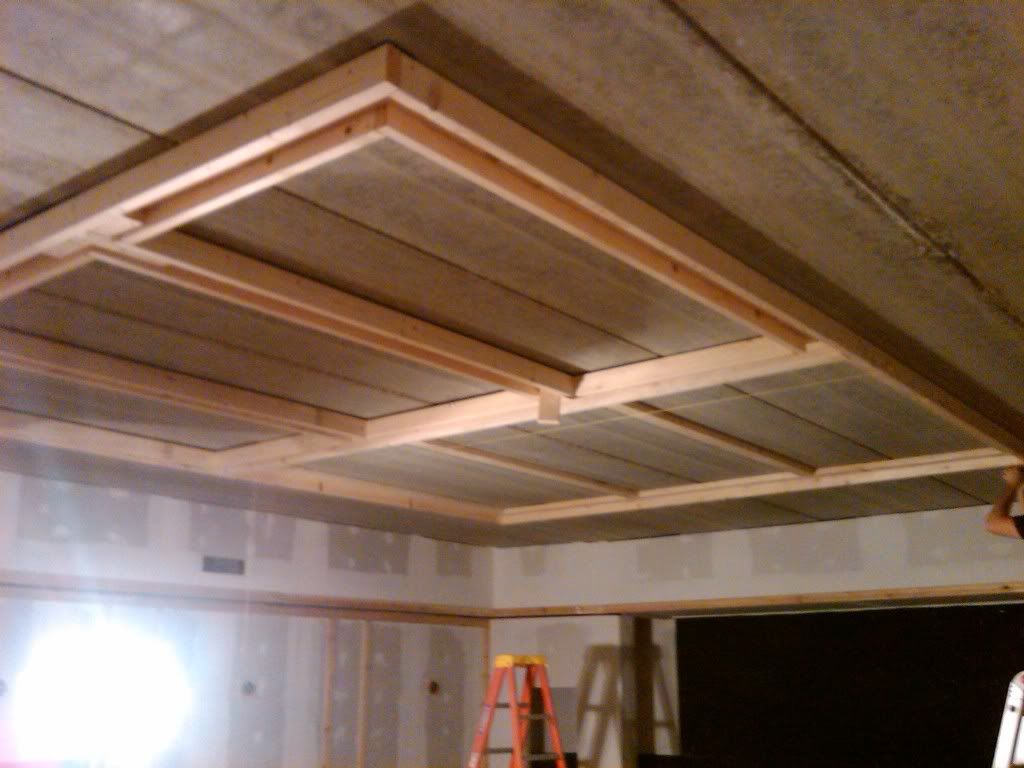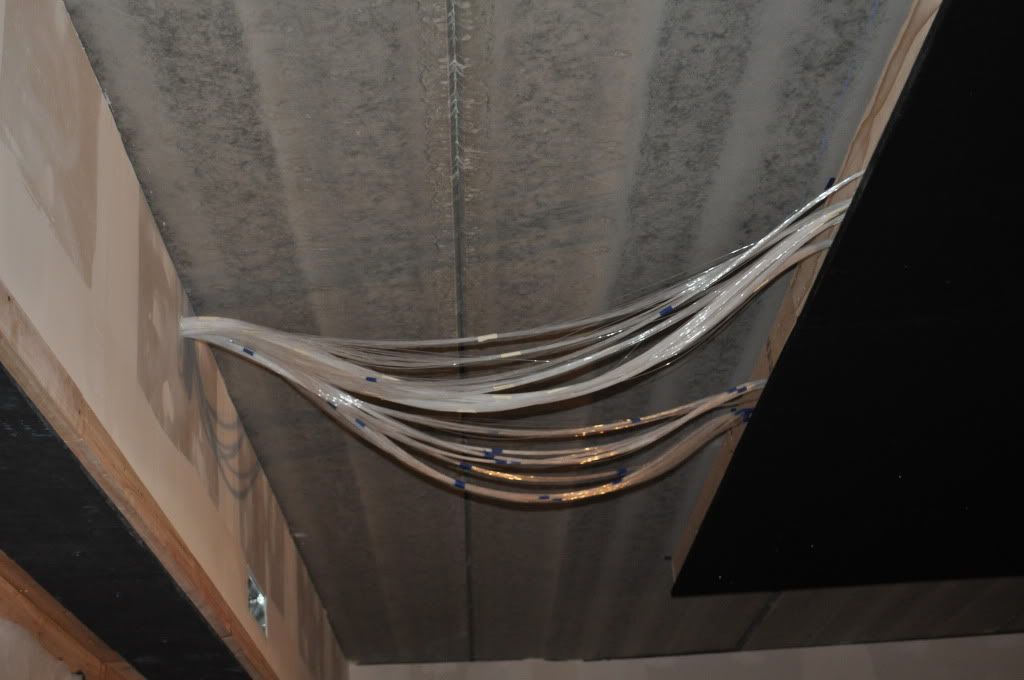 I could get some of the adjoining room without the clutter later if you would like to see.
Really cool, thanks. 31' eh? Clear span or are there any support columns? Do you know the precast and total thicknesses?

Its a clear span, no support columns. There are two steel colums going through but these are to support the roof two floors up. They are hollow core prestressed slabs. I can't remember off the top of my head but based off memory from when they layed them down I believe they were 12-20 inches in thickness. I could pull out the plans and find out the exact number.

Thanks. It would be cool to know the depth required for your 31' span but there is no hurry of course. I have a couple of years
I'm beginning to have two simultaneous thoughts as I learn more about the possibilities here. One is that since the required slab/form depth is several times greater than I had imagined I'm not sure I would want to add the additional depth of a second isolated wood framed ceiling beneath the slab. The second is that if I did have a separate wood framed theater ceiling it would either be so flexible as to raise concerns about drywall cracking and resonance problems, or more likely (or in addition) be at least as deep as the slab above due to code requirements (ie I don't know if code will allow sizing for essentially zero load even if that's what it would actually see - minimum is probably ceiling joist with no rooms above supported which still has additional loading capability required).
So both thoughts converge on wood framing/furring for attaching drywall (with clips, dd/gg, whatever) attached directly to either the slab or the form for the slab. Perhaps then the decision to investigate something like the lite-deck eps product vs an on-site wood-framed form that serves double duty as concrete form and framing for drywall ceiling below.
Oh yeah, and those options vs prestressed sections like you used.
I believe that is 16" at the formed beams. So yes, overall thickness will be 16" if you are planning a flat ceiling below.. but you aren't pouring a 16" slab.
One common brand of the prestressed planks is spancrete. They're nice. but as mentioned they have an upward bend in them.

From what I've seen in the past you will need a minimum 6" concrete pour on top, which when you get to the center will only be 2 or 3 inches thick due to the arc in the planks.

You also have the additional cost of the crane, but you do have some cost savings in not having to purchase rebar.

One of my biggest regrets when having our home custom built was not going with poured concrete on my 2nd and 3rd floors. My neighbor spent an extra 20k for poured concrete floors here in Florida and there is a huge difference especially factoring in wood and marble floors.

Thanks for all of the responses guys. Plenty of material to guide my learning.

The spancrete looks nice but I wonder how difficult it will be to attach drywall ceiling below given the curve?

Which brings me to something like the lite-deck. This looks ideal from a soundproofing viewpoint as the concrete beams and slab appear to be largely decoupled from the steel studs which support ceiling below by way of the eps form itself. Stc rating is pretty good already and I bet low frequency performance is even better than those stc numbers would suggest. With a little effort, like dd/gg below, I think this would be comparable to a room in room implementation of traditional framed floor and ceiling, especially for low frequencies.

Big concer however... say I wanted the lite-deck to support more than just drywall below. Say I wanted a tray or coffered ceiling or both or some other cinstruction that required significant framing below. And then dd/gg on that framing. I'm worried about how much suspended weight this system can support given that the steel studs appear to only be captured in the eps without direct ties to the concrete (good for soundproofing) and the eps is only captured by the concrete bed in the lower couple if inches of each beam by captive geometry.

See my concern? I don't see supported weight mentioned anywhere on their site.

The pullout strength has been tested, they mention it in the manual:

"The maximum ceiling load attached to steel C-channels inserted into the base sections shall be based on Steel Channel Withdrawal Test, submitted as part of this Technical Evaluation. See Ceiling Load Test (Channel Withdrawal) RADCO Test Report No. RAD-3862"

You would need to call them to get a copy. They would also probably tell you over the phone if you ask for technical support.

Quote:
Originally Posted by
davidabradsky
Its a clear span, no support columns. There are two steel colums going through but these are to support the roof two floors up. They are hollow core prestressed slabs. I can't remember off the top of my head but based off memory from when they layed them down I believe they were 12-20 inches in thickness. I could pull out the plans and find out the exact number.
Where abouts are you? Around here you need to spray foam the underside of the core slabs or else you can get condensation from the garage. But if your further south and it doesn't get that cold perhaps it's not an issue.
My three car garage (25' x 35') is a pre-stressed slab floor, and the underside is not sprayed. No condensation in the shop.