Hey Peter, Awesome build for sure! I totally missed this, but I have subscribed and can't wait to see the finished room.

What speakers have you decided on?

Love those pictures Peter. Fantastic progress.

Hi Dave,
Thanks for dropping by ! My final speaker choice, after much procrastination, was Procella ... 3 x P610 for LCR, 6 x P6 for surrounds, 2 x P15 for main subs and 3 x P10Si for balancing subs.
I haven't seen much of your trials and tribulations lately ... how you doin' at sorting out your problems ?
Cheers,
Hi Greg,
Thanks ! Very happy with the progress ... carpentry should be finished in the next couple of days, so the painter will be in there before the end of the week. Then it's up to me to get started on the equipment, screen and wall panels ... that'll slow things down !!!
Cheers,
This weekend's update ... not painting yet ... when will I learn to keep my forecasts to myself !!
Two out of three doors are in for the equipment room / storage ... columns are finished ... steps for riser are done ... speaker cutouts in baffle wall finished. The guys needed to strip part of the screen wall to get in for the sub cutouts, which shows even the pros don't always get it right !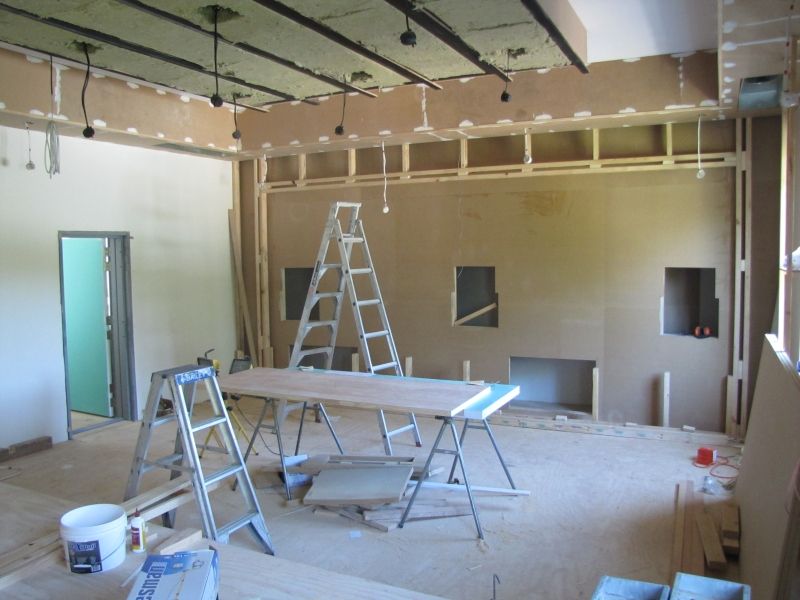 And here's a broad butt hinge ...
Cheers,
Either that room is shrinking or you're filling it up with lots of nice carpentry. Looking real nice Peter. Everything is looking really tidy. Great to see the progress continuing. BTW my fabric arrived. RIM were awesome and Katherine is expecting your call shortly
.
Need to catch up soon. Fabric will be about three weeks away for me as I have a lot of work on right now. I need to have my stands done before then! Wish I had your team of builders. Chat soon mate.
Painting has started ...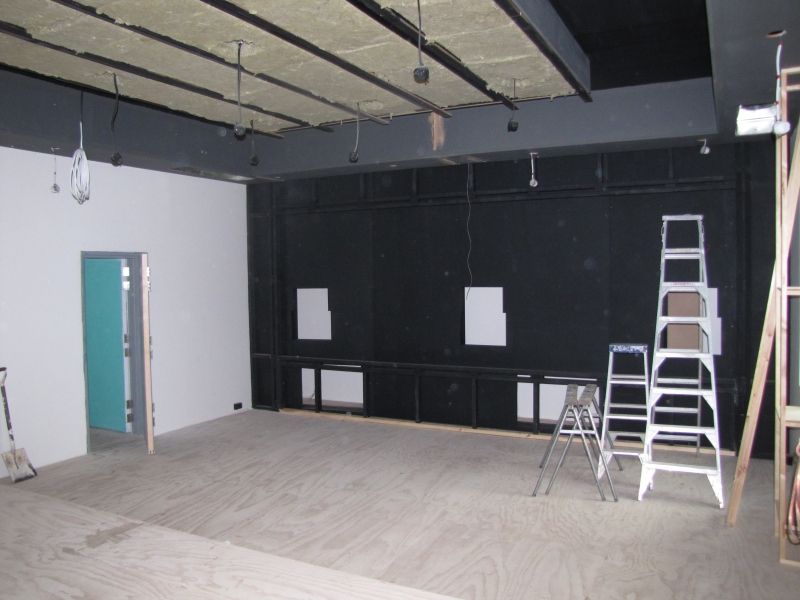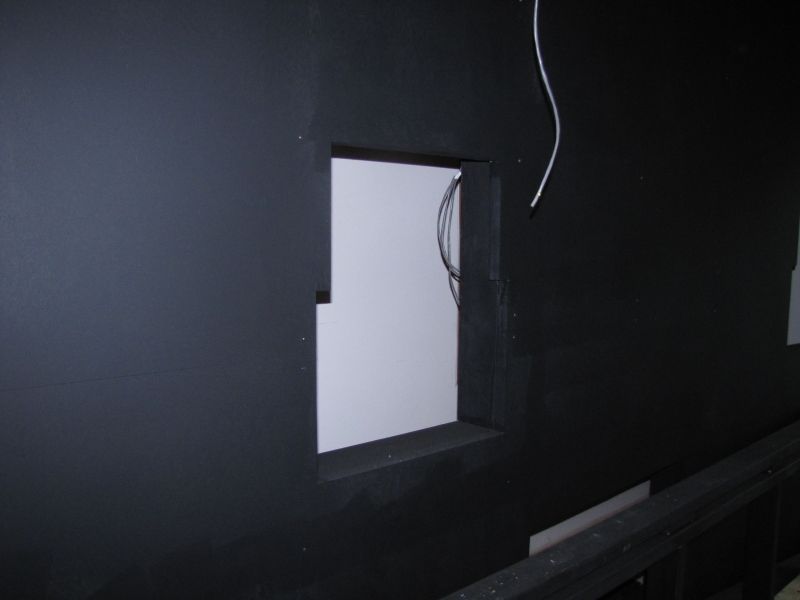 A few shots of the double doors ...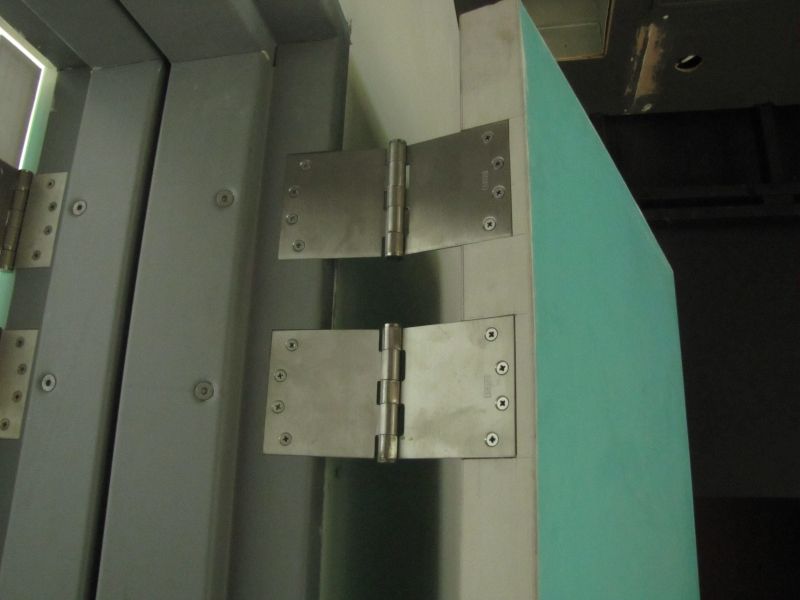 I haven't posted photos of the rest of the house in ages, so here's a few random shots ...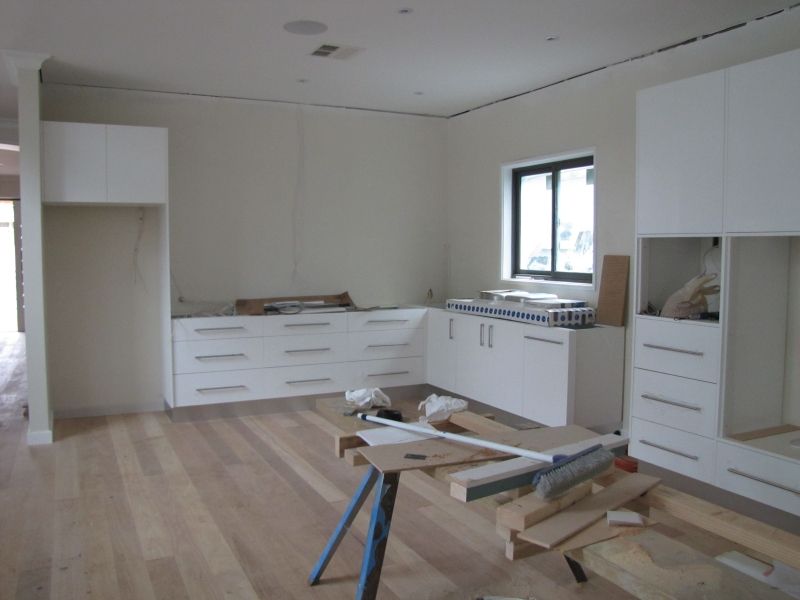 My favourite bird sitting on our new back fence ...
Cheers,
Holy ****, you building a panic room? ; )

Love the deck & rest of house - looks amazing - even the Kook looks impressed : )

Hey Pete..... Nice steps!
Looking great mate. Room is looking very large still. I must be due for a visit soon to check on the progress.
Chat soon
Greg

Great progress pics Pete, painting stage (wow). A lovely Australian Native Bird too
Close The Blast Doors, Close The Blast Doors!
Blade
Awesome progress. That deck is more impressive then the flooring in my kitchen. Great to see really cool builds like these. The width of that stage is so big it reminds me of my school hall. Can't wait to see more.

Just curious but is that stone on the back patio? Will it be slippery when wet or no?

No it's not stone. We were originally going with slate, but the finish available just wasn't good enough and the surface would have been up and down all over the place. The tiles are porcelain from Amber in a greeny grey colour and the pattern is different on every tile so it looks like a natural product. The surface is quite rough, and it's recommended for outdoor use so we don't expect it to be too slippery. The photo makes it look much shinier than it really is ... yet another rainy day in Sydney !!!
Cheers,
Not a lot of progress this week, but at least all the slats are in for the ceiling baffle ...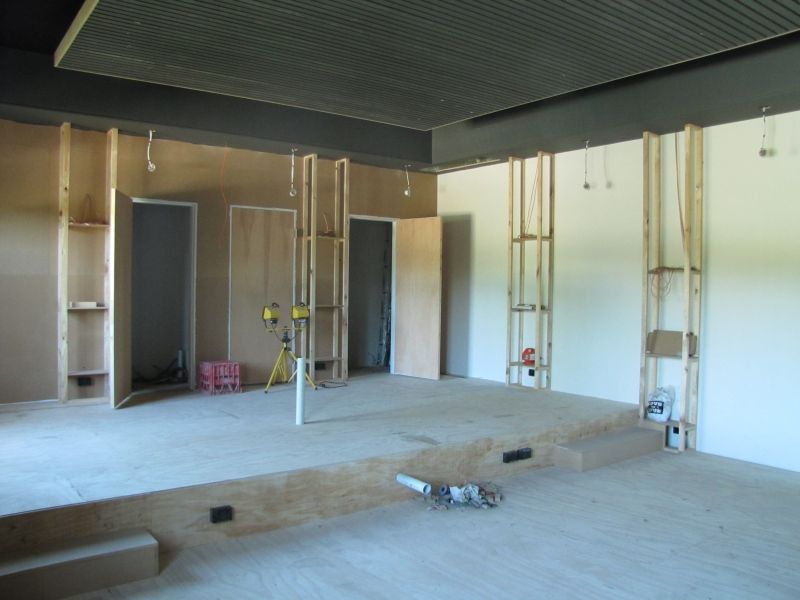 Another coat or two still required.
Cheers,
Mate, its looking amazing. Cant wait to see it finished. Just posted some more pics over on my thread to keep you keen ; )

Well ... after 6 straight days of 6am to midnight we're finally in the new house !!
Where's the 'I'm exhausted' emoticon ?
A lot of progress on the theatre too ... painting finished, racks in, carpet down, chairs installed ... and a big pile of Procella goodness in the garage.
Photos over the weekend ... I promise !!
Cheers,
Awesome....I really need a visit to sydney. LOL

Congratulations on moving in mate. Get some well earned rest.

Look forward to the latest pictures.

Blade

Congrats to you and the family. A new home is something pretty awesome and yours is an amazing place. Looking forward to seeing those photos Peter. Even more interested so that I can check out 'the room'. You must be buggered!

Thanks guys !
Another couple of hard days over the weekend, but with Sonos through the house it was pure pleasure !!
A few photos ...
Carpet, chairs and racks ...
Rope light (still needs some fiddling to even it out) ...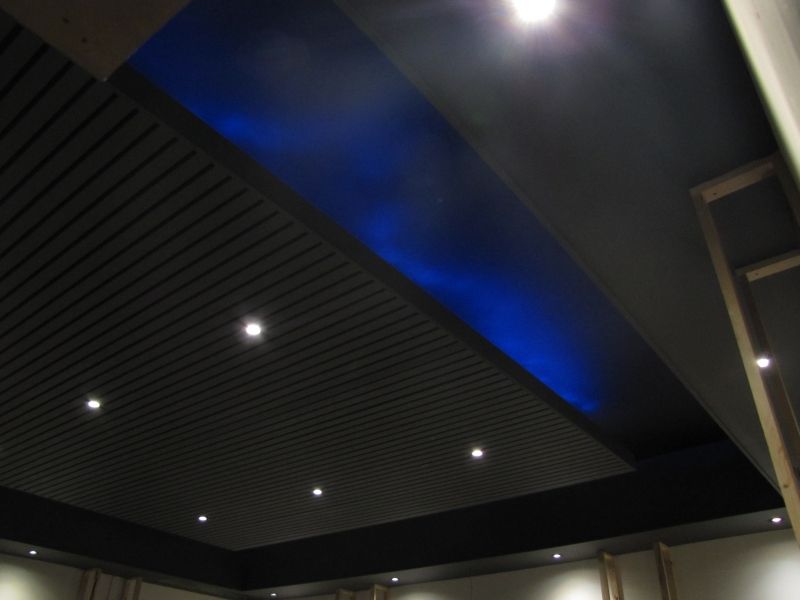 Perfsorber and fibreglass waiting to be made into panels ...
A big pile of Procella goodness ...
Cheers,
Peter are those racks staying in the room or no?

Hi David,
No, the photo's not very clear, but there are doors swung open each side of the racks and they push back through those into the equipment room behind. Having the racks on rails gives me plenty of room to work behind them, but keeps the equipment room depth to a minimum. The third door on the right is where the all important beer fridge is stowed.
I need to get a lot more photos to show it all properly.
Cheers,
Surprised there isn't a full magazine story on this HT. Amazing as usual. Jealous

I reckon there is about 1 hours work per frame. Regardless of size.

1. Cut the timber
2. Glue/clamp (screw, clamps, nails whatever)
3. Paint? going to paint them black? I would. Get yourself a boat load of spray cans
4. Do acoustic insert to size
5. Cover in fabric
6. Attach wall hanging method

x by how many frames?

Greg, sit back and see how long it takes him to get a mild case of wonthangprojectoritis