I have been following this forum off and on for many years now. I remember following Chinadog's years ago as he started out. Now he is building a second theater, and I get to follow that one too. I was off of the site for about a year after I built my last theater / family room and now have a new account because I could not remember my info. So once again I am following all of the great threads here and cannot wait to get started on my new theater. I wish I had the budget as some of the people on here, so many of you have great theaters. I did not create a thread with my last theater, but have decided to start one for this theater, as I have many questions and thought it would be great to look over the journey when I am complete, if you ever actually get to the end. I will post a diagram of my layout so you can see what I am working with. Again I am on a smaller budget than most on this site but I think the end result will be to my liking and be an improvement to my last theater. I hope to start framing in the next couple of weeks, but I know how long my last theater took, and that was before kids, so this is going to take forever, but if I don't get started then it will never be complete. Comments are welcome and hopefully I get a few followers. Thanks

Craig,

lets see if this works, this is a picture of the layout of my basement:
The picture is not showing up in your post. I have to copy and paste your url to see the picture.

Ahh. BigMouthinDC posted it.

Thanks Big, what did I do wrong?


And sorry for the size!

we like them big, I'm not sure what you did wrong, I tried inserting the original link with the [img]fdfdf[/img[ and got the same result you did. Then I tried the bigger view and took the address and pasted it in a post and it worked.

thanks again Big!



I definitely do not have all of the details worked out yet, but I was thinking of going with an acoustical transparent (AT) screen. I am doing more research on that on the forum. Because of the shortened wall up front (being only 10ft wide) I did not think that I would have room for speakers on the side of the screen.

In my last theater I had a wider front wall and used a Carada fixed screen and was really happy with it. Then just put the speakers on the side of the screen. I also used a 16:9 screen in that theater and this time I was looking at the Seymour 2:35:1 screens with masking panels. I wanted a little bit bigger screen so that is why I am looking into the AT screens.

I have not gotten a whole lot done, but i have started the framing of the basement, here are a few pictures if they work.
I didn't see your original post with the floorplan, but you've dedicated a lot of space to book/movie shelves. That and the hallway to it would give lots of valuable space to the theater. It seems you could build shelves on any open wall and reclaim that space for the theater.

That additional space would allow you a wider screen.

Edit - I didn't notice before that the stairway came down in that room. I thought the bottom of the stairs was where the equipment rack is.

yeah i wanted a room in between the stairs and the theater to help with sound. That is also a reading room for the wife.

I showed my wife the star cielings and now she is hooked. Not really sure which one to go with, does anyone have any expierience with these. Are there ones that work better or easier to install? Thanks, these are the ones I have been looking at.
http://www.starceiling123.com/index....-products.html
http://www.wiedamark.com/288ledstarceiling.aspx
I used the star ceiling from Fiber Optic Systems (FOSI). FOSI is a bit more expensive, but the price begins to make sense if you are doing a large ceiling. My ceiling has about 1000 stars so I would have needed 3 or 4 of the illuminators like the one from Wiedamark. I would have also needed to come up with a separate solution for shooting stars.
The FOSI system handles shooting stars / comets etc. My ceiling has 3 shooting stars. One big advantage of the FOSI system is that you use all one size of fibers. The illuminator has 2 sections to place fibers one bright section for the constellation stars and another dimmer section for the milky way stars. Within each section there is a filter system which looks like a bunch of filter chips of varying thickness that further dims the stars. There is a wide variation in the star brightness / sizes and you do not have to worry about dealing with various fiber sizes.
I didn't think the single fiber size was a big deal, but now having done one I think it was a hard enough project without having to deal with different fibers also.
FOSI also has great support and has done many professional large scale installs so they really seem to know what they are doing. I am very pleased with how my ceiling turned out and it was worth the cost and effort involved. I had a few setbacks when building mine that hopefully others can learn from. I have lots of details of my ceiling in my thread.
One additional thing - The kits you showed have fiber pre-cut. With the FOSI system you use fiber on reels so you can cut them to the length you need. It would seem that the pre-cut ones would limit you on where you could place your illuminator. It would also waste fiber for the stars that are close to the illuminator. Of course if you use multiple illuminators this might not be as big of a deal.
Here is a shot of the ceiling if you have not seen it. The pictures do not do it justice. In person the twinkling effects and shooting stars bring it to life.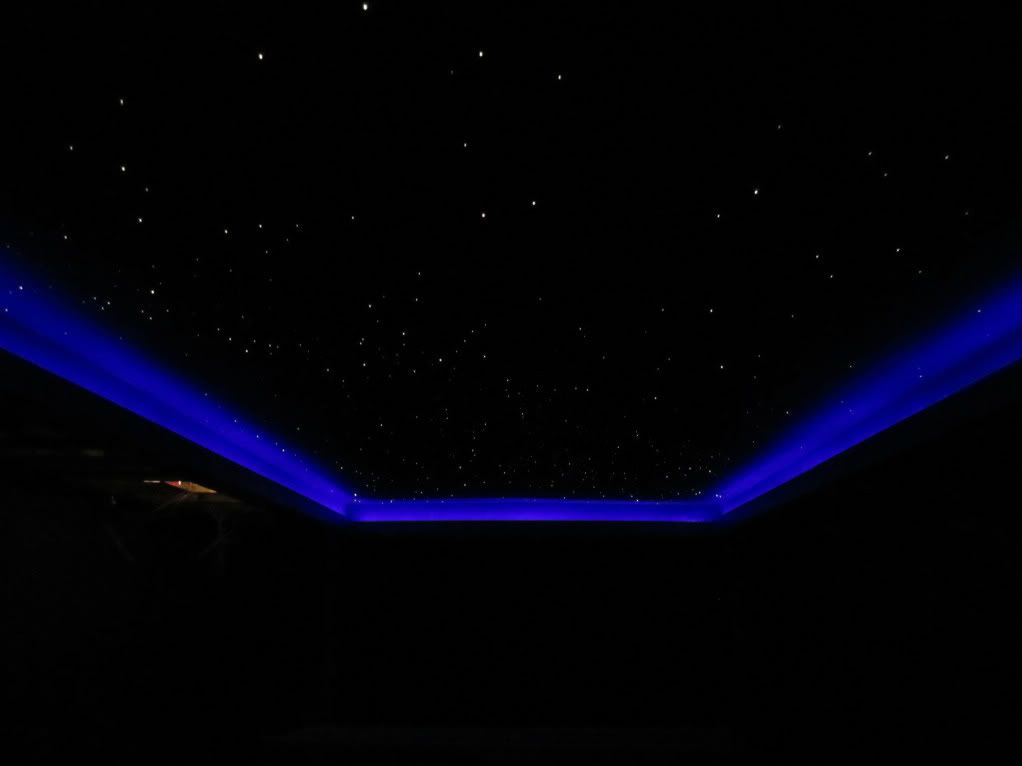 The ceiling looks good, but it looks like a lot of work. I was also looking at their pre-made star panels they sell. To do a smaller section say, 4' by 8'. I was also wondering if I can just run the wires myself and use a drop down ceiling, instead of using the MDF. All stuff I need to look into.

Did some more framing over the weekend, the first picture is the family room behind the theater area, the second picture in a picture from the back of the theater area to the screen wall.
This picture looks a little deceiving, it is about 28 feet to the screen wall.
We also finally picked up some lighting for the theater, i will post picture soon.
Picked up some lights for the theater, and ordered some speaker cable from monoprice to run in the wall. Now time to get down there and do some more framing.
and the lights
Is that light for inside the theater or outside?
Please don't take this wrong but I don't like it. It looks too "outdoor-ish".
If you are planing to put that inside the theater, think twice unless you are really into it.
Other than that, framing look good.
Yeah that is for inside the theater, that is the look I am going for, like you are outside watching a movie.

Wow, i have not posted anything in awhile, Well the framing is almost complete, the insulation is done and I am a few weeks away from the drywall.

Here are some pictures of the slow progress:
I was wondering if anyone has used the Astrolite direct mount Star Ceiling Panels from
http://intersourceco.com/id121.html
Or if anyone has used the drop in panels from
http://www.starceiling123.com/index.php?/vmchk/Star-Ceiling-Panels/View-all-products.html
Thank you in advance.
Just wanted to bump my question above, If no one has used these tiles, what is everyone using, I like these tiles because they are already pre-installed with the fiber cables. That will save me time running them myself. But maybe I am just being lazy.

I played with screen placement over the weekend, I will actually be building a false wall in front of this wall, but I just wanted to see what the screen will look like.
Then I got the rest of my speakers in finally, they had to be shipped freight
Then I had to play with speaker placement before I build the false wall, I love the look of Klipsch speakers, kind of sad I am hiding them, haha
I built my screen wall this weekend, and did a little bit of electrical work. I really thought i would be dry walling by now, but I decided to go with a star painted ceiling so now I have to build a soffit to hold some black lights. It is a set back but well worth it. I also have to build a small riser behind the screen wall so my speakers won't be blocked by the wood. As soon as I think I am getting somewhere I need to build something else. haha Good times.
Nice progress. What kind of insulation is that in the walls? How big is your screen going to be?

Cool! How far out is your screen wall? How would you get back behind it? I'm still debating if I should incorporate one into my design
It is spray foam, then shaved to 2x4's, the screen will be 103", the first row will be about 10 feet back, so i think it will be a good size
Quote:
Cool! How far out is your screen wall? How would you get back behind it? I'm still debating if I should incorporate one into my design
It is 30in out from the wall. To get back there I will have to take down the screen, the screen is a seymour fixed frame screen.I really shouldn't have to get back there very often, and if I do the screen should come right down.
Cool. Thanks
I framed the soffit this weekend, and finished up runing electrical. I also picked up my wine cellar door that I had made. Here is a pic:
That door is AWESOME