Newbie
Join Date: Jul 2011
Posts: 14
Mentioned: 0 Post(s)
Tagged: 0 Thread(s)
Quoted: 0 Post(s)
Liked: 10
Where do I start? Is the title clever enough? I'll start by saying thank you to everyone on this forum and the never-ending stream of information. I've spent hours reading these forums, looking at pictures, trying to find examples with dimensions of the room I am building and see some great ideas and some hard working folks here that seem to suffer for their ht.
I'll get right to it. I'm building a home. The process started slower than I wanted, but now it seems that I'm 2 months away from drywall and well, I am starting to panic. I've thought about what I want in a HT, but I don't know if I have the space and I would love some ideas as well as will keep everyone posted with how the process goes.
I am thinking about the pro design service, but I want to make sure they can help me with a room that will hopefully be a semi-dedicated ht, but with somehow managing to cram in some room for a work station.
The room is going to be 17'4" x 16' give or take a few inches (as the 16' is block to block currently). There will be 10" ceilings.
The design of the room and area around it is attached. There will be nothing above the room or the dining room next to it. The second floor should not be an issue.
My wish list:
Projector
AT Screen w / stage
seating for 6 - 7
Room for a work station (idea I really like for a workstation attached)
I watch movies and listen to a lot of music. I'd like to do all this - whenever I want...
Very little gaming, but this could change in the future.
My current equipment is:
Rotel 1067 receiver (probably need to replace)
B&W 683's
B&W HTM62 center
Paradigm Monitor ADP 390's (rear)
Paradigm Studio Sub 12
DVD Player
Apple TV
(this layout dimensions are obviously not final inside dimensions of my room. those will be as I mentioned above).
So I'll start with my current questions:
I'd like my screen to be on the wall with the windows. I am ok with figuring out a way to black these out, but the windows must stay. Is this just crazy? The windows are 27"x27" with 101.75" between them and they start at 69.5" from the concrete.
I'd like that desk I mentioned somewhere?
Am I dreaming to think I could somehow get all this in one room?
Should I rethink my layout?
Room size cannot change. Next I need to get into wiring - but I guess that is for another forum!
I'll start with this and see if I can any bites. Thank you for your time and any potential feedback.
HOME THEATER CONTRACTOR
Join Date: Jan 2003
Location: Northern VA
Posts: 27,700
Mentioned: 238 Post(s)
Tagged: 4 Thread(s)
Quoted: 3648 Post(s)
Liked: 3099
You've picked the wrong wall, rotate your thinking 180 degrees.
Put the workstation on the wall to the left of the double doors as you enter. Then just draw an imaginary line diving the room into a 13 x 17'4" theater and office area 5'4" x whatever. That will make building a riser for the second row possible, start just to the side of the closet door. Think about eliminating the closet door and make that a built in equipment rack.


Design a theater for that space.
HOME THEATER CONTRACTOR
Join Date: Jan 2003
Location: Northern VA
Posts: 27,700
Mentioned: 238 Post(s)
Tagged: 4 Thread(s)
Quoted: 3648 Post(s)
Liked: 3099
How would you feel about closing off that door to the pool bath? is there another close to this room?
Newbie
Join Date: Jul 2011
Posts: 14
Mentioned: 0 Post(s)
Tagged: 0 Thread(s)
Quoted: 0 Post(s)
Liked: 10
I don't think that my wife would love it as the closest restroom will be on other side of house. I can certainly ask although I was sort of looking at that as my "dedicated escape room". Ha ha. What do you see as the biggest reason to do that?
I knew that someone would hit me back with turning 180. It does make sense. I just wasn't sure if the doors on left and right would annoy me when watching tv.
Btw doors on the right will not be double doors. It will be a single door. Figured that may make more sense sound proofing wise.
Also closet would be my equipment closet. Although I'm not sure if it will be my networking location for house.
Anyone want to throw out a good screen size to start thinking about?
Also would this layout change guarantee room for two rows?
HOME THEATER CONTRACTOR
Join Date: Jan 2003
Location: Northern VA
Posts: 27,700
Mentioned: 238 Post(s)
Tagged: 4 Thread(s)
Quoted: 3648 Post(s)
Liked: 3099
Mount the screen on the wall, I would use a 110-120 inch wide 2.35 format screen and position the seats backs at 11 and 17 ft from the screen, Rear row will not have room to fully recline but you won't be using that row except when you have guests over.
AVS Forum Special Member
Join Date: May 2001
Posts: 6,527
Mentioned: 48 Post(s)
Tagged: 0 Thread(s)
Quoted: 1054 Post(s)
Liked: 404
It's a rough idea but your desk could be in the rear closet area by doing a second row like the Fadum' Theater's third row (which is use as a office desk). Your desk area could use the recessed closet space with av gear in Middle Atlantic rack cubes above (and maybe the projector in a built in hushbox). The seating could be plush swivel seating like the Fadum Theater's or higher end office chairs.
The room's 17' 4" depth is going to be the challenge here. I doubt you have the depth to do an AT screen unless you go with in-wall speakers up front with a minimal 6" deep AT space.
Newbie
Join Date: Jul 2011
Posts: 14
Mentioned: 0 Post(s)
Tagged: 0 Thread(s)
Quoted: 0 Post(s)
Liked: 10
Ok. Here is a new sketch. Trying to use google sketch up so apologize for the odd dimensions - but there is a little bit of a learning curve.
The seating in here is not big enough - but thoughts on how this could work out?
workstation / desk is on right side.
ht1.pdf

54.009765625k . file
Newbie
Join Date: Jul 2011
Posts: 14
Mentioned: 0 Post(s)
Tagged: 0 Thread(s)
Quoted: 0 Post(s)
Liked: 10
Well four months into this and two months from completion I think it's time to try and get some help on where things are. We are ahead of schedule on the rest of the house. Planning on moving in June. But behind schedule on HT. I am so hesitant on making decisions on the next steps I am actually contemplating just waiting to finish this, but my wife (and builder) would shoot me. They both have been extremely patient. I have someone helping on the equipment and wiring but they are not providing any advice on the build itself so I feel kinda out on my own, but with my limited budget I couldn't bring in anyone.
I already know that "next time" I'd plan out the ht first with the architect, and not as an after thought as it seems to have been. I just did not know enough about basics like decent room dimensions before the plans were set. I figured I'll have a dedicated room for my HT and that was all I needed. In retrospect, I would have changed the room dimensions from the get go. But I did not, so here I am with an almost square room (16 x 17) and trying to do what I can with my 6% of the house that I'll spend 50% of my time in, that gets 2% of my budget!
So next came sound proofing. I know you can't sort of soundproof a room, but I couldn't build a 3" cavity around my entire room. 3 walls are exterior / block, 1 wall is interior with staggered stud, and nothing is above me or even close to being above me. So in an attempt to try and focus on the important stuff I did dd / gg on all walls and ceiling. We did channels on ceiling and on staggered stud wall. The DD/GG went on the furring strips on the block walls.
So I sit here now with that. No soffits yet, trying to determine do I want to follow through with the plans for a riser, 2nd row, 96" screen (16:9), etc.
I figured I'd post some pictures of my current set up as well as somewhat current design plans and open up the forum to abuse and disgust for where I am and concerns for anything I am missing.
I tried to outline a 96" screen on the wall. I still have the b&w's planning on being in here for now. Was planning on a epson 9700 w/ stuart screen. Deciding between an anthem and marantz amp.
I have two equipment towers on either side of my desk. One is to control the great room entertainment system, the other for the HT.
Currently second row is on back wall at around 15.5' to screen, first row is around 7.5' to screen.
I guess I'll leave it at that and ask - what would you do here?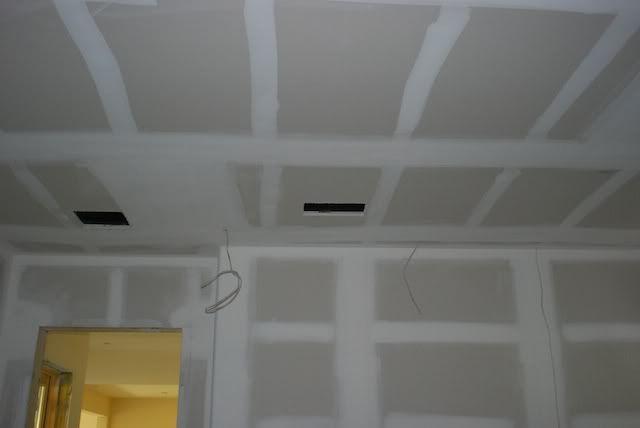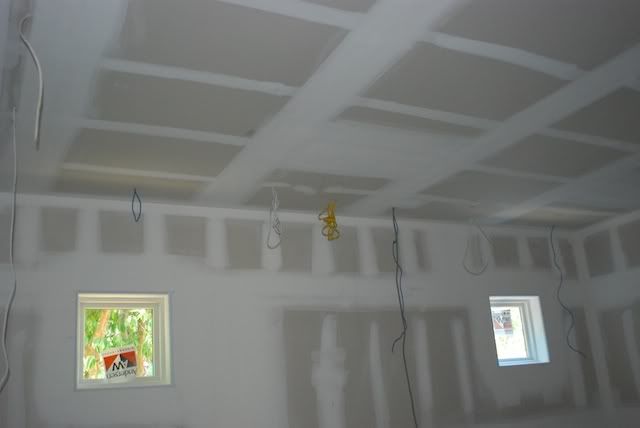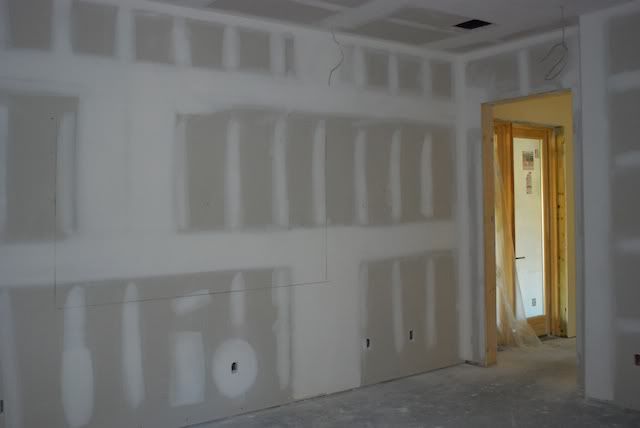 Posting Rules

You may not post new threads

You may not post replies

You may not post attachments

You may not edit your posts

---

HTML code is Off

---