| | |
| --- | --- |
| snickers1 | 04-22-2012 06:09 PM |
---
Bar area:
I finally started, i ordered the wood and found proofing materials a couple weeks ago.

It will be a open concept theater similar to MR.Bigs, I would like to just have a dedicated room but my basement layout would just not allow for that or least not allow for it in way i would be happy with. So there will be added expence with sound proofing, the walls in the theater area will be two inches off the foundation wall and decoupled, the ceiling in the bar area and the theater area will be done as follows also will be doing two layers of 5/8 drywall and GG between each joist, this will hopeful eliminate foot fall noise from upstairs and all keep the sound of the booming theater from traveling upstairs.... hopefully




i did this drawing in Visio a while ago so some has changed with my plans
mainly the bar area has changed i will be a a doing L-Shaped bar the will also have the equipment rack next to it...more to come on that.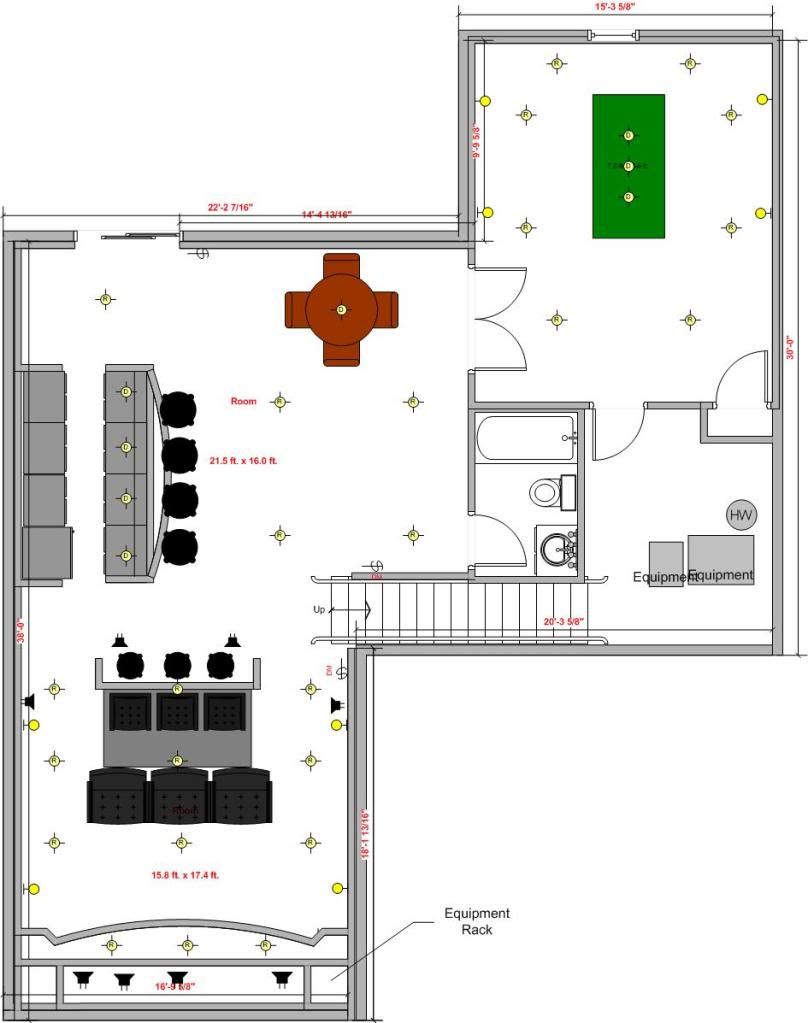 pics of the basement before the fun began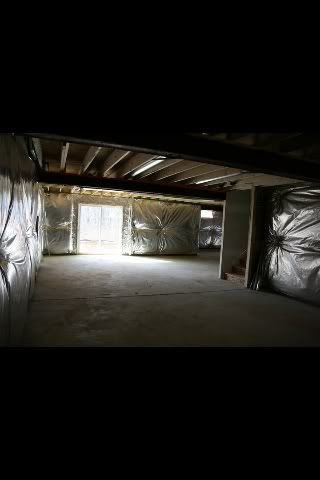 [


[
| | |
| --- | --- |
| snickers1 | 04-22-2012 06:17 PM |
---
The sound proofing supplies and wood arrived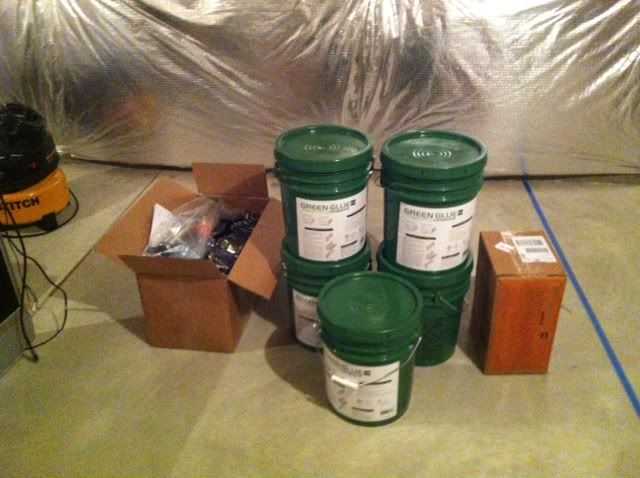 3 hours to carry all that wood from the drive way to the basement by myself was not fun
| | |
| --- | --- |
| snickers1 | 04-22-2012 06:21 PM |
---
And the framing has begun, all of this is being done me and only me , this is my first basement build so i have asked lots of ?'s.. so first off i would like to thank you to Mr. Big for visiting a couple months and going over my plan and pointing me in the right direction.
this will be the theater area
here will be the bar area don't mind the pug
here i still have a lot of framing to do, have to finish the game room and the bathroom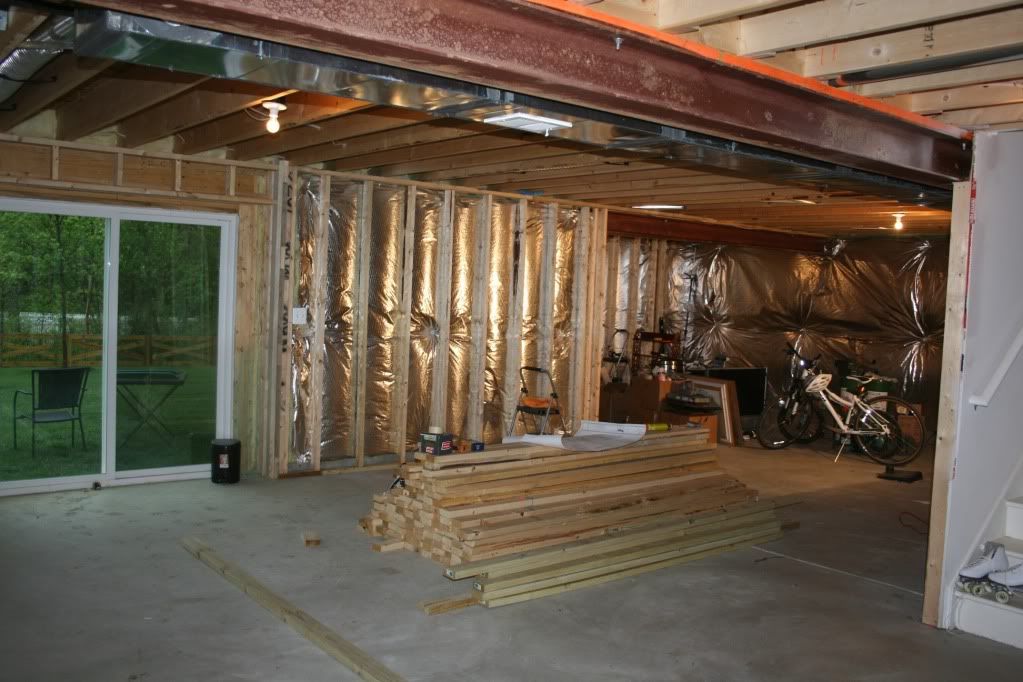 | | |
| --- | --- |
| BIGmouthinDC | 04-23-2012 05:34 AM |
---
Off to a good start. Keep the pictures coming. I forgot what your plans are for the walls. I know clips and channel on the ceiling.
| | |
| --- | --- |
| snickers1 | 04-23-2012 06:48 AM |
---
will keep the pics coming next weekend hoping to finish the game room and the bathroom framing, then sill start the electrical the main electrical panel is in the front part of the garage so i will be adding a subpanel for the basement much easier to run one main cable instead of several new cables all the way to the main panel, also need to move some plumbing pipes around in the bar area and the list is growing.... correction will be doing the drywall under the sub floors first then electrical...
we mainly have hardwood above the basement so the 2 extra layers of drywall should do the trick
| | |
| --- | --- |
| BIGmouthinDC | 04-23-2012 01:17 PM |
---
What have you finally decided on the wall construction soundproofing design?
| | |
| --- | --- |
| snickers1 | 04-23-2012 01:19 PM |
---
when i spoke to Ted he suggested that since they are up against foundation walls and two inches off that they will be ok?.... they will also have two layers of the 5/8 with green glue
| | |
| --- | --- |
| snickers1 | 04-28-2012 03:02 PM |
---
made some more progress today got most of the framing done,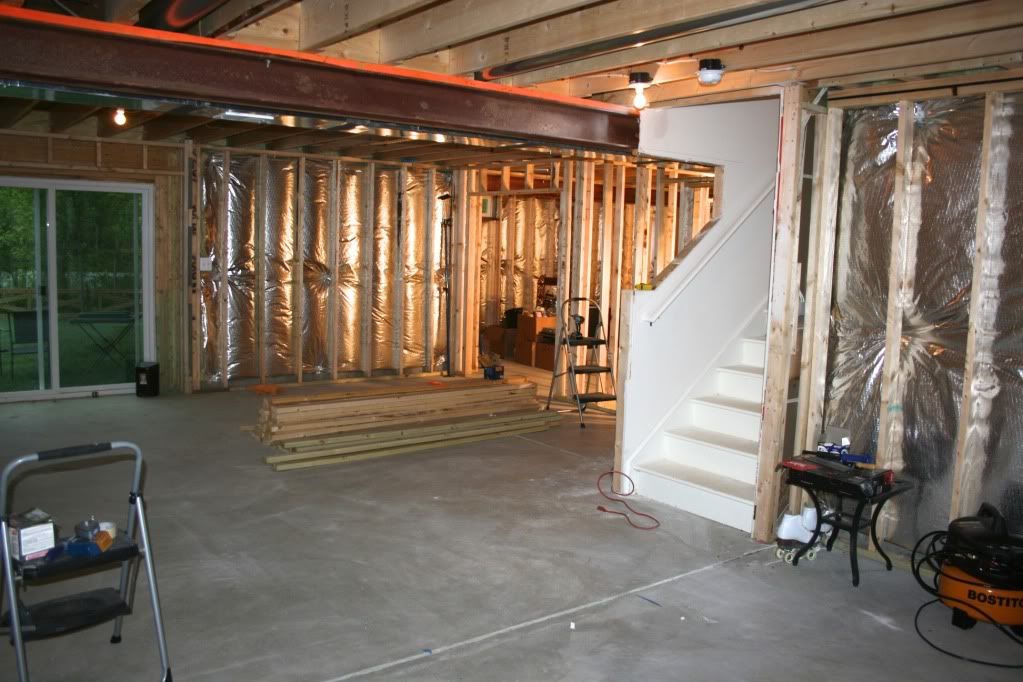 cut out part of the in the stair well to open up some, not exactly great for sound isolation but have to make some comprises for esthetics.
looking from the bar area to the bathroom and game room
the builder did not make finish the basement easy could not frame the back wall of the bathroom because i will have to move the shower drain and maybe the sink drain... so looking forward to cutting up the concrete.
the lumber pile is getting smaller and smaller
the bar area tomorrow will be relocating the water supply lines that the builder roughed in for the wet bar.
| | |
| --- | --- |
| BIGmouthinDC | 04-28-2012 07:43 PM |
---
I see a lot of good progress.
| | |
| --- | --- |
| snickers1 | 04-29-2012 02:23 PM |
---
got the bar framed today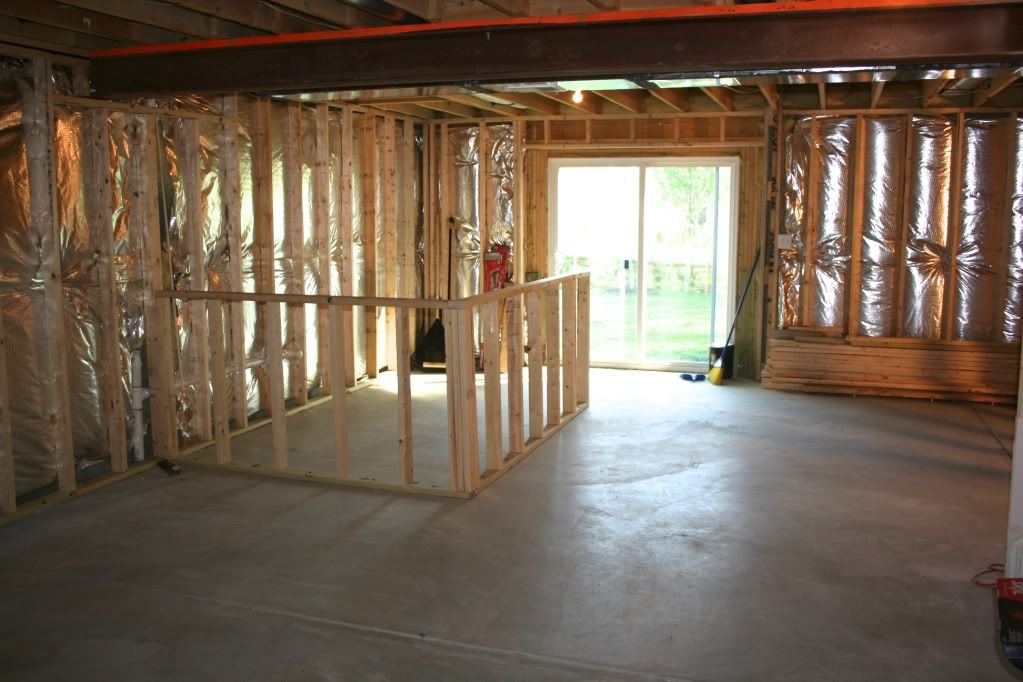 Another view of the bar from the game room
framed around the steal beam in the game room
ran the drain pipe for the sink still need to move over the water pipes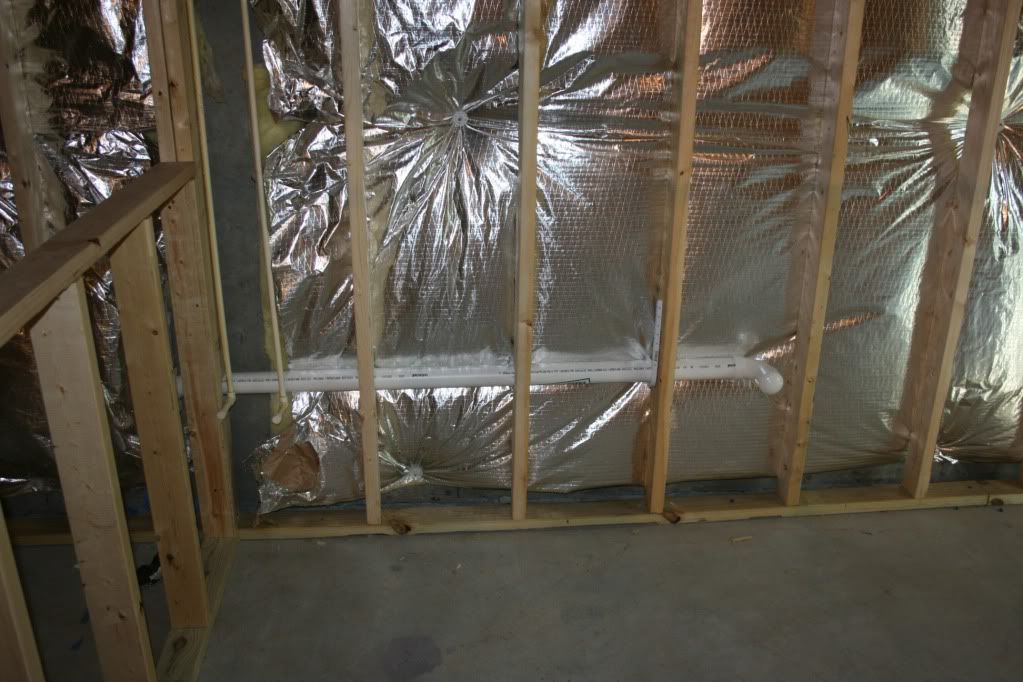 still need to frame ceiling in the bathroom and around duct work
will be ordering the first load of drywall this week to start applying the two layers of drywall between at the joist in the theater area and the bar area
then electrical
| | |
| --- | --- |
| snickers1 | 04-29-2012 02:26 PM |
---
was thinking about putting the equipment rack/cabinet where the bar meets the wall but not 100% sold on that idea any thoughts??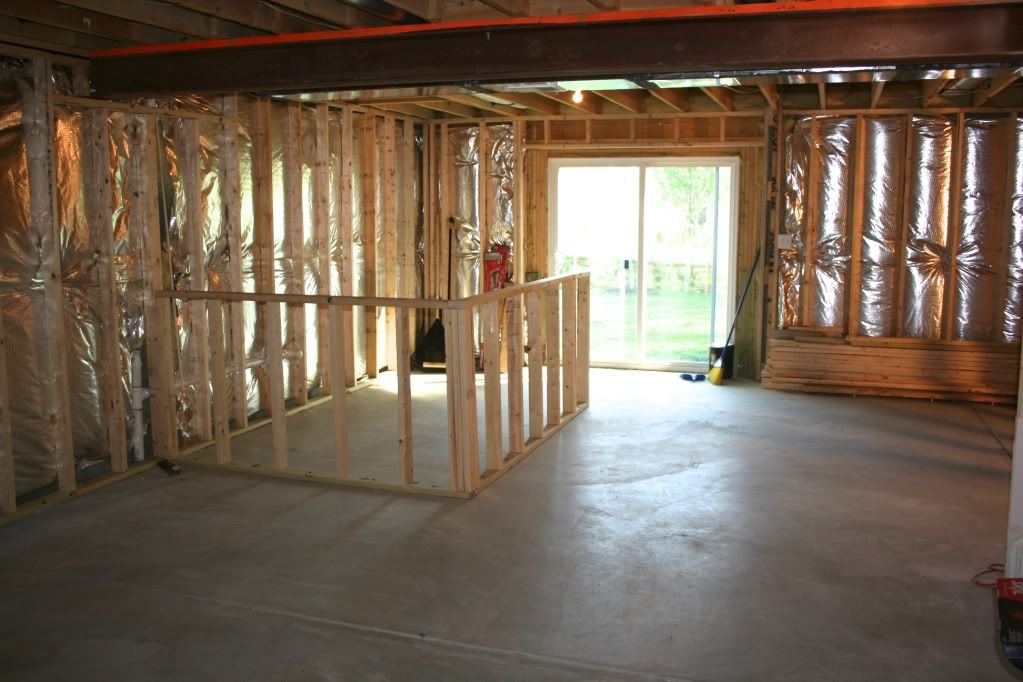 | | |
| --- | --- |
| BIGmouthinDC | 04-29-2012 03:37 PM |
---
It's a little too late but I would have left out the bar framing and drywalled the room, then build your bar inside the room, Gives you more flexibility to modify etc down the line. Also easier to throw up the drywall.
| | |
| --- | --- |
| snickers1 | 04-29-2012 03:50 PM |
---
dang didn't think about that
oh well if that is the biggest mistake I make I will live , I guess since I saw that Mario framed his first before drywall I thought it would be ok also it made it easier to figure where to move the pipes...
| | |
| --- | --- |
| snickers1 | 05-05-2012 06:11 AM |
---
Well first load of drywall has been delivered time to start the drywall between joist... Pics to come soon
| | |
| --- | --- |
| snickers1 | 05-06-2012 04:59 PM |
---
got most the drywall between the joist done this weekend, was slow going at first... two layers of 5/8 drywall with Green Glue between each layer...
i always asked myself why do the guys with the bigger budgets pay to have drywall put up, i always thought to myself damn they good do some more cool things if they did it all them selfs ...NOW i know why some outsource certain parts of there builds!!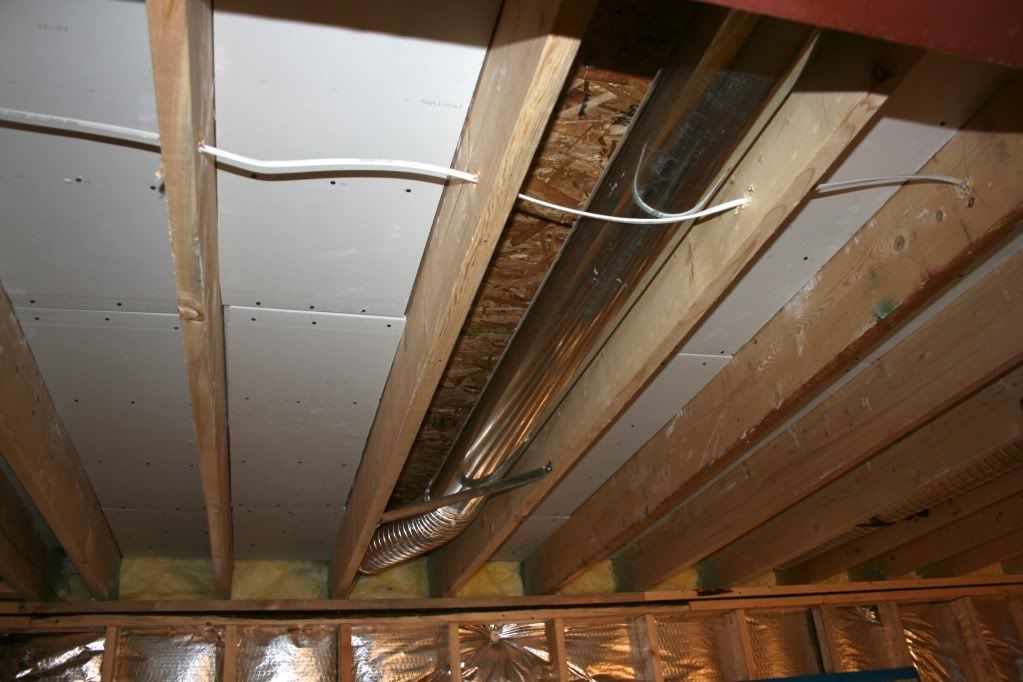 thinking i am going to box in the HVAC runs there is no way i can lower them enough and to put drywall up against the subfloor.... so thinking i will box them in with mdf... any ideas??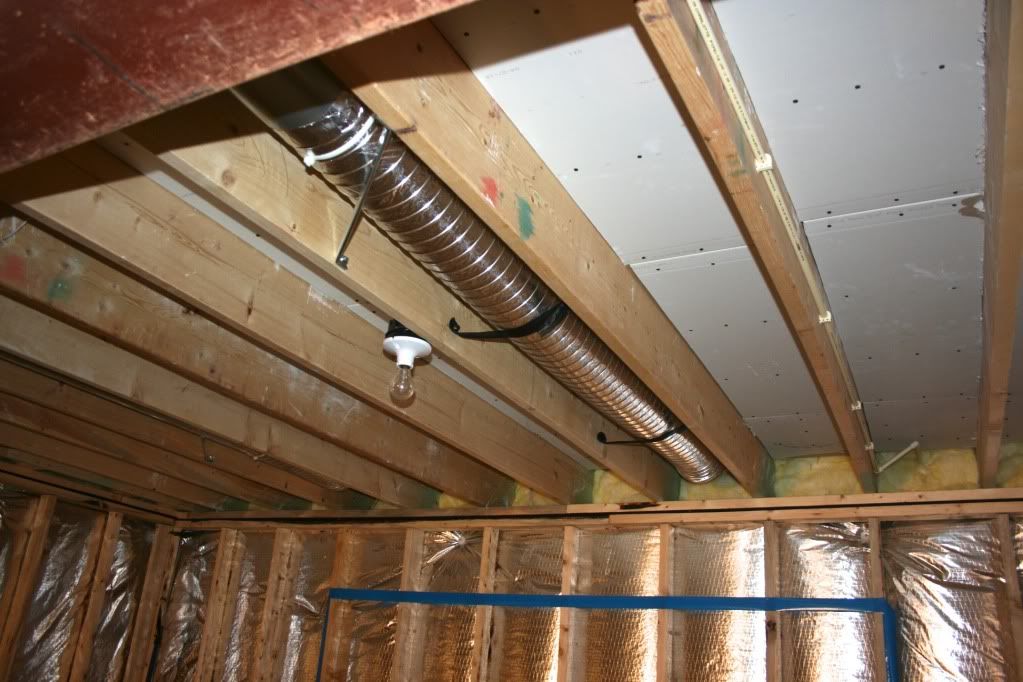 Took a little break to day dream... this would be if i did a 110' screen to me it looks a little small? 115" will be perfect i think.... front row of seats will be 9 or 10 feet from the screen..
| | |
| --- | --- |
| BIGmouthinDC | 05-06-2012 11:39 PM |
---
If you are going with one of the projectors with memory zoom you may want to go with a 2.35:1 screen, keep the same height as you were planning just go wider.
| | |
| --- | --- |
| aaustin | 05-07-2012 12:12 AM |
---
| | |
| --- | --- |
| snickers1 | 05-07-2012 06:22 AM |
---
i am undecided on which projector will either be the panny 7000 or the new JVC

i looked up the size of a 110" 2:35 screen yesterday but i think they gave the wrong measurements because when i look at the pic i thought it looks like 16:9 format... but yes i will be going with either a 115 or 120 inch 2:35 screen.
| | |
| --- | --- |
| BIGmouthinDC | 05-07-2012 10:19 AM |
---
copied from Brit's thread:

NOVA home theater builders, meet and greet

From BritinVa, lets keep to this week, Thurs 10th @ 7pm at

Lost Rhino Brewery

21730 Red Rum Dr # 142, Ashburn, VA 20147

Will make sure next time will cater for CJ.

Pass on to any NoVA builders
| | |
| --- | --- |
| snickers1 | 05-07-2012 10:31 AM |
---
how often do these meet and greets happen.... i work in maryland usually pretty late but will try to make it...
| | |
| --- | --- |
| BIGmouthinDC | 05-07-2012 10:50 AM |
---
We haven't had one since before Tom Logan's second flood. Nobody has actually finished a theater and wanted to host an event. We had a bunch a couple years back at various theaters.
| | |
| --- | --- |
| snickers1 | 05-07-2012 10:53 AM |
---
well i think i can make this one... hope you guys don't mind me picking your brains
| | |
| --- | --- |
| snickers1 | 05-14-2012 06:36 AM |
---
Not allot to report this weekend so no new pics, basically finished all the drywall between the joist, next will be moving the shower drain so i can put up the back wall to the bathroom,

on a side note i had a friend over this weekend and was all about pulling permits and i was totally fine without getting them because i am having electrician do the electrical and a hvac guy to the duct work so i feel that i am not going to burn my house down and i know there has been a lot of discussion here about pulling them... anyway just venting i am going away this weekend and will think about it more... to be honest i know i am not selling the house this the house i want to retire from i not ever going to rent my basement out so i dunno.... anyway hopefully in couple weeks i will have more pics to share with allot more progress
| | |
| --- | --- |
| snickers1 | 05-23-2012 07:29 AM |
---
was away on short trip to Maine so did not get any work done... got back yesterday and finally got hold of a electrician that was recommended to me by the project manager of our house when it was built, he came out and will be doing a sub panel and all the electrical in the whole basement plus will run the HVAC lines, i have not got the final estimate but he was thinking it should be around 1500 to 1700$.. just waiting for the final number but thinking i will be going with him and he is fine with me doing the parts i am comfortable with and working with me and to be honest i feel more comfortable with having a licensed electrician handling that stuff.
| | |
| --- | --- |
| fax6202 | 05-23-2012 10:19 AM |
---
Good luck on the build. I am in similar situation where I have a lounge adjacent to the HT, so I am treating both rooms; all walls and ceilings. Looking forward to your progress.
| | |
| --- | --- |
| snickers1 | 05-23-2012 10:49 AM |
---
you are further along then me
..... once the electrical and hvac are done things should start moving faster i hope....
| | |
| --- | --- |
| fax6202 | 05-26-2012 07:38 PM |
---
I would really like to get the joist mufflers taken care of. I need to do that before I treat the HVAC runs and the pipes.. At that point i am not sure if i will focus solely on the theater or start to finish the rest of the basement.
| | |
| --- | --- |
| snickers1 | 05-26-2012 07:43 PM |
---
i think i will be finish all spaces but theater chairs may have to wait just like you i need to finish the whole basement...
| | |
| --- | --- |
| snickers1 | 05-26-2012 07:56 PM |
---
didn't get a lot done today got almost the all the hvac boxed in today this will make running all the cabling much easier.... still need to finish moving some of the plumbing around and moving the shower drain for the shower i think i will using the kerde system for the shower seems more diy friendly but a little pricey at 479$
| | |
| --- | --- |
| snickers1 | 05-29-2012 09:17 AM |
---
well to run about 45ft cable from garage main panel to basement and install subpanel he wants 850$ seems very high to me
and to do everything all electrical he wants 3650$ again seems very high to me
we are talking maybe 25 outlets and of course the can lights which is maybe 16 lights...
not happy at all
thinking plan "B" is do most of it myself and pay to have subpanel installed and pay to have all the circuits connected to the new panel
All times are GMT -7. The time now is

10:28 PM

.
Powered by vBulletin® Copyright ©2000 - 2017, Jelsoft Enterprises Ltd.
vBulletin Security provided by vBSecurity (Pro) - vBulletin Mods & Addons Copyright © 2017 DragonByte Technologies Ltd.

vBulletin Optimisation provided by vB Optimise (Pro) - vBulletin Mods & Addons Copyright © 2017 DragonByte Technologies Ltd.
User Alert System provided by Advanced User Tagging (Pro) - vBulletin Mods & Addons Copyright © 2017 DragonByte Technologies Ltd.