Newbie
Join Date: Feb 2010
Posts: 12
Mentioned: 0 Post(s)
Tagged: 0 Thread(s)
Quoted: 0 Post(s)
Liked: 10
Hello,

I am hoping to get a few opinions and pictures if anyone has any about their theater riser construction. I am going to build my riser that will be flush with the last step in my basement (8 inch high riser) but did not really know which was the best method to not only construct it but also make sure it is level since the concrete in my basement is not level.

The two main ways I have seen in the forum is using joist hoists with different size wood or just using one size and nailing them all together. Which is the best method and what can I use to level the riser?

Thanks so much in advance.

Pedro
AVS Forum Special Member
Join Date: Mar 2008
Location: Murray KY
Posts: 3,546
Mentioned: 6 Post(s)
Tagged: 0 Thread(s)
Quoted: 593 Post(s)
Liked: 190
Getting it level is the easy part. As long as you get all four corners level then working from there shouldnt be a problem. You can use levels or lasers to make sure they are level, either will work just fine unless its a really long span then you may need some string to use with your level. Where ever it needs to be raised up use a nice hard wood to shim it in a few places way its spread out a little if possible. You'll need to find the high spot and choose your exterior members according to that height.

The method you choose to build your riser is up to you. Is it going to be used as a bass trap? If so then you'll need to make sure there is a way for air to circulate throughout the entire area under the riser. There are a couple of ways to do this but the easiest way would be to use a smaller size joists than the exterior face members way the joist are not resting on the floor. This would provide the circulation needed for trap styled risers. Using joist hangers is easier for some but toe nailing is fine as well.

You'll want to insulate it with R19 most likely and use two layers of 3/4" plywood. Place some roofing paper between layers and screw it down.

I may have missed something but hopefully that helped get you on the right track.
Senior Member
Join Date: Aug 2009
Location: Las Vegas
Posts: 365
Mentioned: 0 Post(s)
Tagged: 0 Thread(s)
Quoted: 2 Post(s)
Liked: 10
If you search for "riser" on this thread, you should get some hits. In the sticky threads above, there is a sticky "The Show Me Thread" that has a thread on "Risers". If you read some of the theater build threads of the people who have posted there, you'll gain alot of knowledge. I have some pics of my riser construction in my theater build thread that I have linked in my signature below. I based my riser build on designs of others who have posted on this site. Good luck with your theater.
---
"Trying is the first step towards failure" - Homer Simpson

 
HOME THEATER CONTRACTOR
Join Date: Jan 2003
Location: Northern VA
Posts: 27,672
Mentioned: 195 Post(s)
Tagged: 4 Thread(s)
Quoted: 3265 Post(s)
Liked: 2751
Build the perimeter first then use those composite plastic shims and start at the corners and get them level. Then add more around the perimeter to make it stable. My OCD would have me fill the gaps at the bottom with caulk. Hang the rest of the framing off the perimeter and add shims/blocking to eliminate any bounce. I've never found a level basement and if the riser isn't going to be more than 1/2 inch off from one side of the room to the other, few would bother with any adjustments. I've worked with ceilings off 1/2 an inch from one side to the other.
AVS Forum Special Member
Join Date: Nov 2009
Location: North Houston
Posts: 2,035
Mentioned: 8 Post(s)
Tagged: 0 Thread(s)
Quoted: 41 Post(s)
Liked: 139
The center of my room is 3/4"-1" higher than the perimeter, so the 2x12 perimeter of my riser needed a healthy dose of shims. Interior joists were 2x8s on joist hangers, so no shims required there.
My OCD tendencies must be right up there with Biggie's, as I also thought about caulking the gap around the perimeter. However, it was pretty wide and would have required a foam backer rod. My knees told me to move on and don't look back.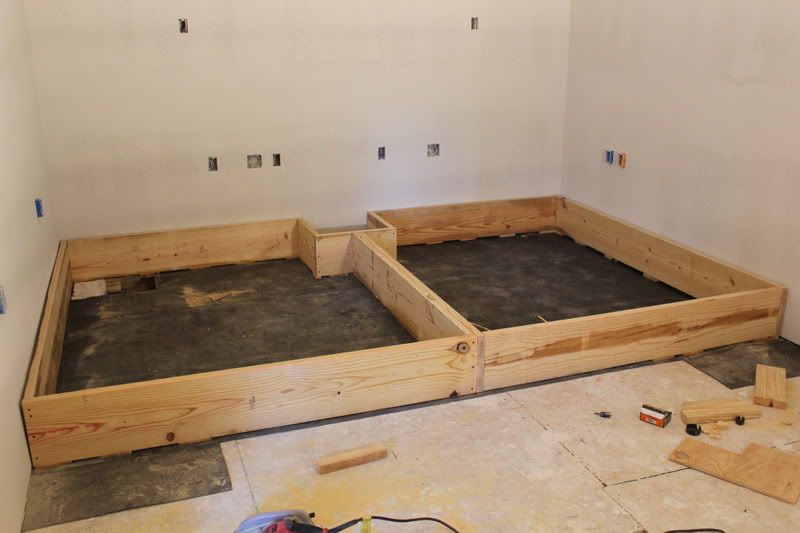 Newbie
Join Date: Feb 2010
Posts: 12
Mentioned: 0 Post(s)
Tagged: 0 Thread(s)
Quoted: 0 Post(s)
Liked: 10
Thanks so much for the advice guys. This is exactly what I needed. I will start on the Riser this Friday and hope to not have any more questions. This forum rocks!!!
Posting Rules

You may not post new threads

You may not post replies

You may not post attachments

You may not edit your posts

---

HTML code is Off

---