Newbie
Join Date: Feb 2011
Posts: 9
Mentioned: 0 Post(s)
Tagged: 0 Thread(s)
Quoted: 0 Post(s)
Liked: 10
Hello all this is my first post but have been trolling the forums for a while, I thought I would post up my build that I am starting. I am from the Ottawa area so If there is anyone that has any input feel free to add information or chromaticism. This is my first dedicated type build and will be a learning experience for me. I am no stranger to building and electrical work.
Room dimensions are 13'6 x 21'3
This is the Equipment I will be using.
HARDWARE
Anthem MRX 500 reciever
Popcorn hour media player C-200
Sony BlueRay Player
APC AV 15 Amp G Type Rack Power Filter, 120V
Control4® Home Controller HC-200 ( controls complete system and all main lighting and accent lighting and security system camera's)
JVC DLA X-30B 3d projector
Xbox 360
Wii
Hp switch
106" AccuScreen Acoustically transparent Screen
Custom built computer for server
Middle Atlantic custom built rack with fans
SPEAKERS
2x Paridigm monitor 11 main speakers
1x Paridigm monitor 7 center 3 speaker
4x Paridigm CS-60 side channel surround speakers
2x Paridigm Minimonitor rear channel speakers
1x Paridigm PS 1200 12" powered sub
WIRING
12awg in wall csa
HDMI
An assortment of other cables
Sound proofing
Isomax clips
Resilient sound channel
DynaMat
Green glue
Roxul Safe&Sound
2 sheets thickness drywall
2 exterior doors replaced the interior
Lights
6x 5" Pot Lights
4x wall scones
2 x 48' rope light for base board
2 x led sections for crown molding runs
Furniture
1 Large lazy boy couch seats 4 with 2 chaises
2x recliners for riser platform rear seating
Floors
DryMax Subfloor
80oz carpet
Here is the room I am starting with.

My Solid exterior doors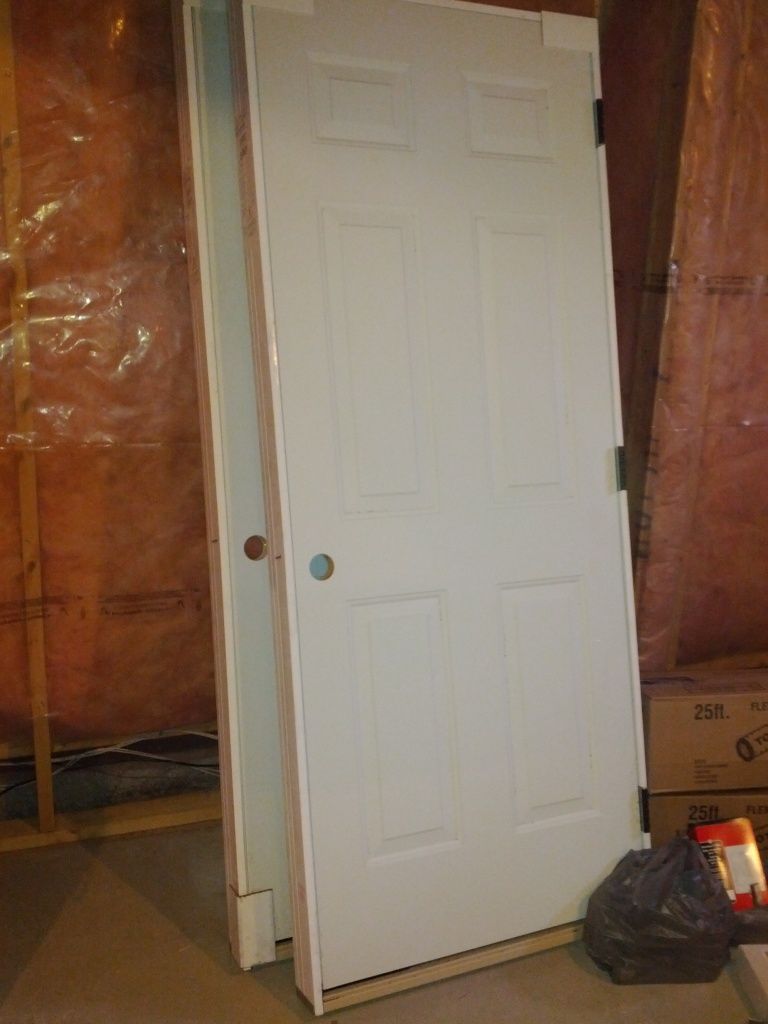 My son helping instal the floor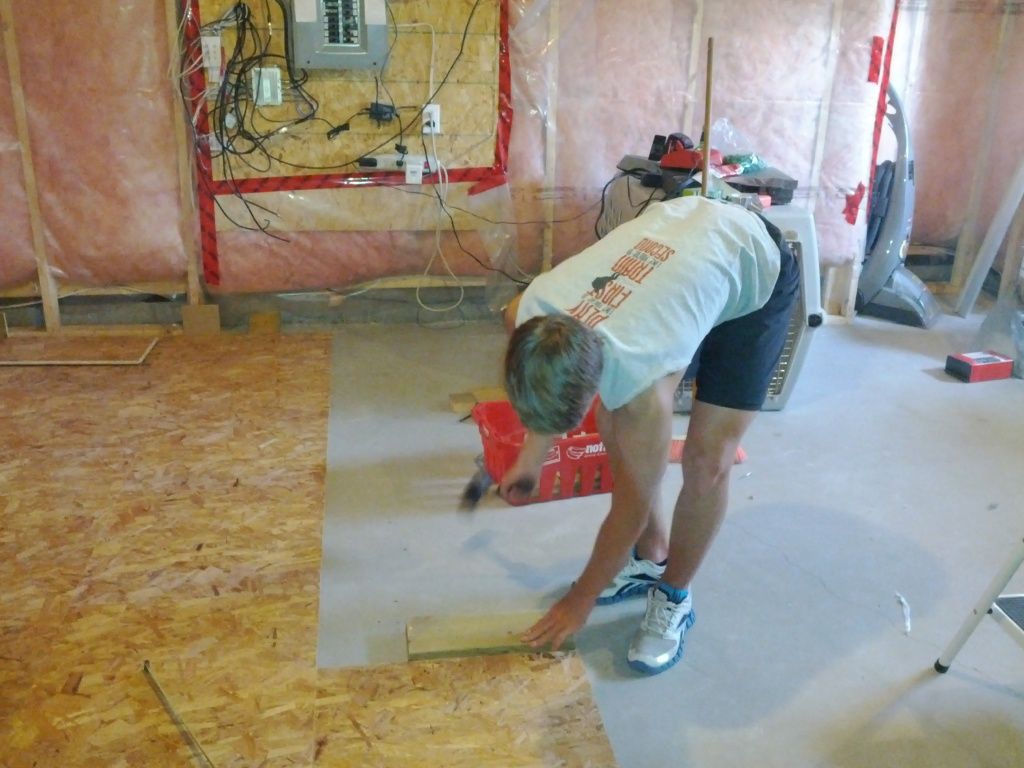 Here is where I am now in the build
DynaMat installed on the ducting, this makes such a huge difference it is unbelievable. Started doing it and wasn't really sure but by the time I was half done the run I was impressed. When you hit it initially with your knuckle to test for sound resonance it makes a loud twang noise and resonates for several seconds. After treating it, it sounds like you are hitting a sheet of wood.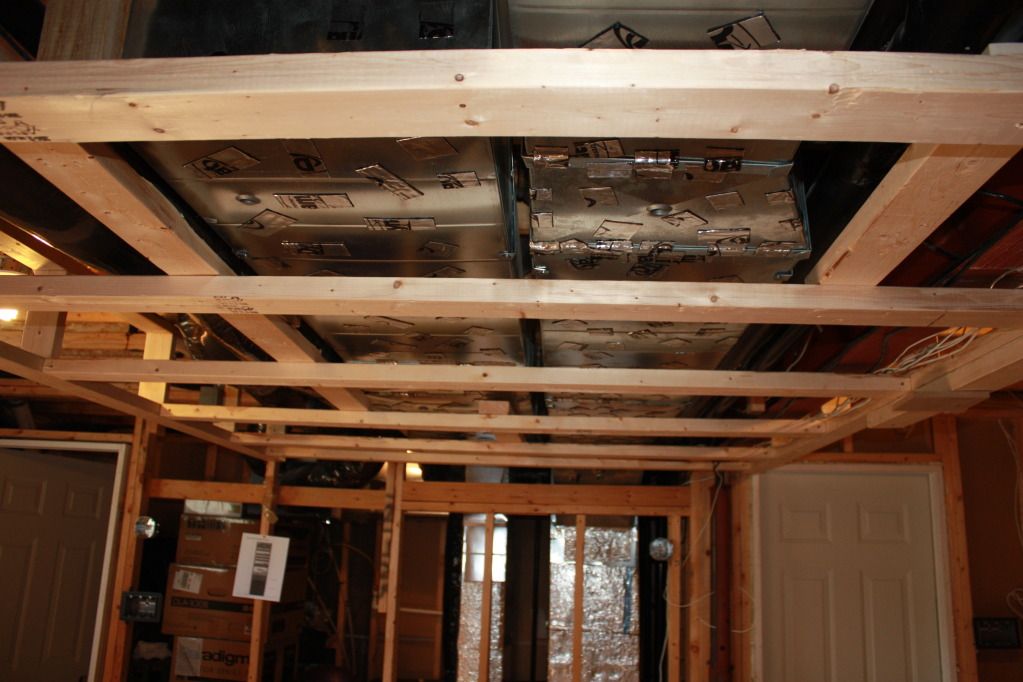 Here is a picture of what an Isomax clip looks like they are used every 16" vertically and every 48" horizontally they are $8 a piece and I nee 200 of them to do my room. The purpose of this is to decouple the drywall from the studs so sounds is not transferred.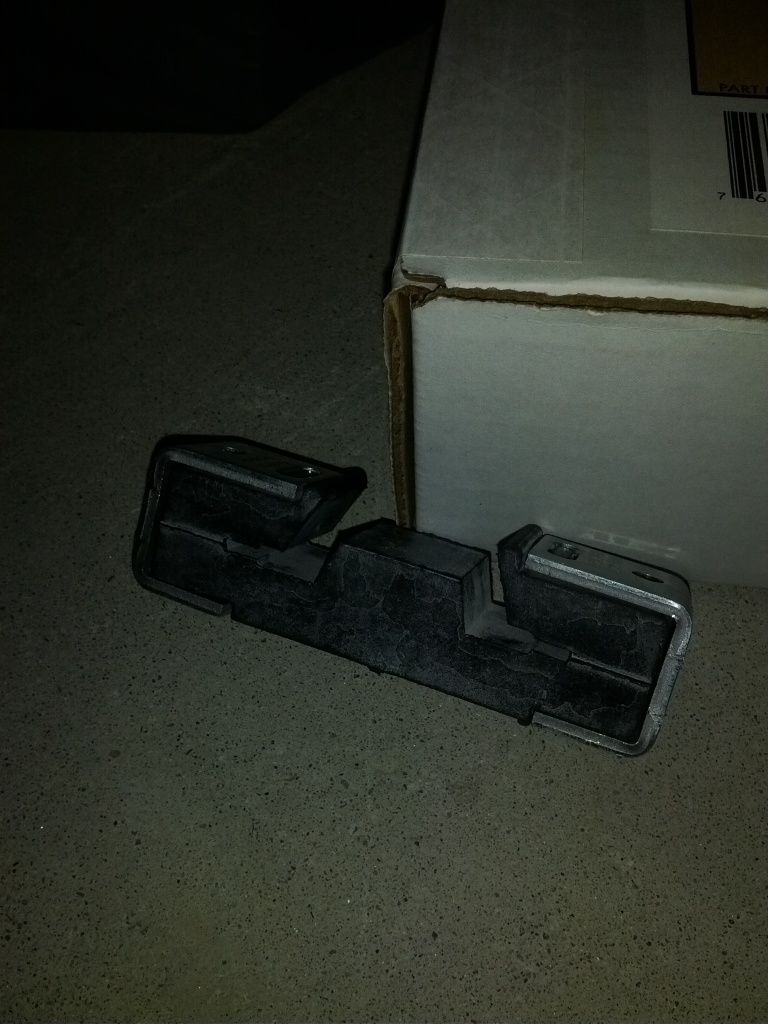 Some Cables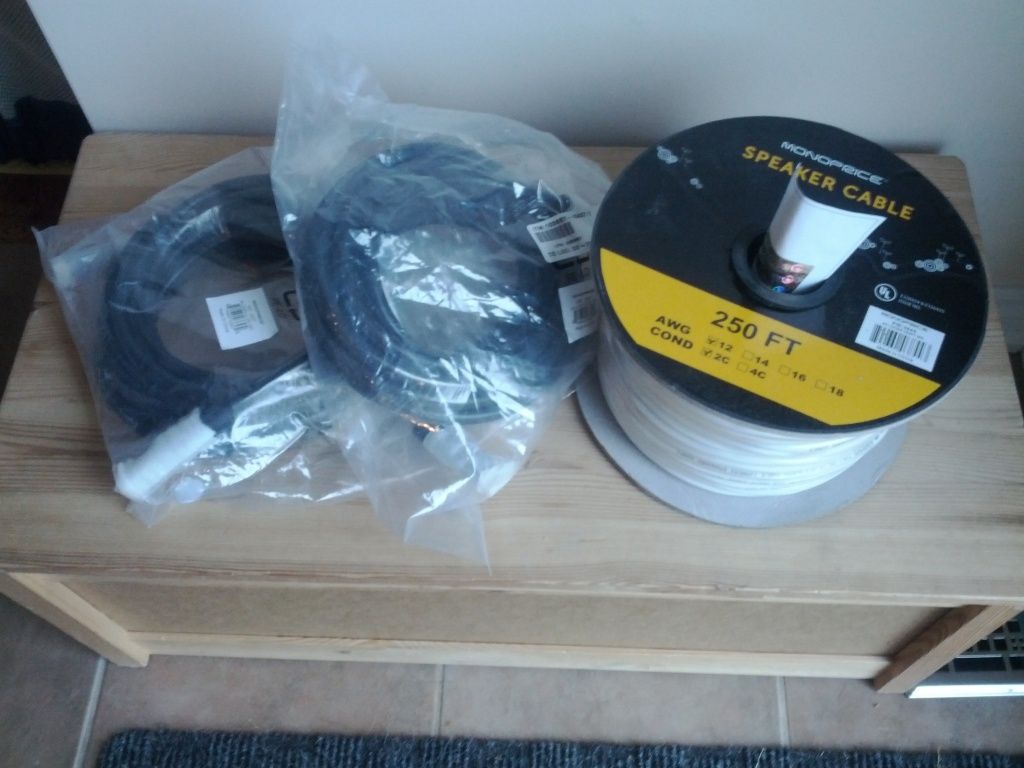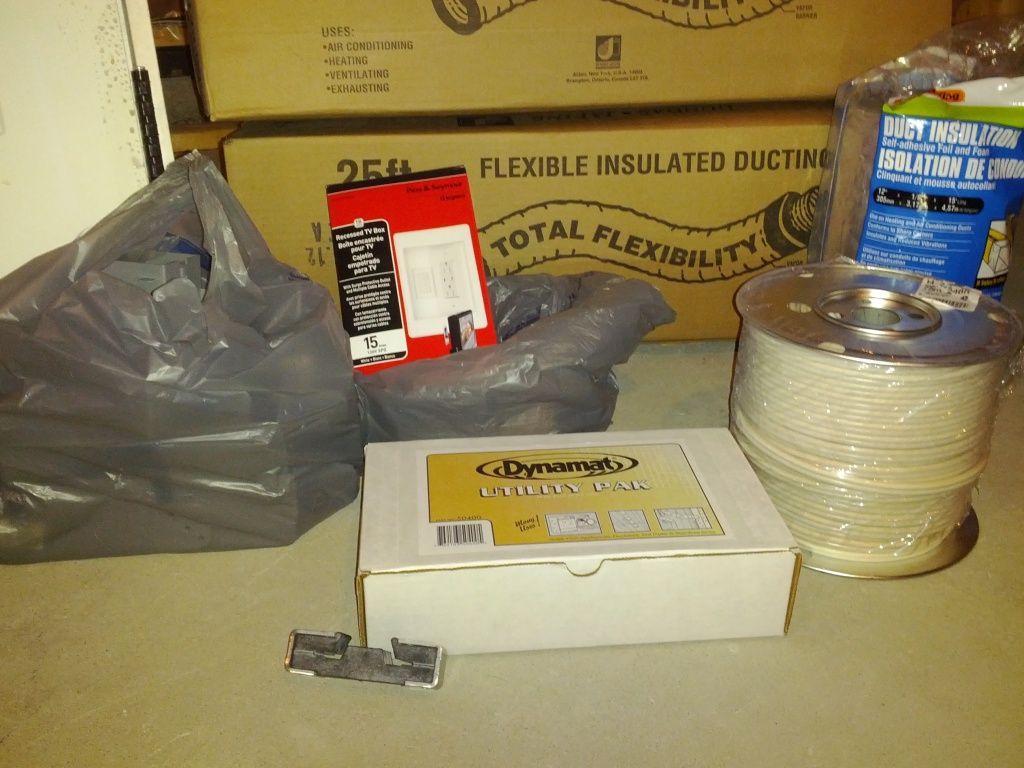 And some of the Gear with my Monitor 11's
Today I am doing electrical and them have to get it inspected next week, I will continue to post the progress if anyone has any question or input feel free to post up something.
M
Newbie
Join Date: Feb 2011
Posts: 9
Mentioned: 0 Post(s)
Tagged: 0 Thread(s)
Quoted: 0 Post(s)
Liked: 10
Managed to get some more work done over the last few days, hard to stay motivated some times so I take it in spurts.
All electrical is now run.
Built the Sub enclosure for the wall. Its framed tap com'd in the floor covered with 3/4" mdf and green glue sealed with roxul safe and sound. The gap on top of the sub will be filled with insulation when the time comes.
The Middle Atlantic rack is sitting on top where it will be, but won't be fastened and leveled until drywall is done. I am also still waiting on a few back order parts for the unit.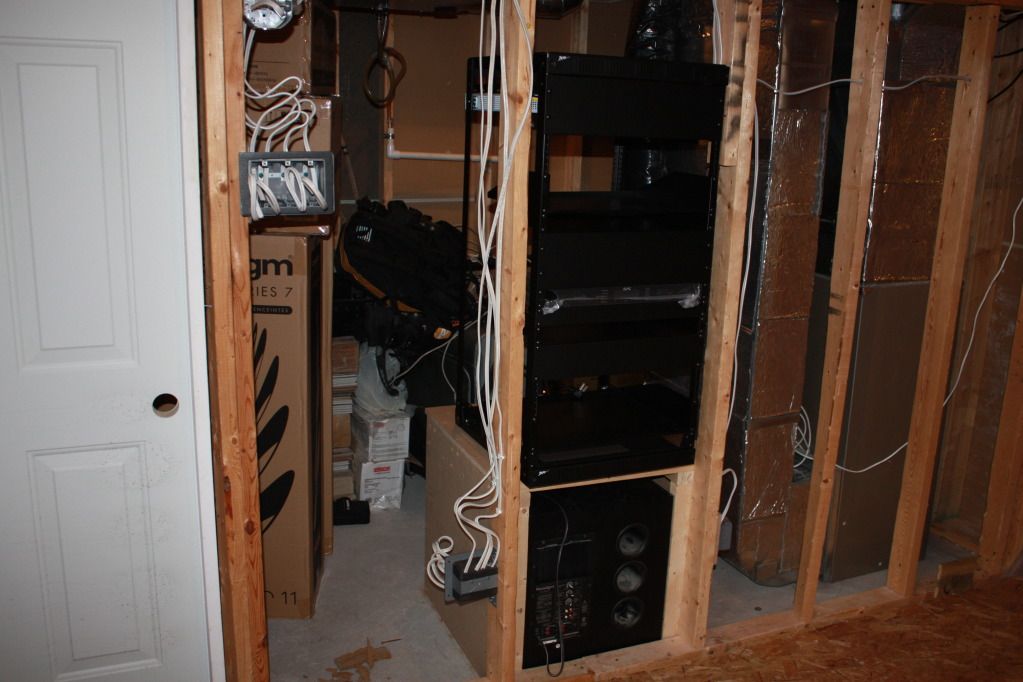 I am mounting the Projector flush with the soffit which posed a bit of an issue when we mocked up the projector to find the ideal spot with out being cut off by the end of the soffit.
Here is what I came up with, it looks a bit rough but when cover over it will look good. The idea here was to try and conceal as much of the spider legs on the mount.
I think it will work.
Newbie
Join Date: Feb 2011
Posts: 9
Mentioned: 0 Post(s)
Tagged: 0 Thread(s)
Quoted: 0 Post(s)
Liked: 10
I mounted up the projector to test fit to see if all the dimension work out.
Bam every thing is good, couldn't push up the projector as far as I wanted by myself. It is a 2 man job, ****ing heavy to hold and try to adjust the screws.
Senior Member
Join Date: Nov 2006
Location: NTX
Posts: 216
Mentioned: 0 Post(s)
Tagged: 0 Thread(s)
Quoted: 8 Post(s)
Liked: 18
Looks like a good start! It's weird to look back at the studs and insulations days, on one hand you damn glad you finished that part of the build but on the other you almost miss the action and decision making aspects of the day to day process! I have the same projector you are using and I am absolutely amazed at it's picture quality completely uncalibrated in film mode. I have a 125" wide 2.07 CIA seymour screen in route to replace my $60 DIY screen, can't wait to see and hear the difference!
Advanced Member
Join Date: Sep 2004
Location: Frozen Canada eh!
Posts: 760
Mentioned: 0 Post(s)
Tagged: 0 Thread(s)
Quoted: 0 Post(s)
Liked: 11
I never thought about using DynaMat on the ducting...
I'll check that out on my next HT build
Newbie
Join Date: Feb 2011
Posts: 9
Mentioned: 0 Post(s)
Tagged: 0 Thread(s)
Quoted: 0 Post(s)
Liked: 10
It works extremely well I would recommend it to anyone that has a lot of duct work in their home theater room.
Here in Canada it goes for about $80 a box, I used 2 boxes and need about 2 more sheets.
Newbie
Join Date: Jan 2008
Posts: 14
Mentioned: 0 Post(s)
Tagged: 0 Thread(s)
Quoted: 5 Post(s)
Liked: 11
i looks like you just applied 'pieces' of dynamat to the ducting.
was that enough to reduce noise coming from the ducts?
I would have thought you'd have to wrap it....
Newbie
Join Date: Feb 2011
Posts: 9
Mentioned: 0 Post(s)
Tagged: 0 Thread(s)
Quoted: 0 Post(s)
Liked: 10
They DynaMat is not as random as it may appear, to apply you start away from the furnace or at the end of a run and you tap with your finger knuckle if it makes noise you put a piece on that point. At first it seems like a waste of time until you get going then you can see the out come. You try to trace down as many rattle and resonating points as you can. At $80 a box it gets pretty expensive, I used 2 boxes and I still need a couple of sheets to finish up.

I am going to make the riser for the rear seating a bass trap by having cut out in the forward facing part of the stage. The front where the screen is going there will be velvet curtains the whole width of the room with roxul safe & sound behind it. It will be a fabric wall on top of the 2 sheets of drywall.
I also will be putting on some acoustic wall treatments near the front main speakers.

We will see how far the money goes before I have to stop and wait for the next stage of work, I am trying to do this with cash no credit. So far I am at $20,000 with furniture, Equipment and what you see in the room.
Posting Rules

You may not post new threads

You may not post replies

You may not post attachments

You may not edit your posts

---

HTML code is Off

---