I've been a long-time lurker, and I'm finally getting ready to pull the trigger on finishing my basement. I love the forums and the DIY spirit of everyone involved in these builds.
Here's a floorplan of the basement (with some additional perimeter framing shown):
My list of high level requirements are:
Area with projector and surround. Most likely sectional couch or similar seating. I'm undecided as to whether it will be fully enclosed or open to the rest of the basement.
Seal off closets for mechanical/plumbing/etc.
Finish bathroom.
Large open finished space with bar area. This area will be a kid play area, used for general entertaining/parties, and possible future pool and/or poker table.
Possibly a dedicated area for a treadmill/weight bench/exercise area.
Minimize cost.
For the theater area, I'm anticipating using something like a ~$2500 projector, AT screen material with LCR speakers behind, some columns to hide surround speakers. I'm not a huge audiophile type, so speaker requirements are basically best bang for the buck. I'd possibly entertain the idea of doing a star ceiling in the theater area.
Sound Isolation is somewhat important to me. Primary things I'd like to do are reduce the noise from foot traffic in the rooms above, and keep any theater noise contained to the basement. My initial plan is to frame out perimeter walls, isolated from the joists by IB-3s. Ceiling would be clips/channel with layers of OSB/drywall. I'd also need to add some wall material to the existing stairway and a beefed up door at the top of the stairs.
The area with the plumbing, hvac, and bathroom is pretty much spoken for, so I'm really looking at the large "L" shaped unfinished area of the basement to carve out the theater, workout space, and general living areas.
I have some ideas on possible layouts- I'll post them soon. I'd love any fresh, untainted ideas in the mean time.
Pics of unfinished spaces:
Top left of floor plan looking towards back of the house: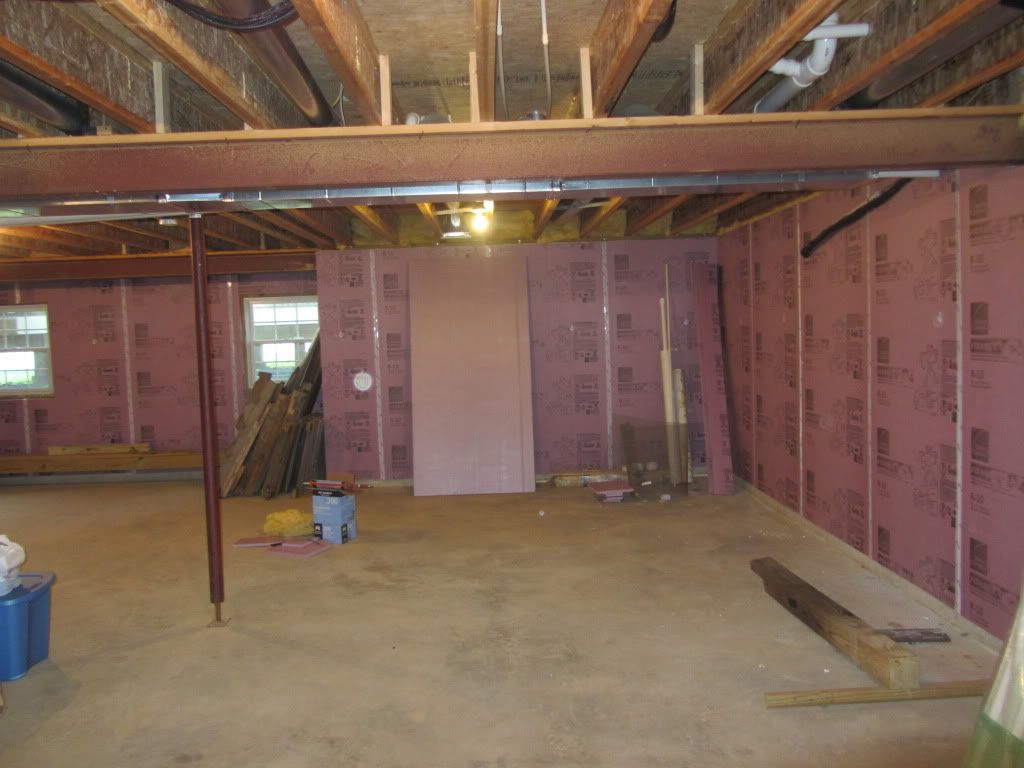 Opposite direction:
Looking down the long leg of the L shaped area toward walkout: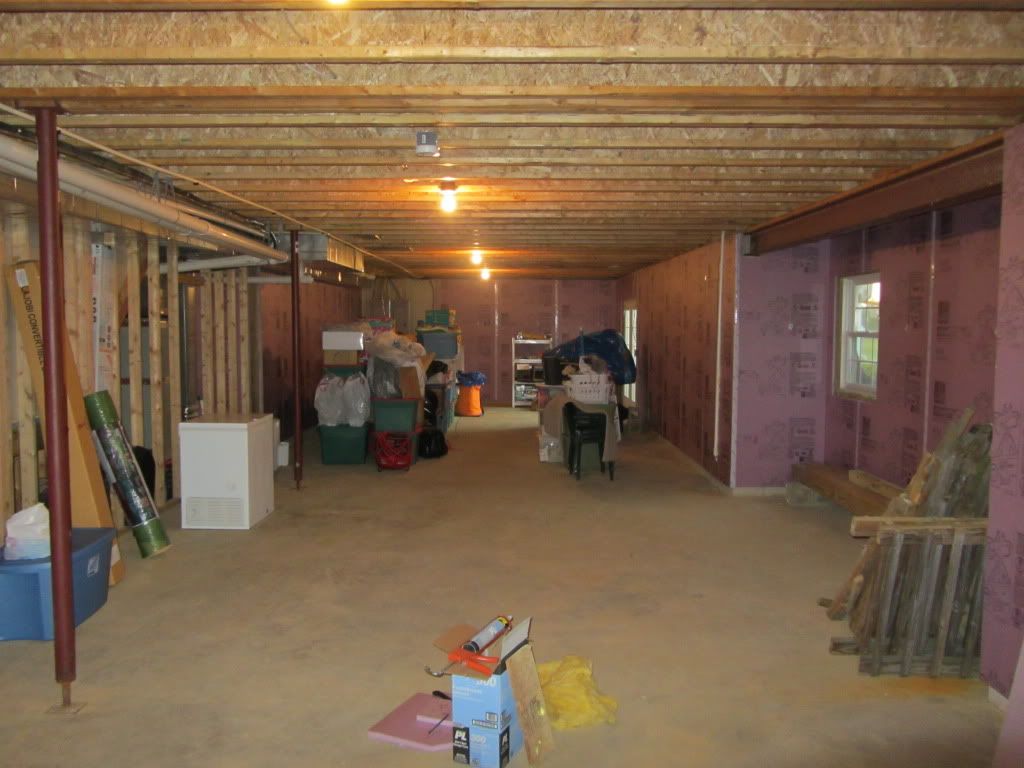 Opposite direction from near walkout:
Electrical/Generator panels near walkout end of the basement: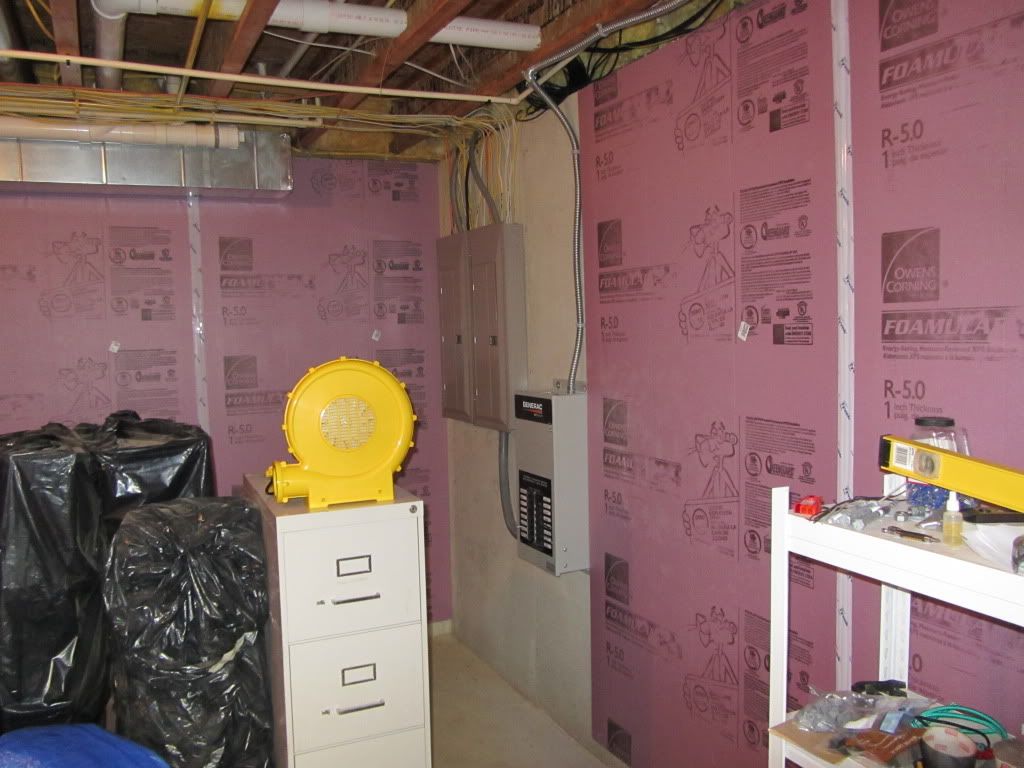 HVAC and sump under the stairs:
View along the mess of ducts and pipes running across the house:
Looks like a nice clean slate... My advice... Don't hang the projector until the room is done!

Initial preparations - Water and Insulation:

Water in the basement is a definite concern going in. We live on a rural lot that is prone to power outages during large storms (hurricanes or winter storms). The basement relies heavily on the sump pump during precipitation. We had quite a bit of water in the basement after hurricane Irene, and proceeded to rip out all of the fiberglass batt insulation that was originally on the foundation walls. I replaced it all with XPS foam board. We also invested in a backup propane generator to mitigate the power outage risks. I have a second sump pump that I plan to install higher in the sump pit in case of pump failures.

I'm planning to add spray foam to replace the fiberglass that is currently in the rim joist areas. Does anyone have experience with any of the DIY spray kits available online?

Initial preparations - Structural
Here is a gem I uncovered when I removed all of the old fiberglass batts from the walls:
I'm pretty sure that using sticks of nails to shim steel beams in the foundation beam pocket is not correct.
Also, here is a nice little stair header that isn't actually supported by any framing:
The stair header is easy enough to shore up with some added studs, but I'm not sure if there is any point in screwing with the beam pockets (house has been standing fine for 6 years now).
Got to love the half-assed builders!
Is your outside door at one end of the basement required for 'entertainment flow'.. have patio now or in future that would necessitate coming in and out for parties, etc.? If so, then exercise room out of question at that end? If that could be your exercise room it's nice to have that natural light for working out or keeping open to air out that lovely 'workout funk'.

Quote:
Originally Posted by
Jasman
Is your outside door at one end of the basement required for 'entertainment flow'.. have patio now or in future that would necessitate coming in and out for parties, etc.? If so, then exercise room out of question at that end? If that could be your exercise room it's nice to have that natural light for working out or keeping open to air out that lovely 'workout funk'.
Good thoughts on the natural light/air to the workout area. The walkout door is important and would probably be a main entry/exit to the house during any kind of a party.
Here are some initial rough possibilities for layouts. I didn't spend much time worrying about exact dimensions, speaker and seating placement, or door widths or anything like that. I've always had the preconceived idea that the "theater" area would be best on the left side of the house away from the walkout door and the windows (light, sound, proximity to equipment closet). I've also always envisioned a bar area being close to the stair area for ease of plumbing back to the bathroom/sewage pit in case we put a sink in.
Option 1: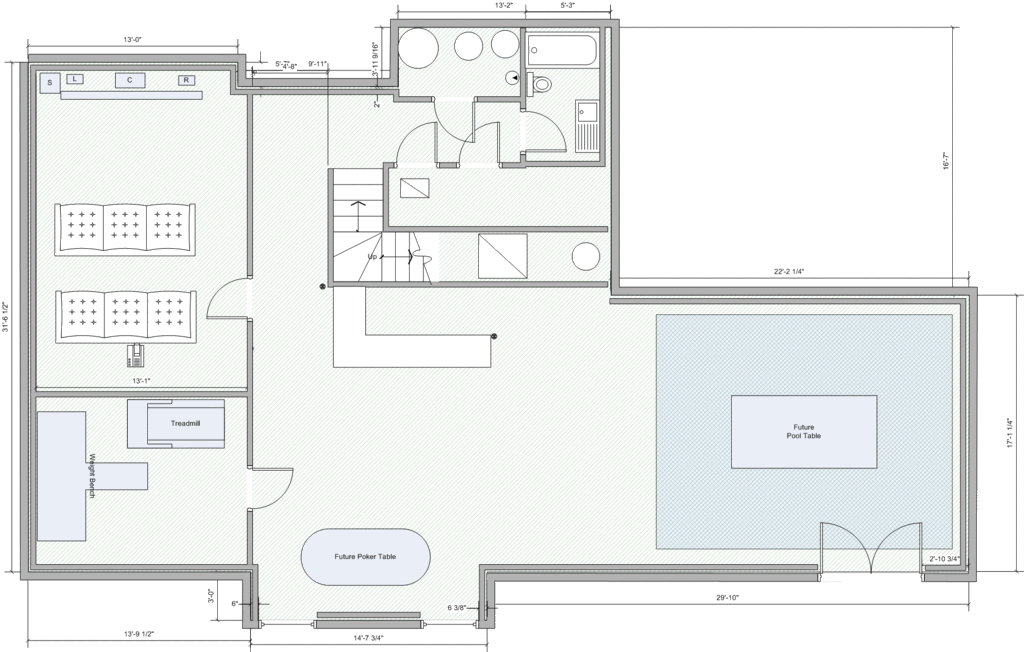 Option 2: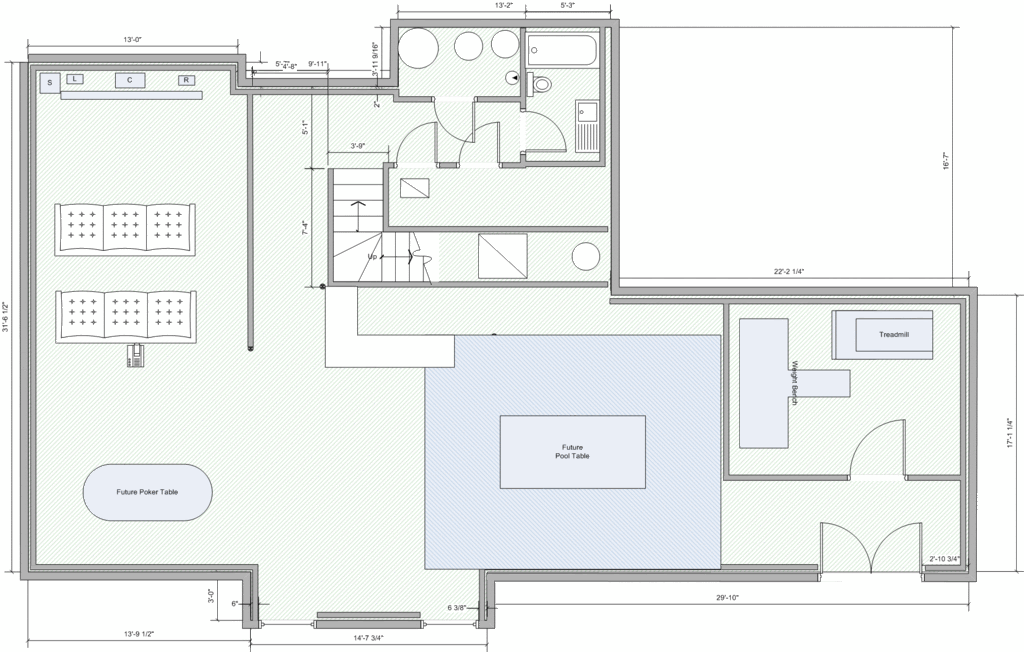 Option 3: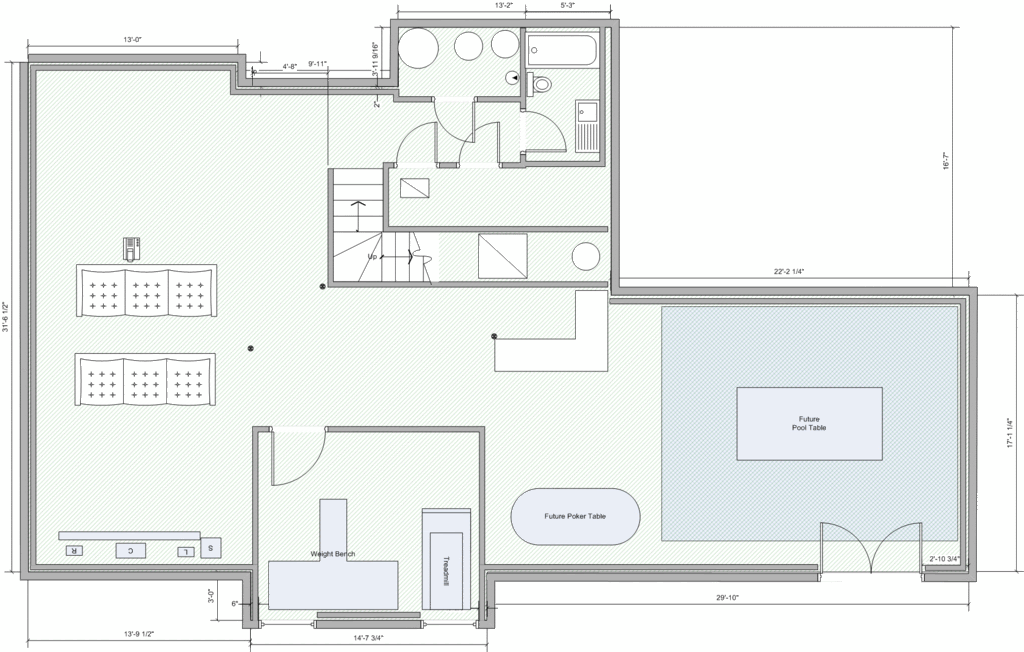 + all of the possible variations of flipping the theater direction or shifting dimensions
Quote:
Originally Posted by
ack_bk
I had sump pump concerns as well and installed one of these as a backup:
http://www.libertypumps.com/Products/Category/SubCategory/Product/?p=77&s=23&c=14
Uses city water, not electricity, to push water out of the sump pit. My plumber swears by it and it was around $500 installed.
No can do. We're on well water, so that is out when the electric is out too. I think I should be good to go with the dual pumps plus automatic generator though. I definitely didn't want to put too much effort into the basement pre-generator.
I noticed that in your designs, which look good, there's no storage room(s). Do you have alt storage elsewhere, besides basement? Like your designs, I maximized usable square footage, but with my wife and I both owning companies working out of the house, storage overflow is a major problem.

Here's what I did with one of those pesky steel beams.. have yet to buy the poly. column 'wrap' and paint to trim color or finish the bar face and side. The granite guys just seamed around it or you could use as external post to bar top and create alt. one on other end with arch in center. BTW, the bar top is left over granite from a slab bought for an upstairs bathroom, so just for the cost of polishing edges and quick install, instant bar top. I wish it was wider, but you can't beat using scraps.
For storage, here's another mockup. You could reverse and have the storage room on other end. Brings out bar to wrap around corner. It also creates lots of overflow seating at both sides of bar and in front.
Don't think you can't have small storage rooms. Here's one of our narrow storage rooms. Excuse the mess. It's 54 inches wide and possible to get racks in and have narrow walkway.
Alternate layout.. widen screen and seating if theater room is also access to other basement. Close off option at bottom of basement stairs into theater and expand storage behind stairs by removing and moving walls
Here's something I'd always like to do.. u-shaped bar.. maybe because I like to drink? It at least creates some 'action' at the pool table end of the basement, which is quite a bit of square footage that can sometimes get seldom used. Place flat-screens on both sides of your bar and you'd have one nice 'adult' playroom. Then again, put up a 'swing' in the storage room and you can have another nice adult playroom.
Wow, thanks for all the input and ideas Jasman!

+1 on Jasman's open plan if you do decide to leave it open. Like we spoke about earlier today, I think that the sound isolation would be much easier if the room was dedicated but I am probably a little biased, as there is absolutely nothing wrong with an open plan. I really like your ideas, keep throwing them out there for feedback.

I think we've just about settled on it now. Looks like I will end up closing off the theater area after all. I just need to finalize some dimensions and then start deciding on wall/ceiling soundproofing methods for each room.
Almost final floorplan: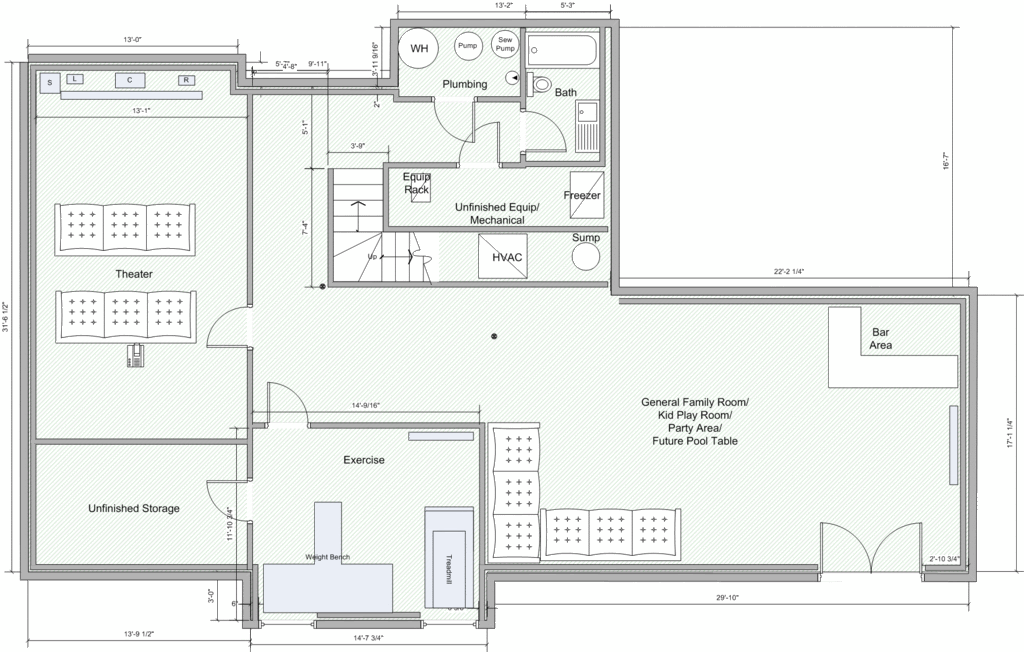 Looks good. I think it's smart to pull the bar to the end to fully utilize the space. Sucks having that post in the middle... bet you've been scratching your head as to how to hide it.

How does this plan look for wall construction in the different areas?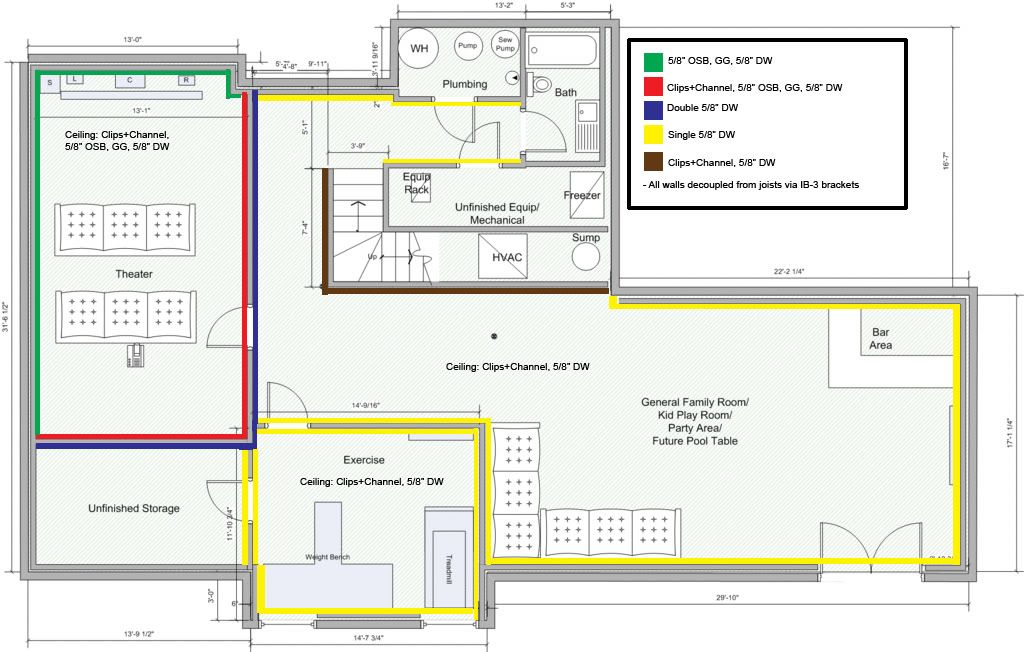 Do I need clips and channel in the "green" walls of the theater too? Or just make sure that wall is decoupled where they intersect with the walls for adjacent rooms?
How useful is clips/channel/single DW for ceilings in the non-theater area? Would a different combination be more cost effective?
How anal do I need to be about worrying about the stairwell? It is currently just 1/2" drywall on the interior walls and ceiling of the stairs.
You might want to get a double door on the room. Bleed through that single door might head upstairs, might hit that staorwell wall pretty well.

Installing clip&channel on ceiling gives good isolation. Also sets you up to increase the isolation later with more drywall.

So... I did some measuring, looking, and attempting to put plastic chairs a possible seating locations. It looks to me like I'm almost certainly going to have to have the screen at the "back" wall of the theater as opposed to the drawings above- due to the ceiling obstructions in the room that will have to be soffited around. Right now, there is about a 3'6" expanse of I-beam, ducts, and pipes that run across the room. I suppose I could conceivably relocate some of the offending items, but there will be at least some boxing out of the I-beam. Any good ideas on what to do with the odd ceiling layout?
I need to start figuring out the details for seating distances and screen size/placement. I'm somewhat interested in the idea of expanding the length of the theater into the storage room a few more feet to enable two rows of theater seats plus a back bar seating area.
I got a spray foam kit for my rim joists from sprayfoamdirect.com.
Before:
After: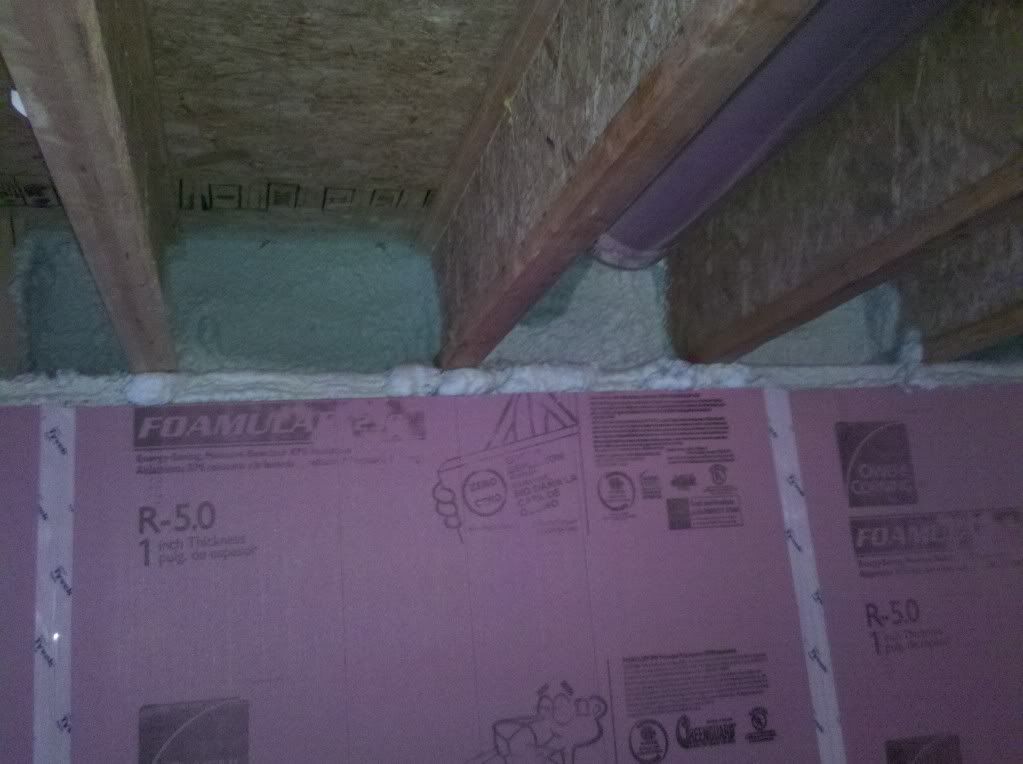 I was happy enough with it. It worked pretty well, but didn't yield quite as much as I expected.
Also, lumber showed up today. I carried all of it down to the basement and started working on some framing.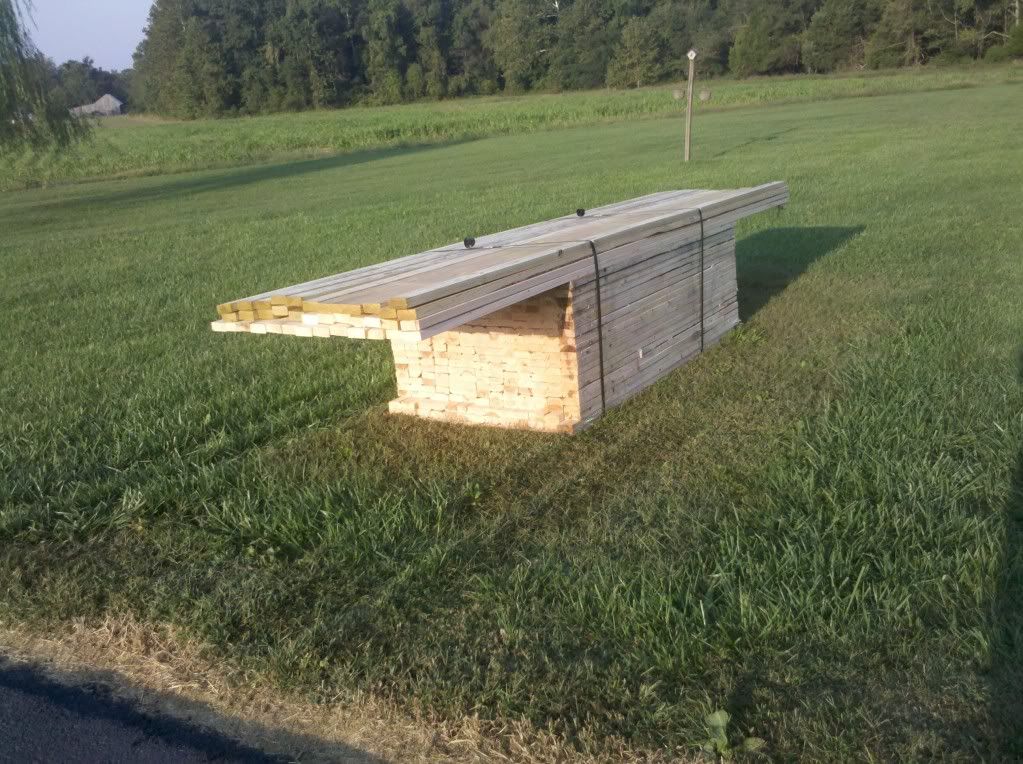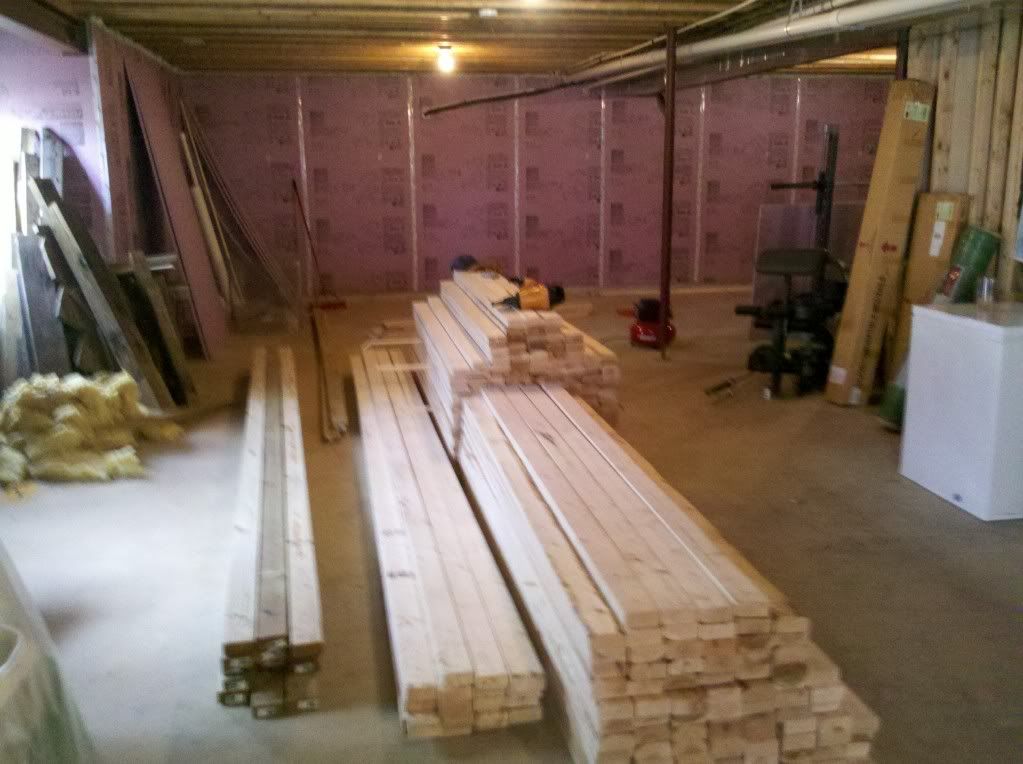 Looks like your moving pretty fast. Keep up the good work

Well, the pesky job that I have to go to every day, kid activities, and visits from in-laws have all made it hard to get lots of time for basement construction, but I did manage to get a portion of the basement framed.
From walk out toward the theater end: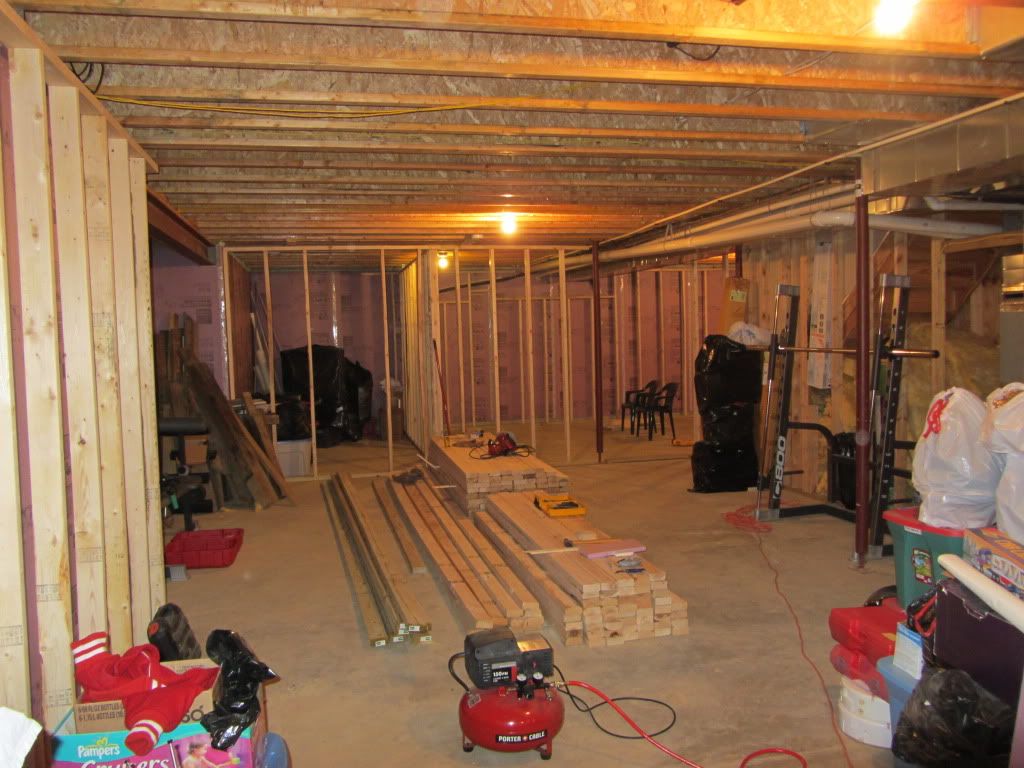 The theater area:
Storage room looking toward the front of the house:
Front wall looking back in theater (toward potential screen wall):
The mess of beams/pipes that run across the theater: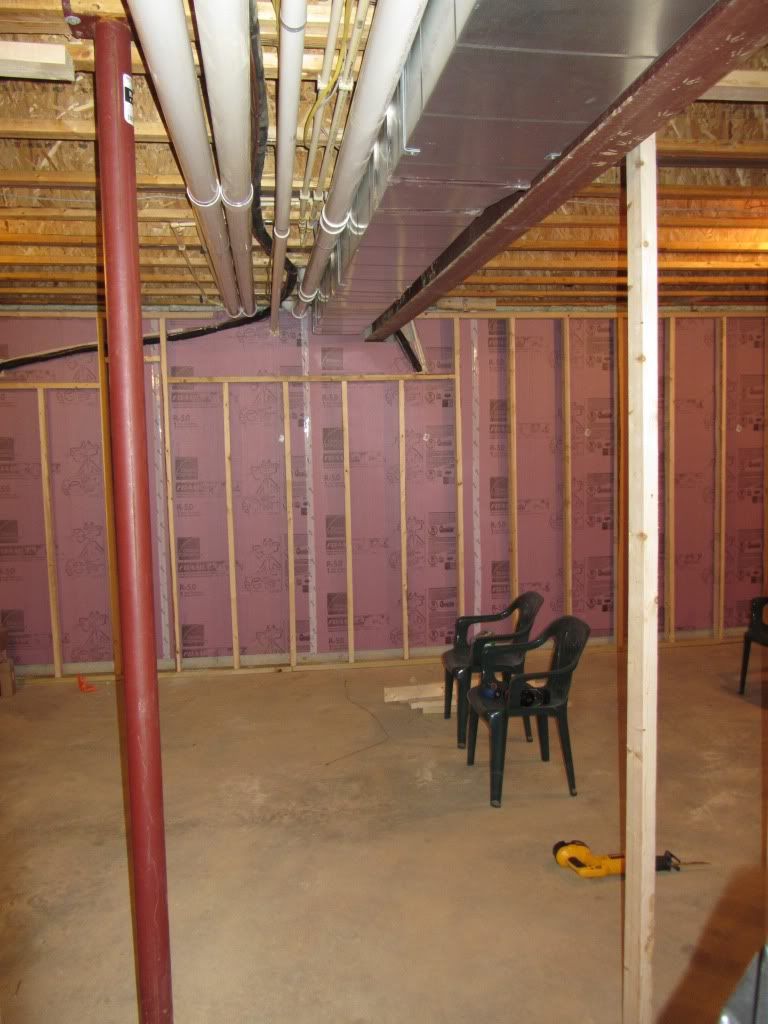 Got a shipment of clips, green glue, and caulk: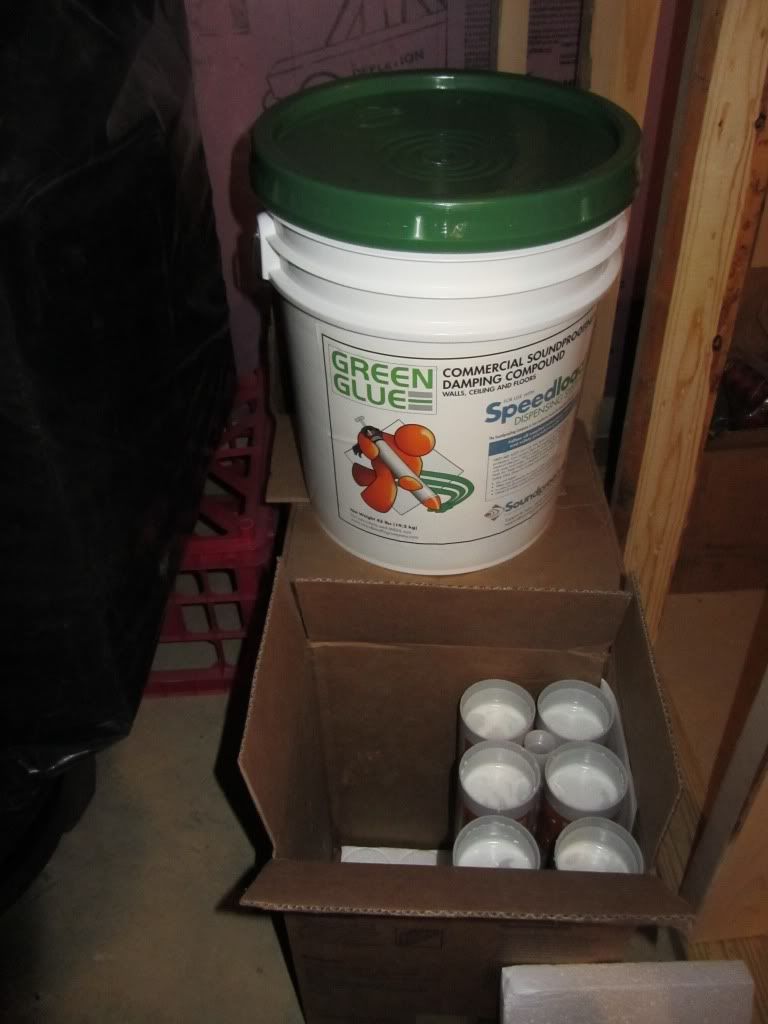 Now the fun begins. Looking forward to some updates!

I've also been working a bit on coming up with room layout ideas. Here's my preliminary plan- need some feedback...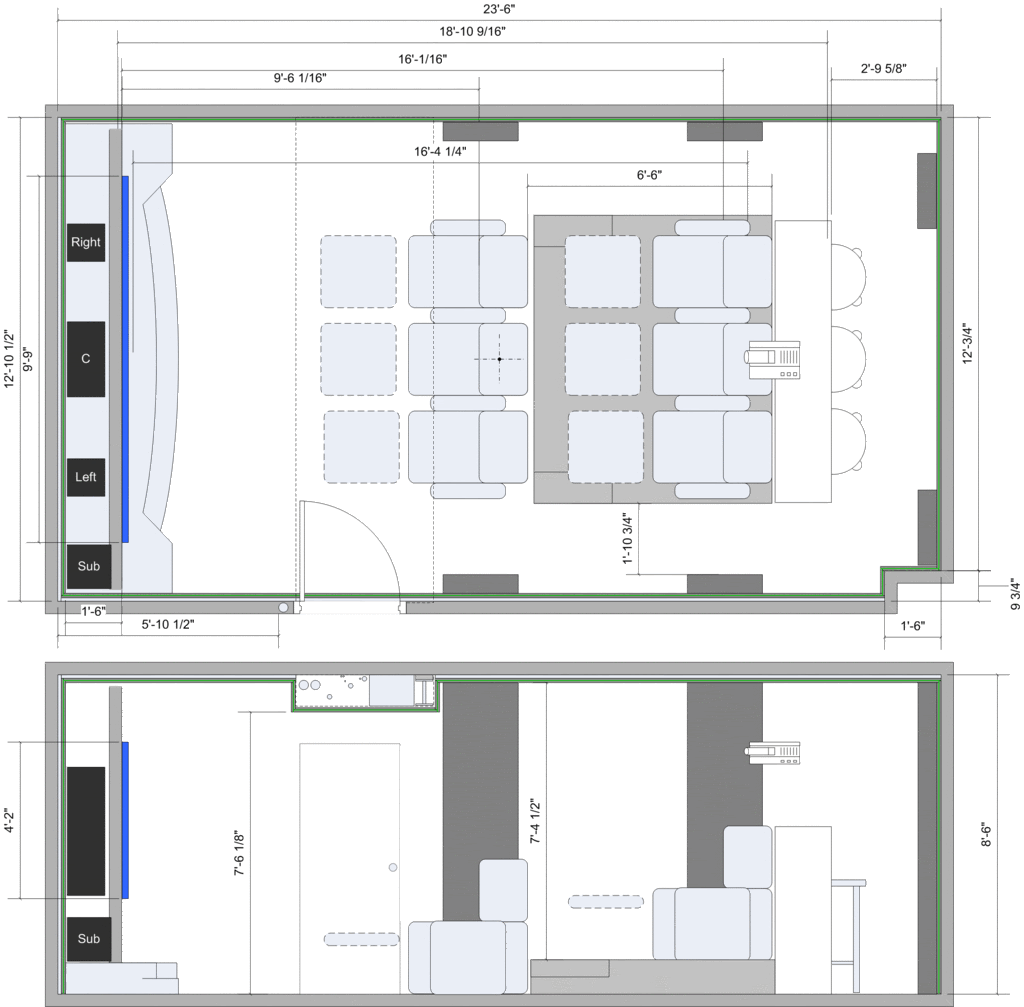 I'm leaning towards making the screen wall on the back wall of the theater near the storage room, as the plastic chairs are oriented currently. I could also reverse everything, but I'm concerned about low head room over the riser due to the ceiling obstructions.
I'm envisioning having a perimeter soffit and light tray in the room. Maybe I can work the beam soffit into that somehow too?
Does the seating plan seem doable? I'm thinking 117"x50" screen, seating at about 9' 6" and 16', with a back bar at about 18'.
Any recommendations for budget in-wall speakers that I could use for surround channels hidden in small <6" columns?

The Polk RC85i looks like an OK cheap speaker (would be less than $300 for the 4 surrounds). I've read recommendations to go with enclosed back in walls instead. What is the cheapest price point that those would start at? Basically, what would be the next one or two steps up from the Polks?

I would budget $350-400 ea for a quality fully-enclosed in-wall surround, like a Triad Bronze. Def Tech has some that are fully enclosed. Atlantic Technology has some as well, but their true surrounds (bipole/dipole switchable) do not have a back. Your options will open up if you also consider shallow on-walls. Either way, you will probably need to find a good deal on something used if your budget for all 4 is $300.

Another thing to consider is whether you want your surround to be configured as a direct radiating model or a dipole. The Polk you are looking at is not a dipole speaker which will lead to your surround effects being more localized.