Hello everyone,
I've been a lurker for quite some time on AVS Forum, especially in this particular forum and figure it's time to start my own theater build thread.
This is a build that will progress over time, but before I can lay out a solid plan and idea of where to begin I'd really like to pick your brains to get some ideas on what I can do in my basement to create a nice theater room for myself, wife and baby due in April next year. Yay!
I was blessed to be able to purchase a home a few years ago, however the basement was already "finished" and so I just put together a makeshift theater that has been sufficient, but now I'd like to take it to a whole new level and put together something a little more thought out.
This is the current layout of my basement space. Hopefully its not to confusing it was my first time using Google Sketch. The measurements are not exact but very close.
Some things that I'd like to shoot for in the basement space:
2 rows of seats
Theater room sound proofed to the best of my ability ( I know there are methods such as staggered stud wall, decoupled room etc... that will help with this) I'm not sure how big of a room to go with because I'd also like room for the following:
Area for kids to play
Bathroom
Keep office/bedroom or relocate it
One of the biggest cons in my basement is the ceiling and the HVAC The ceilings are 7ft and in areas it drops down due to some HVAC running here and there. There is also a beam that runs right down the middle of the basement splitting it in half.
Here is one pic I have, but I'll post some more pictures to get a better idea of what I'm talking about.
I'm thinking that the room will end up being 10' x 15' or maybe 12' x 15' something with those types of dimensions.
I'd really appreciate any feedback from you guys. I've been really inspired by a lot of your build threads.
It looks like you've got a great space to work with here blobula.
The first thing that comes to my mind is that you are going to have some trouble fitting two rows of seats in the space that you have proposed. Planning for a 6.5 foot wide riser would put your front row at about 8 feet from the screen. I sit about nine feet from my 92" 16:9 screen and I wouldn't want to go much closer. Plus, a 92" screen would likely be too small for your back row. If you use more traditional theater seats that don't recline then you'd have a much easier time making two rows work, but those may not fit your design ideas. Another quick idea would be to do one row of seats and a bar with stools behind them.
I think the biggest issue with your current layout is that there are a lot of rooms in a space that might be a little too small. Do you plan on having a bed and desk in the bedroom/office? It seems like you may have trouble fitting that in?
How about looking at a layout like this?
The theater would be on the left side and the right side could be a play area. You could even include a desk in the play area to also make it an office space. Maybe in the alcove next to the shower? This would also put the window in the play area.
It looks like from your first diagram that the width of the theater in this configuration would be just over 12 feet. This would be a great setup for two rows with a false wall and an AT screen.
Also, where are the stairs in your basement?
I'm looking forward to following your build!
Thanks for your feedback.
Your idea of splitting it down the middle is sorta like how it's set up right now. There's only 5 stairs going from the family room down to the basement, because the house is split level design. When you come down the stairs and look to the left the ceiling drops downs several inches to cover up HVAC which makes the ceilling < 7'. Grabbed my wifes iphone and got a panoramic shot of the basement as best as I could. Pretty cool!
So making the room sound proof I'm thinking I just don't have enough height to make it work. Also running down the middle of the room is a structural support beam. If I got rid of the bedroom/office what do you think I could do with the space in the back? There isn't a lot of obstruction in the ceiling with HVAC there.
I updated the current layout to show the stairs and also to show a small closet, cubby hole that exists.
I've been thinking about this some more and just wanted to make sure I'm on track or if I'm off base.
Two of the walls in the new theater room willbe concrete foundation walls. It's my understanding that a stud wall 1" from the foundation wall is decoupled. So double drywall with GG between should be sufficient on those two walls. The two other walls that would separate the theater from the other rooms would also have a double layer of drywall + GG. r13 insulation in the walls all the way around as well. Is this correct?
Due to my low ceilings would the following improvements help in keeping sound more isolated to the basement?
Put mdf + GG + 5/8 drywall in between floor joist of the theater room. Then stuffed with r19 insulation. Covered with 5/8 drywall for the ceiling? I can't use resilient channel because my ceilings are already low (at least I don't think so). With drywall on the ceiling it would be a height of 7'.
I took this from the Sound Proofing Company website, however what I'm thinking wouldn't have the isolation clips/furring channel or extra layer of 5/8 drywall on the ceiling.
I could do this possibly but since I'm not not really going for complete sound proofing this may be overkill.
Anyone? Do I need to post more information that would help?

Quote:
I could do this possibly but since I'm not not really going for complete sound proofing this may be overkill.
I'd argue that it would NOT be overkill. Remember, you want to lower the sound floor IN the room as much, if not MORE, than worry about sound getting out.
I was looking at the floor separating the basement from the upstairs living room and it looks like when the house was built they shot nails into the subfloor which protrude through. See pic below.
Is it ok to slide 1/2" piece of rigid foam cut to fit (Owens Corning Foamular 1/2 in. x 48 in. x 96 in. Squared Edge Insulating Sheathing) between the joists and push up to cover the nails protruding through which will give me a flat surface to place a piece of drywall against?
I also could slice a 2 x 4 and fit it between the joist just under the protruding nails and attach drywall to that. I assume I'd then fill that small gap with insulation?
You can just hammer them over and pound them (relatively) flat. That's what I did and has been done on other theaters as well.

Putting insulation up and then attaching DW to that doesn't sound like a good idea to me. I've never seen it done before.

Also keep in mind the floor covering above. If it's carpet, you will need to be very careful not to let the screw heads protrude up through the subfloor.

It's been awhile since I've updated in this thread, but the dream of having a dedicated home theater room is still alive! My wife and I welcomed our first child into the world a few months ago, so that has kept us rather occupied and the finances tight.
I was hoping to get some guidance or ideas on a way I could layout the basement which would accommodate a dedicated home theater room, play room/office area and bathroom. The way things are now the "theater" is in a big room, but this room is also used for storage and other things, etc... not ideal. The office room has an egress window and closet with a bathroom attached.
I've posted a layout and pics above, however attached is a sketch of how the basement is currently laid out.
There's not to much room to work with unfortunately, but I've seen some nice smaller theater builds on this thread so it's certainly possible i think.
I'd like to have a theater with a false wall, 106" or larger screen, and sound proofed as best as possible. Two rows of seats isn't necessary.
Any ideas you guys might have would be appreciated. If I can supply any other info I'd be happy to.
Current layout.
Or put a cutting disc on a dremel and just cut them all off. The protruding part has no function anyway.

That's a good idea. Another tool that's probably worth having around.

I know this doesn't pertain to 'Home Theater', however knowing the vast amount of knowledge that exists in this forum I figured I'd post it here.
Before the Home Theater gets started, my wife and I are working on remodeling a small family room off the garage. I'm currently in the demolition stage and uncovered a wall that looks to need perhaps some attention in tidying it up a bit.
This is a pic of the wall in question.
First question.
This wall sits up next to the upstairs (top half) and basement (bottom half) because the home is a split level built in the early 60s. There is an area in the wall that is open with no studs. Should I place studs in it to form a more complete wall and then pack it with insulation to help with sound transfer? What kind of insulation? Or should I place a sheet of plywood in the inset first, put studs in place, insulation, and then drywall?
Second question.
HVAC. The ducts you see in the pic are supplying heat/air. The two 7" ducts beside each other one supplies heat/air from the ceiling to the family room. From this pic do you think it's possible to supply it from the wall instead? I'm of the opinion the duct for this room is to big, because there's a same size duct that supplies a tiny bathroom with heat and air on the same level. Seems like overkill to me.
Image showing duct work and ceiling joists.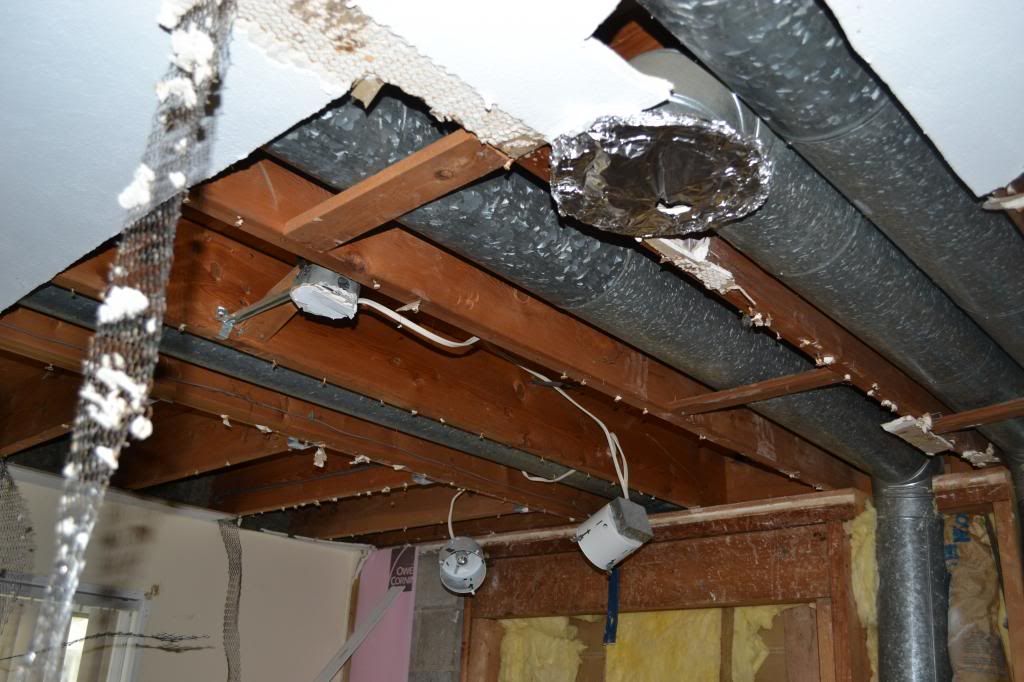 Third question.
The insulation around the ducts, is this right or should I tidy it up with something else? What kind of insulation should I put in the ceiling to help with sound? I know Roxul safe n sound would probably help. I'm thinking just r19 in the ceiling. r13 in the side wall that is uncovered. The other two walls (garage, house exterior) have fiberglass insulation on them.
Fourth question.
The cavities at the end of each wall which sits against the exterior wall have blown in insulation of some sort. Is this ok, or should I stuff it with something else? Thank you!
What are the advantages of replacing HVAC supply lines that are done in sheet metal as seen above, with insulated flex duct?

Are their restrictions on the length of the runs if I replace with insulated flex duct?