Old
10-27-2013, 09:49 PM
-
Thread Starter
AVS Special Member
Join Date: Feb 2009
Posts: 2,925
Mentioned: 3 Post(s)
Tagged: 0 Thread(s)
Quoted: 617 Post(s)
Liked: 301
Hey guys,

I am finally tackling the small, but annoying, problem of the light from my projector bouncing off the screen onto the ceiling (since the top of the screen is mere inches from the ceiling due to size). The ceiling is painted matte black, so the light reflection isn't terrible, but I just feel like there should be a simple and economical way to fix the problem.

I was thinking something simple like a thick black curtain that I could tack (aesthetically pleasing) along the ceiling and even have excess hang down a foot or two on the side walls. Obviously a simple curtain probably wouldn't be the best idea, as it might look tacky and the area I want to cover is 14'x8', so not sure if there is a solution people have used before or know would work?

My other, more expensive and time consuming idea was to use black acoustic panels.....but that would be a hefty price.


Any suggestions? Thanks!
HOME THEATER CONTRACTOR
Join Date: Jan 2003
Location: Northern VA
Posts: 26,878
Mentioned: 161 Post(s)
Tagged: 3 Thread(s)
Quoted: 2877 Post(s)
Liked: 2422
Black velvet is the go to fabric around here for the blackest light absorbing material. You could wrap around something rigid like plywood panels and attach to the ceiling and walls.
I built a two inch thick panel, stuffed it with Linacoustic wrapped in black GOM FR701 and hung over my screen, the panels surrounding the screen are micro velvet.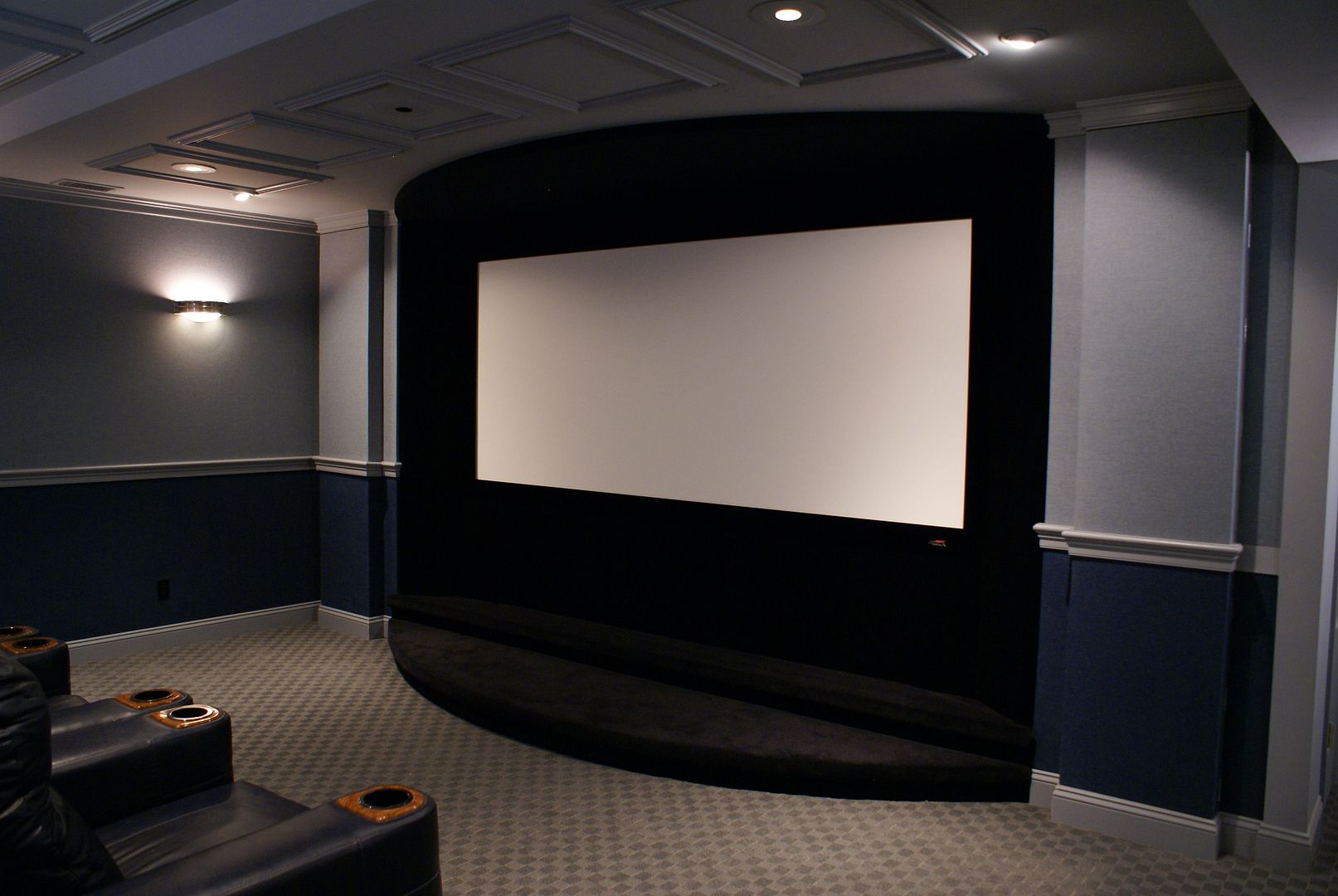 Old
10-28-2013, 07:48 PM
-
Thread Starter
AVS Special Member
Join Date: Feb 2009
Posts: 2,925
Mentioned: 3 Post(s)
Tagged: 0 Thread(s)
Quoted: 617 Post(s)
Liked: 301
Very beautiful.

The unfortunate part is, while I am very handy even with wood (rebuilt a wrap around porch this summer by myself)....I am not the best when it comes to "finishing" touches, in that even something as simple as wrapping plywood with velvet fabric would come out looking rough in some way or another in my hands. That being said, it seems like it would be the cheapest route so I could afford some trial and error. Did you just stretch the fabric over the frame and tack it to the back of the panel?

Also, even if it is a little more expensive, would buying acoustic panels and using them also provide an added acoustical advantage, or are ceiling reflections for sound of little impact/importance?
Member
Join Date: Dec 2010
Posts: 136
Mentioned: 0 Post(s)
Tagged: 0 Thread(s)
Quoted: 2 Post(s)
Liked: 11
I built my frames outta 1x2 pine, with a center support or two - painted them black, and wrapped in JoAnn Fabrics deep black velvet. Wrap, and tack a few spot starting at one end, pull as you go to keep super tight. And use LOTS of staples. I used a ton and even today, 2 years later, you can see it slightly waving/sagging - just a little in bright light, but the lights are never on so its not an issue. We also painted the ceiling wth 2 coats of mouse ear black, and the crown too. Like deep space!
Posting Rules

You may not post new threads

You may not post replies

You may not post attachments

You may not edit your posts

---

HTML code is Off

---