Member
Join Date: May 2014
Location: Texas
Posts: 15
Mentioned: 0 Post(s)
Tagged: 0 Thread(s)
Quoted: 0 Post(s)
Liked: 10
My first media room
---
Hello,
Just purchased my first house.
I am eager and ready to begin my media room build.
I will post lots of pics and hope this post will benefit newcomers in situations similar to mine and what I might encounter.
I know this is a great forum with awesome people.
I will try to list prices to give people a realistic idea of what you can do on a modest budget.
VIDEO:
Projector: BenQ W1070 ~$750 (w/ mustang ceiling mount)
DVR: IView-3500STBII ~$33
PLAYBACK/GAMING DEVICES:
PS4
PS3
XBOX 360
WII
WII U
Antenna: RCA ~$ (-$ MIR) Attic mounted
AUDIO:
Pre Amp: Emotiva UMC-200
Amplifier: Emotiva UMC-700 (w/ blue tooth module) ~$325
Shaker Amp: Dayton SA240 ~$50
Speakers:
Front: GR Research N1
http://gr-research.com/n1.aspx
Rear: GR Research Paradox 1
http://gr-research.com/paradox1.aspx
Subwoofer: SPL Gorilla 15"
Accessories: AuraSound AST-2B-4 Pro Bass Shaker Tactile Transducer (X2) ~$60
MRCA-7-1 Emotiva RCA cable
Blackout Curtains (X3) ~$25
Blackout Curtain Rod 72" ~$55
Cable Matters ~250' CL2 rated speaker wire
Outlet Covers
RACK:
Dedicated closet behind seating
SEATING:
Klaussner Twilight chars X6
NEW TOOL PURCHASES:
The room:
Second floor gameroom at top of staircase.
Thusfar, I owe a lot of thanks to MississippiMan for his time and knowledge.
I hope to not buy myself an education during this build so any and all advice is appreciated.
Thank you and enjoy.
---
Last edited by IM1THE2KING3; 11-03-2014 at

07:44 PM

.
Member
Join Date: May 2014
Location: Texas
Posts: 15
Mentioned: 0 Post(s)
Tagged: 0 Thread(s)
Quoted: 0 Post(s)
Liked: 10
HOME THEATER CONTRACTOR
Join Date: Jan 2003
Location: Northern VA
Posts: 28,152
Mentioned: 267 Post(s)
Tagged: 5 Thread(s)
Quoted: 3899 Post(s)
Liked: 3333
I'm quite sure I've never seen a projector mounted that high before, but if it works thats great.
Member
Join Date: May 2014
Location: Texas
Posts: 15
Mentioned: 0 Post(s)
Tagged: 0 Thread(s)
Quoted: 0 Post(s)
Liked: 10
Hey BigmouthinDC!

Good to see you drop by my build, I have read several hundred replies from you while gathering knowledge.

I am looking into options right now in regards to lowering the projector height. I created an adapter to hang it lower, but am working with MM on the ideal height.

The pictures you see are temporary b/c I was eager it was about 6" down on a ten foot ceiling! I will say it is awesome owning a PJ!

Stay tuned in and thank you!
---
Last edited by IM1THE2KING3; 06-25-2014 at

06:31 PM

.
DIY Granddad (w/help)
The PJ has to be lowered considerably to avoid his having to use excessive Vertical Lens shift.
The TS wants at least a 130" diagonal 16:9 screen, and envisions two rows of seats w/Riser
He also wants the screen as low on the wall as possible, but has been informed that unless he wants (can live with) a 2-step, 12"+ high riser, a 40" "bottom of the screen" height is as low as he can go.
So far by my estimate, the PJ needs to be mounted at a minimum of a 16" drop. A overriding issue it that he purchased a Mustang Mount. Usually it comes with up to a 22"s of extension, but it also is very "industrial" looking, and when it's at it's longest extension, it's really not too stable. However the TS speaks of needing to create an "adapter" to hang it lower, so what that entails I do not know. Yet.
In any case, his 130" diagonal 16:9 screen is going to be 64" x 113" and the PJ working at a suggested Throw of 11'-6" A "Floor-to-Screen" height of 40" puts the top of the Screen at 104", leaving it at a full 16" down from the Ceiling.
There is a Fan in the way to deal with. The TS needs to mount the W1070 at a minimal distance from the Screen to allow for the W1070 to deliver a dynamic image at 130" diagonal, but is made issue by the existing Fan.
The W1080ST would have been a better choice, especially due to the fact the TS wants to "game" with it. But that is moot at this conjecture.
Room Colors are to be considered, and the TS is willing to go with a darker Ceiling and muted walls. Yay.
I have suggested something like this.: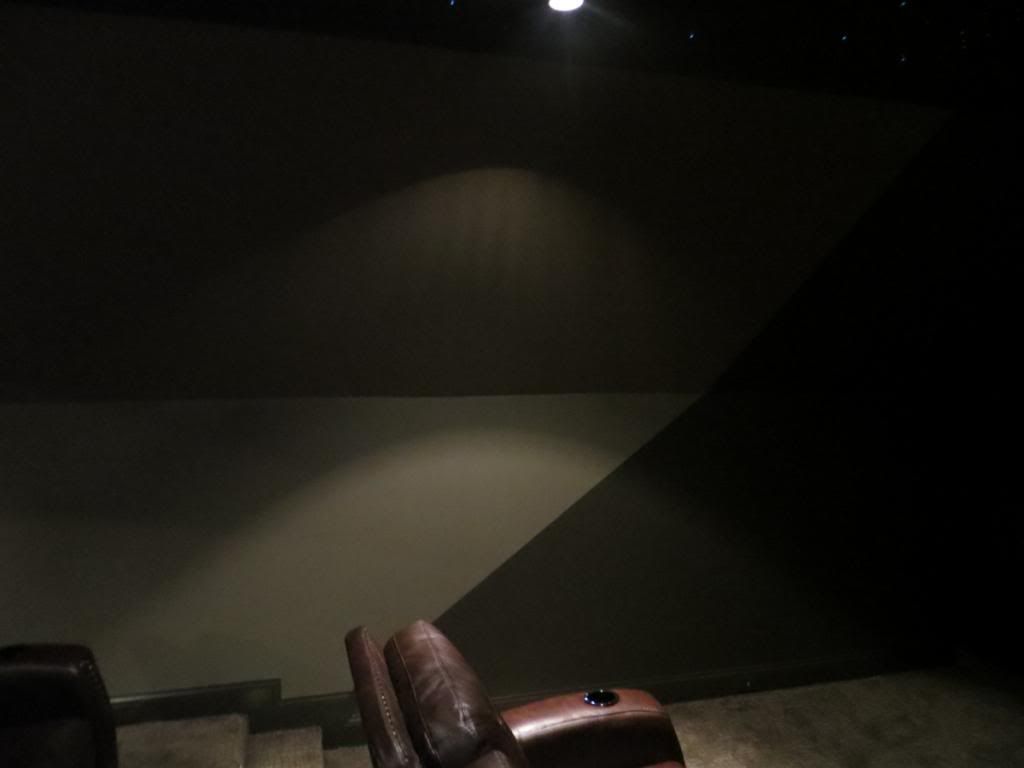 or something with more contrast between the Walls & Ceiling like this...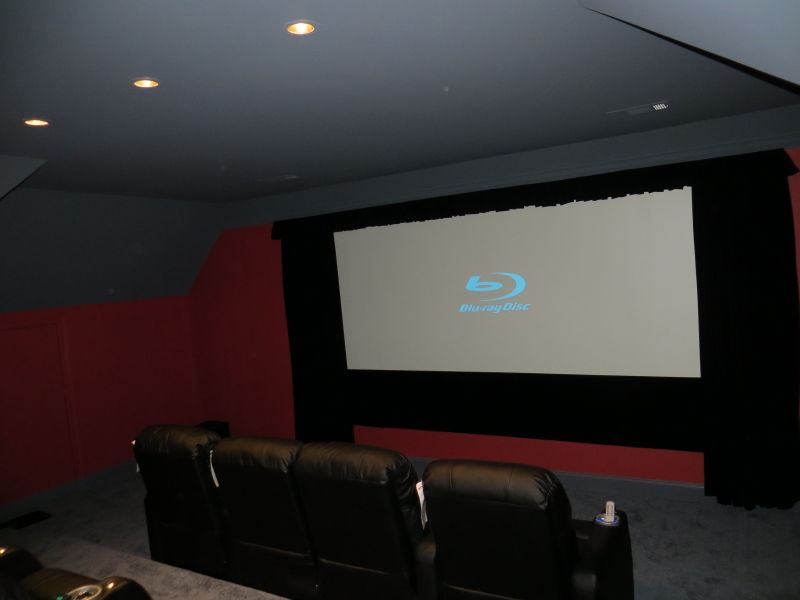 The point being that the TS doesn't need a Black Ceiling, nor uber-dark walls, just a good color combination that mutes reflected light.
Stewart Williams has a color called
Peppercorn
, that can be either Lightened or Darkened to create a suitable contrast between Ceiling and Wall, yet color match perfectly without any fear of clashing.
They also have a color called
Enduring Bronze
that can be adjusted likewise. (see 1st image above) The darkness of the paint as seen in the image is misleading....it simply absorbs light so well that under low illumination, it looks Black.
Here is the same shot as seen under full lighting: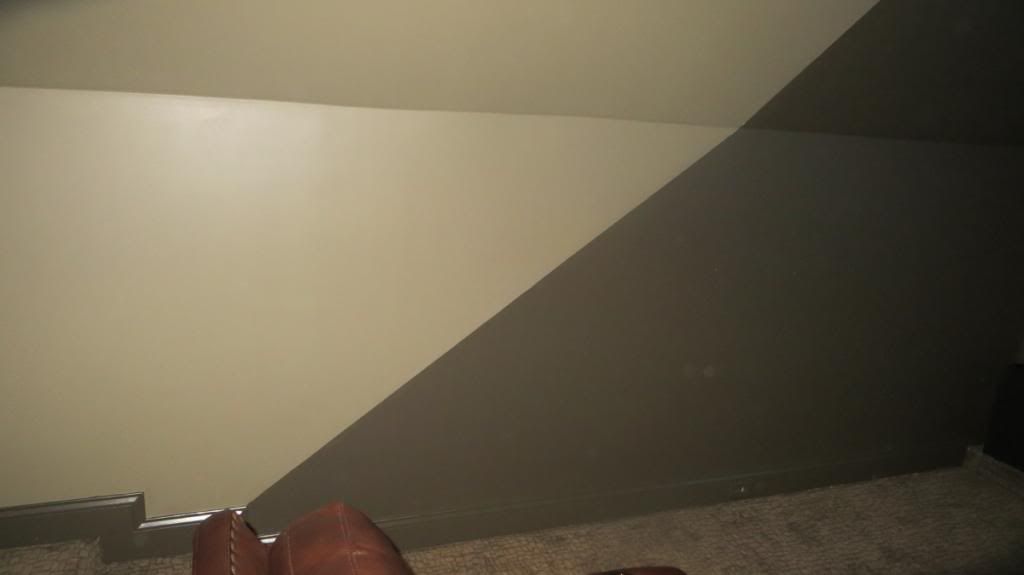 Both are fairly "Significant Other" approved, leastwise over anything like "Black"
Acoustic wise, the speaker options / placement are a bit limited, but I would defer to those more "attuned" to using conventional speakers (Mr Big
) to advise the TS in that regard. Myself, I will remain "invisible".
Member
Join Date: May 2014
Location: Texas
Posts: 15
Mentioned: 0 Post(s)
Tagged: 0 Thread(s)
Quoted: 0 Post(s)
Liked: 10
It is unfortunate that I am constrained by my purchase of the BenQ W1070 projector. Albeit a good projector I now understand it may not have been the best purchase for my scenario.
Moving on...
I drew a Blank Slate image of my room showing the variables which will constrain this build.
As can be imagined while in the blank slate page I want to design as well as possible.
MM as for the mustang mount it came with the purchase of the projector. It is a "slim" mount. Sticking down 5" from the ceiling with no height adjustability.
I have a 3'+ piece of SS pipe that I have created hole pattern into to mount directly between the pieces of the mustang mount. More precisely the piece that mounts to the actual ceiling and the piece that mounts to the projector. This extension is very solid. My only fear would be movement due to extremely vibrations IE bass. That is why I suggested mounting the PJ 20" from the ceiling opposed to going all out and hanging it 3'+ from the ceiling.
I like seeing the color options! I was keen to the two tone look.
As I am sure you know when I go to present these to my significant other the more options the better.
If anyone has any further color suggestions please let me know.
I see this as a real challenge since this room is technically a upstairs open game-room and the wall color flows from this room into the hallway and all the wall downstairs. Knowing where to begin and end the transition in ceiling color will be tricky.
MM below is what I sketched up based on your suggestions.
Please let me know if you see any issues in my drawing.
I do have a question in regards to screen height from floor to bottom of screen being 40"
I feel like that might be a bit too high for my goal. I understand this value was given based on riser guests ability to see the screen, but... I feel more concerned with peoples ability to play video games when sitting up close. Most gaming type rocker chairs are sitting really low to the ground and I would go out on a limb and say the second row will rarely be used and even when being used the people on the first row will most likely be in a reclined position. Thoughts?
As always thank you all.
DIY Granddad (w/help)
Certainly if you dismiss the Rear seated Guests as being worthy of an unobstructed view when the first Row viewers are not reclined, you screen height options a virtually unlimited.

But the best thing to do is to make the Screen height at the absolute minimum height allowable....no less.

Somehow set up two folding chairs, one placed at the approx. front Row location, the other behind it at the chosen distance. Make a 8" elevated base from something and place the rear chair on it.

On the screen wall, put three horizontial stripes of Blue Tape, one at 30" ...one at 35"....and one at 40".

Find the tallest person you know and set him in the front seat, and take a "Normal" person and set them in the rear. Whichever lowest stripe is fully visible is the best height for your screen.

I got no answer for the use of Gaming Rockers..................they are just so, well inappropriate a thing on which to base decisions on a Theater build that will incorporate a Rear Riser.

Better to get some diminutive , cheap Recliners, outfit them with Bass Shakers, and when they are not in use...shove 'em aside.




What you really need is a PJ with Motorized Lens Shift. Hey, one is only 4.5 times the cost of the W1070. Waddya want fur nuttin.....Rubbbbbber Biscuit?
Member
Join Date: May 2014
Location: Texas
Posts: 15
Mentioned: 0 Post(s)
Tagged: 0 Thread(s)
Quoted: 0 Post(s)
Liked: 10
I played around with the screen height and seating as you said.
I believe I just about have it set in stone.

Only 4.5X my entire rooms cost haha =)
Member
Join Date: May 2014
Location: Texas
Posts: 15
Mentioned: 0 Post(s)
Tagged: 0 Thread(s)
Quoted: 0 Post(s)
Liked: 10
Time has not been on my side, but here are some old progress pics.

I will try to take new pics soon.
Posting Rules

You may not post new threads

You may not post replies

You may not post attachments

You may not edit your posts

---

HTML code is Off

---