I had started to dream last year of my own killer set up in the basement and started looking into the new 70" Sonys at our local electronics store and saw they had a HT room set up by the TV's so I went in to check it out. They had CARS playing on a 120" 16:9 and had a set of 3 berklines set up so I sat in the middle chair and you can guess my dreams just got a whole lot bigger
I started to do a bit a research and came across the AVS forums dedicated theater design & construction threads. At the time back in December SandmanX and a few others threads were at the top of the heap so I began to read & read & read I could not stop
It was then I decided to build my own. My journey began back in January so I have many photos to upload. I just started hanging sheetrock so I'm on the down hill slide
I will begin adding all my photos up to where I am today in the next few days
We had gone to the in-laws for Christmas and I was going to start framing when we got back.
Well the week after we got back my basement started leaking
by code the builder has to put up foil faced insulated foam board on the wall so I could not see where it was coming from. I pulled off the foam which was glued on real well and I found a large crack running from the top of the foundation all the way to the bottom. It was super cold -0 and below the first weeks of December and warmed up into the 60's the last week. I think that is when it cracked and with all the melting snow the water came in not sure how it got past the outside membrane but it did. Needless to say our 1 year home warranty was up in October
Well I did some research and found some do-it-yourself foam & epoxy crack injection kits. The foam stuff works allot like gorilla glue its water activated. Here are a few links to kits I found if any of you ever have the same problems
http://www.cpr-products.com/applicat...cid=43&gpcid=6
http://www.appliedtechnologies.com/p..._material.html
Here are a few photos of the repaired crack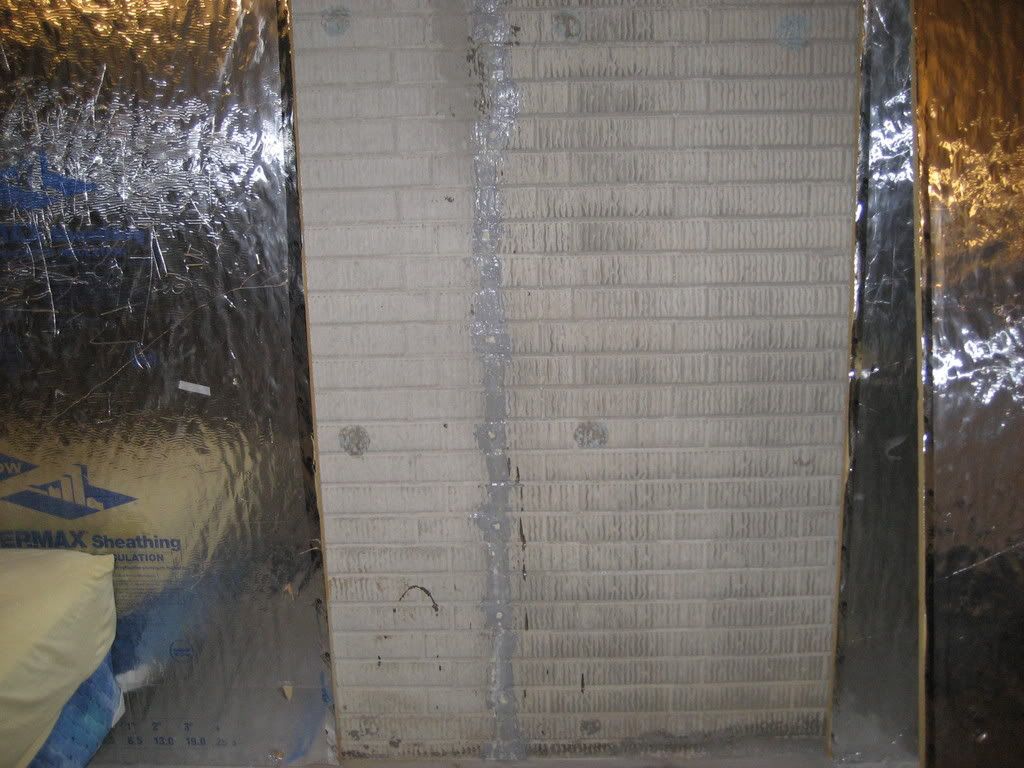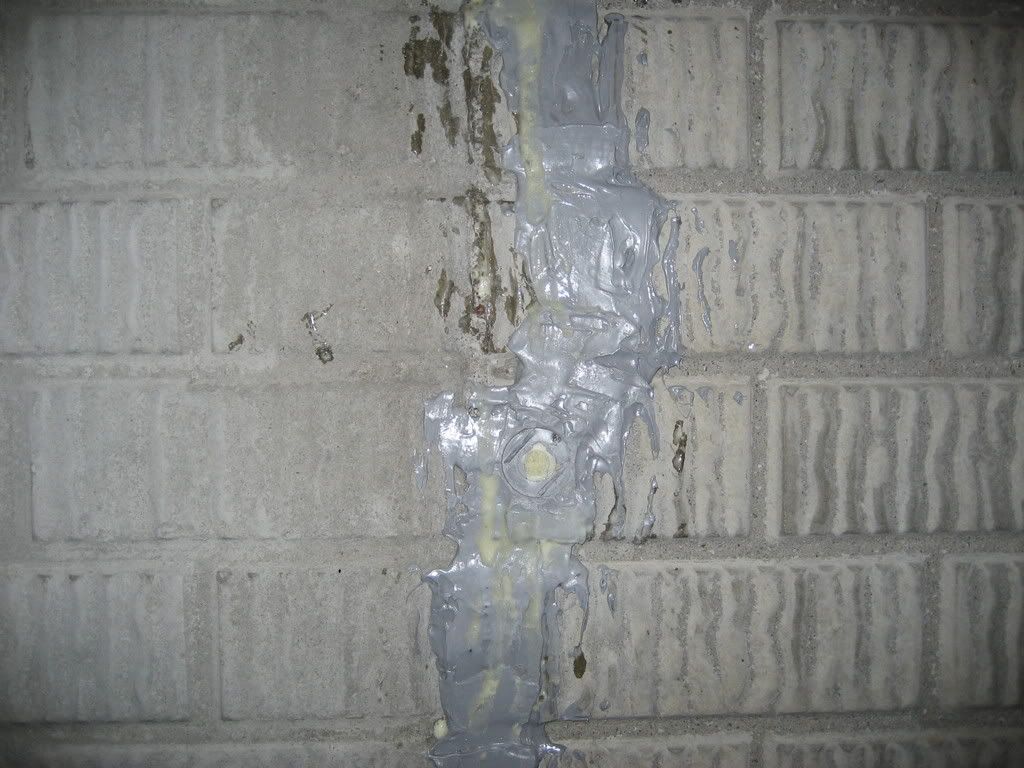 Welcome to the club :-) I can't wait to see the photos. What design style or direction will you be taking your theater in?
-Cam

Well After repairing the crack I started looking at the outside of my foundation and could see 2 more good sized cracks.
I decided to pull down all the foam board and inspect all the walls and before I could even get started another leak formed. once I got the insulation off and fixed all the cracks. I decided I should cover the walls with a paint sealer. I had used the ugl drylock brand concrete block sealer on my grandmothers basement with poor results. I did a bit of digging and found this web site
http://www.amesresearch.com/basement...JAodmzLk2w#bwr
I ended up ordering the Block & Wall 5 gallon buckets. The product is rubberized so if new cracks appears the paint is supposed to stretch with the crack. It was not cheap but gave me peace of mind knowing my cracks were fixed and my walls sealed
as you can see this stuff was like pudding and it covered real well I did 3 coats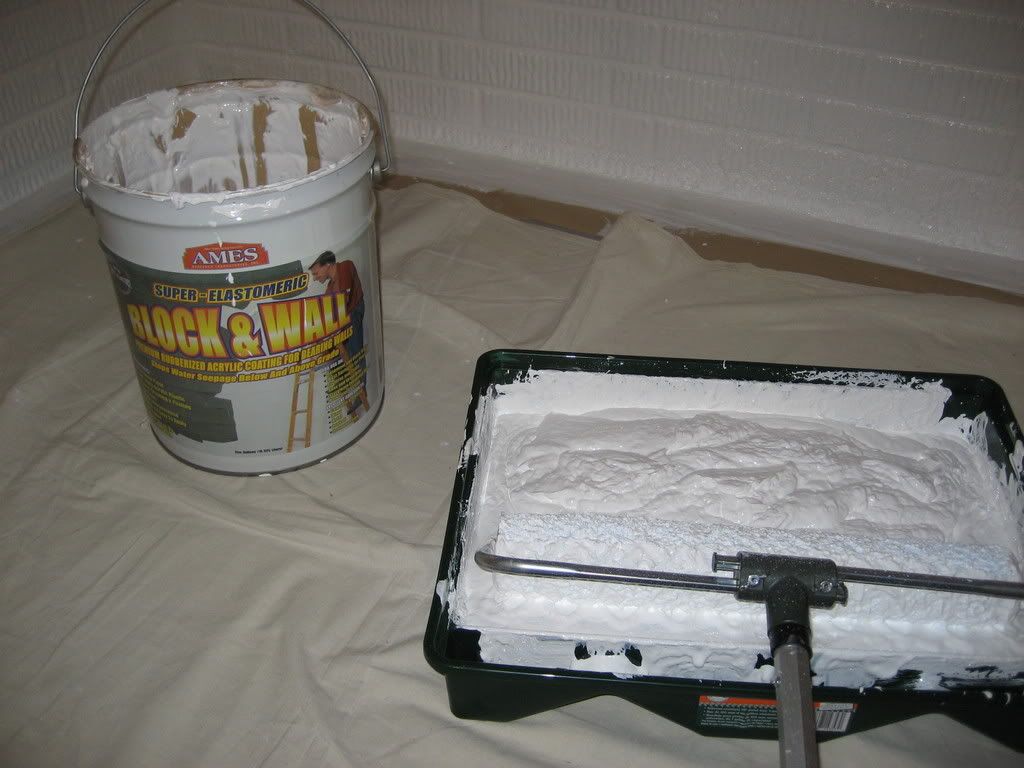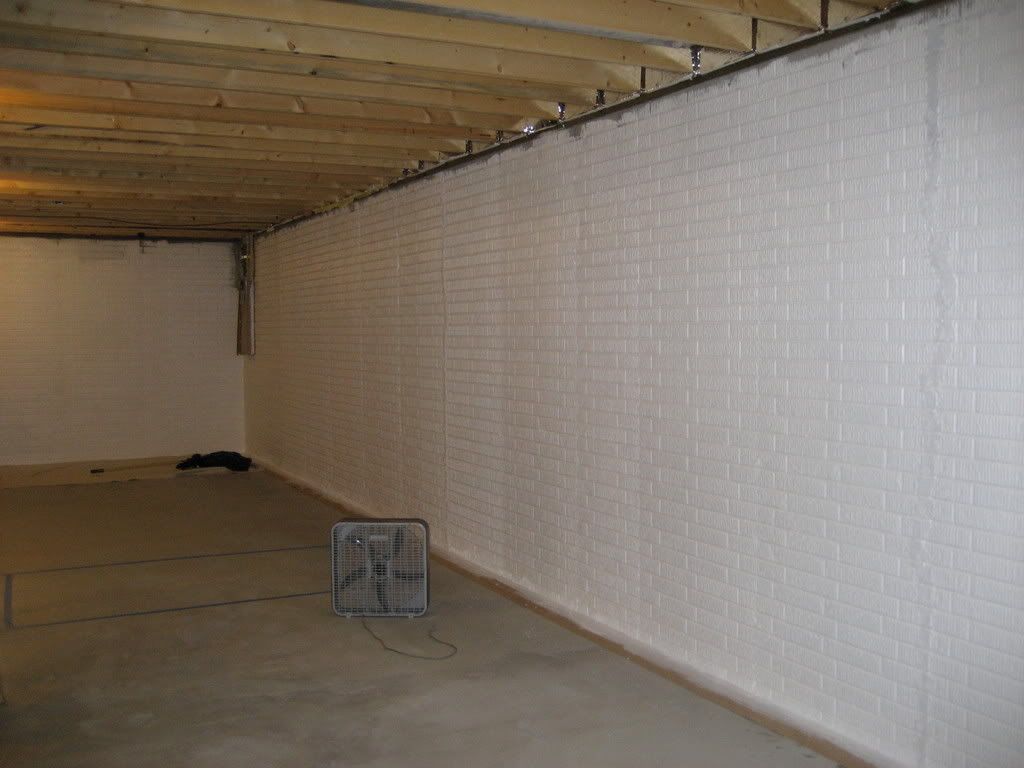 Videocam
My room is 14 X 24 X 9 I have a ton more pics to upload so stay tuned
I have read through your thread and really like the colors your thinking of going with. looks like its gunna be a pretty sweet spot to kick back
Scott
Wow... about the same dimensions as mine! 13.5x24

After reading some threads of members that had some water problems too and there solutions. I thought I would go one step further before I started framing in the walls. I put down a delta floor system in the area where the home theater will be located. Stage full of sand and water would be a bad combo plus it would be a real pain to take apart once built if it ever got wet. I only took a couple photos of this process not sure why I didn't include the sub flooring install too. Maybe I was to tired after carrying 12 sheets of sub floor down into the basement

http://www.spycor.com/Cosella_Dorken_DELTA_FL_Subfloor_for_Concrete_p/dlfl.htm

Here is the area that will be the HT with the foam board reinstalled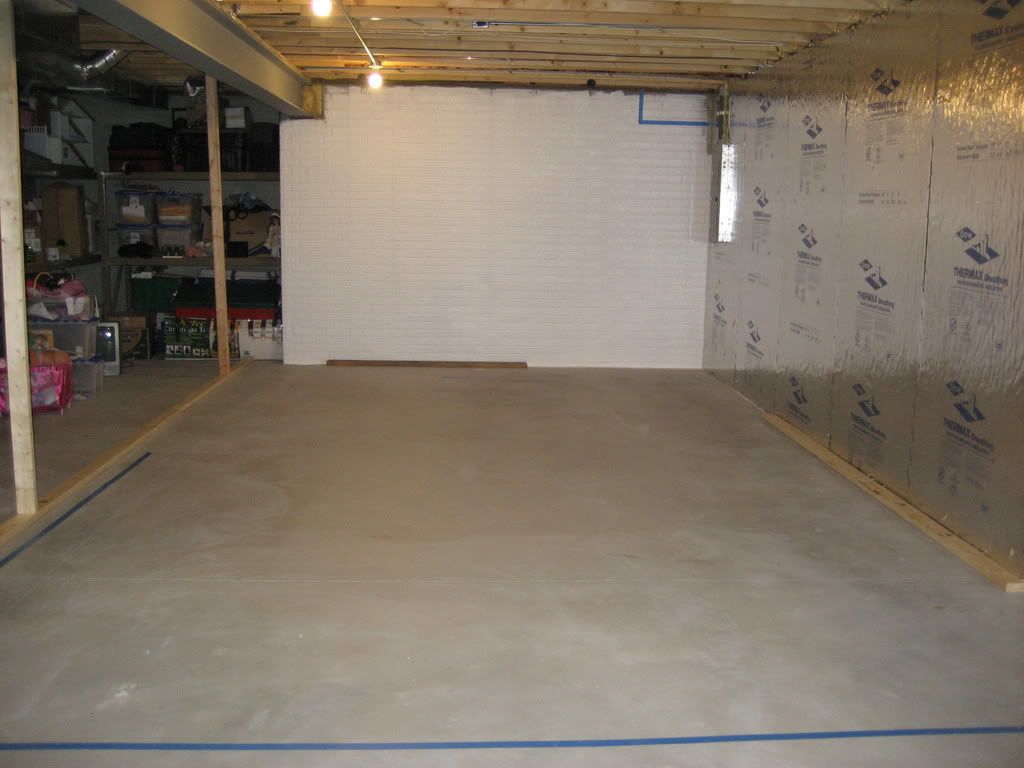 A look toward the back side of the area



I wish that the furnace would have been about 2 foot further south then I could have been 16' wide but I got the wall as close to it as I could




delta going down with a foam underlayment on top. when I first put it down it made a ton of noise walking on it. I used the foam for good measure just in case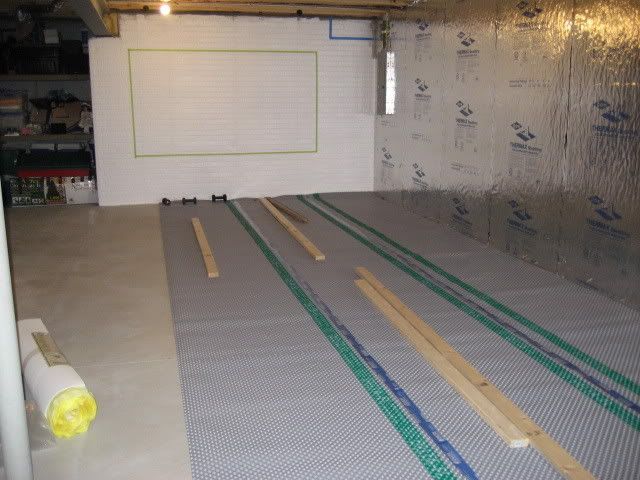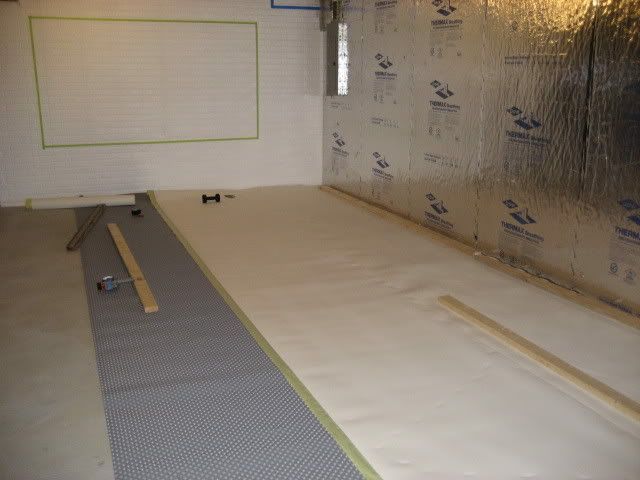 Framing began on the whole basement in late January. I will not bore you with all the other areas of the basement and just concentrate on the HT photos.
Here is the framed in theater area it is 14 x 24 x 9 I did a staggered stud wall along the utility room and two separate walls along the back
This is a look toward the screen wall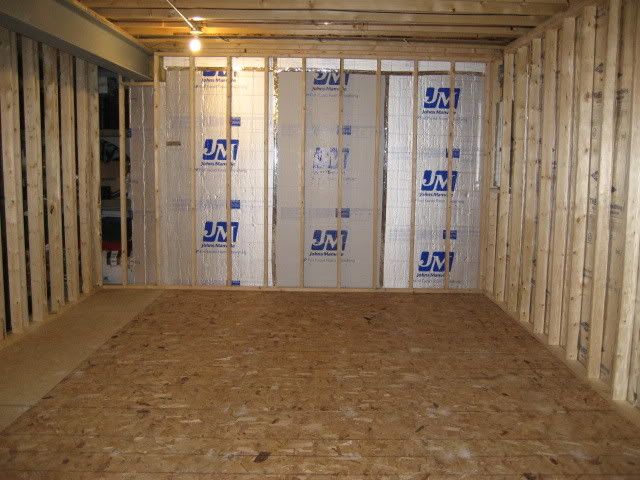 and the back. if you look closely you can see that I have framed in a large closet on the back side. this will house all my componets and HTPC
the staggerd stud wall along the furnace room. You can see the large steel beam I had to work around. It will be hidden in my soffets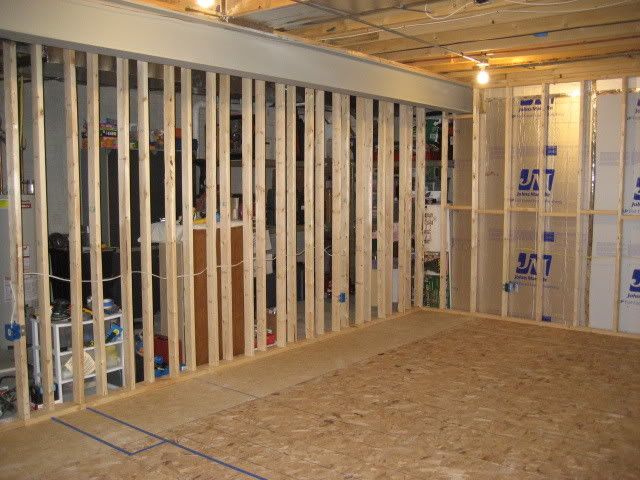 Also the entrance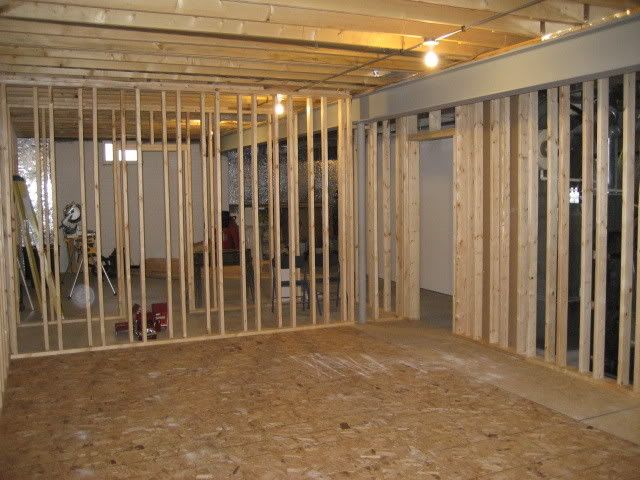 Sorry to rain on your parade. This is what I thought too. I started in february, I think I was done with the sheetrock the end of march. I figured I had 1 more month to finish the project. Here we are in July and I still have at least another month to go...

The build looks great! just remember to keep your patience!

I know what you mean I had my dad and a buddy come and help hang the 5/8 on the ceiling yesterday thats is a real PETA. my buddy said he wanted to help this morning I paid him $20 a hour yesterday needless to say he has not returned my 2 messages I left last night and this morning on his cell phone
I would not want to hang sheetrock for a living. If i could do it myself I would but those 12' sheets are HEAVY.
Quote:
Originally Posted by
rm1759
Sorry to rain on your parade. This is what I thought too. I started in february, I think I was done with the sheetrock the end of march. I figured I had 1 more month to finish the project. Here we are in July and I still have at least another month to go...
The build looks great! just remember to keep your patience!
I gotta agree here. We are shooting for an October 1 opening - I have my doubts we'll get it done. Of course we are slow moving workers, and my accoustic plan is ambitious. Don't hang the projector, as they say.
I started my project last MAY 2006, wanted to be done for my anniversary Sept 7, Husband even lost his job on my birthday June 8 so had full time to work on it most of the summer, well Sept came and went he got a job in Oct. I figured OK by Halloween, nope, Christmas for sure, Nope, Valentine's day??? nope, Well the year anniversary of starting came and went, every weekend goes into this and we have to travel two hours to get to it to do that and two hours back on Sunday nights, all of the long weekends have gone to it. and my original budget of under 5K is now around 60, [more for the equipment than the other things as I am very do it yourself and come up with my own ways to attack things] anyway her it is July 4th and the main theater room while ALMOST done still isn't quite and we still have the equipment room, concession room media storage area and a long hall leading to the theater to redo. At this point I figure that the THEATER will be done for THIS Sept 7 anniversary, 39th, and perhaps the rest will be done for the 40th!!!

too late. It was only up for one evening to give the wife a taste of what I was working toward. Needless to say on a daily basis she asks me if I am going to work on the basement. I snaped a couple pics that night
Mits 1000hdu projector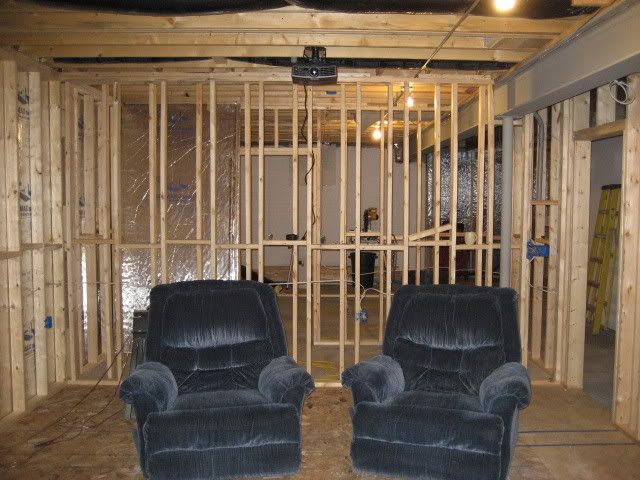 120" elite screen. I have since ordered a 12' wide 2:35 SMX screen but I will go into that later as to why I changed my mind
Not sure why I didnt take some screens of the projector in action. we hooked up our HD cable box and a old 5.1 bose set up and watched american idol
it made the BOSS happy and gave me the green light to pretty much do what ever I want
Just after I got most of the framing done I ran across a swinging deal on 7 coaster directors for $1,100 I could not pass them up. They were factory returns that had some slight damage from shipping. As you can see I had to do a trial fit. I am glad I did because I am going to change my original riser layout.
I can get the 7th seat in the front row but it does not leave much room to get by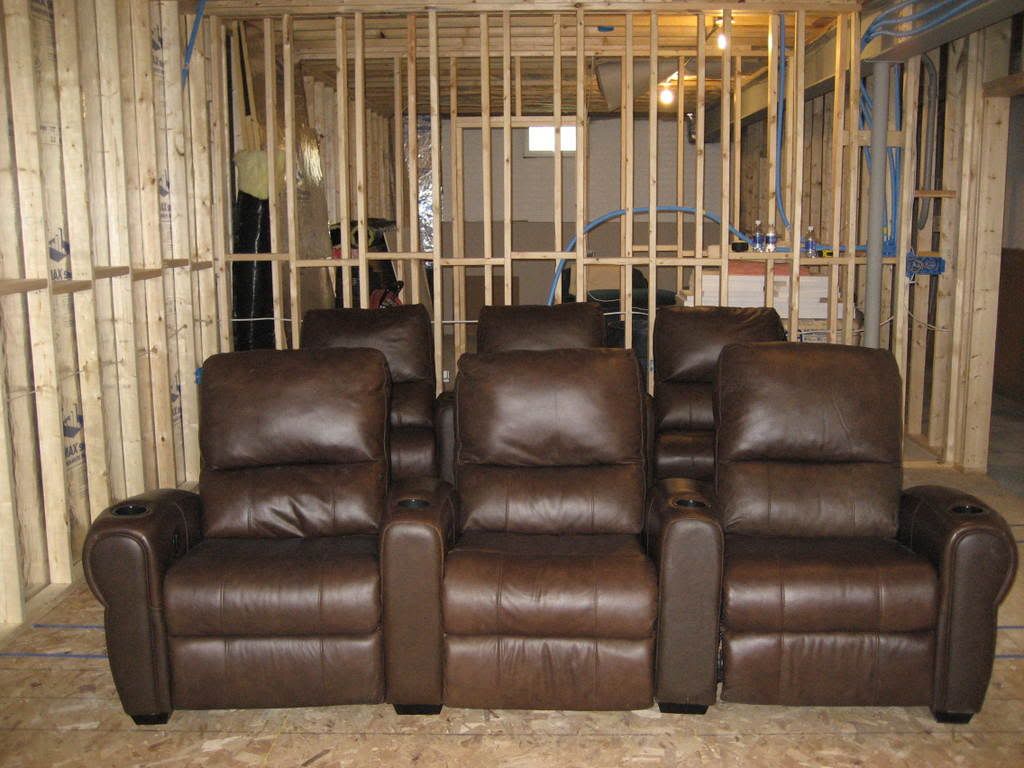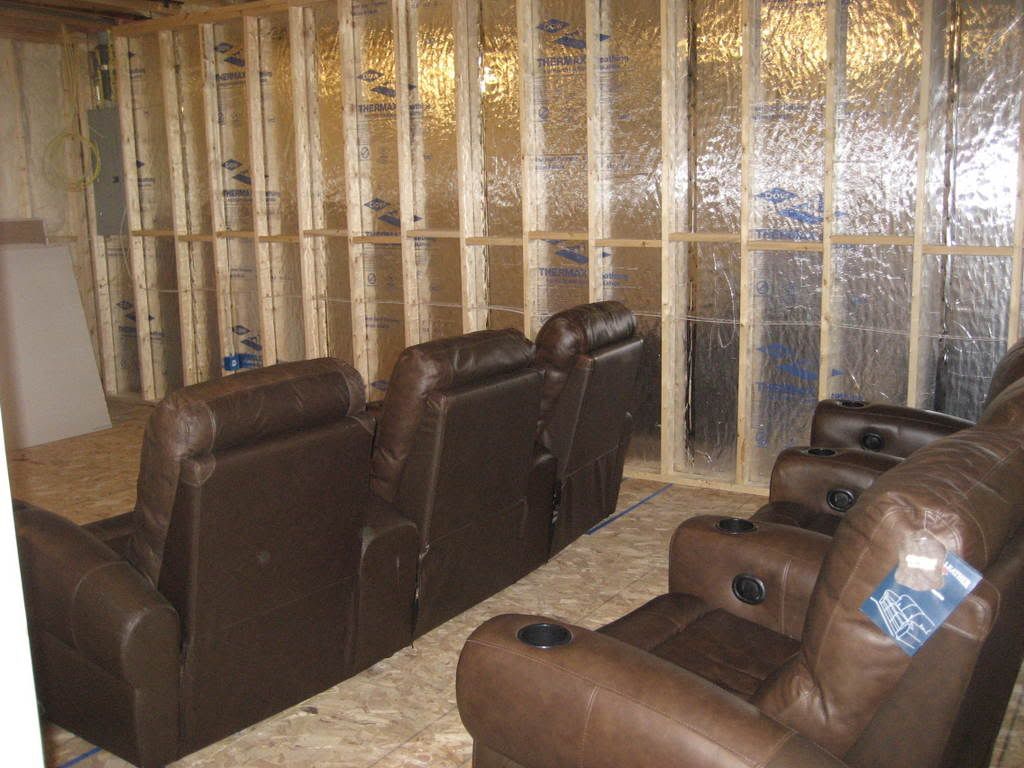 All of the electrical has been roughed in and my speaker and sub wire conduit has been ran
Here you can see I used the steel beam to run my conduit up to the screen wall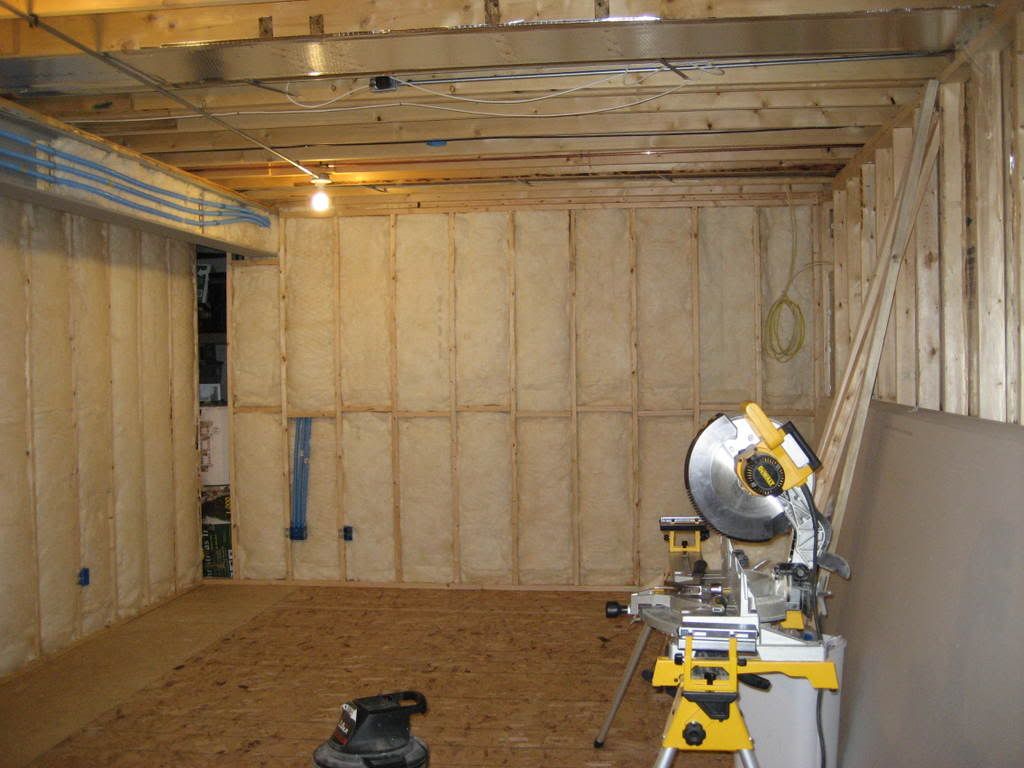 Here is where it ends in the closet behind the back wall of the HT
I had the closet all sheet rocked and then decided to add rear speakers for a 7.1 set up. I ended up tearing some down to add the new box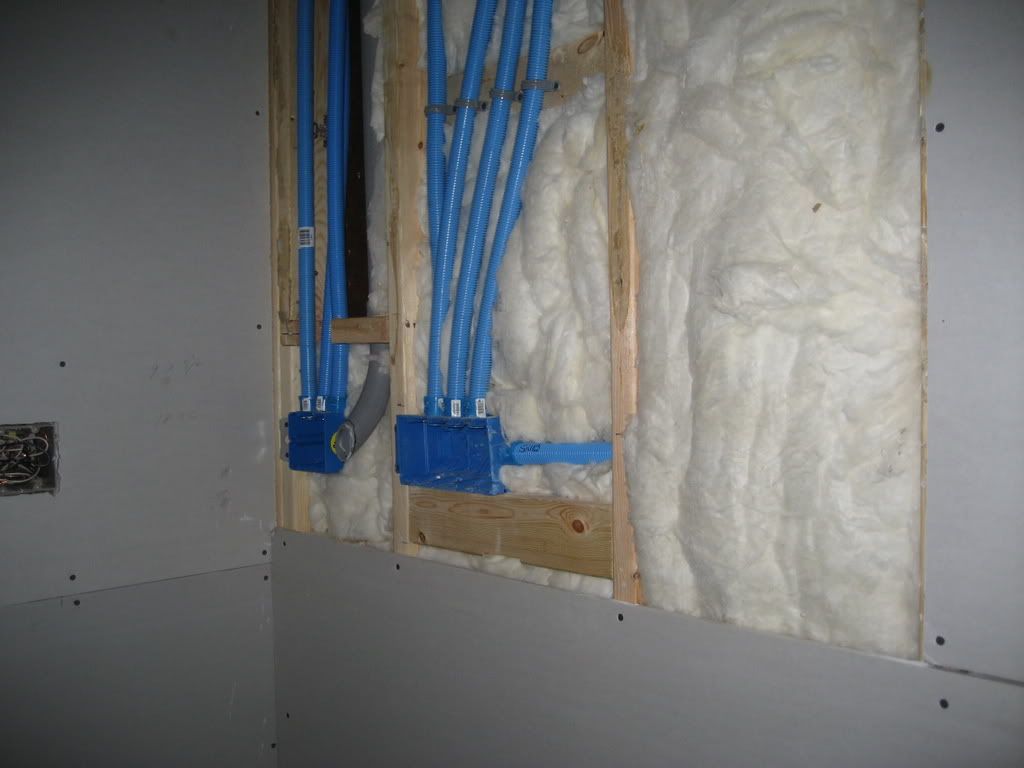 Hey, W00lly, just thought I'd chime in. Glad to see things are coming along nicely.

Do all of your chairs seem to work correctly? I have one where the leg support is a little loose, but I think I can fix it.

I finished up on all the insulation and decided to use Celotex sound board in between the walls in the back of the theater and on the staggered stud wall, I also filled the ceiling joists with r38 and a layer of sound board screwed to the bottoms of the floor joists. I then screwed 1 x 6's running the length of the room at 24" centers. I did not take any photos of that not sure why
the reason I did this was a 12' sheet just fit the width of the room and thought it would be allot easier then trying to catch half a floor joist
In this picture you can see my cold air return running across I will drop it down into my soffet
Sound board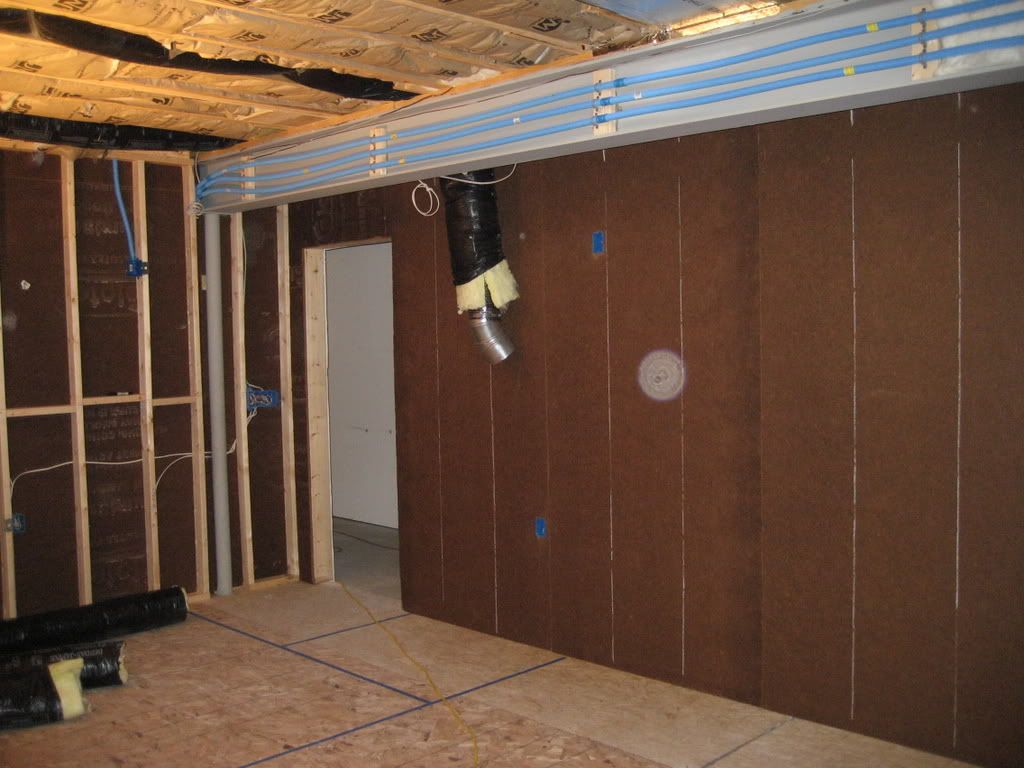 I found that a few of the screws were missing on mine where the recline mechanism attaches to the wood. so when you released the foot rest the whole thing felt loose. Try flipping it with the back off and see if it is missing any screws. I replaced a few screws and problem fixed
Here bluesboy a picture says allot. This is my spare chair and its missing the screw on the other side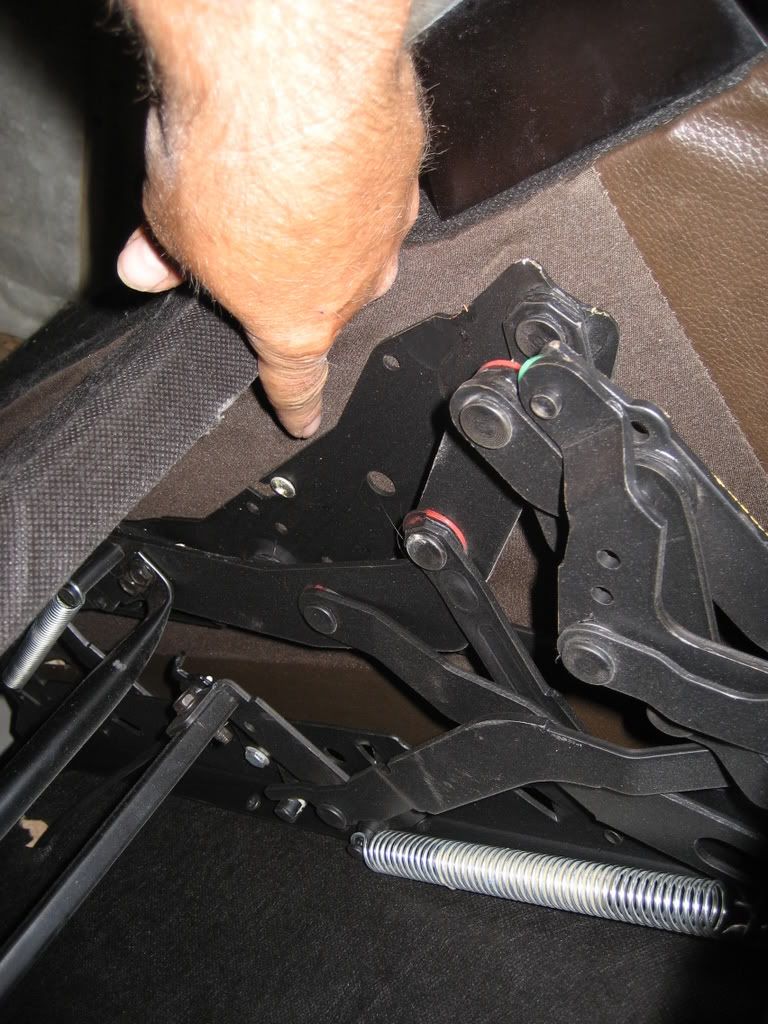 Ok here are the last few pictures and then its post as I go from here on out
I had my father and a friend come over yesterday and help me hang the sheetrock on the ceiling we also green glued it. I know that is not the procedure but I have been having a tuff time finding willing payed slaves to help me
so I did it while I had help.
ceiling finished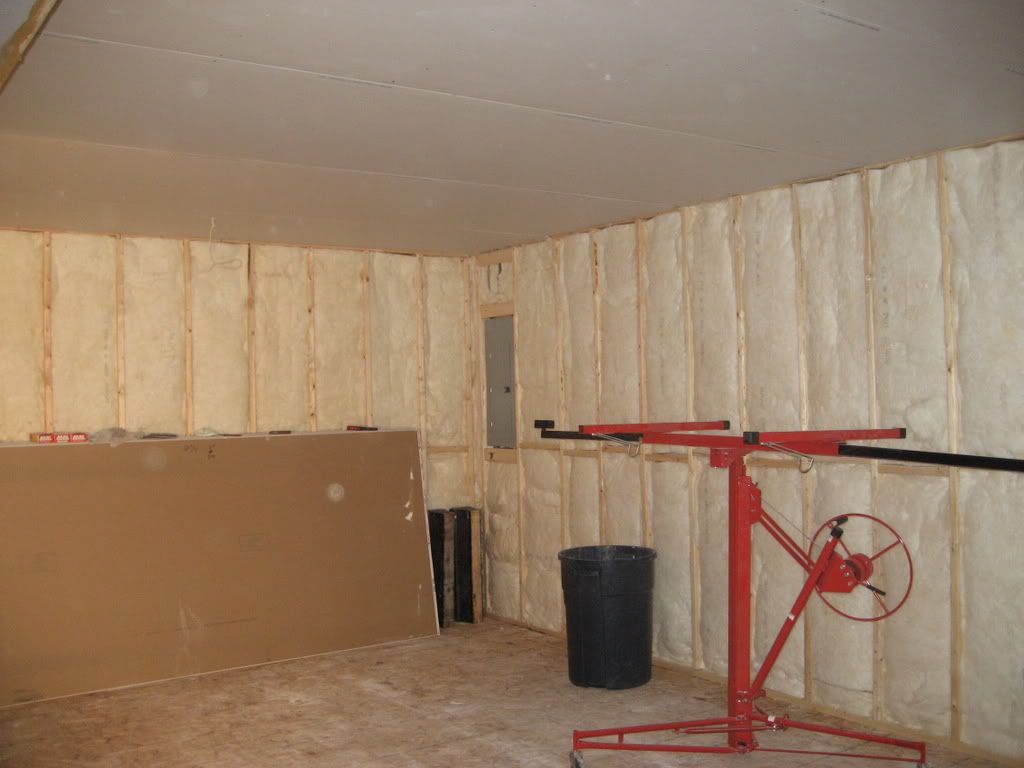 well when we got done I payed my friend $80.00 for helping and then he asked if he could work today. I said heck ya well needless to say he did not return my message I left him this morning
theres no way I can lift 12' sheets of 5/8's up onto my drywall lift by myself. so I got to thinking while I was posting pictures this morning and this is what I came up with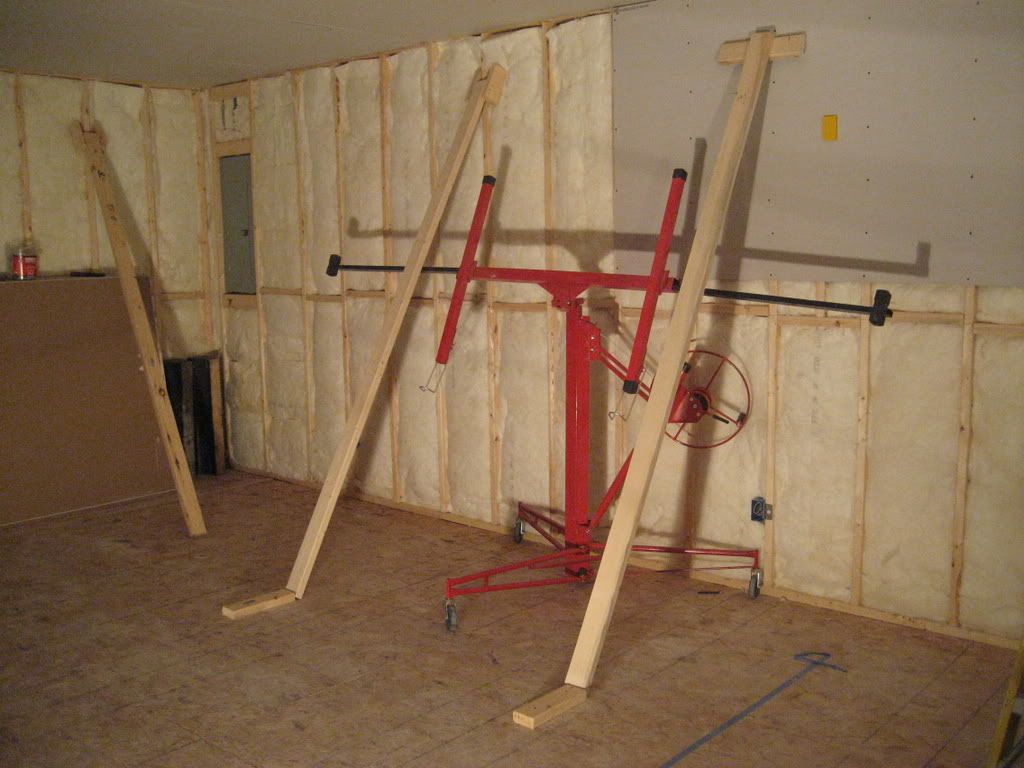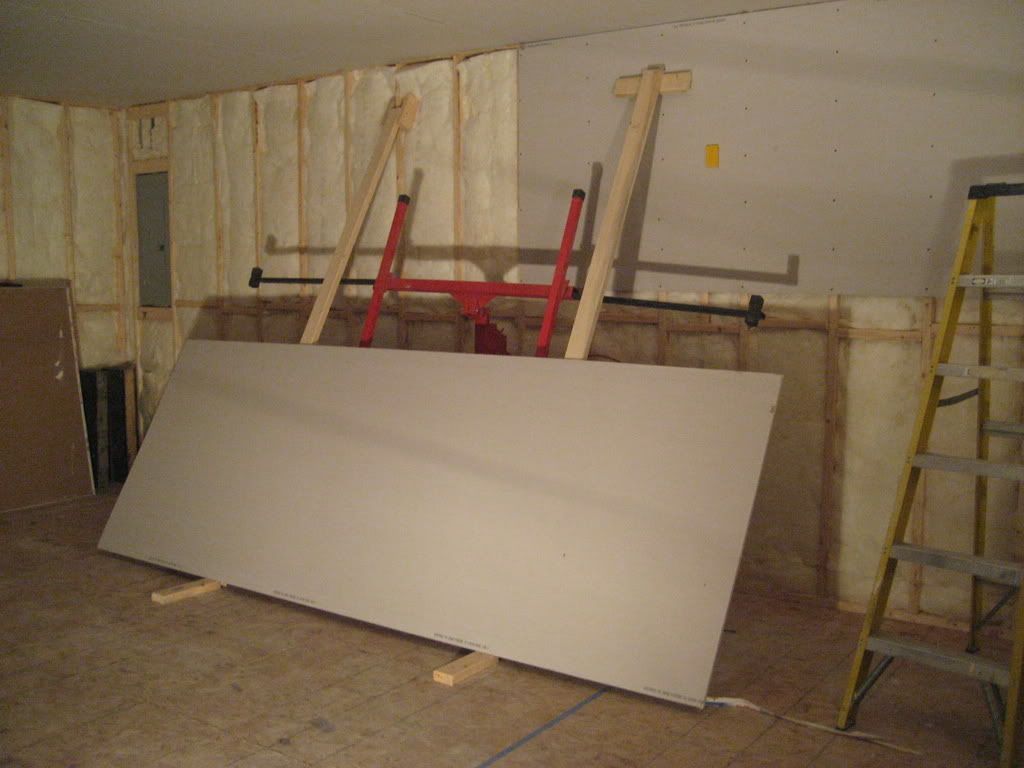 Worked like a charm got 3 more hung. I am not sure I can do it this way with the green glue but Ill give it a try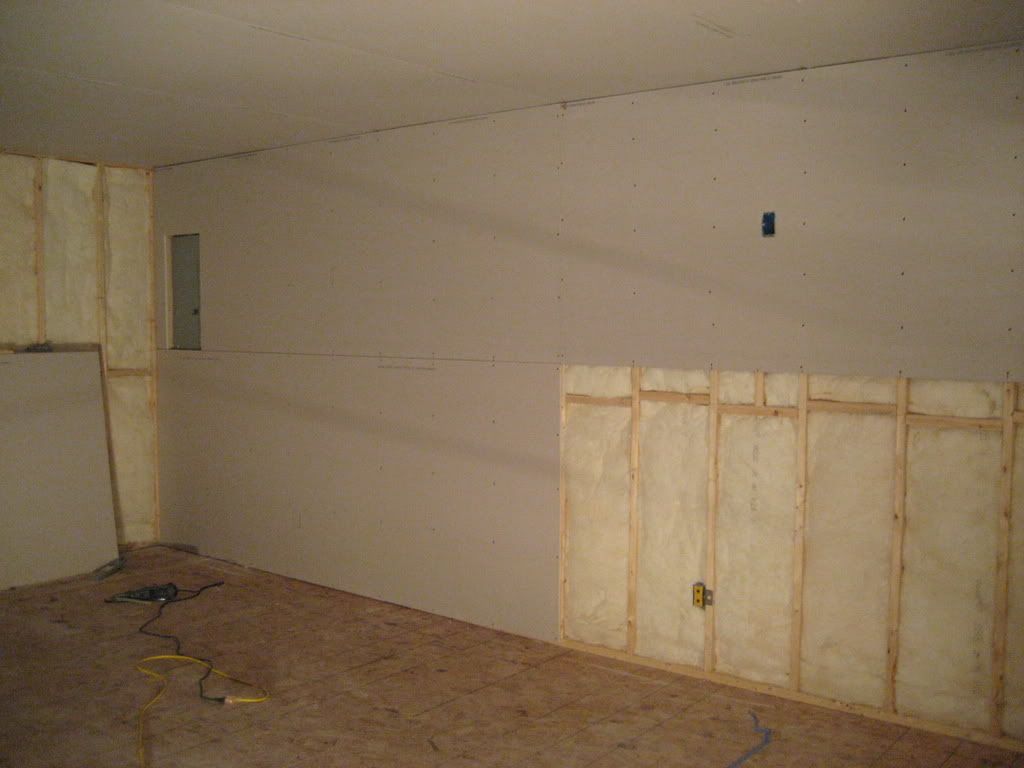 Well all that is the last of the pictures for now
I hope to finish up the sheetrock this weekend
then comes the unpleasant task of Mudding. I was doing some research and USG is making a new product I bought a bucket to see if it really does work. I'm hoping it does
http://www.downwithdust.com/
Nice build you've got going! I've used the USG mud with the blue top, the dust controlled stuff. Works pretty good, when sanding, the dust is heavy and drops to the floor. You get less airborne stuff. Any little bit helps!

Great find on the seats!

Bud

If you are doing another layer and green glue you don't need to mud that first one. seal the seams with acoustic caulk, much quicker, only bother with mud on the final wall and then only if it is going to show.

Some progress this weekend.
Yesterday I finished the first layer of sheetrock & caulked all the seams and corners
Now onto the second layer with GG
For those of you doing your own sheetrock and are dreading locating and measuring for all the electrical boxs check this out
http://www.blindmark.com/pages/bmk_demonstrations.htm
I have been using these with the adjustable boxs. works like a charm
I saw those and was thinking of picking it up once I got to that stage. Good to know that it has been W00lly endorsed.

W00lly,
Its is coming along nicely I like your attention to detail
Cutting corners seems to never be a good idea with these HT builds and your going about it the right way.
Looking forward to seeing more.
Cheers
Calvin
Thanks Calvin

Hey I wanted to ask you how those subs in your riser turned out? Do they work the way you thought they would

Hallelujah
Today my father inlaw and I finished the 2 layers of 5/8 sheetrock with Green Glue
Now onto soffets and then Mudding