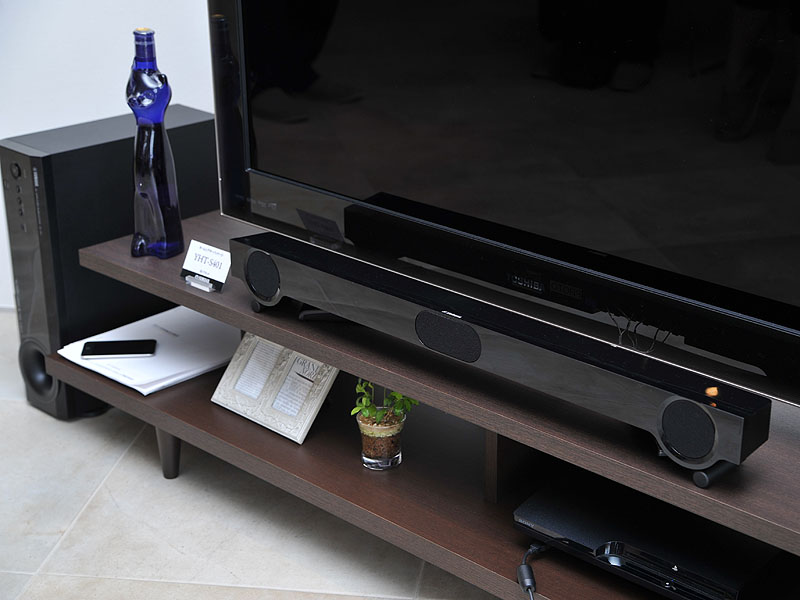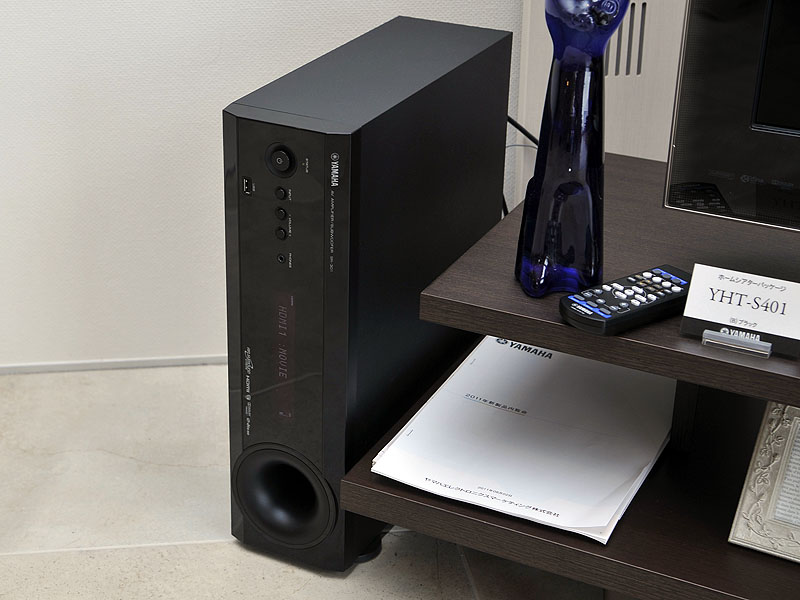 Whoa the YHT S401 is going for $700 & up in Japan right now, wonder if the sound warrants the price?

thanx looks GOOD but what is the main difference with the S400 ?
like always price is too high with yamaha !

edit: just saw the difference with the old S400....there are huge on paper:

Possibility to evolve to a full 5.1 system (very interesting)
Full HD audio decoding formats
more inputs connections
better voice reproduction, so they claim

looks good

yup, translation from japenese it TOO weird. It seems a positive review...s shame they did not speak about the extra 2 surround speakers that can be added, that is the biggest complaint we ALL had with the old S400 !!!

Here's a cnet asia link I found this morning with a little more info on the YHT-S401 as well as a bit on the YAS-101 (which as posted by "img eL" is already on the Yamaha USA website).
http://asia.cnet.com/crave/yamaha-la...s-62210753.htm
It mentions release of the YHT-S401 in the UK in Oct with a price roughly equivalent to $805.
Cheers.
tadcu....electronics are much more expensive in Singapore and Australia...
the US price is 599, the UK price is 499£ and the EU price is 599 euros

Hi nenito2K,

I wrote what the cnet asia site said, which is: "The YHT-S401 will sell for 499 pounds (US$805) in the UK and is available in October".

Perhaps you inferred that I was saying it would be $805 in the US which I was not. Your info re 499£ matches what cnet asia said, and 599€ makes sense given the exchange rate and pricing strategies. Also, a US price of $599 is consistent with what I've experienced with other products and what I might expect considering market opportunities.

I hope it also launches in the US in Oct (or earlier). I'm looking forward to hearing it and perhaps buying one.

Cheers.

When is this expected to be released in the US?

It still wasn't on the Yamaha USA site a few days ago but I see it's there today:
http://usa.yamaha.com/products/audio..._w/?mode=model
Downloading the User Manual to get all the functional details would be nice but unfortunately I don't see a link to it yet. If they do it the same as other Yamaha a/v equipment, you'll have to log on to download it....maybe soon. So far I've only found the Manual in what appears to me to be Japanese (but it might be a different asian language).
Perhaps the YHT-S401 will be available to purchase in a few weeks (which is about how long it took the YAS-101 to be available on ABT, Amazon, etc., after it showed up on the Yamaha site).
Cheers.
Now the USA Yamaha site has the Owners Manual. I just downloaded it and haven't looked at it yet. Same as usual, you have to sign on to Yamaha Easypass in order to access the Manual.
Cheers.

Hi

would going with the yep 2200 would be better ?
or the s400 would do the same job?

thanks

I'm interested in the YHT-S401 as well. You can view the manual from the Yamaha UK site.
Link
(just click the support tab). It also explains about the expandable 5.1 setup. Very interesting indeed.
So has anyone heard or purchased this unit yet? Thinking about buying the yht-s401, but sometime in mid January.

I've had one for about a month now, supplementing an LCD in the lounge room, where the tv is in a corner and a proper 2.1 or 3.1 setup isn't physically practical. It's easy to setup and easy to use, having it decode HD audio is nice, but I don't think a soundbar will really give the full benefit (especially compared to the theatre room setup). What it does provide is a good improvement over the tv speakers (which were no slouch anyway) and effortless volume for movies with a nice bit of bass, but certainly not floor-shaking. I am happy with the purchase, not blown away - but it's unfair to compare a few hundred dollar setup to many thousands of dollars setup
Couple of questions.

Can the 2 rear speakers be wireless ?

Also is anyone else concerned that the sub-woofer built into the reciever may rattle parts loose in it ?

Unless you buy some sort of adaptor, there is no scope for wireless rears.

The sub being integrated into the amp did concern me a little, but I guess plenty of much larger dedicated subs still have circuit boards inside etc.

I am a newb when it comes to speakers, what kind of adapter would you recommend ?
I havnt used wireless speakers (hardly seems much point when they still need power cables anyway), so I couldnt recommend one in particular. In fact, I am not actually sure if such a product exists anyway. I would more recommend biting the bullet and running speaker cable - its more of a hassle in the short term, but likely to give better results.

Ok, well I've noticed a lot more people posting about the YHT-S401 lately. So I think its safe to say this thread needs a bump.

Has anyone experimented with rear speakers yet?

Hi i have this with my new sont 55 xbr55hx929 and it sounds nice

however i have alot of trouble getting it to work

even if i start it first and then the TV sometimes it will not come on even after the TV says "switching to external audio"

i then have to turn the TV and unit off and on and sometimes it doesnt work at all and i ened up using the TV speakers

anyone else have this? i try and turn it on first

i have it in HDMI 3 on the sony

and in the TV out HDMI on the unit etc

any ideas?

Tbh I don't bother with the whole hdmi CEC stuff, I find it more hassle than a convenience mostly. What about running an optical out from the tv into the Yamaha instead?

could try that i guess, was hoping to have the HDMI thing working though

when it works it sounds fantastic, for my small room anyway

alot better than the stock sony tv speakers

but man i wish this would just work

If you have HDMI control on both the TV and the Yamaha reciever, theres not much more you can try. Optical out from the TV should give you the same audio quality, just the hassle of running 1 more cable.

I bought this today so will post my thoughts later this week. I'm coming from a 5.1 home theater setup with hd audio so i will compare. Also if you want wireless rear speakers, Rocketfish makes a setup for $100 at Best Buy. I'm using it now with my home theater and works great.

I can tell you now that the soundbar doesn't come close to my theatre room setup, but I never really had an expectation for it to. It does the job it was purchased for well, which was to look and sound better than the inbuilt TV speakers
I bought this a while ago with the purposed of using with my Sony Bravia KDL-46HX820 and my HTPC.

Firstly, I find the sound on this is very thin, even after the tweaks to the settings that people have suggested. Even my old logitech PC speakers sound way better for music.

Secondly, I wanted to use HDMI pass-through with the HTPC connected to the s401 and passing through to the TV. If I connect the HTPC to the TV then pass optical to the s401 the TV converts the surround sound to stereo hence wanting to use HDMI pass-through. When connecting this way I found that video was laggy when using the HTPC. So I took it to the Yamaha service centre here.

Then ensued a couple of months of back and forward emails where Yamaha wouldn't test it properly and just claimed that it must be the TV for ... reason, then when I explain how they are wrong because of ... reason, then they say it must be the HTPC for ... reason, then I explain they are wrong again for ... reason. This went back and forward. Then the guy at the service centre actually replicated the issue on multiple PCs and found that the s401 making the PC switch the refresh rate from the normal 60Hz to 30Hz, which does not happen when directly connected to the TV. So you can manually go and change the refresh rate to 60Hz and it will be ok again, but every time you switch import source on the TV, turn off the TV, or reboot the HTPC you have to keep manually changing the refresh rate. I haven't been able to find any kind of refresh rate locking program for Windows 7 that works. Argued some more with Yamaha that their box shouldn't be messing with anything to do with with the video part of the signal and if they don't want to fix it then I would like to return it for a refund, but in the end they just kind of gave up and said they don't officially support computers so too bad. So I am probably going to sell it.

Thread Revival. Recently bought the Yht-s401 off of Amazon, it was on sale for 399 and still is atm. Does anyone have a specific setting they're using for movies, games, ect?