Member
Join Date: Jan 2009
Posts: 53
Mentioned: 0 Post(s)
Tagged: 0 Thread(s)
Quoted: 16 Post(s)
Liked: 12
So I just picked up this soundbar and im wondering the best way to configure this. My only device is my media box (Minix NX7) for XBMC (Kodi) right now I have hdmi going from the minix box to my tv and an optical going from the soundbar to the tv. Is this my best way of setting it up or should I be doing something different? Also im not sure exactly what my settings should look like in xbmc (kodi).


TV is a Sony Bravia KDL46EX500


Thanks
Newbie
Join Date: Dec 2016
Posts: 1
Mentioned: 0 Post(s)
Tagged: 0 Thread(s)
Quoted: 0 Post(s)
Liked: 0
JBL SB400 third party/universal remote?
---
TV is Panasonic TX-P46G30E – already has programmable/learning remote (No USB or other port available on it. Learning "over the air" only).
SB400 connected to TV through ARC HDMI.
Volume controls and mute work through Panasonic remote for the soundbar. Turn off possible, together with tv, but not turn on (only tv starts). Cannot (manually) start the soundbar without starting the TV, cannot turn off TV (via remote) without turning off the soundbar also. Advice?
Missing original JBL remote, thus nowhere to feed codes/macros the Panasonic remote from now (if even possible beyond the already achieved).
Thinking of buying one from Logitech Harmony remotes lineup, now that I have SB400 as the additional component in my system, to cover everything with one remote (SB400, TV, tv-box, media hub, remotely controlled power sockets, aircon...)
I think that the original remote is quite limited – Bluetooth has to be selected manually. Has anyone succeeded in programming the third party remote i.e. Logitech Harmony for the Bluetooth input selection (from the sofa), since not even the original remote can do it?
Senior Member
Join Date: Oct 2001
Location: Anderson, SC
Posts: 278
Mentioned: 0 Post(s)
Tagged: 0 Thread(s)
Quoted: 1 Post(s)
Liked: 10
Wall mounting
---
Just picked up an open box SB400. When I went to mount it to the wall I couldn't figure out how to attach the bracket to the soundbar.
Do I have the wrong bracket or am I missing something?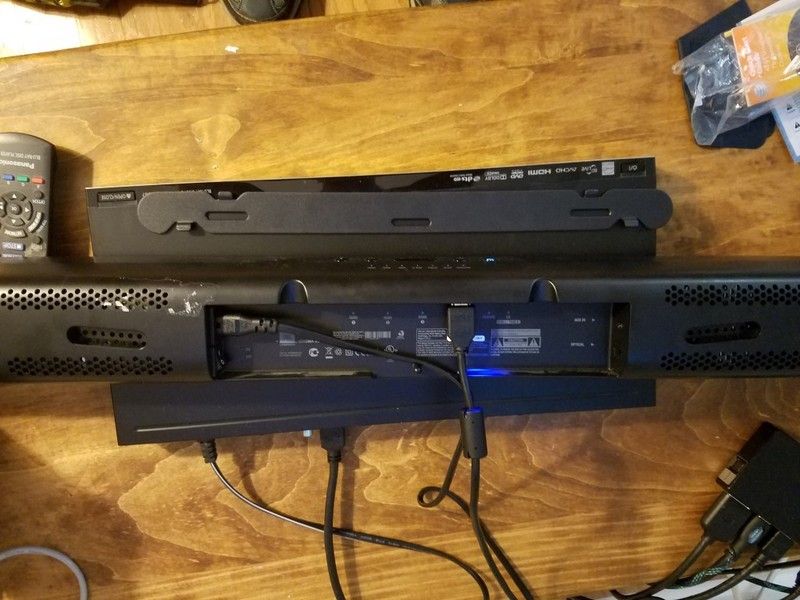 Advanced Member
Join Date: Jan 2005
Location: Pacific NW
Posts: 849
Mentioned: 0 Post(s)
Tagged: 0 Thread(s)
Quoted: 21 Post(s)
Liked: 28
Posting Rules

You may not post new threads

You may not post replies

You may not post attachments

You may not edit your posts

---

HTML code is Off

---