JVC RS 45 / Sony HW30 / BenQ W7000 / Epson 5010 mini-shootout
This is not a full review, just some general observations on A/B/C comparison in 2D, 3D, Game lag testing, etc.
The screen used is a 142" 16:9 Dalite 2.8 High Power Cinema Contour, projector distance is 18 feet for all 3 projector. Seating distance is 1.25 SW.
I'll start with game lag time. I used a CRT monitor for the test. All measurement results are an average over 10 samples.
Edit: Adding new lag time for Sony HW30 in 'Gaming' mode.
Ben Q W7000:
50 MS w/ No FI or DI


80 MS with DI on, but FI off.


200 MS with DI on and FI on.

JVC RS 45:
Epson 5010:
Sony HW30:
30 MS with 'Gaming Mode' preset


65 MS with no FI


70-80 MS with FI on low, medium or High
I was surprised to see the FI on the Sony didn't take much of a hit in lag time.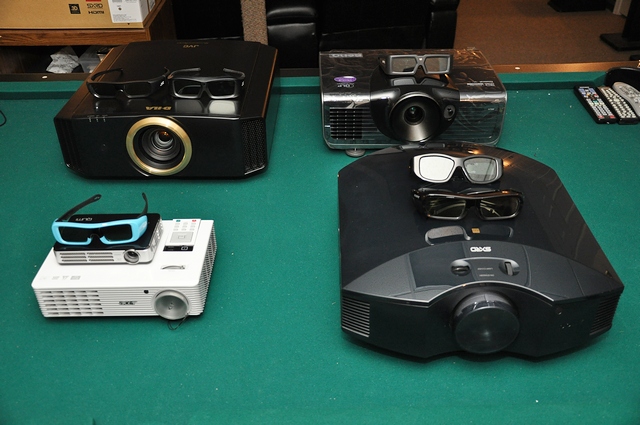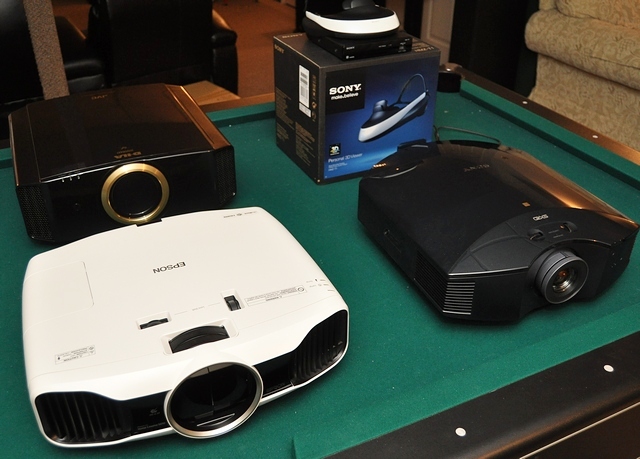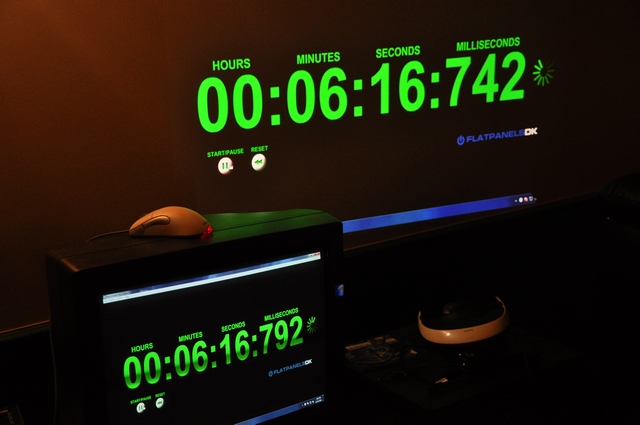 ************************************************************ ******
edit: adding Lumens information. Normal = high lamp, Economy = low lamp. I know there are different references for the lamp modes.
Ben Q W7000:
~15 hours on the lamp
2D mode @ D65 = 1062 Lumens (Normal)
3D mode @ D65 = 894 Lumens (Normal)
** I did not get Economy readings in 2D on the W7000.
JVC RS45:
~ 20 hours on the lamp
2D mode @ D65 = 927 Lumens (Normal)
2D mode @ D65 = 614 Lumens (Economy)
3D mode @ 8500k = 771 Lumens (Normal)
Sony HW30:
~ 115 hours on the lamp
2D mode @ D65 = 894 Lumens (Normal)
2D mode @ D65 = 559 Lumens (Economy)
3D mode @ 8500k = 793 lumens (Normal)
All 3 projectors were comparatively bright when swapping from projector to projector.
Edit: Added Calibration information.
FYI- this is a 'hit and run' calibration. I would normally spend more time, but I still focused on getting a good gray scale, Gamma @ ~2.2 and REC 709color space as close as it gets with the built in CMS's on the Sony and BenQ.
JVC RS45 Gray Scale
- This was fairly easy to get balanced @ 30 IRE and 80 IRE. The tracking was good. I could have tightened up 10-20% with the the individual gamma controls. Flesh tones on the JVC looked great after tuning it to D65.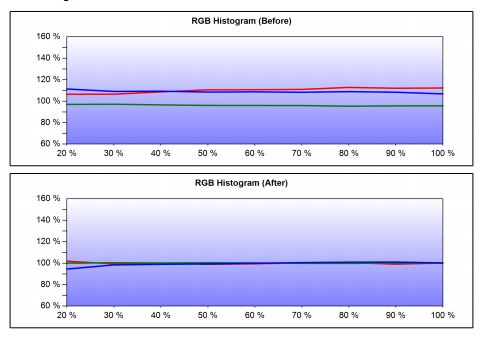 JVC RS45 Chromacity errors
- This is an easy fix with a CMS.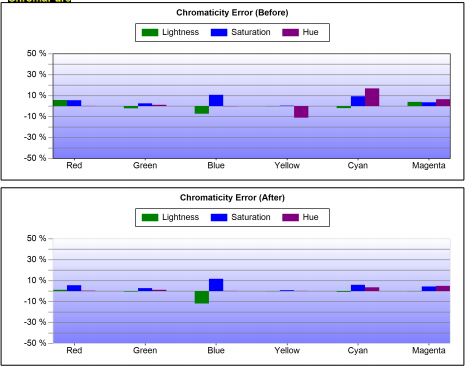 JVC RS45 Color space -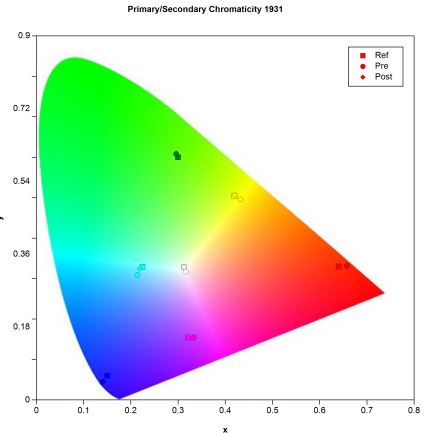 BenQ W7000 Gray Scale
- This was also easy to quickly fix using 30 and 80 for cuts and gains. The tracking was nice from 20%->100%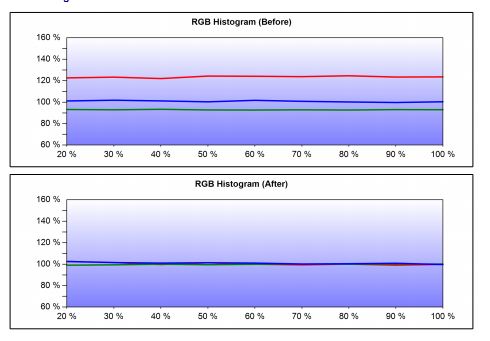 BenQ W7000 Chromacity errors
- Ignore the 'before' for green, cyan and magenta, I had the slide order wrong when I was doing the test. These 3 colors were similar in error to red, blue and yellow. This was simple to fix with the W7000's built in color controls.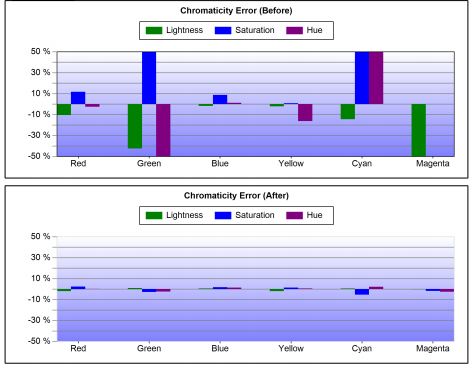 BenQ W7000 Color space
- ignore the stray green and magenta dots. The built in color controls assisted with getting it close to R709.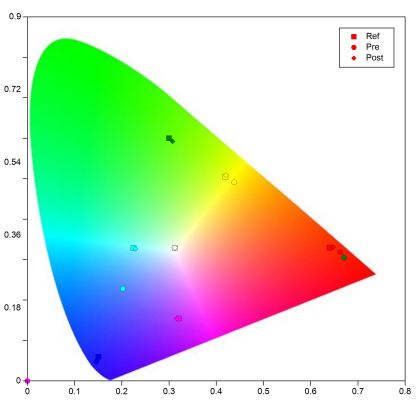 Sony HW30 Gray Scale
- The built in gray scale adjustments are also easy to use with the Sony.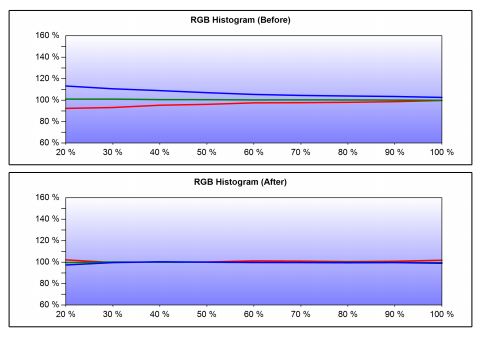 Sony HW30 Chromacity errors
- relatively close out of the box. I know it's been said if the RCP is used, it can create artifacts. I only made minor changes to the lightness in a few colors and haven't seen anything yet, but will watch closely.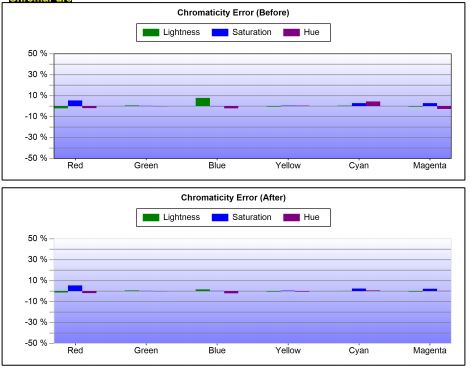 Sony HW30 Color Space
- close to perfect out of the box. minor adjustments made to get it even closer.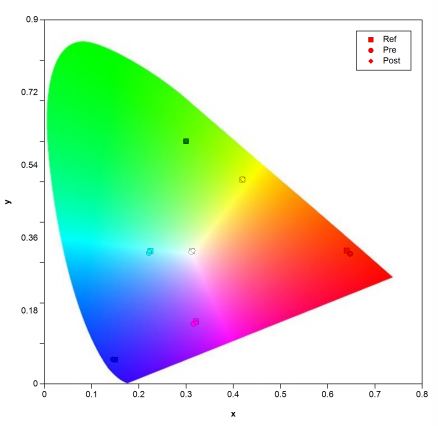 Epson 5010 Gray Scale
- The built in controls were easy to use and tracked well after setting the levels @ 30 and 80.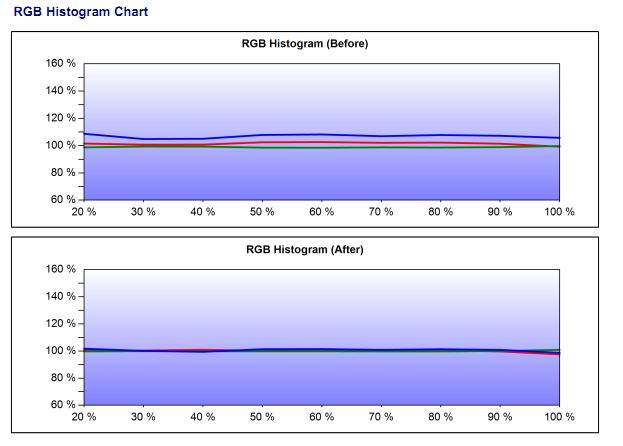 Epson 5010 Chromacity errors
- close out of the box, just needed some help with Cyan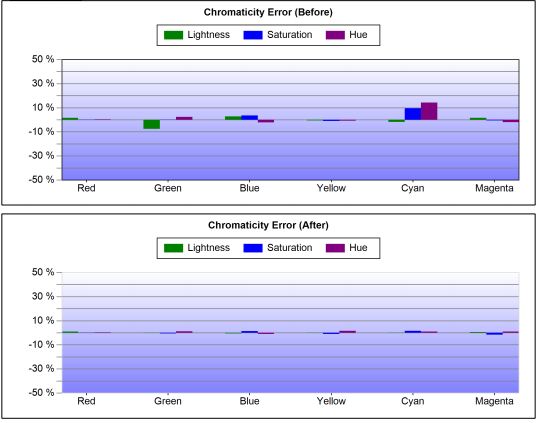 Epson 5010 Color Space
- close to R709 out of the box, blue and cyan needed some adjustments to get it closer.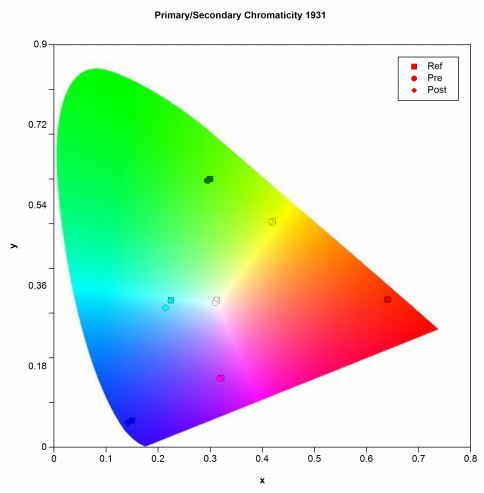 3D Ghosting Comparison
I picked 3 tough scenes from Despicable Me, Sammy's Adventures and Imax Grand Canyon.
Despicable Me
- This scene has been used a few times, the awning of the house against the blue sky and the light pole in the background.
Original Image
: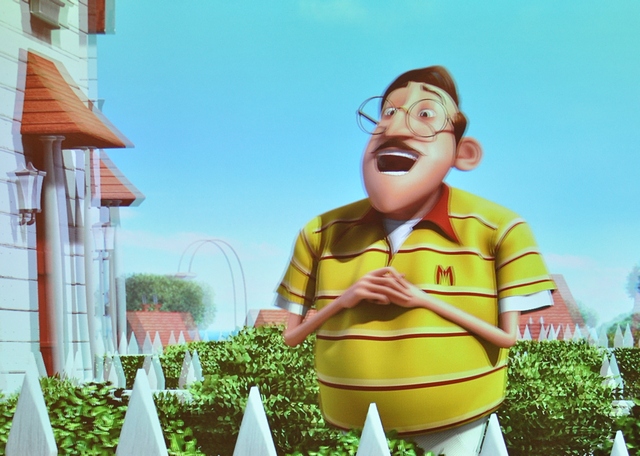 BenQ W7000 with DLP Link glasses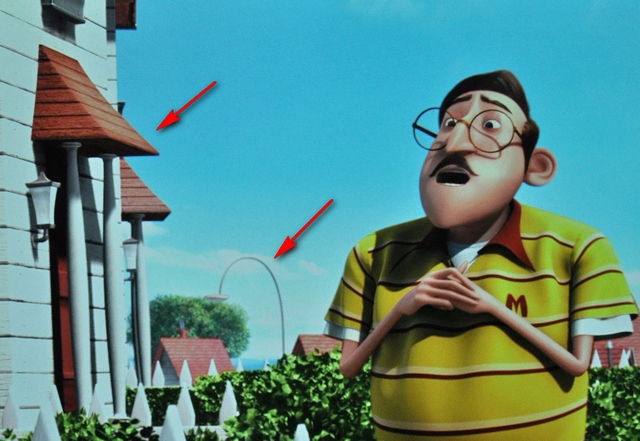 JVC RS45 with JVC glasses
(both big and small look identical to me). I always thought these had a noticeable color tint compared to the MV3D's and Sony glasses.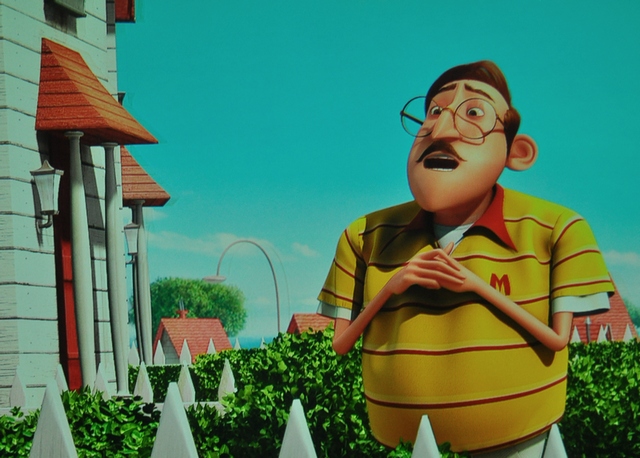 JVC RS45 with Monster Vision 3D glasses
. I could not tune out the ghosting with the MV3D's, but I do prefer the color tint of these glasses on the JVC.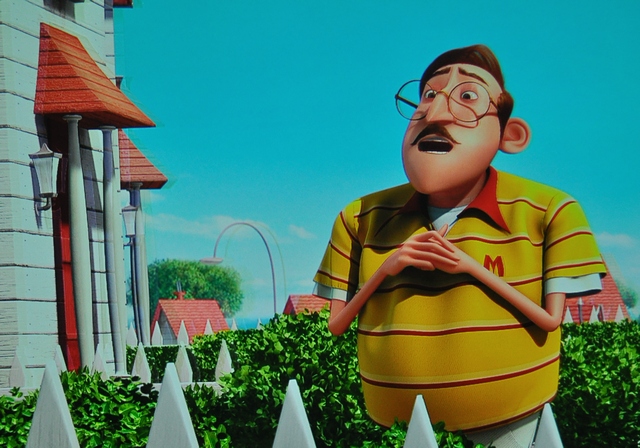 JVC RS55 with Monster Vision 3D glasses
. Nearly identical to the JVC-RS45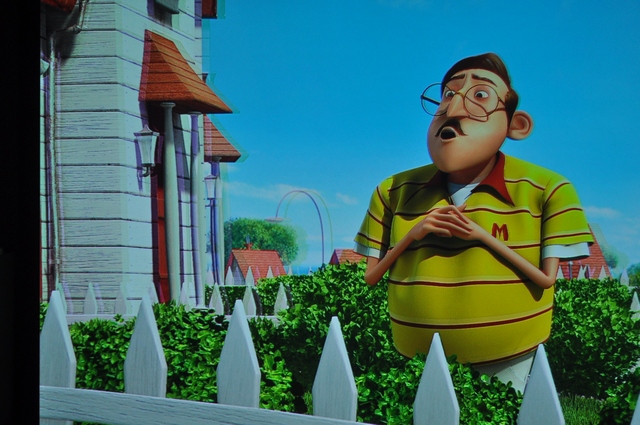 Sony HW30 with Sony glasses
. The Sony performs well in this scene, the ghosting is almost imperceivable.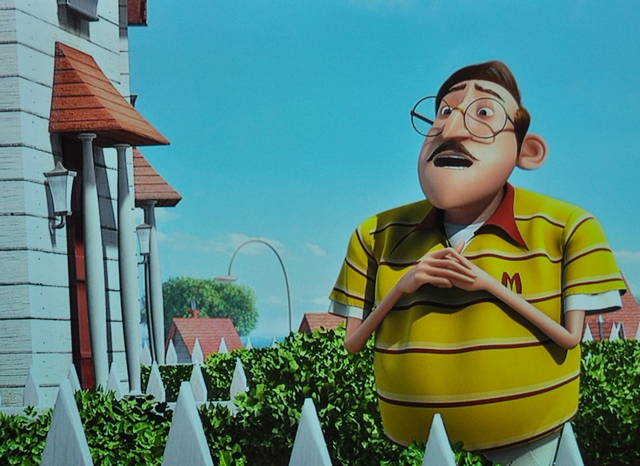 Sony HW30 with Monster Vision 3D glasses
. Also a good performance with a slight preference towards the color tint of the MV3D's.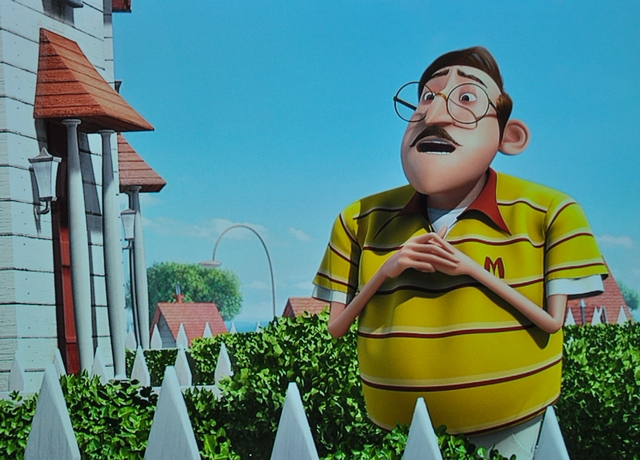 Epson 5010 with Epson Glasses
The Epson handles this movie well overall.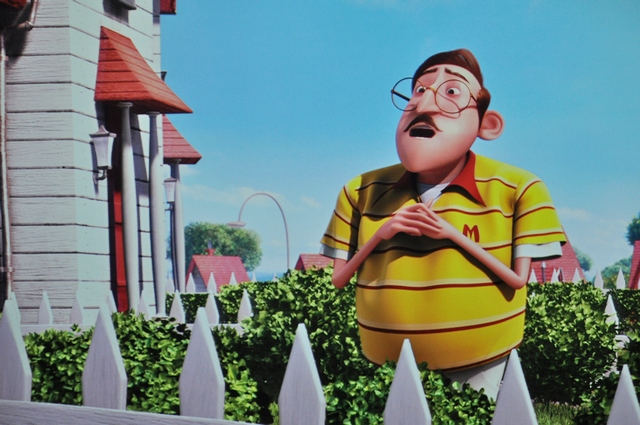 Acer 5360 with Nvidia 3D vision Glasses
Ghosting performance is excellent, but the projector falls shorts compared to the others in a number of different areas including contrast, color, etc. It does offer a great bang for the buck considering how cheap it is.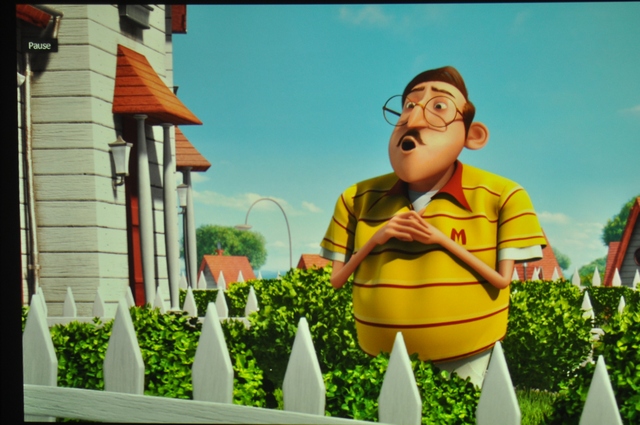 Sammy's Adventure
- This movie has tons of high contrast scenes like this one. This particular scene has noticeable seperate around the mother's head and left shoulder.
Original: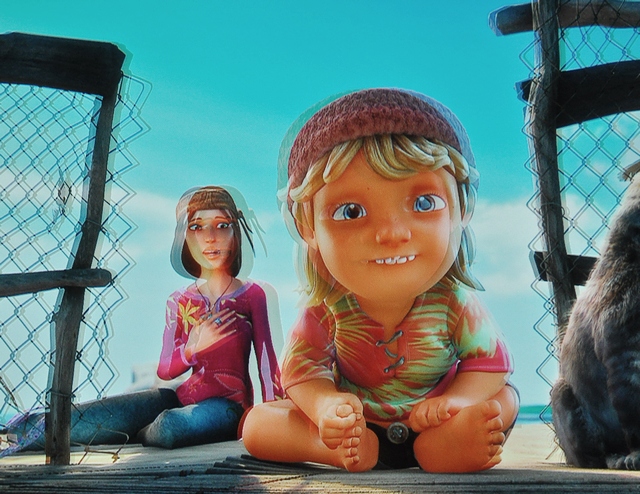 BenQ W7000 with DLP Link glasses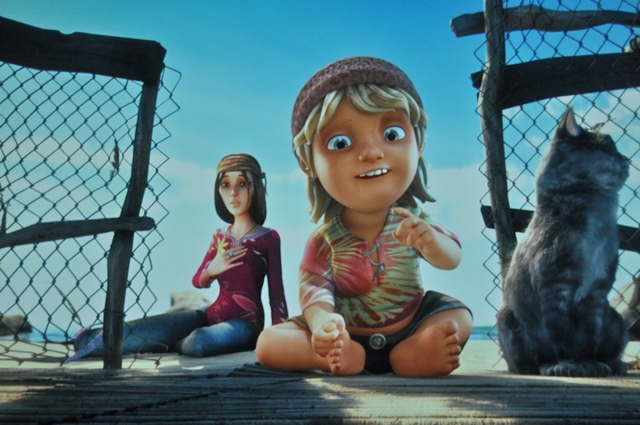 JVC RS45 with JVC glasses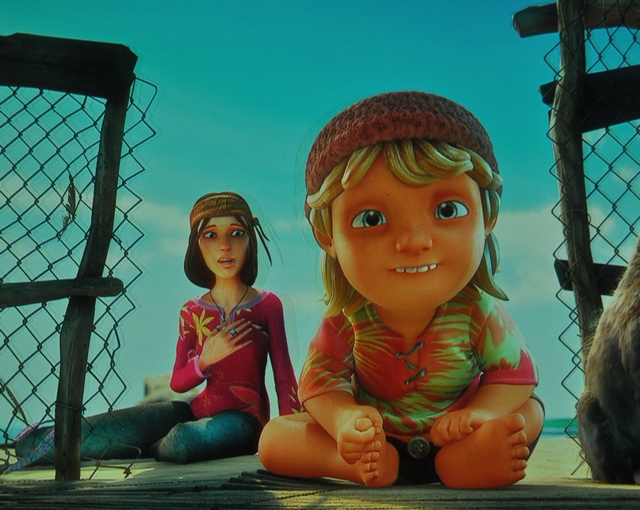 JVC RS45 with Monster Vision 3D glasses
.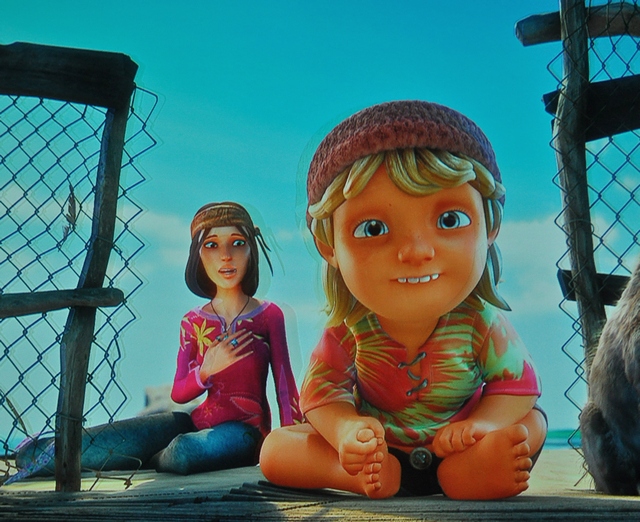 JVC RS55 with Monster Vision 3D glasses
.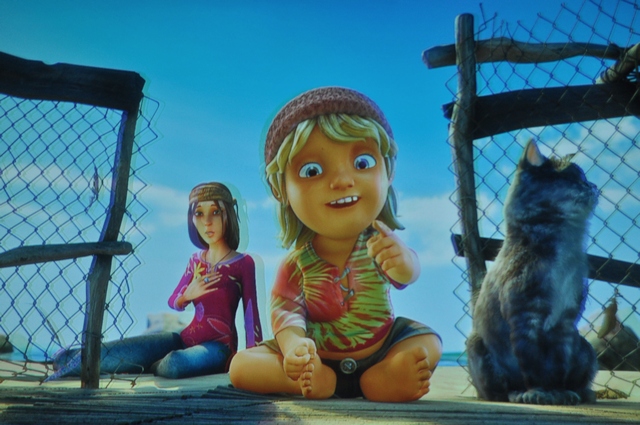 Sony HW30 with Sony glasses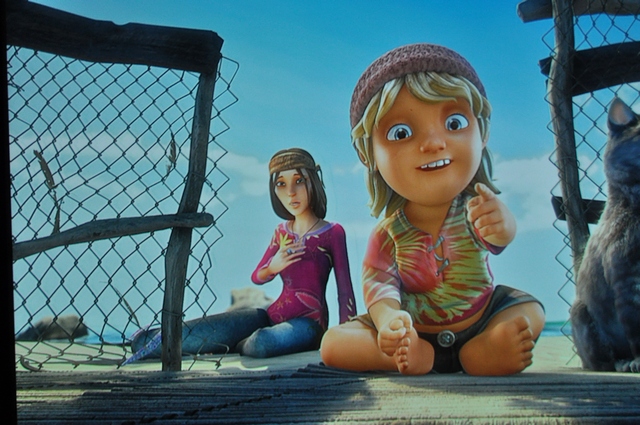 Sony HW30 with Monster Vision 3D glasses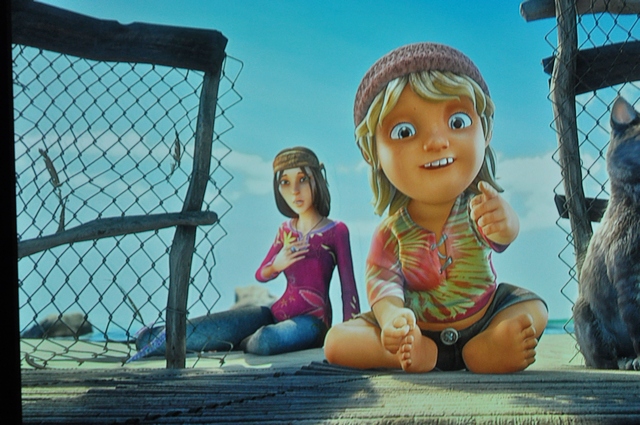 Epson 5010 with Epson glasses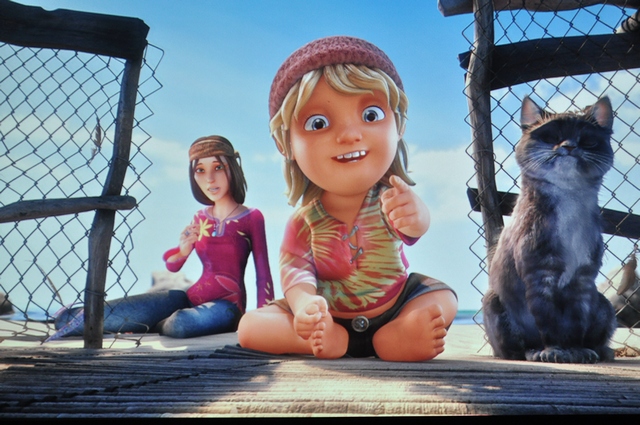 Acer 5360 with Nvidia 3D vision glasses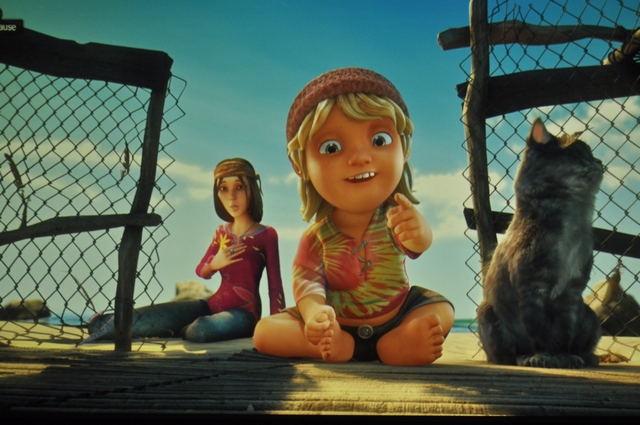 Imax Grand Canyon
- The tree in the foreground vs. the sky
Original: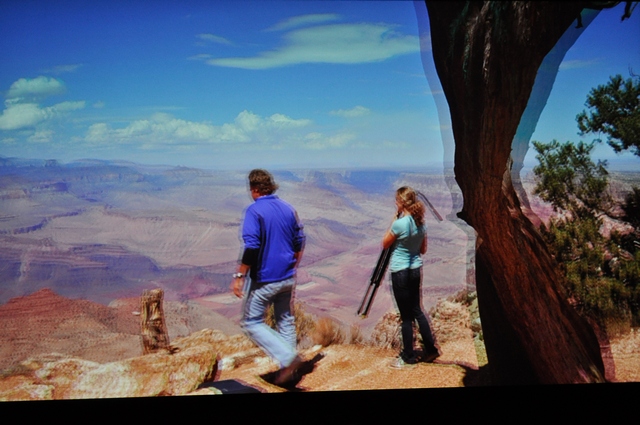 BenQ W7000 with DLP Link glasses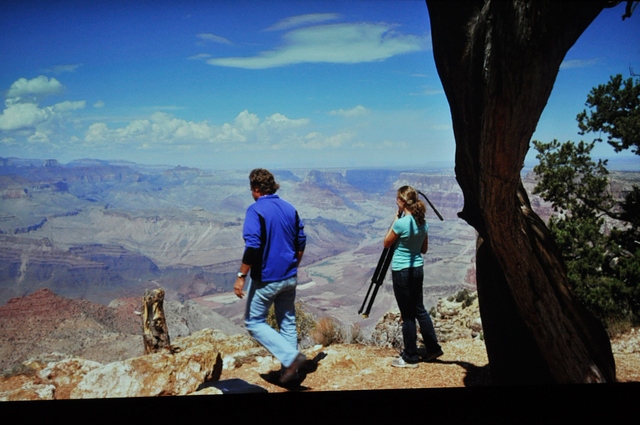 JVC RS45 with JVC glasses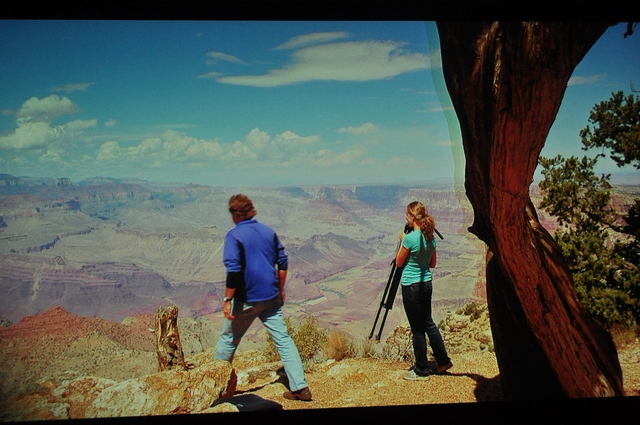 JVC RS45 with Monster Vision 3D glasses
.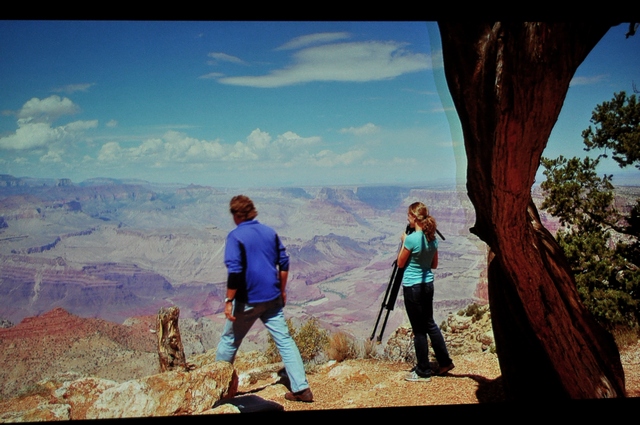 JVC RS55 with Monster Vision 3D glasses
. - same as the RS45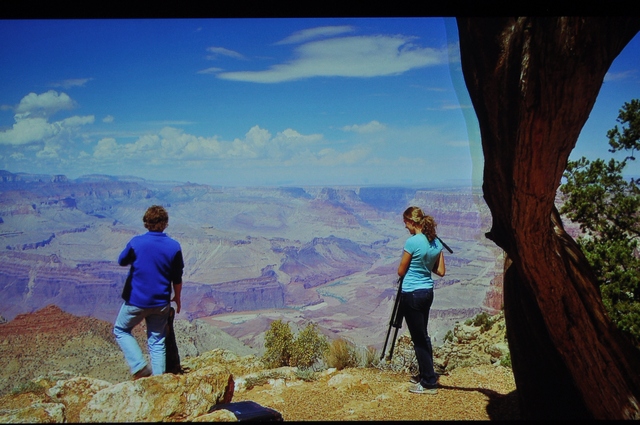 Sony HW30 with Sony glasses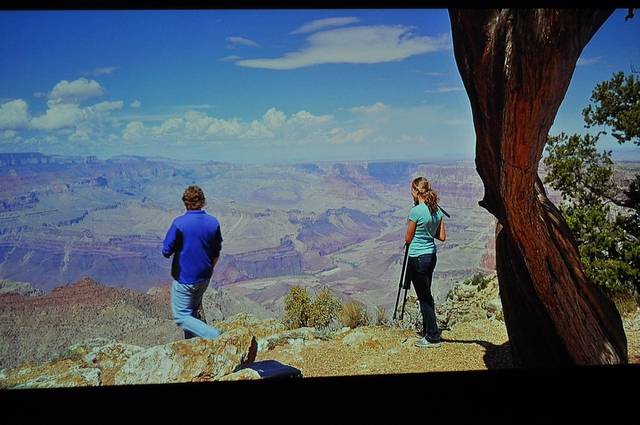 Sony HW30 with Monster Vision 3D glasses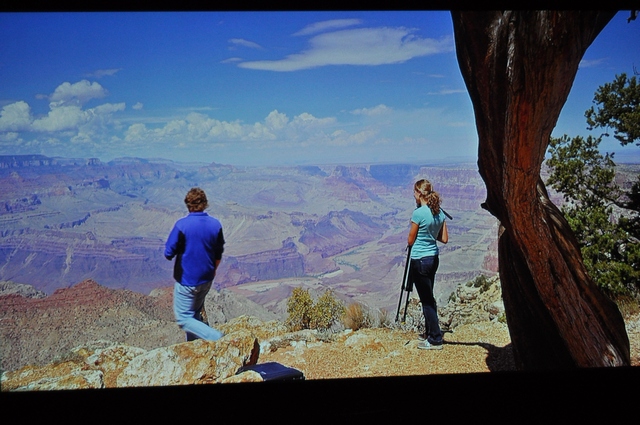 Epson 5010 with Epson glasses
- there are 3 glasses brightness settings, I tried low and high. it's hard to tell from the photo, but it's a bit less in high than in low. A very light silhouette at the top of the tree. Performance is similar to the HW30.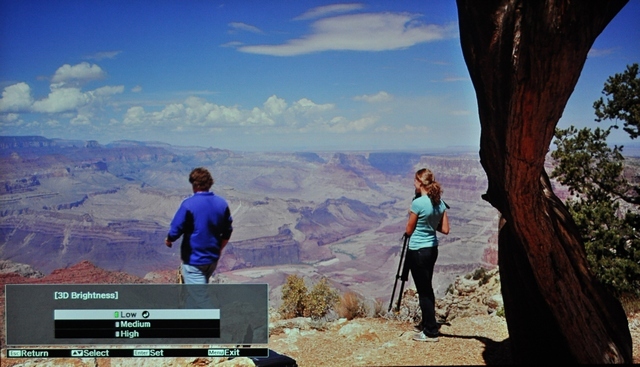 Acer 5360 with Nvidia 3D vision glasses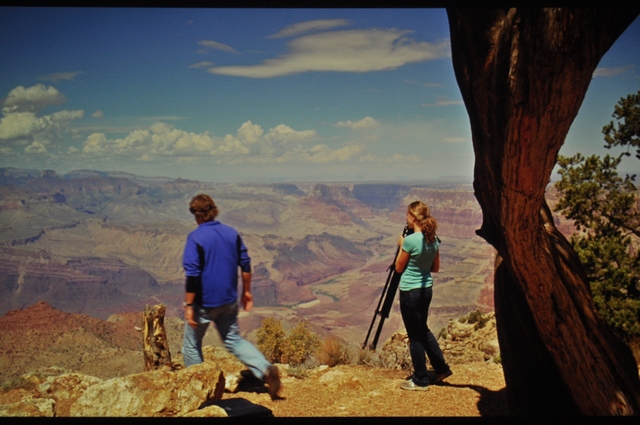 3D performance (glasses comfort, flicker, ghosting, FI in 3D, etc)
To date, I've seen 3D on the JVC RS40, JVC RS45, JVC RS50, Acer 5360 3D DLP, Sony HW30 and the BenQ W7000. I have a large library of 3D bluerays and also a fair amount of 3D SBS material, including console games.
it's a bit frustrating to read a pro review on a projector without screenshots of tough scenes, and the review says 'I didn't see any ghosting, great 3D, etc'. Certain movies like Avatar have little crosstalk based on how the separation was designed, color scheme of foreground and background, etc. Other movies like Despicable Me and Sammy's Adventure are tough on certain displays that are prone to showing the crosstalk. It appears high contrast scenes are the killer, especially orange/red/brown against a green/blue background.
Since there are no standards for reviewing 3D performance, these are just some general observations from a fellow enthusiast who loves 3D in the home theater. Some areas are discussion are the glasses themselves (weight, comfort, color tint, etc), flicker, FI in 3D, crosstalk, etc.
I have a small army of 3D glasses from Xpand, JVC, Sony, Monster Vision (Optoma, both the same), BenQ and Nvidia 3D vision.
Glasses:
JVC Glasses
- I had a chance to use the JVC glasses from last year, and the new models as well. IMO, these are identicial in every way in regard to color tint, flicker, 3D ghosting,etc. The only difference is the size. The new glasses are much smaller and lighter as well. I like the physical On/Off switch. I found the new models a bit more comfortable around the nose piece and ear peices didn't pinch as much as the original JVC/Xpand 103's. The frames on the new models are quite small, but they still fit fine with my prescriptions glasses. I can see some of the frame with my peripheral vision, but my brain quickly blocked it out sitting only 1.25 SW from a 142" screen.
BenQ W7000
- The glasses are square and a bit heavy. The arms don't fold back as far as I can tell. There are 2 small coin batteries you have to install first. The lens are large enough where I couldn't see the frame once they were on.
Sony
- I have the glasses that shipped with the HW30 and VW95, they are the TDG-PJ1. I like these glasses. Overall they are comfortable, lenses are a nice size and they are relatively light. These are rechargable and have an easy to access on/off button on the top. I also have the kids BR50 glasses. these are excellent for kids under 12 years old. I've had guests with kids use them from 4-12 with no problem. they are durable and also have an easy on/off button. These take a small button battery. Sony is the only company that took into consideration that many of these adult sized glasses just don't fit kids well. The BR50's are perfect for young visitors to the HT.
Nvidia 3D Vision
- These are the original 3D glasses that got me hooked on 3D over a year ago with the Acer 5360 3D DLP. These are lightweight and comfortable and worked great with the Nvidia 3D vision PC setup. I used these to play the 3D game "Grid" on the PC (fantastic racing game) in 720P 3D and the 3D vision glasses handled it perfect.
Monster Vision 3D glasses (Optoma)
- I save my personal favorite for last. I think I was one of the first to buy these in the beginning of last year in the attempt to find a pair of glasses that didn't have as strong a color shift as the Xpand 103's. The MV3D's are universal glasses that ships with a transmitter than can be 'tuned' to your particular 3D display. On the JVC, it plugs directly in the 3 Pin 3D VESA port. On the Sony, we are forced to use the IR sender/IR Receiver setup which works equally as well as the direct connection. These are very lightweight and comfortable. They feel like a pair of regular sunglasses, with oversized lenses for those who were prescription glasses. My critical comments on these is that the On/Off button is a bit of pain to engage (you have to use your fingernail to get it every time) and they are somewhat fragile compared to the sturdy Xpand 103's, etc. You have to treat them with a little respect.
Color Tint:
This is a highly subjective area, so please take my comments as a personal preference only.
JVC Glasses / Xpand 103's
- These have the same color tint. It's the first thing I noticed last year when I got the RS40. It seems to put a greenish/yellow cast on white backgrounds. I know this has been discussed at length (color shift to compensate 8500k, etc).. I get it, but my brain doesn't block out this color shift. Nor does adjusting the color on the projector. I am always aware that I was watching a movie through some color filter.
BenQ W7000 DLP link glasses
- These were possibly the most pleasing of all the glasses. The tint, imo, was very neutral and I was running 3D @ D65, not 8500k as is typical on some of the other projectors. It felt like watching 2D colors, but with full 3D effect.
Sony Glasses
- I also find the color tint of the Sony glasses relatively neutral and pleasing as well in 3D.
Monster Vision 3D
- glasses. My personal favorite. I like the tint on the MV3D's and thought these looked the most natural when used with the HW30.
Nvidia 3D vision
- my biggest complaint with these glasses was the strong greenish shift when used with the Acer 3D DLP. I didn't realize how intense it was until I later saw the Xpand 103's, Sony glasses, MV3D's, etc.
Flicker:
Another subjective discussion. I am highly sensitive to refresh rates / flicker. I'd be the guy in your office 10 years ago telling you to change your CRT from 60hz to at least 85hz+ because the lower refresh would drive me to migraines. I can see fluorescent light flickering.. you get the idea.
JVC RS40/RS45/RS50
- the flicker on my first JVC last year in 3D was very noticeable to me, especially coming from the Acer 5360 which had a higher refresh rate in 3D. This seems to settle down as the projector warms up. It's not a dealbreaker, but always something I am aware of and it does cause eye strain for me as I head toward the 2nd 1/2 of a 2 hour movie.
BenQ W7000
- The refresh rate on the 3D DLP is so high, there is absolutely no apparent flicker to my sensitive eyes. It feels like I am watching a 2D movie and the glasses aren't even there.
Sony HW30
- There is a slight flicker on the Sony, but IMO, less so than the JVC. I realize FI in 3D has little to do with flicker, but when FI is engaged in 3D, I find the flicker is less apparent to my eyes.
Acer 5360
- This wasn't part of the comparison, but just for FYI, the inexpensive 720 3D DLP projector is rock solid in this area, same as the W7000.
FI in 3D:
I know some people hate FI. sometimes I do too, especially when it's too intense and creates the soap opera effect. If programmed correctly, it can remove some of the 24p judder in the 3D blurays and create a pleasing 3D viewing experience.
JVC RS40/RS50/RS45
- I was hoping JVC was going to put this in for the new models.
BenQ W7000
- The FI in 3D on the BenQ is subtle, yet effective. Combined with the neutral color tint of the glasses and the lack of flicker, the 3D was very pleasing, especially during fast paced action scenes.
Sony HW30
- Same comments as the W7000. The FI in 3D stays on all the time on my HW30. It's very subtle, but just enough to smooth out the film. I am glad Sony elected to put this feature in 3D for these models.
Ghosting:
- Everyone check your weapons at the front door.
Ghosting/Crosstalk discussion has been discussed at length for some time now and is a highly controversial topic. Personally, ghosting stands out for me for several reasons. I am watching 3D on a 142" screen that is putting our nearly 3 times the light than the average HT screen. Ghosting can hide in the shadows, especially when the glasses are knocking down nearly 80% of the light. In addition, I've seen every single 3D movie released several times and know where it's at in each movie.
Obviously ghosting doesn't show up on every scene, and sometimes hard to detect in certain movies like Avatar. This brief comparison was to show how each projector handles the tough scenes.
JVC RS45
- The 3D on the JVC this year is no doubt brighter than the RS40 and RS50. Along with this, it appears the ghosting has intensified as well. I was not able to tune out the ghosting with the MV3D glasses, although I much prefer the color tint on the MV3D's vs the Original/New JVC's & Xpand 103's.
Ben Q W7000
- This is this projectors major strength. Good luck trying to find the ghosting, it's remarkable how well these DLP's handle 3D.
Sony HW30
- HW30 and VW95 owners have been thrilled with the 3D for a good reason. For an LCOS projector, it does exceptionally well at handling tough scenes in 3D. I am guessing this has to do with the faster 240hz panels, but for whatever the reason, there is a noticeable difference in ghosting on the Sony vs the JVC. I am NOT saying it's completely ghost free, but it's very subtle in comparison and find it quite pleasing through my entire 3D library.
Final thoughts on 3D:
these are just my opinons, if yours are different, it's all good.. that's why they make chocolate and vanilla.
JVC RS45
- With the mild flicker, ghosting in the tough scenes and lack of FI in 3D, I would like to see these addressed for next year if possible. I am not sure if I prefer the 3D from the last gen vs. the RS45. The ghosting on my RS40 and RS50 was more subtle, althought it wasn't as bright. This wasn't a problem on my HP screen, so the ghosting I see in the tough scenes on the RS45 are more apparent, likely due to my HP screen brightness.
BenQ W7000
- There was no flicker or ghosting to be seen with BenQ. Add in the FI in 3D, and the 3D on this projector is easy on the eyes. I know much has been brought up about the contrast on this projector, and this is it's weakness in 3D. It looks excellent in most scenes, but on darker scenes, the lack of on/off can be seen vs the JVC and Sony. The BenQ also takes the crown for SBS and 3D gaming over the LCOS, there is no competition there. If the contrast matched the Sony/JVC, it would be a perfect 3D display imo.
Sony HW30
- I like watching 3D Blurays on the Sony. For me, it has a good balance of the positive features of the W7000 and the RS45. The contrast (despite the arguing over #'s vs the JVC) on the Sony is very good. Adding in the features of the FI in 3D and very subtle ghosting (even in the toughest scenes) makes it a pleasing 3D experience for me with frame packed 3D blurays. The Sony has the same issues with SBS and 3D gaming as the JVC, but it's more subtle.
For all things 3D (frame packed, SBS and 3D gaming) the W7000 has a lot of strengths. The Acer 9500 and Mitsubishi 7800 are just getting out there, so i'm sure we'll be seeing the 1080P 3D DLP shootouts soon.
last part, 2D bluray impressions
These impressions are mainly focused on 2D bluray content, I didn't spend much time watching HDTV on the RS45 or W7000. I use the HW30 all the time for HDTV / Racing, etc.
I went through an odd assortment of favorite scenes in 2D. This includes some movies and concerts as well. I went for a mix of dark sci-fi (the Matrix, underworld evolution), CGI / Fast Action (transformers 3), dark stage concerts (shakira, live in Paris, Roy Orbison - Black and white night), a daytime concert (Eric Claptop Crossroads 2010) and a colorful stage concert (Chicago / Earth Wind & Fire, Live at the Greek Theater).
Color:
- All 3 projectors looked great in regard to color once they were set as close to D65/Rec709/Gamma 2.2 as my meter permits. I highly recommend picking up an inexpensive meter and a calibration application of your choice. I used Chromapure and like the workflow. The payoff in time is that the projector is going to look as good as it gets. The lamps are constantly changing and the gray scale shifts as the lamp ages.
JVC
- Once color calibrated, the JVC color looked excellent. I would like to have been able to fix some of the LSH errors, but it was close enough where it didn't show in any of the content I watched. Skin tones and popping colors in the EWF concert are popping off my HP screen.
BenQ W7000
- The red was hot @ 120% on the projector from 10-90% IRE. Once this was cut down, the color on the W7000 was equally pleasing. DLP colors have a certain glow to them and the W7000 looks good here.
Sony HW30
- The Sony was the closest out of the box, with the color space being almost dead on @ REC 709. It needed minor tweaks to the gray scale to get it to D65. No complaints with the Sony color, all 3 quite competitive in this category.
Focus / Sharpness:
- I am sitting relatively close to a 142" screen (1.25 SW). I have projectors with soft lenses. None of these 3 projectors is 'soft' in any regard from this close seating distance. I am as critical with sharpness as I am with the other items that were observed. There were no issues found with these 3 projectors.
JVC
- this particular copy of the RS45 I saw was exceptional with the sharpness. The lens in this model has nice even focus from edge to edge / top to bottom.
|BenQ W7000
- This was nice & sharp, especially when viewing the HTPC 1920x1080P desktop. The focus was even the majority of the screen and went out a bit at the edges.
Sony HW30
- I have masted manually focusing this projector, althought it would be nice if it has a motorized focus. Focus is similar to the BenQ W7000. Also appears similarly sharp compared to the other 2 projectors from seating distance.
Contrast / Black level uniformity:
JVC RS 45
- The JVC is infamous for it's highly praised native contrast with no DI. Once the brightness / contrast were setup, the JVC looks fantastic with blacks, even on the HP screen. I had a few 'lights out scenes' and I was surprised to see the bright corners. They are going to be more noticeable on the HP screen. My RS50 was perfect in this regard, as was my RS40. I am guessing something was changed in the light path. You'll never see it in regular content thought, so it's not really an issue.
Ben Q W7000
- The BenQ has an DI, but it's not aggressively used. I don't know if the DLP has been identified, but my guess is that it's a DC2 since black level / contrast is similar to the W6000. The projector looks good with plenty of intrascene contrast but when you see the dark scenes like the Matrix, underworld, etc, it could benefit from the ND filter we tested, especially since it's so bright on my HP screen. The black field was relatively uniform.
Sony HW30
- Despite having a lower native contrast than the JVC, the Sony DI is impressive and the first i've seen that works this well. Going back and forth between the dark scenes in Underworld and the Matrix, I enjoyed these scenes on the HW30 as much as I did with the RS45. At the most critically dark scenes, I am seeing a click or 2 difference, not a day/night difference by any means. The Sony has great intra-scene contrast as well. Black level uniformity was the most solid of the 3 projectors.
Motion / FI:
- I am using the Matrix and the TR3 clips as a reference. With FI turned off, I didn't see any issues with these 3 projectors with 24 frame BD content.
JVC RS45
- motion appears similar to my RS40 and RS50, I never had an issue regarding motion with either projector. CMD3 looks similar this year as it did on last years models. I like FI sometimes, but I think it's a bit too strong on the JVC and would like to have seen it in 3D mode.
BenQ W7000
- the DLP refresh is fast, I didn't see anything objectionable in the fast paced action scenes on the W7000. The FI in 3D works well and is relatively subtle.
Sony HW30
- similar comments on the HW30, nothing outstanding to report. I like the motion low in 3D mode and sometimes in 2D mode (mainly concerts) where there is fast panning of the members on the stage.
Final thoughts -
JVCRS45
- The RS45 reminds of the RS40 and RS50 which is a good thing. 2D color and contrast are excellent and a dark sci-fi fanatic is going to instantly like the JVC. It's hard to believe that only 3 years ago, I paid the same price for a Mitsubishi HC5500 which was on another planet in comparison to the RS45. JVC found a way to bring their native contrast to the under 3k price point which opened the doors for many new folks to appreciate the color and contrast this projector can provide when properly calibrated.
Things I'd like to see changed:
black level uniformity. I don't know if this is sample variance, I believe several others have reported it. Neither my RS40 or RS50 had bright corners.
3D ghosting - improvements here would be great.
CMS - the RS45 is at the same price point as others that offer full color controls.
FI in 3D - hopefully next year. When programmed correctly, I think it makes a valuable addition in most 3D movies.
BenQ W7000
- The BenQ has a sharp, vibrant image. it's main strength is 3D and an flexible lens shift for HP owners. There is also an 1500+ lumen torch mode that looked pretty good with ambient light on the HP. I would watch formula 1 racing with this mode. The contrast is typical of other DLP's in this price range, but not at the same level as the JVC / Sony.
Things I'd like to see changed:
better contrast, or at least control of the iris once I figure out how to get into the service menu.
Faster sync changes between 2D and 3D, they can take a good 45 seconds to switch sometimes.
3 pin VESA port for 'bring your own' emitter and 3D glasses. I'd like to have seen an option for something other than DLP link glasses.
Sony HW30
- This is a nice all around projector that plays well with dark movies, mixed contrast scenes, fast paced action movies / sports and very good with 3D blurays as well. The color is great out of the box and even better with a minor calibration. I like the FI in 3D mode.
things I'd like to see changed:
Allow me to turn on the DI when in 3D mode. I have the HP and would give up some lumens for increase contrast in 3D mode.
Motorized lens functions
Stronger IR sensor
3/1/2012 Update - I have a replacement W7000 with the 1.0 firmware. Unfortunately the lens is damaged, but can be rigged enough for basic viewing. BenQ will send a replacement once they have the next firmware release in a few weeks.
In the meantime, here is some info for those looking at the various DLP Link glasses that I tested on the W7000.
The W7000 is definitely using the red flash for the DLP Link. The 5360 uses the white flash when it's in DLP Link mode. Here's what's interesting - the different glasses I tried tonight each filter the red flash in a different way. An easy test was Peter Gabriel's black jacket. You can see the red tint without the glasses, but it's completely gone with the ZD201's.
Quick rundown on the glasses:
Optoma ZD201 - The best of the 4 glasses. Each lens does an excellent job filtering the red tint.. it's very even and easy on the eyes since both lenses are balanced.


True Depth - These are great, comfortable glasses. They work perfect with the W7000 and get their sync the fastest of all the glasses, it's instant on. These are my 2nd pick, I can see a little bit of the red getting through on the right lens.. not bad.. just not as good as the ZD201's.


BenQ - The BenQ glasses allow a noticeable amount of the red through the right side lens. it's not obvious as first until you compare it to the ZD201's, then it's hard to ignore.


VIP - these are the poorest performing of the group, there is a large amount of red tint that is noticeable in the right eye and it's quite distracting. I wouldn't use these for long if I had the others available to use.
The 3D image is rock solid.. there is no flicker at all. Colors are very good in 3D mode, this is all of the box with FI and DI on in 3D mode. There is no ghosting to be seen.
It's hard to judge the black level at this time since I've mainly been watching 3D movies. My test was the Peter Gabriel concert which had some dark stage scenes, this looked better than I was expecting. It's not going to be mistaken for the RS55 anytime soon, but I would be happy with it for 3D movies since the other benefits of ghost free + great color are there to boost the overall IQ.
I'm looking forward to getting the replacement for this one with the bad lens and possible IQ issue in 2D. I know I am going to get lucky with # 3.