Member
Join Date: May 2006
Posts: 98
Mentioned: 0 Post(s)
Tagged: 0 Thread(s)
Quoted: 3 Post(s)
Liked: 11
Primer
First, let me start out by giving my "I've been lurking around this forum for years" declaration. In the realms of normal Pc building and tinkering, I wouldn't consider myself an expert, but for years now I have had lots of experience navigating around the PC including building and repairing. When it comes to HTPC building, I would consider myself a "quasi-newb (noob)". I have been
soaking up lots of knowledge over the years on what I should consider when putting together parts, what software to use, etc. I want to have a little fun with this experience so I'm more or less posting this start to finish getting your thoughts and opinions on my build and providing any input that might be helpful. Plus, it might turn out to be somewhat therapeutic, letting me release frustrations and harmonize with the rest of you that can hopefully "feel my pain". My plans are to hopefully update this throughout the entire project, including the times when my HTPC evolves into the HD world of HTPCdom.
Epiphany
I've been thinking about and researching building my own HTPC for about 5 or 6 years now (believe it or not). What finally prompted me is this? I had a TiVo for a about a year that I loved, but I needed more. I've had an Xbox for forever with XBMC that I loved, but again, I needed more. I have an Xbox 360, and since the last Fall Update, I also love very much, but as you can imagine, I needed more. So when I rebuilt my last computer I decided to beef up some things in my system, and give the copy of Vista I've had lying around for a while a shot. I fell in love (yes that is correct I said LOVE) Vista, and loved the Media Center. One problem, my desktop is in a different room from my main viewing TV. Then the light goes off. I can add a tuner card and extend the Media Center that I love so much to my living room using my 360, AND to boot, get rid of my TiVo AND save some money in the long run by cancelling my TiVo service ANNNDDD mitigate a small price of the cost of the tuner card by selling my TiVo. It was a Win-Win-Win-Win no brainer. Before I get any farther ahead of myself, let me mention that currently I subscribe to Time-Warner Digital Cable Service, no HD yet though its coming soon.
Legwork
Immediately after doing a little research about tuner cards, and the performance of the 360 extender with Live TV through the network, I decided to get the HVR-1600. It was a breeze to install and get Media Center set up with my Cable Box. From day one I have not had but a few small glitches that were slightly annoying but not catastrophic by any means. Once I got it up and running, I fired up the 360 and with my Media Center remote in hand hit the "Green Button". After a few walkthroughs setting up the extender I was watching Live TV. I was very surprised about how well it performed. You can definitely tell if you look close enough it has a "streamed" look, but after a while you ignore it. The extender works great, but as with everything it has its drawbacks. First it's loud. Not obnoxiously loud like when you're playing a game, or Rachael Ray obnoxious, but too loud for some of the quiet indie films I like to watch. Also, though it's not a huge deal, it would be nice to not have to exit the extender and go back to the dashboard to watch a movie from my desktop. Plus there are a few other small things that only the HTPC can provide that I need that the extender cant. So after a few months of telling myself to not spend the money, I finally got too itchy and pulled the trigger. I decided to recycle some parts I already have and order whatever other parts I needed to complete the project. Here's a list including some pics for your enjoyment:
"The Stuff"
CPU
AMD Opteron Dual-Core 180 socket 939 2.4GHz ---—bought new for close to nothing. Why socket 939? See below…
Mobo
MSI K8N Neo4-F Socket 939 OR EVGA SLI 123-NF47-AX Socket 939----both recycled from old system builds but work well and pretty much do the same thing. Not sure which one to go with yet, but I'm thinking the "Eeny, Meeny, Miny, Moe" method of selection will be the deciding factor.
HSF
Scythe Ninja Mini…I'm not planning on overclocking so I'm HOPING to run it passive if possible. Either way seems to get high praise on the board.
Memory
A-DATA 2GB (2 x 1GB) 184-Pin DDR SDRAM DDR 400…..got 4gb of the same ram in my current desktop and no problems at all…pretty good deal as well
Video
PowerColor Radeon HD 3450 VD-PC-HD3450-512MD2-S…...per recommendation of others on the board. There will be no gaming with this machine so I need (for the future) good HD performance, passive cooling for as quiet a machine as possible, and good value. This seems to accomplish all three.
Hard Drive
Recycled 40gb IDE Drive…..a ghost from PC's past, but still works like champ. I plan on doing all my storage and streaming on my desktop which has tons of storage.
Case
nMEDIAPC Silver Aluminum / Steel HTPC 500SAR…got a good deal on it. Good look, ATX for my recycled board(s), and from reviews I've read, it has pretty good cooling and quiet. To me, as long as it's not as loud as my 360 ANYTHING is quiet. What else is nice is that it has chassis for the IR Remote receiver that came with my HVR-1600
Keyboard
Black BTC 9116URF Mini Wireless Internet USB Keyboard...Cheap, small and wireless. Fits the needs perfectly…
Tuner
Hauppauge HVR-1600…..as mentioned, I have Time Warner Digital Cable…no HD yet (though it is coming), so this seems to fit the bill perfectly. Also have remote kit that came with it, which is pretty much necessary for any HTPC project. Well, not pretty much, IS necessary for ANY HTPC project.
PSU
Antec Earthwatts EA500 ATX12V v2.0 500W…New from an RMA exchange. Supposedly quiet and "green conscience". Either way it's pseudo-free and should be plenty of power to run my system.
Optical Drive
"Add Brand Name Here" DVD-Rom Drive….Don't know when, where, how and why I have it, but I do, and I'm almost certain it works. Eventually, I'll get the LG HD-DVD/Blu-Ray combo drive, but don't have an HD set yet (but I assure you its coming).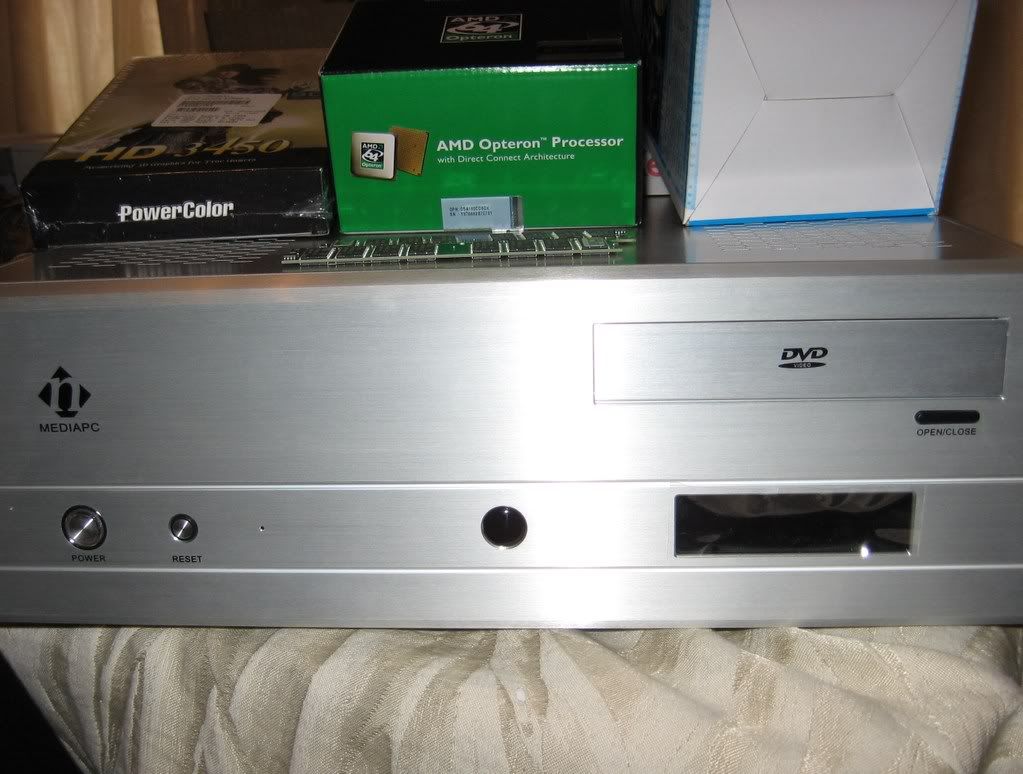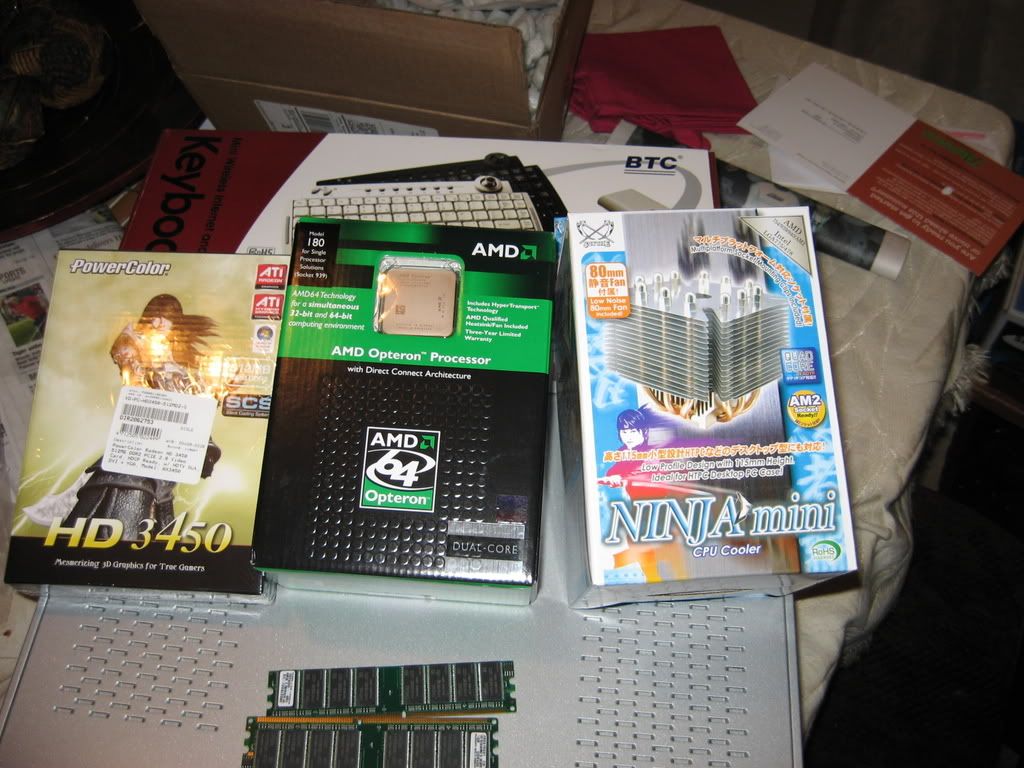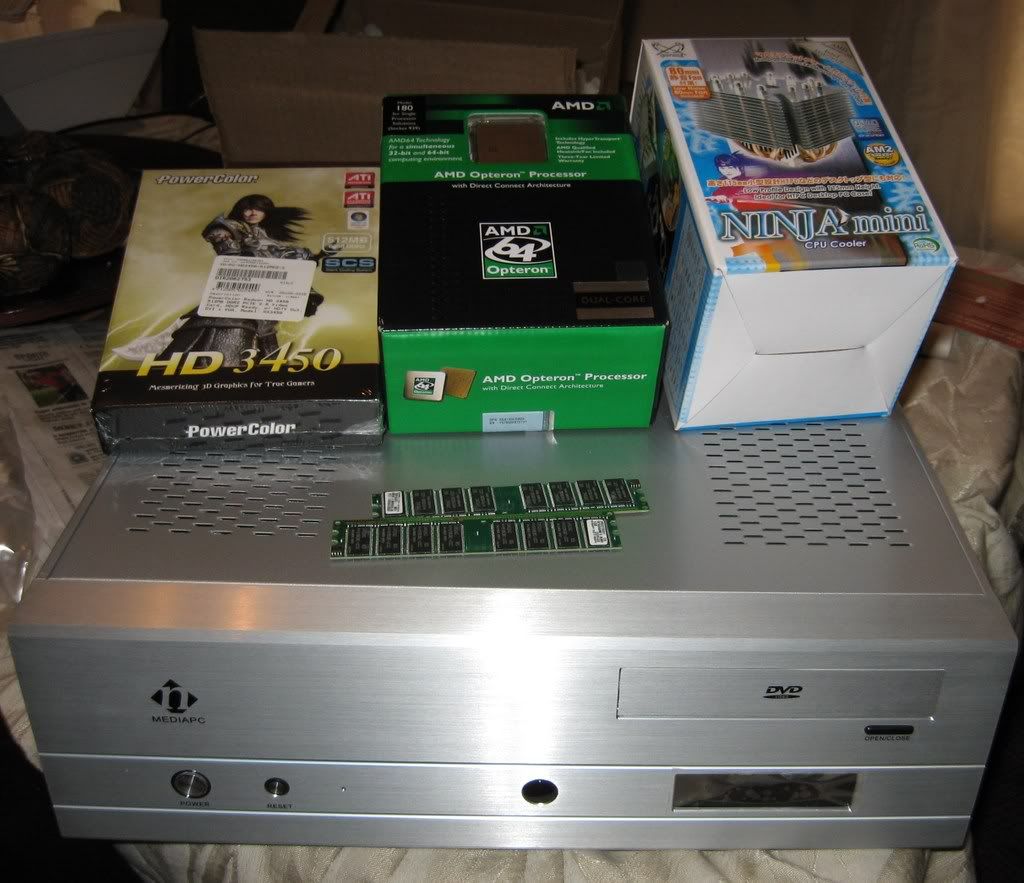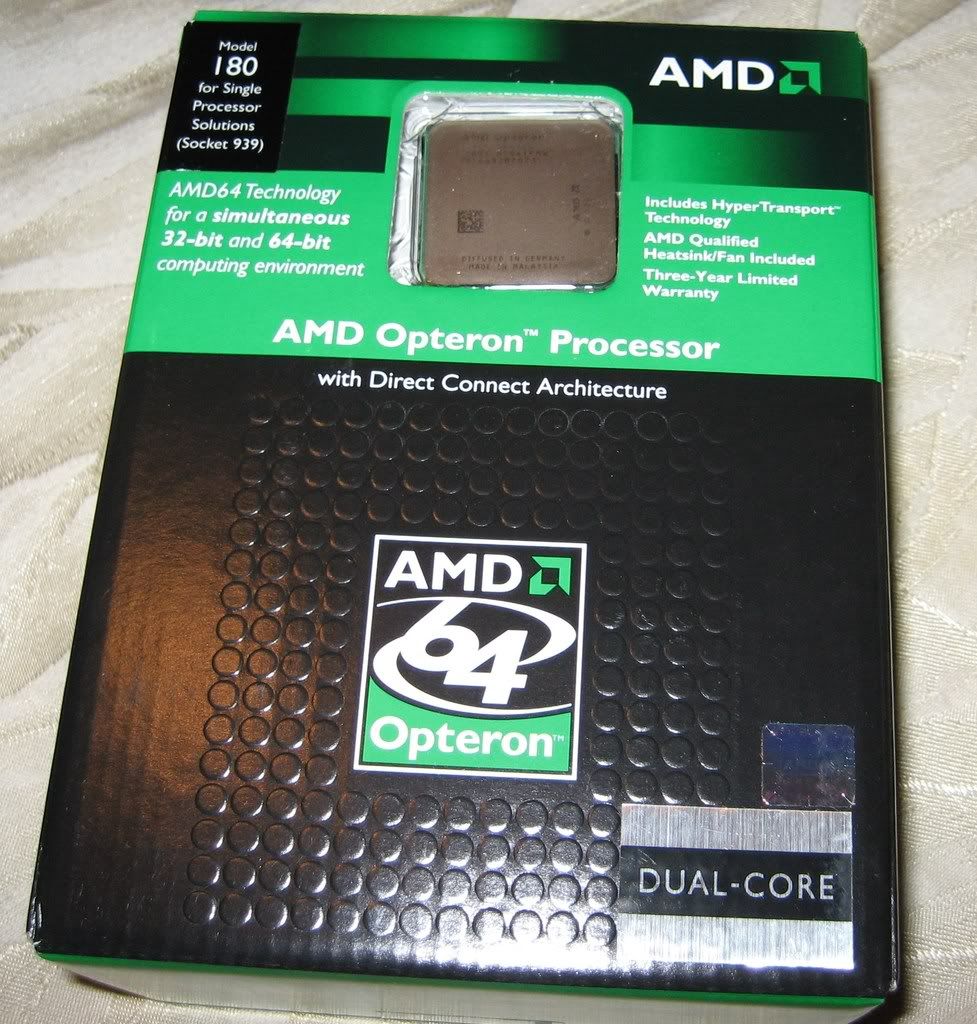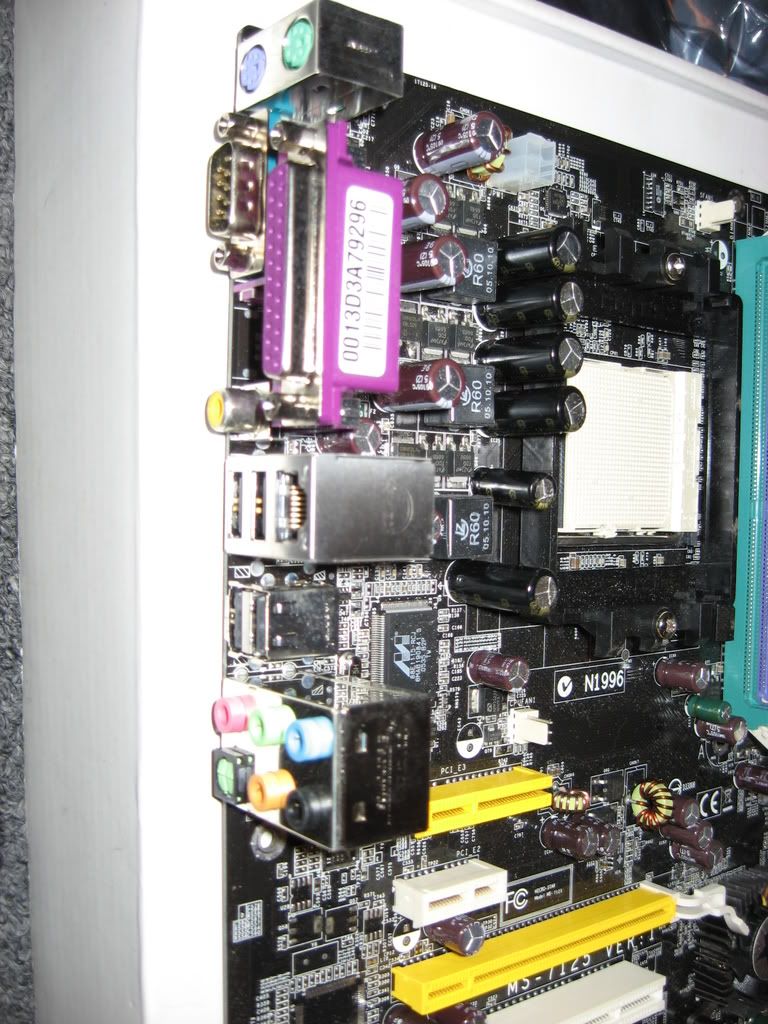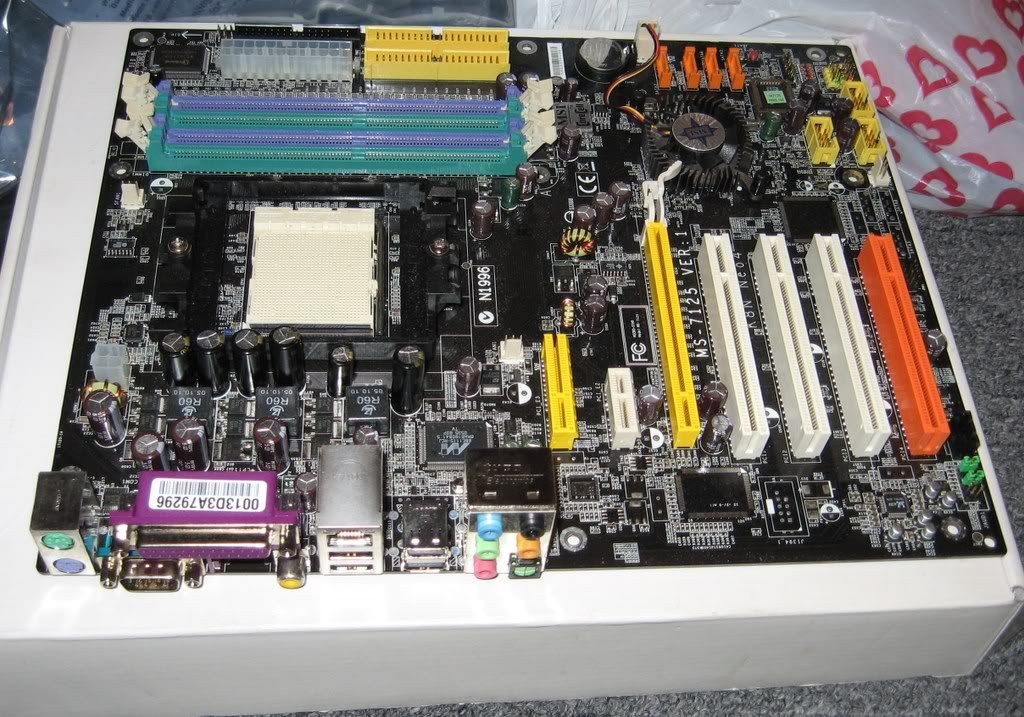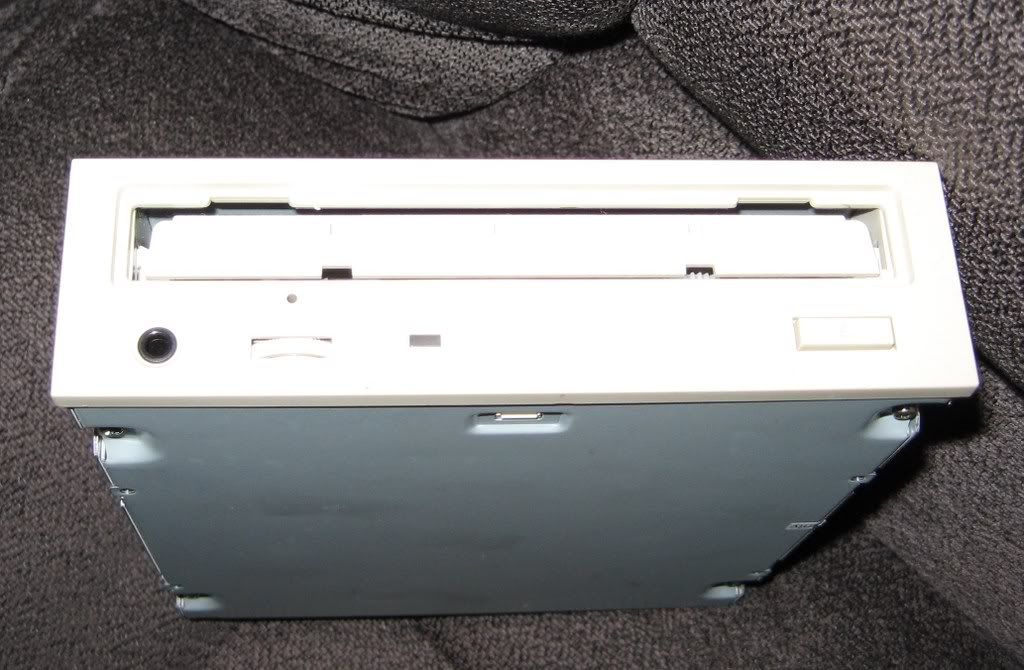 Total cost of parts comes to slightly under $500 bucks. Over time, that cost will go up as the project evolves. Additional upgrades will probably include the LG HD-DVD/Blu-Ray Drive, maybe more memory as needed, maybe new Harmony remote, and of course wireless joysticks for the emulators.
The Beginning
It's all about to go down. I'm played hooky today from work and in between the wall-to-wall basketball for the next four days I plan to get the basis for the project done. I got all the stuff gathered and now all that's left is finding a spot to spread this stuff out to do my work. I'll post updates and some pics as I go along….I'm going in, wish me luck….If I'm not back in 24 hours, tell my wife I Love Her…(Married? Yeah right…..you think if I was married my wife would let this project get off the ground...lol)
.....to be contiuned.....
AVS Forum Special Member
Join Date: Nov 2004
Location: Sacramento, CA
Posts: 1,040
Mentioned: 0 Post(s)
Tagged: 0 Thread(s)
Quoted: 16 Post(s)
Liked: 19
looks good
Advanced Member
Join Date: Aug 2006
Location: Austin, TX
Posts: 765
Mentioned: 0 Post(s)
Tagged: 0 Thread(s)
Quoted: 0 Post(s)
Liked: 10
A well reasoned build - I applaud your ingenuity when it comes to deals and look forward to hearing about the results...

If you are on the fence about HD-DVD features - you can save about $100 if you went with Lite-On's Blu-ray ROM drive...
Member
Join Date: May 2006
Posts: 98
Mentioned: 0 Post(s)
Tagged: 0 Thread(s)
Quoted: 3 Post(s)
Liked: 11
Thanks guys.......I was thinking that the LG would be good to get in on, but with HD-DVD media dropping in price, I figure spend a little bit more up front, but maybe save some cash in the long haul (at least the "short term" long haul) on media. Plus I've actually seen the combo drive for around $180 which isnt too bad....I had a couple snafus today while putting everything together, I'll post that in the morning....
Posting Rules

You may not post new threads

You may not post replies

You may not post attachments

You may not edit your posts

---

HTML code is Off

---