Senior Member
Join Date: Jun 2007
Posts: 313
Mentioned: 0 Post(s)
Tagged: 0 Thread(s)
Quoted: 0 Post(s)
Liked: 10
GIGABYTE GA-E350N-USB3 HTPC Motherboard
The GIGABYTE GA-E350N-USB3 HTPC Motherboard, the new addition to GIGABYTE's small form factor HTPC motherboard range, features AMD Fusion™ Technology with DirectX® 11, SuperSpeed USB (USB 3.0), SATA 6Gbps, an HDMI interface, as well as a host of unique high-end GIGABYTE features such as Ultra Durable™ 3 Classic, 3x USB Power and On/Off Charge for quick charging iPad, iPhone and iPod Touch devices.
Powered by the AMD E-350 Dual-Core Processor with AMD Radeon™ HD 6310 graphics (DX11), the GIGABYTE GA-E350N-USB3 HTPC Motherboard provides exceptional Blu-ray high definition content playback unmatched by previous integrated graphics solutions. The GIGABYTE GA-E350N-USB3 HTPC Motherboard features an AMD Hudson-M1 Fusion chipset which provides 4 native SATAIII storage interfaces with superfast 6Gbps link speed and SuperSpeed USB 3.0 with superfast transfer rates of up to 5 Gbps.
* 3X USB power delivery for greater compatibility and extra power for USB devices
* Unique On/Off Charge delivers the best recharging capability to iPad, iPhone and iPod Touch
* Integrated new generation of AMD Dual-Core E-350 processor
* Features DDR3 1333+ for remarkable system performance
* Integrated AMD Radeon HD 6310 graphics (DirectX11)
* Ultra Durable 3 Classic Technology with copper cooled quality for lower working temperature
* PCI-E 2.0 x16 interface for ultimate graphics performance
* Blu-ray playback supported by high quality ALC892 HD audio
* Supports Dolby Home Theater audio to enjoy a rich surround sound experience
* Integrated HDMI/ DVI interface for Full HD 1080 Blu-ray playback with HDCP
* Compatible with Window 7 to deliver the best operation experience


I ordered one of these boards today and cant wait to try it out. It looks promising.
Your thoughts.
Thanks.
Newbie
Join Date: Sep 2008
Posts: 11
Mentioned: 0 Post(s)
Tagged: 0 Thread(s)
Quoted: 0 Post(s)
Liked: 10
I got mine this morning. Have it installed in a Lian Li PC-Q07 and just installing Linux now.

Bios reported CPU temp to be 42c which is a tad high for me so I'll need to add a fan to the case

As long as it plays 720p smoothly until the hardware acceleration support is introduced I'll be happy
Member
Join Date: Dec 2006
Posts: 82
Mentioned: 0 Post(s)
Tagged: 0 Thread(s)
Quoted: 0 Post(s)
Liked: 10
me too just place order for this zacate
my zacate HTPC build
this is going to be my first full computer build
parts i got together:
- mobo/cpu/video combo ($150)
GIGABYTE GA-E350N-USB3
- case ($40)
APEX MI-008
- ram ($25) (order 4gb, will use only 2gb)
G.SKILL 4GB (2 x 2GB)
- hard drive ($80)
SAMSUNG Spinpoint F4
- dvd drive ($20)
ASUS Black SATA 24X DVD Burner - Bulk - OEM
- keyboard/mouse ($50)
OIGEAR
- remote ($15)
Windows 7 Media Center MCE PC Remote Control and Infrared Receiver
Total: $380 +tax+sh
edit March 5:
for this small case the hard drive have to be stand up as the case design intend. I can't place it in the HD in the external 3.5" drive bay slot, cause the ram piece is in the way to connect cable. with HD standing up on it side, it is making loud noise. I don't know if it is bad drive or not, will try to take it out and lay it on the side to see if the noise go away.
edit March 6:
temporary have HD lay flat on the top, no noise
Windows Experience Index
Processor: 3.7
Memory: 5.4 (currently have 4gb on)
Graphics: 4.2
Gaming graphics: 5.6
Primary hard disk: 5.9
Member
Join Date: Dec 2006
Posts: 82
Mentioned: 0 Post(s)
Tagged: 0 Thread(s)
Quoted: 0 Post(s)
Liked: 10
newegg and ups shipment is fast. order Wednesday today Thrusday already have items (it suppose to be 3 days)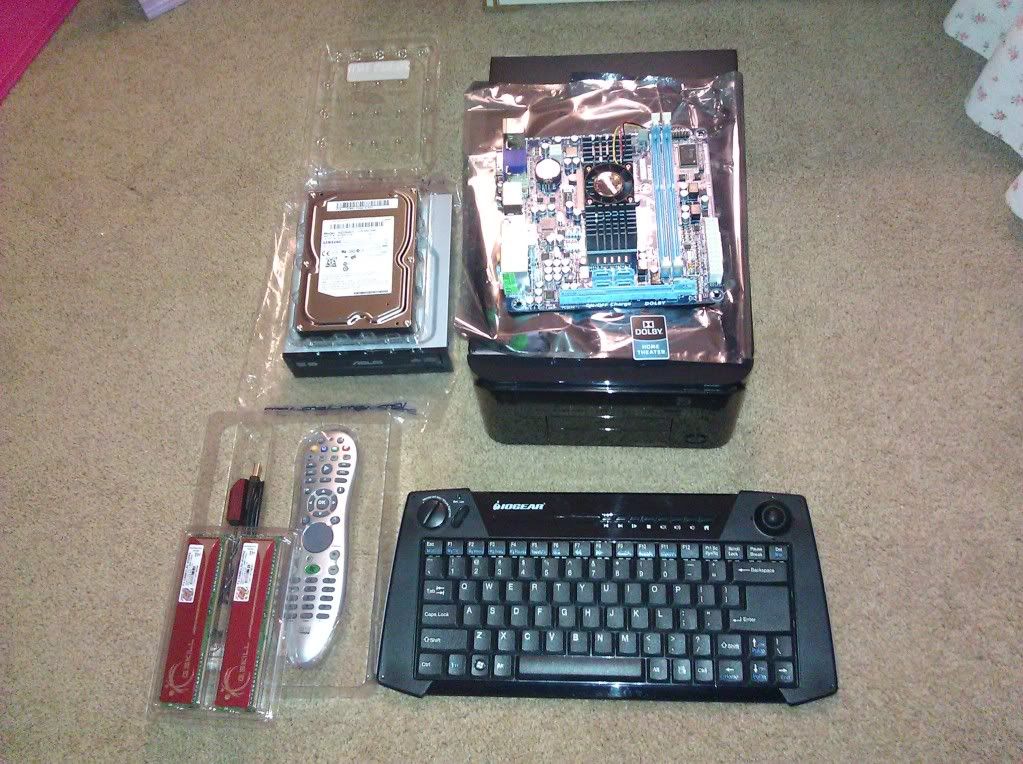 Member
Join Date: Nov 2006
Posts: 118
Mentioned: 0 Post(s)
Tagged: 0 Thread(s)
Quoted: 5 Post(s)
Liked: 12
Can anyone confirm that the Dolby Home Theater on the GIGABYTE GA-E350N-USB3 does indeed support Dolby Digital Live encoding through the SPDIF output, as shown in the picture on Page 67 of the manual
http://download.gigabyte.ru/manual/m...50n-usb3_e.pdf
?
It doesn't appear to be mentioned anywhere except that screenshot !
Thanks
Posting Rules

You may not post new threads

You may not post replies

You may not post attachments

You may not edit your posts

---

HTML code is Off

---