Member
Join Date: Jan 2011
Posts: 61
Mentioned: 0 Post(s)
Tagged: 0 Thread(s)
Quoted: 0 Post(s)
Liked: 10
Hi,
I was looking to see if anyone had any experience or recommendations on a standalone Skype device, i.e.- one that will work without a PC. We have family and friends overseas and Skype is fantastic for keeping in touch economically. I am looking to take it to the next level...
The media room has a Panasonic projector, 180" Seymour 4k screen, Onkyo receiver, 11.1 sound, etc. I also installed an omnidirectional mic in the ceiling right above the couch. That would take Skype video chatting to the next level
I found several appliances but none are quite ideal from my reading, so I thought I would ask about real-world experience. e.g.- none of the appliances I found support an external mic. The media room is fairly large (around 17' x 23') so I like the idea of a quality mic instead of the small cheap ones built into the appliances.
The ones I am considering:
Tely Labs telyHD Skype Camera: http://www.tely.com/
This seems like it would fit the bill, but I am not familiar with the brand and am a little worried that if it breaks in a few months the company may not be around to support it. (I have no idea how sound the company is; they may be on very firm footing. I just hadn't heard of them before.)
One of the nice things about this one is that it can use an iPad or Android device as the keyboard / controller, so you don't have to use the arrows on a small remote to move around and pick off letters on an on-screen display as with the Logitech version (see below).
Logitech TV HD Cam: http://www.logitech.com/webcam-communications/webcams/tvcam-hd/
I have a number of other Logitech devices and they make good stuff. The remote seems like it would take FOOOOOOOOOOORRRRRRREEEEEVVVVVVVEEEEEEEEEEEEERRRRRRRRRRRRR to enter the Skype information for the person you are calling.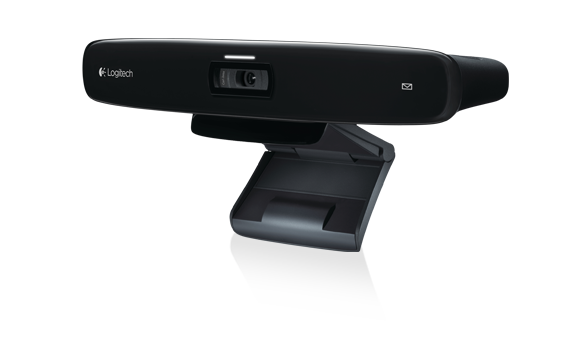 Samsung InTouch: http://www.engadget.com/2012/01/08/samsungs-intouch-brings-apps-like-skype-and-a-browser-to-your/
This would be my choice hands-down if it was actually available. It was announced in January but there is no mention of it on Samsung's web site and nothing really written in the blogosphere about it after the announcement back then. I really like the idea of it being an Android device, having a web browser, and above all the QWERTY keyboard. Despite it not being available, it is creating a mental block to me buying the Tely device and especially the Logitech one with the small remote.
Come on Samsung, get it out the door already!
Other Ideas
- XBox: MS bought Skype and from what I read seems likely to release Skype for the XBox, but probably not until sometime later in 2013. I wanted to have this up and running as a Christmas gift for the family so I probably won't wait for the XBox. On the other hand, I may buy an XBox next year as we currently have a PS3 which is getting a little long in the tooth. It still works great and we use it as our primary DVD player too. But being due for an upgrade I might look at the XBox to have both gaming systems and then upgrade the PS3 a year or two later.
- DVD player: The PS3 is nice as a DVD player, but besides ours being older, the menu system is a bit cumbersome to play a DVD compared to popping a DVD into a dedicated player and just going. The PS3 seems a little slow. The controls also do not always do what is expected when playing DVDs, such as it not seeming to remember where a movie is at when it is stopped and alwasy having to start over. f there was a DVD player that also did Skype I might consider it and buy a separate web cam for use with it. The appliances above are all around $199 so for not a ton more money I might be able to get a nice DVD player plus web cam instead of just a Skype appliance.
- i2eye VideoPhone: We have one of these but it only works with things like other i2eyes, Microsoft NetMeeting, and other PC-based calling solutions. The video quality was decent enough over 10 years ago when I bought it, but some of our family in other countries just use iPads and this would take some fiddling with to get to work on that (if even possible) and I don't want to force them to do that.
- HTPC: I don't want to spend the money right now on a home theater PC but it is in the future at some point. I may buy a cheapo rackmount PC (I have 3 full-size racks in the equipment closet) but even cheap ones aren't that cheap and there would be some setup involved even if the OS was preloaded. I have a Sun UNIX server set up for file serving among other things, but am thinking Skype may not have a client for Solaris...
Any thoughts would be appreciated!
Posting Rules

You may not post new threads

You may not post replies

You may not post attachments

You may not edit your posts

---

HTML code is Off

---