Member
Join Date: Nov 2004
Posts: 41
Mentioned: 0 Post(s)
Tagged: 0 Thread(s)
Quoted: 0 Post(s)
Liked: 10
I looked through the forum and found hints at the answer I am looking for, but I want to be sure, so I thought I'd ask. I know that the format for standard recording can come across being shown in the wrong proportion on your PC if you don't have the right codecs installed. I am wondering with many HW products which allow streaming from your PC to your TV such as TVix, Popcorn Hour Media Streamer, MediaGate entertainment server, etc., etc., are they all compatible with the format of the ReplayTV standard recording? (Yes, I still do standard recording...) I'd rather not have to convert the mpeg files in order to be able to watch them through different hardware.
On a related question, I often copy my recorded shows to an external hard drive and take on business trips (especially overseas ones). It's a very simple process, but sometimes get tired of watching them on my PC. There are 2.5 external hard drive enclosures like Galaxy 3500 Tvisto mini series which allow you to connect directly to a TV. Again, does anyone have any experience with ReplayTV standard recordings working on devices like this?
http://www.galaxymetalgear.com/Produ...vistomini.html
Thanks!
Newbie
Join Date: Jan 2008
Posts: 10
Mentioned: 0 Post(s)
Tagged: 0 Thread(s)
Quoted: 0 Post(s)
Liked: 10
Archos series 5 portable media players (and the TV+) can play replaytv standard files if you install Archos' cinema plugin. (Works fine on my TV+ anyway.)
Member
Join Date: Nov 2004
Posts: 41
Mentioned: 0 Post(s)
Tagged: 0 Thread(s)
Quoted: 0 Post(s)
Liked: 10
Since the Archos can be used as an external storage device, too, this would seem to fit what I'd want to use it for... The only thing is to connect it to the TV (like at the hotel), I'd need to bring the docking station with me.

It'd be much nicer to just to connect directly from the external storage device to the TV.

You may not have the 705 unit, but on Amazon.com, someone reported that with the 705, when playing videos, every time the hard drive spins up to load more data, the video pauses for up to one second, so you end up with intermittent freezing while watching a video. That would seem annoying to me.

There seem to be a lot of positive reviews but also a good handful of negative reviews. Some people say the screen quality and battery life are not so good. I assume you're one of the people with a positive experience with the unit?
Senior Member
Join Date: Nov 2003
Posts: 395
Mentioned: 0 Post(s)
Tagged: 0 Thread(s)
Quoted: 0 Post(s)
Liked: 10
I had tried: Philips dvd player, d-link Media Lunge DSM320/510/520 (stream with Windows Media Player 11, TVersity and Orb.), HTC smart phone.
AVS Forum Special Member
Join Date: Aug 2000
Location: NJ
Posts: 1,708
Mentioned: 0 Post(s)
Tagged: 0 Thread(s)
Quoted: 0 Post(s)
Liked: 10
I played some DVArchived content on my popcorn hour unit the other day with no issues. I am pretty sure they were raw Replay Mpegs, but I can doublecheck tonight.

I am actually going to work on a Popcorn hour template theme for DVArchive. That way I could just browse to shows on the Existing Replays (hopefully). I should have at least a beta done this week.
Member
Join Date: Nov 2003
Location: Chicago Area
Posts: 74
Mentioned: 0 Post(s)
Tagged: 0 Thread(s)
Quoted: 0 Post(s)
Liked: 10
The Prismiq will play raw mpgs from a 5000 series unit.
Advanced Member
Join Date: Oct 2001
Location: Southern California
Posts: 518
Mentioned: 0 Post(s)
Tagged: 0 Thread(s)
Quoted: 0 Post(s)
Liked: 10
Just bought a Archos 605 Wifi 4GB for $135. Added the $20 codec to allow it to play raw Replay MPEGs, and I couldn't be happier.
My wife had come home with a Memorex 8GB MP3 player from Target ($99), with a smallish (2.4"?) screen, and asked if it could play Replay files. After doing a little research, I found it probably could, but that they would most likely need to be converted first. After doing some research on
anythingbutipod.com
I decided on the Archos, and to have her take the Memorex back. It has a large 4.3" (800x480) touch screen, and it accepts SD cards (including the large 16and 32GB SDHC cards) for easy expandability.
The device can play DIVX AVI files too (typically 700MB for a 90 minute movie), which are even smaller than the standard quality Replay MPEG's, which is an added bonus for those into downloading Torrents.
I'm planning on grabbing one or two 16GB SD cards from Staples tomorrow, they are on sale for $35 (this size is the sweet spot for price/capacity IMO). Later in the year 64GB SDHC cards will be out which will be nice.
The wifi is handy too, I can stream/transfer video and music over my home network from my Windows Vista PC, or of course plug it into the computer (USB) to transfer files to it. You can pay another $30 to unlock it's web browser, and there is also a dock that allows you to use it as a DVR, in addition to other accessories. It looks like DishTV users can also download a free plug-in to allow them to transfer files from their DVR to the unit.
The user interface is well thought out and quite intuitive, and there are little touches like a fold out arm to allow it to prop up and watch it hands free which add to it's usability.
So, I have a 20GB (expandable) wifi PMP with a great interface for about $190. A similar iPod Touch with 16Gb costs would have cost me about $100 more, and would have a smaller screen with lower resolution, a little less memory, and no expandability, though it would be able to surf the web out of the box, which would cost me $30 more if I wanted that feature.
Member
Join Date: Nov 2004
Posts: 41
Mentioned: 0 Post(s)
Tagged: 0 Thread(s)
Quoted: 0 Post(s)
Liked: 10
Thanks for the update... $135 sounds like a great price. I realized that with the prices of netbooks coming down, a netbook could also serve as a PMP with full browsing, etc. I haven't bought anything yet, so in the meantime, I decided to go with a VGA to s-video/composite converter cable to be able to hook up my PC to the TV. (That is, when I travel, I would prefer to watch movies, etc., on a TV and not on my computer. When I am on a plane, my 14" notebook suffices...)
I also then discovered the Bluetooth "remote" device on my Sony Ericsson phone, so I can actually lie in bed at the hotel and watch TV using my phone as my remote to control VLC or WinDVD (or Windows Media Player).
I have also successfully used Orb (orb.com) to stream ReplayTV downloaded videos to my phone... but considering I only have GPRS/Edeg on my phone and I don't have a Smart phone, it's less than ideal. I'd definitely prefer a phone which is compatible with SlingPlayer.
And back on the subject of netbooks, I am thinking a netbook multi-touch tablet would be great as a remote using the SlingPlayer software.
Can you imagine if you're on your couch and yourr TV remote was a touchscreen tablet with the following as the interface? Double tap a TV show to change to that channel... Sweet..! And if I were to get a 7" tablet or so, then it could double as a portable media player... Anyhow, my idea to use a tablet as a remote is still a concept at the moment.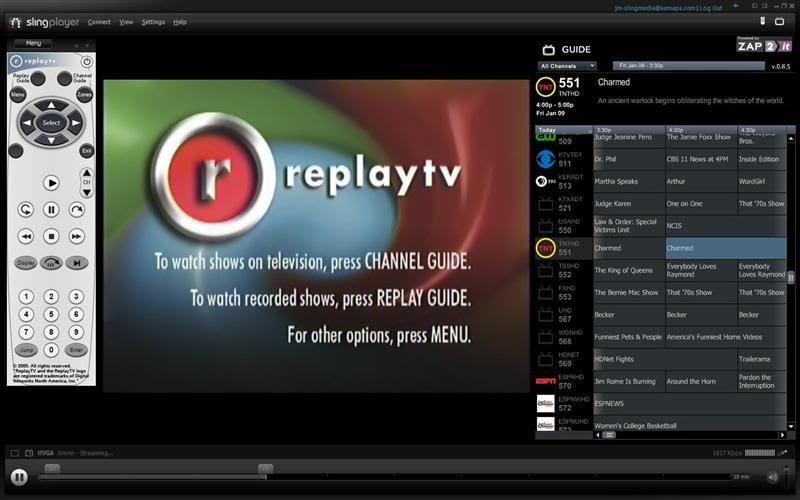 Advanced Member
Join Date: Oct 2001
Location: Southern California
Posts: 518
Mentioned: 0 Post(s)
Tagged: 0 Thread(s)
Quoted: 0 Post(s)
Liked: 10
That'd be a nice solution. We were taking a trip from San Diego to Turks and Caicos, spanning 5 flights, so we needed a stand alone solution when there was no network connectivity.

At first I wasn't big fan of the new Slingplayer software, but the more I use it, the more I like it. I do need to upgrade from my (2) Slingbox Classics, they top out at about 2 megabits/sec, which is fine over the internet, but I use mine in-house more than away from home, and I believe the newer boxes top out at 8 megabits or so.

Until the airlines start implementing in-flight broadband like they've been talking about for years, the Archos seems to be a good solution.
Posting Rules

You may not post new threads

You may not post replies

You may not post attachments

You may not edit your posts

---

HTML code is Off

---