Member
Join Date: Jun 2002
Posts: 156
Mentioned: 0 Post(s)
Tagged: 0 Thread(s)
Quoted: 0 Post(s)
Liked: 10
I have been away from home frequently lately and purchased a Slingbox, which has been working quite well until the past few weeks. During the past few weeks, the replaytv 5040 (with a 160GB hdd) has begun freezing with the message shown below in the jpg: ReplayTV--Please Wait. After some gyrations of someone at home resetting the system a couple of times, all is well. Sometimes it requires unplugging the unit. There is never more than 40 hours of programs on it at any time.
Does anyone have any suggestions about what may be causing this and how to deal with it?
Thanks
Ken K
AVS Forum Special Member
Join Date: Dec 2004
Location: Largo, Florida
Posts: 1,542
Mentioned: 0 Post(s)
Tagged: 0 Thread(s)
Quoted: 1 Post(s)
Liked: 10
Troubleshooting tips can be found at
www.replaytvupgrade.com
Most often it is the Hard Drive that is the cause of problems. Directions on replacing your hard drive can be found at the same address. If you are less adventurous, get a preformatted hard drive from Mikeyboy at
www.replaytvparts.com
(all you need is a screwdriver to perform the upgrade/replacement).
---
Ed Qualls - Just Add Power
AVS Forum Special Member
Join Date: Apr 2003
Location: Redlands, California
Posts: 8,103
Mentioned: 0 Post(s)
Tagged: 0 Thread(s)
Quoted: 7 Post(s)
Liked: 10
I'd rather see the screen you saw then this one: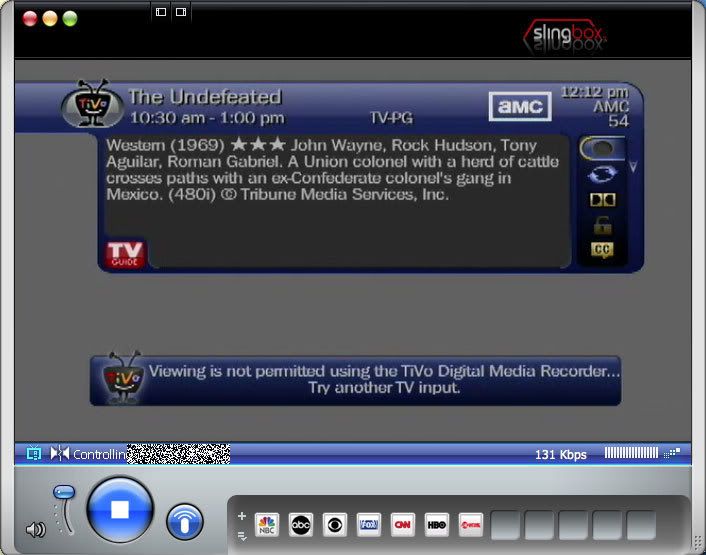 Reports say Tivo recently broke slingbox (not sure if all shows or just tivo choosen shows)
Did you buy a the 160 gig model of replaytv or upgrade it?
If you bought a 160 gig model it might have two 80 gig drives in it; dual drives are problematic.
Either way it is likely a HD corruption problem or bad HD, which is easily fixed do-it-yourself, or easily boughten (pm member mikeyboy).
go here and evaluate if you can fix it on your own:
http://www.replaytvupgrade.com/
Member
Join Date: Jun 2002
Posts: 156
Mentioned: 0 Post(s)
Tagged: 0 Thread(s)
Quoted: 0 Post(s)
Liked: 10
the unit was originally a 40GB hdd. I purchased an larger hard drive from replaytv.us. I will contact them to see what they say.

Thanks
Ken K
Posting Rules

You may not post new threads

You may not post replies

You may not post attachments

You may not edit your posts

---

HTML code is Off

---