Built myself a set of frameless, floating Art Deco style acoustical panels. Used two one inch fiberglass panels wrapped in microsuede fabric. Mounted against a 3/4" wood laminate panel, floating and frameless. The goal here was to squeeze the most sound absorption out of the panels. Here is what I used.
Certa-Pro Acoustaboard with black non-woven facing. This acoustically transparent, semi-rigid surface makes it much easier for me to cut the panels precisely into shape.
Spray adhesive
Impaling clips.
I started with a melamine backboard on which I secured the impaling clips. Then, I drilled one hole to hook the panel onto a single drywall screw. This way, I could eventually move the panels to other locations with minimal damage left behind on the wall.
I then made cardboard cut-outs in the shapes I wanted for both fiberglass panels, which were going to be superimposed.
Masking tape to mark the cutting lines.
Using the spray glue, I wrapped each panel with it's own fabric colour, glued them together in an offset position, giving them an Art Deco style...And voilÃ*!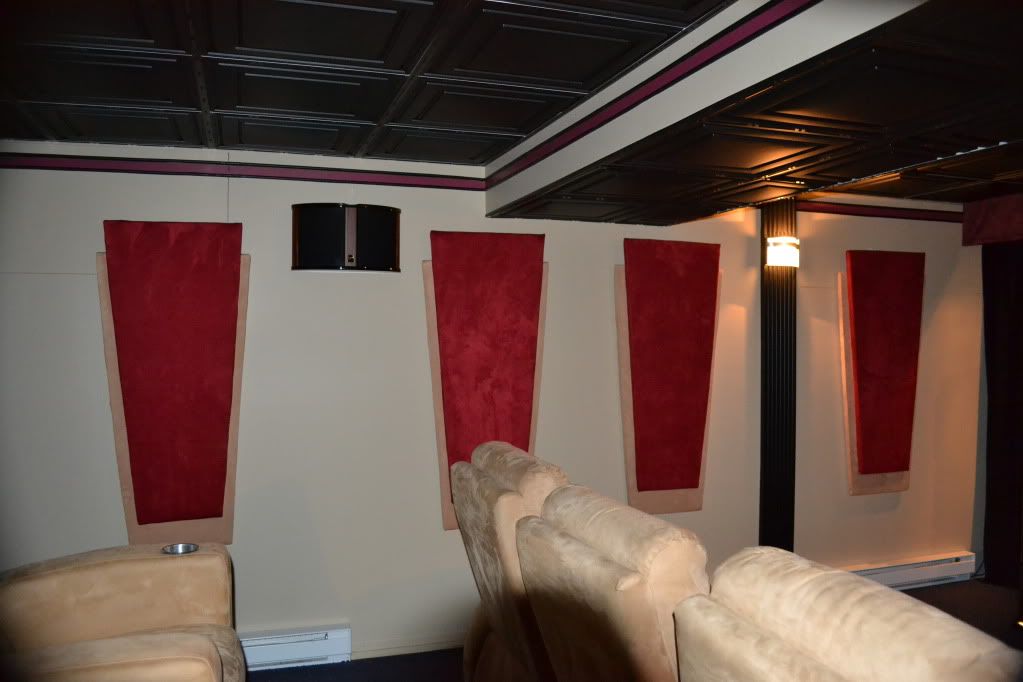 Comments welcomed, more pics can be seen
on page 4
of my home theater thread.