Member
Join Date: Oct 2007
Posts: 160
Mentioned: 0 Post(s)
Tagged: 0 Thread(s)
Quoted: 0 Post(s)
Liked: 10
Here`s a Review on the Delayed
Ellion Labo 110
Will be here soon and will give it another look at,With New Firmware.
The
Ellion LABO-110
1. Playback Functions
HD Playback upto 1920x1080p
DivX, XviD, MPEG(1/2/4), H.264, WMV9, MKV, AVI,MOV, MTS, RMV, AVC, VC-1 Playback
HDMI 1.3
Wireless 802.11g/n Option (via USB wireless Adapter)
2. Support File format
Video : H.264,WMV9,MKV,AVC,RMV,MPEG2 HD(ts, tp),HD AVI,MPEG1/2 Video(mpg,ifo,vob,iso).MPEG4 Video (avi/mpg)
Audio : MP3, WMA, Ogg, Dolby AC3, AAC, PCM, DTS(pass & Downsample),PCM, AAC, FLAC, MKA, AIF
Photo : JPEG HD, JPG, BMP(32bit) TIFF, GIFF
Subtitles : smi, sub, srt. Idx-sub
3. Connection
2 x USB(Host), HDMI 1.3, External IR port, Composite, Audio L+R, Coaxial Digital Audio (no toshlink),
LAN (100Mbs) Card Reader Option for the Labo-110 (SD/MS/MMC)
4. General Information
File Compatablity : NTFS, FAT32
Power adapter : DC 12V, 2.0A
Dimension : 115 X 126 X 28 (mm)
Ellion HD Media Rekorder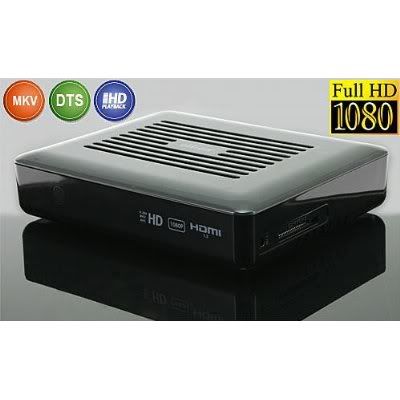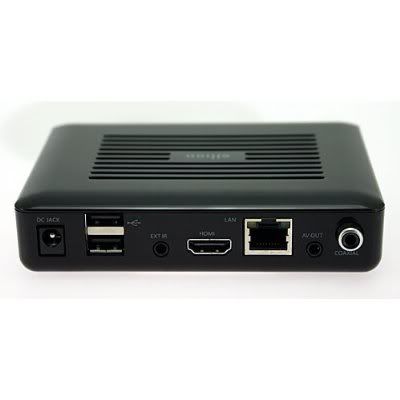 Ellion labo 110 (Black)
With the ever growing list of Media Players/Streamers hitting the market Plus the growing popularity of such devices its a mine field for New/Old buyers to pick that perfect player for there
all around ability to play/stream all the files that they need them to and give as much value for money that can be squeezed out of them.
So here lands a Tiny(And I mean Tiny) new Realtek based player Produced By Ellion a German based company who no strangers to making media players.. Another one you say and where does this sit between Say the WD LIVE At one end and The Hisense at the Cheapest end of the market,Well price wise it sits between the Asus and the Hisense 800 so it is very well priced.
But lets test the little Beastie and see What we actually have here and how it performs or doesn't.
Lets open the Packet and See...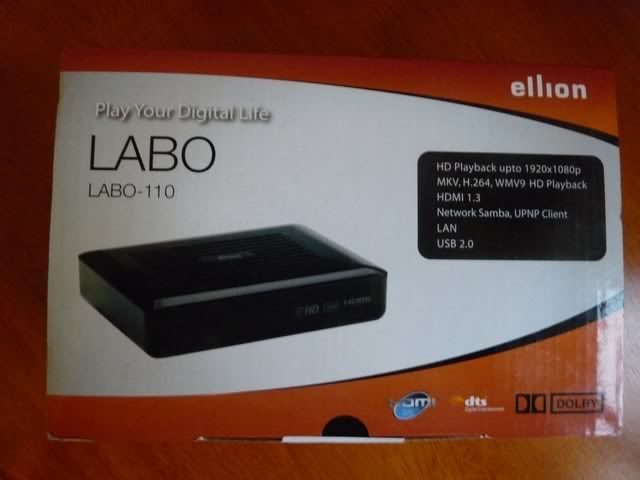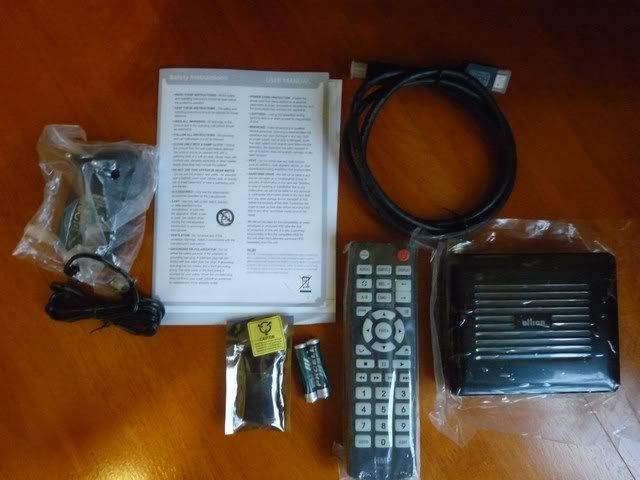 Well its Tiny..Minute a real portable player,Lovely Finish to the player will fit in fine with most A/V.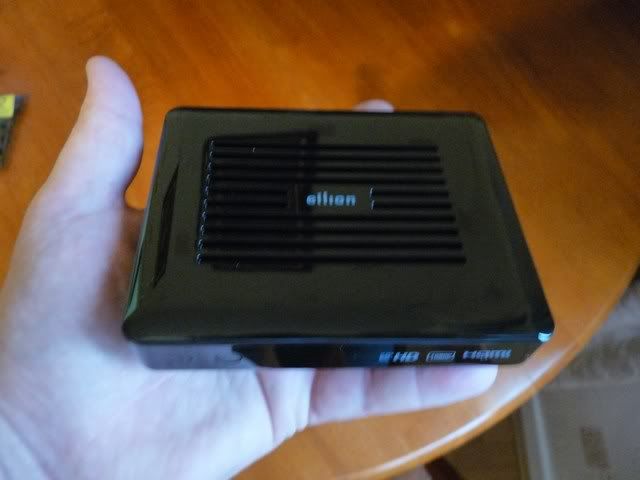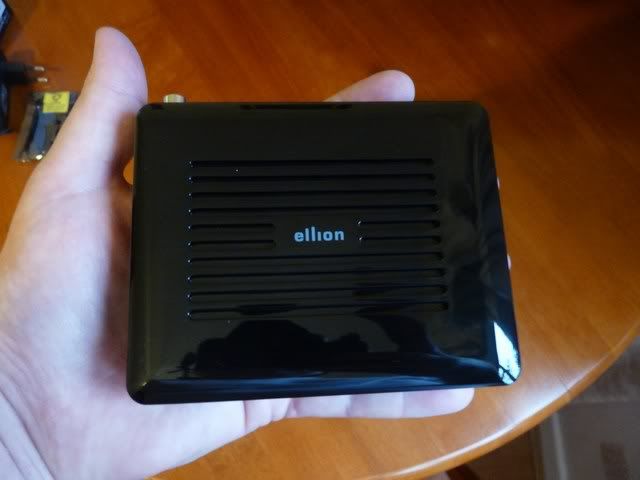 Setup Menu
So far so good,Love the HD interface,Bit slow on intial screen..But browsing and setting up are quick and in a common sense order,Scanning attached 320 gig Seagte drive(2.5 inch) is very quick and the usb device has no power supply but the Ellion powers it up no problem.
Setting screen is SIMPLES and have it set at 1080p 24hz and first large file 18 gig mkv plays bag as sweet as roses this is very high bit-rate pushing the high 20`s and it plays without a flaw.
Re-set the file to output just vanilla 1080p and you can see the scaling change and playback in both instances is most impressive as good as any other Realtek/Sigma based player.All MKVS
Played back perfectly..only one file a 18 frame monster(that was badly encoded and high frame rates means nothing by the way in terms of quality)the file would not play on the Asus/Hisense
to my surprise this plays with some brake up on screen but still plays..
Xvid/Divx/Mp4/Mpeg 1 playback sweet,M2TS no issues and files up to 80 gig are playing fine,TS Ripped Dvd`s playback no problem at all.
Mp3/Flac all play fine you have to back in the menu and change sound outputs and then all is good..right to Audio..
Dolby/Dts all Downsample through HDMI without a hitch,then i set up the Coxaial to my amp and
tried it with RAW and LPCM,Unusual to have a Cox instead of Optical out and sound quality i cannot fault and is as good as any player i own inc WD LIVE,Asus and Hisense there seems a bit more quality to the sound but to be fair need to test this more between the players i have and get a TRUE sense if iam hearing correctley...
If you want a player just to use with an External U.S.B And is quick to Set-up and plays all you need it to play this is by far the best for a quick and error free set up i have had the pleasure to try im IMPRESSED.
It has some minor bugs like Subtitles are always set to on so you have to them of before Starting a film,And a few other sdk2 issues that have been sorted on other Players so lets hope the New Firmware brings it on Furthur,From Being A Good player to a Valued Purchase.
Firmware Update From a Few Days ago:
Changelog:7 Feb
Heres The Changelog,We can report that subtitle support is even better,the Audio Bug seems to been fixed as Mp3 support added for spidif,Network Throug Samba has been Improved noend and was streaming some very large files without Dropout,the Machine seems more stable,and some work ahs gone on in the music side,the add Mp3 Lyric,more fonts for subtitles
not massive things seems positive so far,must say had problems installing the firmware as only a sandisk usb worked,but we have come across this problem before on other players and just makes things a little nervracking,postive changes even though there not major ones.
- .change Font as Arial Bold+HYKangB+Simhei to all language support
- .correct rebooting when playback video file while playing audio file
- .change Samba/FTP server as background task
- .add NMBD(NetBIOS Name Server) daemon for Samba server
- .change init. data of user ID as "guest" in MyShortcut Edit menu Data of user ID as "guest" in MyShortcut Edit menu
- .change default subtitle size & offset as -18 & 20 -. Change default subtitle size & offset as -18 & 20
- .change default workgroup as "WORKGROUP" in Samba Server
- .change some french OSD string by MGF
- .add video file info
- .remove My_Neighbors, change default MISC setup, change HDMI init process
- .change VFD display when audioplayback agent display in saver mode (HMR models)
- .support MP3 Lyric file
- .change SPDIF output when playback video and audio file include mp3 audio codec
- .correct MP3 Lyric how display two line and some refresh bugs.
The New Firmware seems to have Fixed a number of small Niggles in Subtitles,Mp3 Codec Support for Xvid files as an example and More Auto HDMI features to,Networking Support With Samba is much Improved and
Can move some large files easily,id forgotten after sometime how good the picture Quality was on this player as i updated the Firmware,Really stands out
compared to a number of players and has been moved,but in bags,thrown about by my teenage children so in terns of Build quality its very good to.
A small very small solid piece of kit and i must recommend it as a cheap but indeed a Purchase that is good value for money.Will be sold in the u.k by Scan and in Malta by Scanmalta,please check your local Retailers see if there carrying it.
Senior Member
Join Date: Jul 2009
Posts: 249
Mentioned: 0 Post(s)
Tagged: 0 Thread(s)
Quoted: 1 Post(s)
Liked: 10
The Labo is indeed one of the best budget Realteks.
Deserves to do well just for Ellion having the b**ls to make the user interface a bit different to the rest.
Member
Join Date: Oct 2007
Posts: 160
Mentioned: 0 Post(s)
Tagged: 0 Thread(s)
Quoted: 0 Post(s)
Liked: 10
Cannot agree more Buddy,the Brand had a bad rap in the past as i no you no,but it just works and as you said nice have a Company at least trying something Different with the Realtek Stock Firmware.
Newbie
Join Date: Jan 2013
Posts: 1
Mentioned: 0 Post(s)
Tagged: 0 Thread(s)
Quoted: 0 Post(s)
Liked: 10
Hey everyone

My new 3D tv arrives tomorrow and I was wondering if the Labo 110 will play BLU RAY 3D iso's and mkv's?

Many thanks in advance
Posting Rules

You may not post new threads

You may not post replies

You may not post attachments

You may not edit your posts

---

HTML code is Off

---