Samsung HL-T Service Menu Calibration with HCFR program and a Spyder2 probe Colorimeter.
Update: Read post #11 (right after this one) before proceeding.
Needed Items:
GetGray Calibration DVD
You will absolutely require some Blue Filter glasses for adjusting color available
HERE
Spyder2 Probe
($60 at newegg.com)
HCFR Software
HCFR software & Spyder2 colorimeter setup:
- Load HCFR on a laptop computer with the Spyder DLL file copied to the HCFR folder.
- Preferences-->References choose 709 (HD DVD) or 601 (SD DVDs) (I don't have a BR HD calibration disc yet)
- RGB levels leave at default 16-235, ref white D65
- "DVD Manual" (you'll be manually moving through GetGray)
- "Spyder2" probe, change 300ms-->500ms, choose "CRT" (not LCD), extend time for dark, average readings
- All readings in "x,y,Y" mode. x and y are in decimal format. (e.g. a reading of .311, would equal 311)
- Equilibrate TV and Sensor temps for at least 30 minutes. Hang the sensor on the TV to equilibrate temps.
All sensor readings are taken in the typical ambient lighting of your environment. For home theaters, that would mean small lights on dim level. Have a lamp available to record settings in between tweaks and sensor readings.
HLT Initial Setting changes prior to calibration:
- To get to the service menu, use a universal remote with the codes downloaded into them, or turn off TV, then with the Samsung remote hit: Mute, 1, 8, 2, power. The TV will turn on and be in the Service menu on the last loaded input channel (HDMI, component, TV, etc.)
- These changes you will make will alter the default "Dynamic" mode to be correct and require no user menu changes! and Contrast/Brightness/Cool1 calibrated correct color & D65 by default.
-
- Enter Service Menu (programmed universal remote best) BOLD = submenu
-
-
CCA (ON)
--> adjust [Cool1]DW_x = 312, and [Cool1]DW_y = 329 (These set the Cool1 setting to D65 standards.)
[IMG]
http://s699.photobucket.com/albums/vv357/docrings/HLT%20Service%20Menu/?action=view&current=Cool1_alter.jpg[IMG
]
-
-
WHITE BALANCE
: Adjust "Sub_Contrast(FBE)" = 110. (I did it in this menu, and not in FBE(2) submenu... but you might be able to do it there, too...still learning this menu)
(On my set, if it was any greater than a setting of 115, the red LED gain could not be brought up to match Blue and Green output, resulting in a too blue white balance) For my home theater, the screen threw too much light anyway.
- Start the GetGray DVD-->Brightness/Contrast section-->moving dark bars for brightness:
-
-
FBE(2)
: Adjust sub-brightness to just barely see 1% and 2% bars. I get up close and turn up sub-brightness till the 1% bar starts to turn on the sub-pixels (best seen from about 12" away).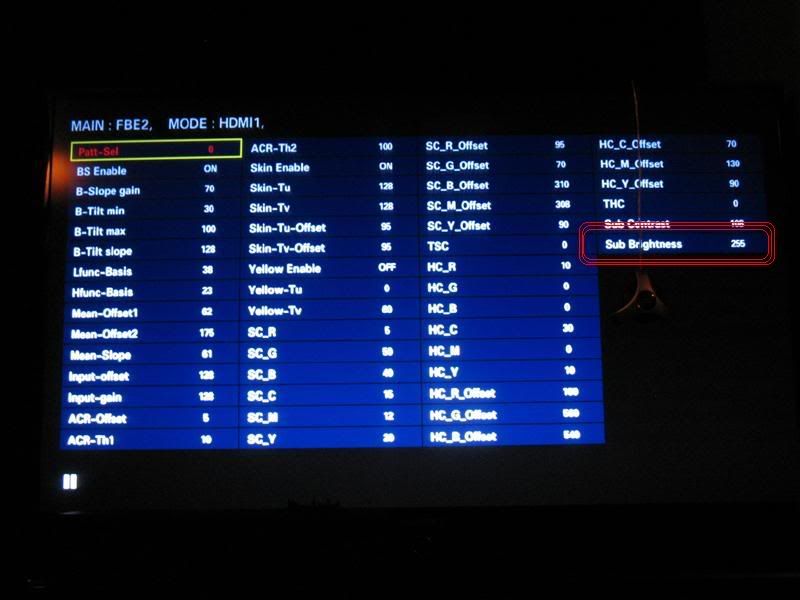 -
--
FBE(2)
: Skin Enable = OFF
--
SP ACTURATOR
-->DB on/off, either leave DB ON "auto" mode (will adj brightness with sub-bright) or "DB OFF" for manual iris control. I left mine ON (for now). Don't you like how they mis-spelled "actuator" in the menu?
NOW:
Adjust grayscale & Color:
Advanced grayscale calibration
(requires working knowledge of HCFR program)
- CCA(ON): ensure CCA is "On"
-
- Put up a GetGray "100% white" window.
-
- Position the Spyder2 sensor in the lower right portion of the white window. This will allow some of the important CCA submenu to be displayed and not interfere with readings.
-
- Make sure the Spyder2 sensor is gently against the screen, you can gently adhere it with the suction cups if you remove the snap-on black bezel.
- GetGray-->Low level gray (20% IRE): hit continuous "Measures" on HCFR to get R,G, B levels on a moving HCFR graph (you will mostly end up changing Red and Blue gains and cuts… green may not need any change).
-
DESATURATION (ON)
menu: adjust R_Offset, G_Offset, B_Offset to get them all to around 100% with the sensor, with the "Delta" pink line on HCFR less than "2" and the Temperature scale to 6500K. Start with adjusting the highest color downward first, and ever so slowly tweak each value up or down to get them all to balance with minimal delta and on D6500. One affects the other, so change one color at a time. At the end, even one click up or down will make a difference.
-- Get Gray --> High level Gray (90% IRE or 100% IRE): now adjust R_Gain, G_Gain, B_Gain individually to re-balance the three colors on your TV in continuous reading mode, to attain less than a "2" delta between them (on the HCFR program), and to track at D6500 on the HCFR software. Start by lowering the highest color (usually blue), and adjusting the others (slowly!) to balance at D6500.
You may have to go back and forth between the 20% gray and 100% grey, slowly tweaking to get them both equilibrated and stable readings.
(If you right-click on the HCFR graph you can change scales, line thickness, etc. to make it easier to read. Line thickness "1", 50 measures, minimum scale)
- The Spyder2 may take up to two minutes per reading at very low light levels… so be patient, and wait for TWO graph readings to ensure stability between changes. This may take you about half-an-hour or more, so be patient, and keep the ambient lighting low.
- Stop the continuous acquisition mode when complete.
- Run a HCFR Grey Scale data acquisition run. This starts with the GetGray "0 %", and runs up to 100% by 10% increments. HCFR will prompt you to move forward. Remember that low light levels (0%, 10%, 20%) may take a couple minutes each. You will then get a grayscale tracking graph and see where you need to repeat the Low/High level "tweaks" again to get even closer. I ignore the 0% and 10% as it is almost always out of whack due to the inexpensive nature of the Spyder2 sensor and low-light fluctuations. Just focus on 20% to 90% tracking. If you are a super-tweaker, continue to repeat the above sequence and by all means try to get 10% and 100% as close to 6500K as possible, with minimum delta.
Advanced CIE Color triangle
- Adjusting subcolor: UNDER CONSTRUCTION
GetGray or HD-DVE --> use 100% windows of the Primary RED
(GREEN, BLUE, and then Secondaries YELLOW, CYAN, and MAGENTA will be used later)
-
- CCA(ON): ensure CCA is "On". Leave up the CCA menu.
-
- Position the Spyder2 sensor in the lower right portion of the color window. This will allow the CCA(ON) menu to be up and not interfere with readings. Make sure the Spyder2 sensor is against the screen to prevent light leakage.
-
- Run a HCFR continuous reading of the first color (red first), and also open the CIE triangle in HCFR so you can see where that color is on the triangle, and how far from the standard.
-
- Each sensor reading takes about 3 to 15 seconds.
-
- The goal now is to get all six primary/secondary points into the little diamond points on the CIE triagle diagram which are the reference standard. So, the next step is to tweak the Desaturation(on) menu settings.
-
- Note: you don't have to turn CCA "OFF" to input numbers, just back out of the setting to activate what you've input, leaving CCA "ON" the whole time. Always ensure CCA is "ON" for any measurements, though. If you accidentally leave CCA "OFF" when you do a color measurement, your colors will be incorrect!
-
DESATURATION(ON)
Menu for color coordinate changes (specifically to alter the WIDE color settings, which is the default after exiting the service menu)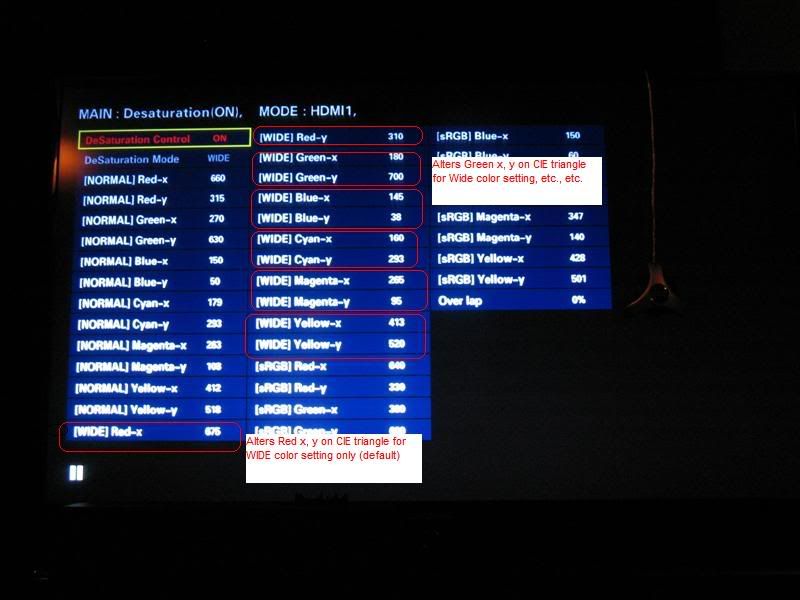 -For example: [WIDE]RED is first. You note whether your current Spyder reading value for Red_x is too high or too low. You then alter Red_x and Red_y to move the color until it matches the triangle. If the reading is too high on the Spyder, then lower the menu number the corresponding amount. Play with it a bit and you will see how altering the menu changes the x, y coordinates of the color on the TV.
NOTE: Blues are hardest to move fully, and that may be the only color you won't be able to nail perfectly.
-
- I do this in HCFR continuous readout mode, getting instant feedback on changes. I do one color at a time in GetGray (e.g. Red 100%), and then in the Desturation(on) menu, alter the [WIDE]Red-x and [WIDE]Red-y values to get an instant update on the new color output of the television with HCFR in continuous mode. Just remember to alter the value, then exit that entry to activate it, and re-measure, re-calculate delta, and repeat till the 100% color reading is right on top of the reference triangle value. If you make a mistake the sensor reading circle will move further from the target circle on the CIE triangle.
-
- If a HCFR color-x or color-y sensor readings for x or y is too LOW from the reference value, then raise the Color-x or Color-Y value in the service menu a corresponding amount. If color-x or color-y is too HIGH, then lower Color-x or Color-y the difference between colorx and the target reference value. If you get too far out of limits, you may notice your colors change dramatically!
Target Values:
x y
Red 650 330
Green 300 600
Blue 150 60
Cyan 225 339
Mag 321 154
Yell 419 505
D65 312 329
Now when you exit the Service Menu, you be in "Dynamic" mode, and back to WIDE color gamut, DNIe off, Active Color off, and Cool1 white settings. Brightness will need to be adjusted to around 45...use your favorite dark scene movie to adjust to taste.
This is what you just calibrated for "correct". If you want to go back and tweak Cinema and Warm2, then go ahead...you will then have access to the "advanced settings" under the Cinema settings.
Make sure DNIe is Off, and now tweak color saturation with the blue filters and looking at a calibration GetGrayDVD. I like the "Steaming Rat" method for setting color using flesh tones with source material. YMMV. See the Tech Links for the Steaming Rat method.
Here's another good link by another member with a simplified HLT calibration overview:
http://www.avsforum.com/avs-vb/showt...4#post11326234
Cheers!
Doc