Member
Join Date: Oct 2010
Posts: 98
Mentioned: 0 Post(s)
Tagged: 0 Thread(s)
Quoted: 0 Post(s)
Liked: 10
So I have two problems with a Trinitron monitor, made in 1998. Picked it up on craigslist, so I have no idea how many hours it has on it.

The serious problem is that it has a red tint. When you look at the default color temperature settings it has increasing red tint as you go down. Even 9300K has a noticable red tint! I've been able to get it nearly perfect by reducing the Red Gain and Bias and increasing the Blue and Green through the on-screen menu, but on very dark gray pictures, there is still a slight red tint.

Since this is probably a hardware problem, I'd like to fix it at the hardware level so all the color temperature defaults look correct. Aren't there some dials on the back of the CRT I can use to adjust the Red gun?

The other problem is that it has generally low brightness. When I first turn it on, it is really bright, but it gradually decreases in ten minutes until it gets where I want it to be, though the brightness setting has to be at 85 (all the individual RGB bias settings are high too).

I'll be removing the bezel of my monitor soon to paint it black, so I figured I could make some adjustments while I have it off. Any advice?
Member
Join Date: Feb 2010
Location: The Western Hemisphere
Posts: 176
Mentioned: 0 Post(s)
Tagged: 0 Thread(s)
Quoted: 1 Post(s)
Liked: 11
Could be one of two things going on here:
1. The picture tube has had some serious aging, and the phosphors have begun to chemically degrade. As this happens, the overall image brightness is reduced. Usually green goes out the fastest, then blue, with red lasting the longest. So this could explain the reddish tint.
2. Some internal hardware failure in the circuitry governing the red gun has occurred, such as a blown resistor, etc.
My recommendation is to adjust the sRGB bias and gain on the OSD controls as you see fit and staying away from the electron gun controls unless absolutely necessary; don't want to risk throwing off the gamma for individual colors. As far as the issue of overall brightness, there is usually a knob/screw for "Screen" on the flyback transformer that increases the high voltage bias, but the Sony-made monitors I've worked on for whatever reason don't have a "Screen" control.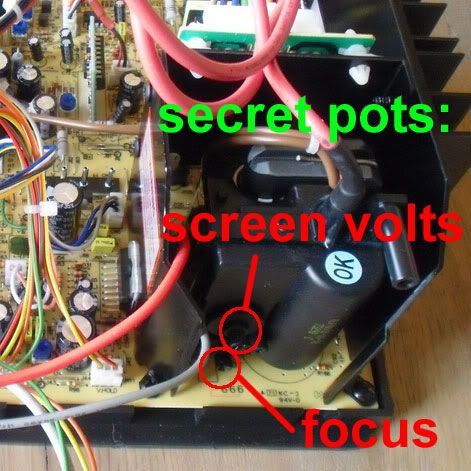 Member
Join Date: Oct 2010
Posts: 98
Mentioned: 0 Post(s)
Tagged: 0 Thread(s)
Quoted: 0 Post(s)
Liked: 10
Thanks P710C1, I'll look for some blown resistors whenever I go in there, but given the age of my monitor and the tendency of the average consumer to never cut their monitor's off, I imagine your first hypothesis is correct.

And I don't know if I'll mess with the flyback transformer, it depends on whether or not I can figure out if that will reduce or prolong the life of my monitor, compared to what I'm doing now (high brightness in the OSD controls).
Posting Rules

You may not post new threads

You may not post replies

You may not post attachments

You may not edit your posts

---

HTML code is Off

---