Old
06-03-2011, 05:39 PM
-
Thread Starter
Member
Join Date: Dec 2008
Posts: 37
Mentioned: 1 Post(s)
Tagged: 0 Thread(s)
Quoted: 23 Post(s)
Liked: 18
I got a tv for free off craigslist, and while working, it does this. I'm guessing it's the power supply, but could anything ese be wrong?
Senior Member
Join Date: Jan 2011
Location: Canada
Posts: 233
Mentioned: 0 Post(s)
Tagged: 0 Thread(s)
Quoted: 1 Post(s)
Liked: 11
More info would be helpful....
Usually when a TV is buzzing once it's on it's one of 3 things.
1: A transformer or coil in the circuit has a loose core and is vibrating
2: The flyback transformer's core is vibrating
3: The yoke (on the neck of the crt) is loose and vibrating.
All of this can be solved with a silicon tube.
First, open the cover while it's unplugged. Then, plug it in, start it, and carefully find where the sound is coming from. Use rubber gloves if u really dont know what u are doing.
1: A coil or transformer will stop making sounds or change sound as soon as you touch it. Once located, silicon it (after closing the TV,) and make it solid so it should stop vibrating.
Usually look like this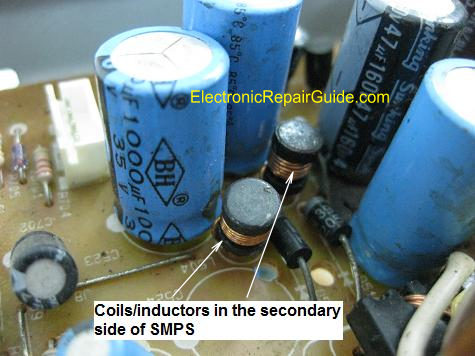 3: The yoke is on the neck of the CRT. It sometimes come loose (screw) and vibrates. Same thing with the silicon.
Pic (the yoke is the thing with copper on it)
2: Same thing as 1 but be careful not to get shocked on it if it's leaking, although this rarely happens. If you hear more of a hiss than a whine or oscillation, the flyback could be leaking. 34kV is not good for the body...
Silicon the core of the flyback and it should stop vibrating.
Pic of a random flyback (core is on the top in pic. Metal on the plastic cased flyback.
Good luck and be careful
Posting Rules

You may not post new threads

You may not post replies

You may not post attachments

You may not edit your posts

---

HTML code is Off

---